As marketers, our job is to show customers why they could benefit from our product/service and encourage them to make the decision to buy it — which is not nearly as simple as that makes it sound. Buyers have a very particular set of expectations when it comes to making the decision to buy.
If they have questions, they want the answers now. They want to know the exact features your product or service has and how much it's going to cost them. Otherwise, they'll likely lose interest and move on to the next best thing.
Conversational marketing helps you give your prospective buyers a faster, simpler customer experience. It lets them speak to you and get the information they need to purchase…and do so on their terms.
Conversational marketing should be a part of the conversation (see what we did there?) in your overall marketing strategy. Alongside a solid lead generation and nurturing plan, conversational marketing can help you confidently address customer needs and make more sales.
In this post we're going to define this helpful technique and share conversational marketing examples so you can start using it to engage your customers and grow your business.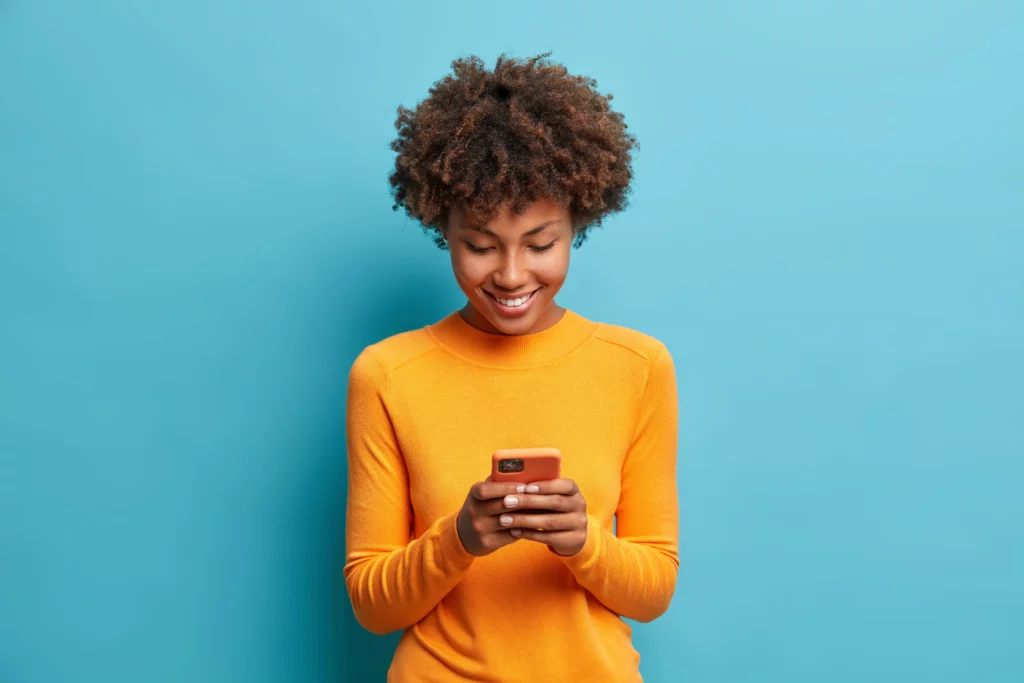 What Is Conversational Marketing?
Conversational marketing is exactly what it sounds like: using the power of conversation to turn potential customers into paying ones. 
Conversational marketing helps prospective customers get answers to their questions on their own time, giving them exactly what they need to create a relationship with your brand and make informed decisions.
Whether you're B2B or B2C, conversational marketing can develop relationships and encourage your customers to engage with your offers. Many two-way communication methods can be used to drive conversations with your customers, but you should implement the ones that mesh the best with your particular business. 
Messaging is a great way to get in touch with your customers, saving time and effort for both parties. 
An important first step in launching conversational marketing is determining your customers' preferred channels:
Website Chats (Live and/or Chatbots)
Messaging Apps such as Facebook, WhatsApp, or SMS
In-App Chat Spaces
Emails
Whichever methods you choose, the gist is the same. Instead of forcing potential customers to fill out a lengthy lead capture form (plus wait the average 42 hours for you to respond), meet their needs early on and make them more likely to take interest in your product or your service.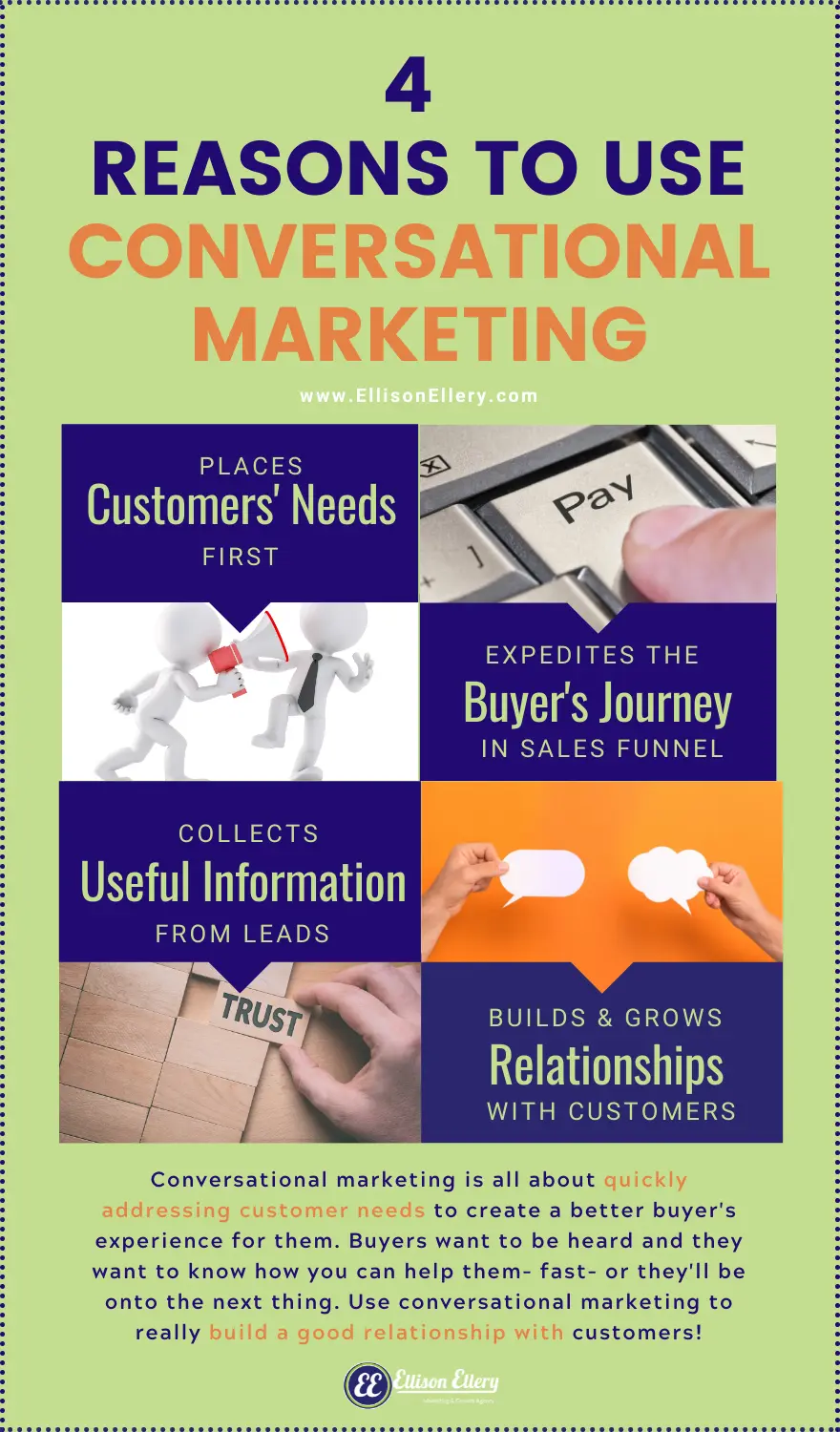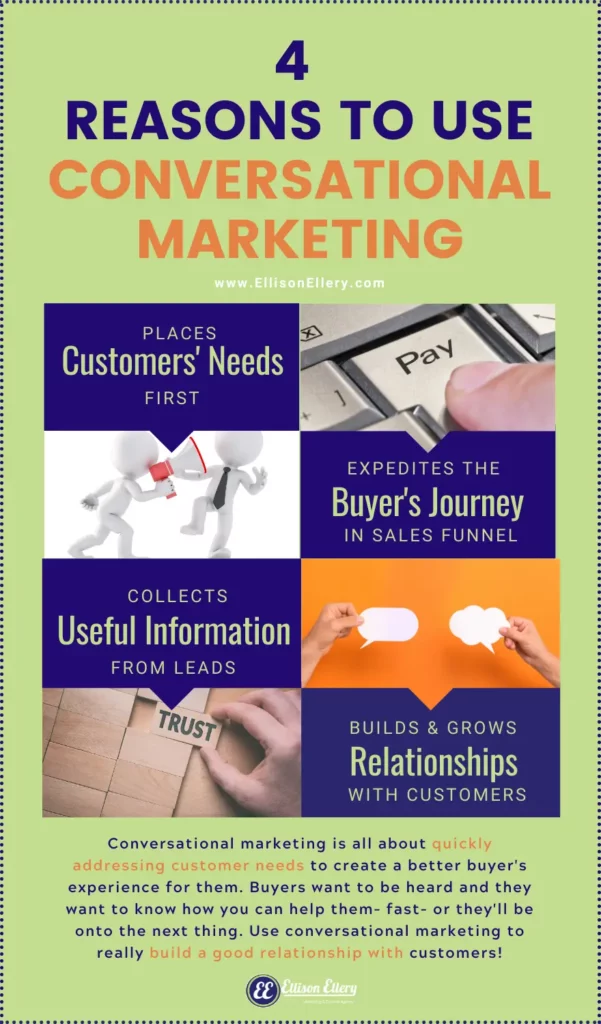 4 Reasons To Use Conversational Marketing
There are numerous advantages to using conversational marketing for your business. Let's take a look at some of the key benefits of using efficient customer-focused dialogue. 
1. Conversational Marketing Places Customers' Needs First
Buyers want to be heard, understood, and given what they need. What better way to show customers that you care about their specific needs than by answering their questions and tailoring the buyer's journey to them?
Here's a few techniques that just aren't cutting it anymore:
Lengthy online forms
Random emails and calls
Sharing generic product/service information that could apply to anyone 
Instead, chatbots, live support, and apps with messaging channels all can be utilized to put customers' needs first. 
You can drive results and loyalty by fostering personalized conversations. Meet the customers' needs at that moment.
These methods allow for a level of empathy and personalization that other marketing strategies don't always afford. When a customer asks you a direct question, you give them a real-time answer. This gives the impression that you're focused on their needs all the time. 
And even when you can't actually be there, a chatbot can pick up some of the work for you.
2. Collects Useful Information From Leads
Conversational marketing and the use of chatbots on your website improves how quickly and deeply you understand your customers. Instead of waiting days, (or even weeks of lead nurturing) to grasp an understanding of your customers' pain points and needs, capture that information in a matter of minutes. 
After you implement conversational marketing into your strategy, you can take a look at the data to find answers to these questions: 
What questions are prospective buyers asking the most? 
What are their problems? 
What features of your product or service are they asking about most frequently? 
A conversational marketing chatbot can be customized to capture this information for you. You can then use this data to make more informed decisions about your audience as a whole, plus better serve the individual customer at that moment.
Two major benefits for the price of one — now that's a pretty good deal! 
Based on information from a single conversation, you can solve that customer's problem and ease any frustration they may be experiencing. Plus, you can add each customer's valuable insights to the larger picture of your target audience to inform other parts of your lead generation strategy.
3. Expedite The Sales Funnel With A Conversational Marketing Bot
A conversation with a potential customer reveals a lot of information about where they are in the buyer's journey. So, it follows that conversational marketing can expedite the sales funnel and help you close deals faster.
71% of consumers believe that a quick response from companies improves their experience and helps them make purchase decisions faster — just one of the many hard-to-ignore statistics on the benefits of conversational marketing.
We're not saying that you can throw out your whole sales funnel and focus solely on customers who come to you with questions. But for those customers who already are interested in learning more or know that they can get more information fast, a chatbot or messaging system can move them along the journey much quicker.
For example, if a customer chats about a specific product, they receive immediate information:
Features of that product that could benefit them
Who else bought the product, why they did it, and how it helped them
Recommended next steps 
Recommendations to look at different solutions
Your company's job isn't to sell — it's to help your customers buy. 
Close qualified conversational marketing leads fast by hearing directly what they want, minimizing the guesswork on your end. 
Both live human chats and chatbots can identify top of funnel questions vs bottom of funnel questions and deal with them appropriately.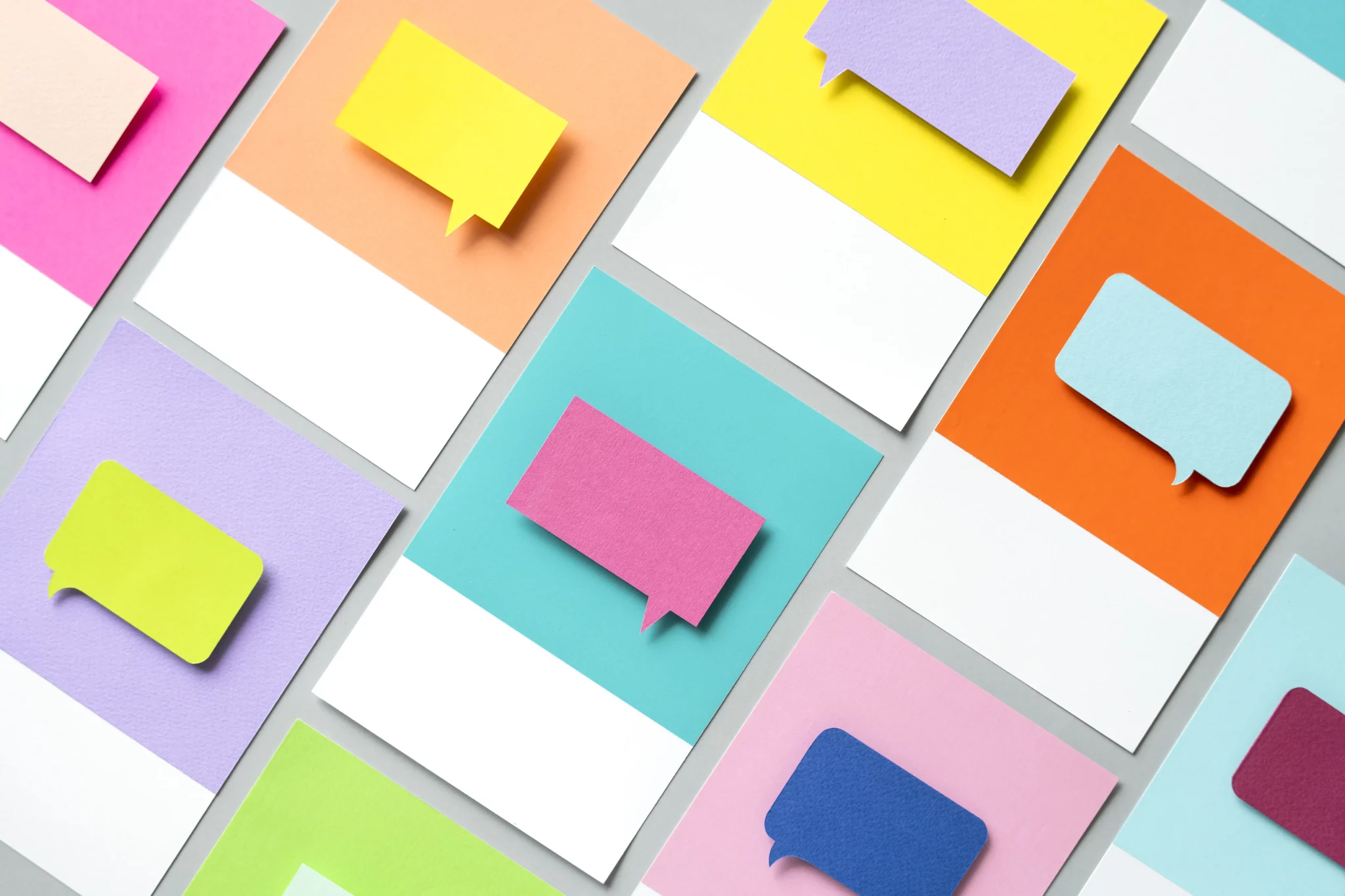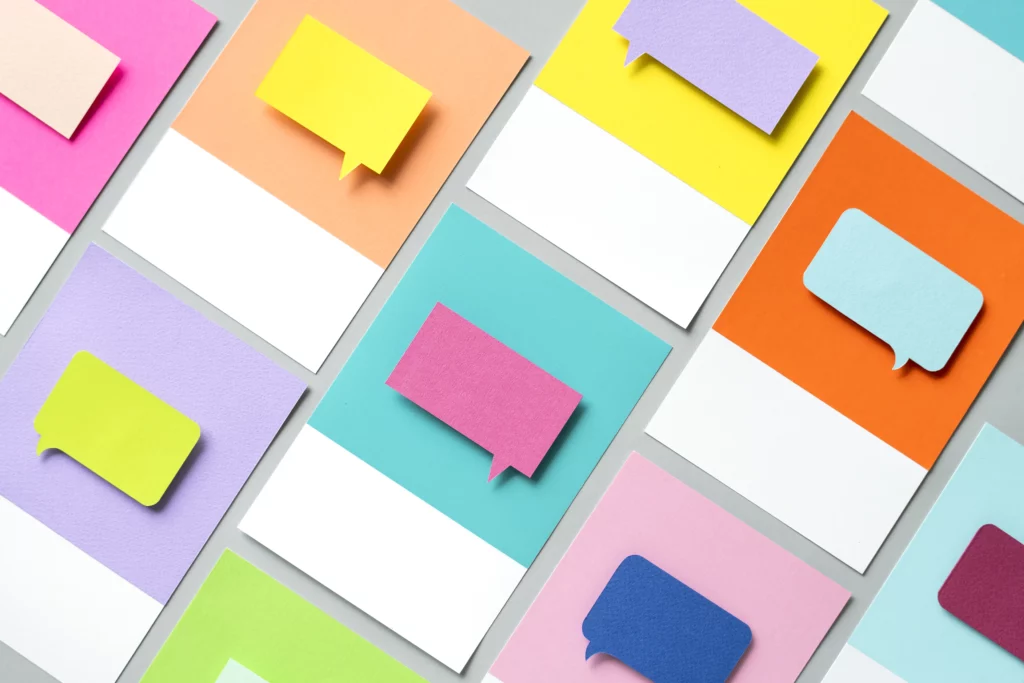 4. Grow Your Relationship With Your Customers
Real conversations directly with your customers is a great way to build trust and understanding between the customer and your business.
FAQ pages are helpful, but they don't always leave a customer with a warm, personal experience with a brand. Conversational marketing techniques bring a human touch back to marketing, allowing customers to have more authentic conversations with actual humans. 
A traditional form is much more one-sided than a direct conversation. How many times have you waited for an email response from a company, just to get a response that didn't quite answer all of your questions (or skip some entirely?) 
These types of conversations are more time consuming and more likely to be inefficient. 
Content marketing is one-sided as well. Sure, your customers can read, watch, or otherwise interact with your content to learn more about your product/services. But when it comes to building trust and a deeper connection, conversational marketing usually wins.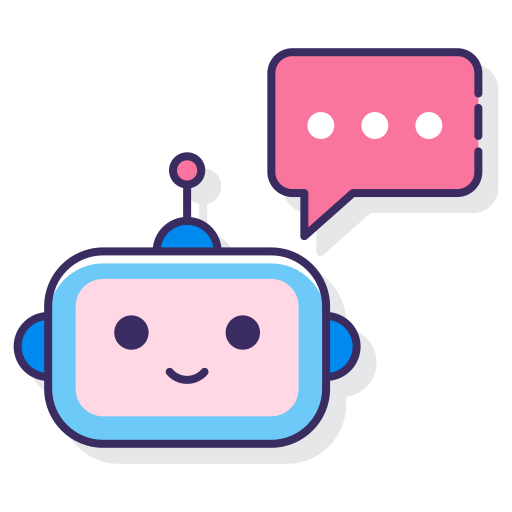 Start

talking

with your future customers
Want to learn how to speak directly with your customers? We'll walk you through how to implement Conversational Marketing for your business so you can start reaching your customers where they are.  
Conversational Marketing Examples
Conversational Marketing Chatbots
Chatbots are probably the first thing that come to mind when thinking about conversational marketing. It makes sense — a chatbot done right stimulates actual conversations and provides easily accessible information and value for prospective customers. 
There are a ton of chatbots with varying capabilities to help your business capture more leads. You can automate the questions asked by a chatbot to gather relevant data and you can choose how they respond to what users say. From there, chatbots continue to learn and better serve your customers.
Sephora leveraged conversational marketing chatbots to build relationships with their customers, and it's paid off with huge customer loyalty. Prospective Sephora customers can use a chatbot via Facebook Messenger to schedule beauty consults and the company also uses chatbots to quickly recommend beauty products to customers looking for direct solutions.
80% of businesses had some form of chatbot on their website by the end of 2020. If you want to keep up with your competitors, it's the way to go.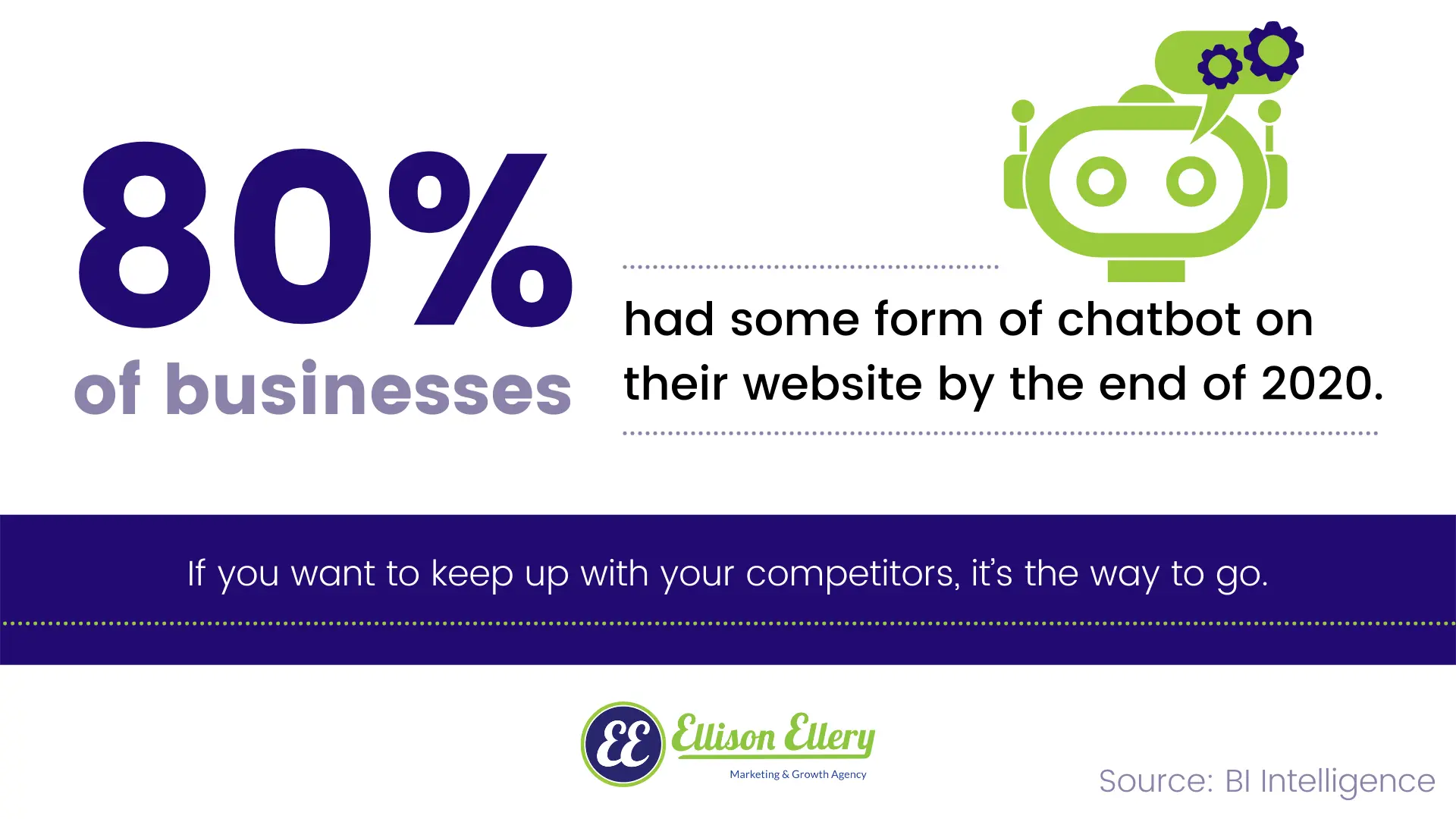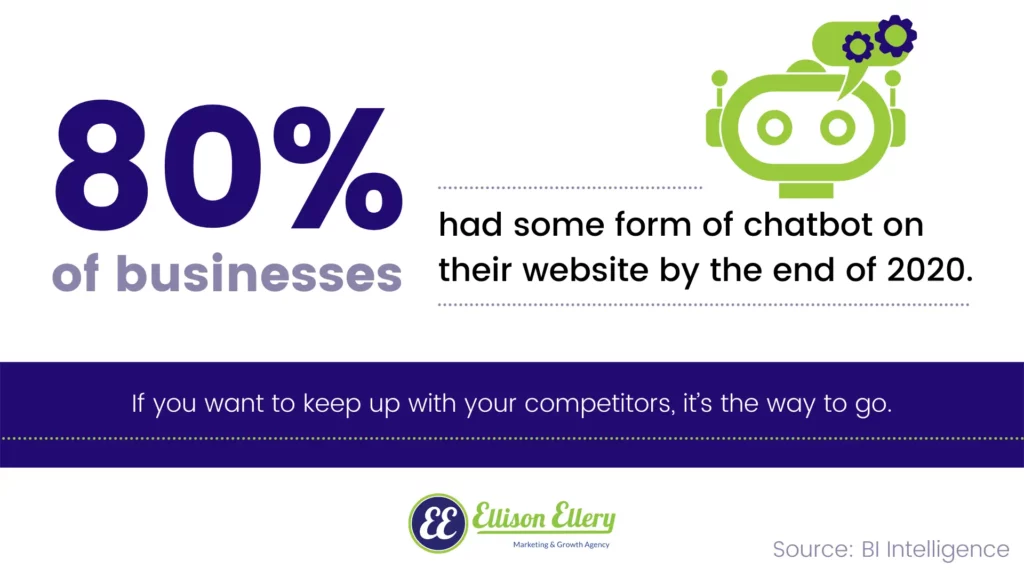 Live Customer Support
Strong customer support is the backbone of any conversational marketing strategy. Chatbots are great for automating customer conversations, but the extra touch of live chat can facilitate even more productive conversations. 
Companies show their customers that they value them and their buyer experience by offering live customer support options. 
Here are some live support conversational marketing examples that support instantaneous conversations with customers:
Designated Twitter support accounts
In-app chat spaces
Live help messengers on your website
Automated chatbots can pick up a lot of the work here, cutting down on customer service costs and lightening a business's workload. But, it will never hurt to have an actual person available for customers when they have burning questions. 
Consider using a combination of the two: connect conversational marketing qualified leads captured by a chatbot to the right person on your sales team so they can continue the conversation.
Email Marketing
Messages in a B2B or B2C company's email marketing strategy usually provide the receiver with valuable information about a product, an upcoming event, or something similar. Then there's a CTA or two driving them back to the company's content and/or website.
This works to a certain level, but let's be real: it doesn't foster customer relationships. Which we know plays a huge role in turning potential customers into buyers. They want to feel seen! 
Focus on having real conversations with the people on the other side of your email to improve your relationship with your customers and encourage them to engage in real conversations.
How? Tell a relatable story and ask your customers to reply for help or just to chat about their goals. Send surveys to your database and ask about their biggest challenges or their upcoming plans.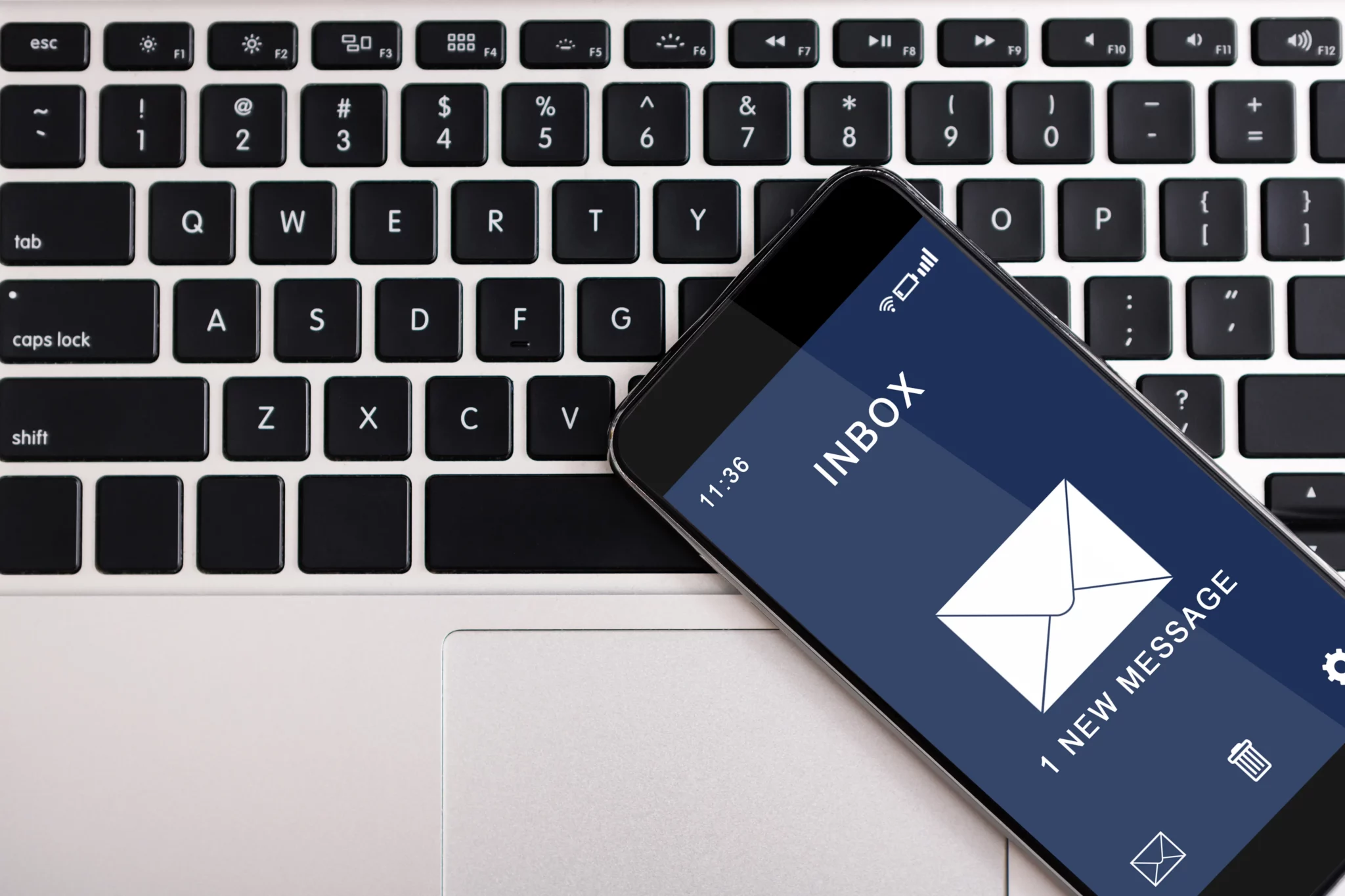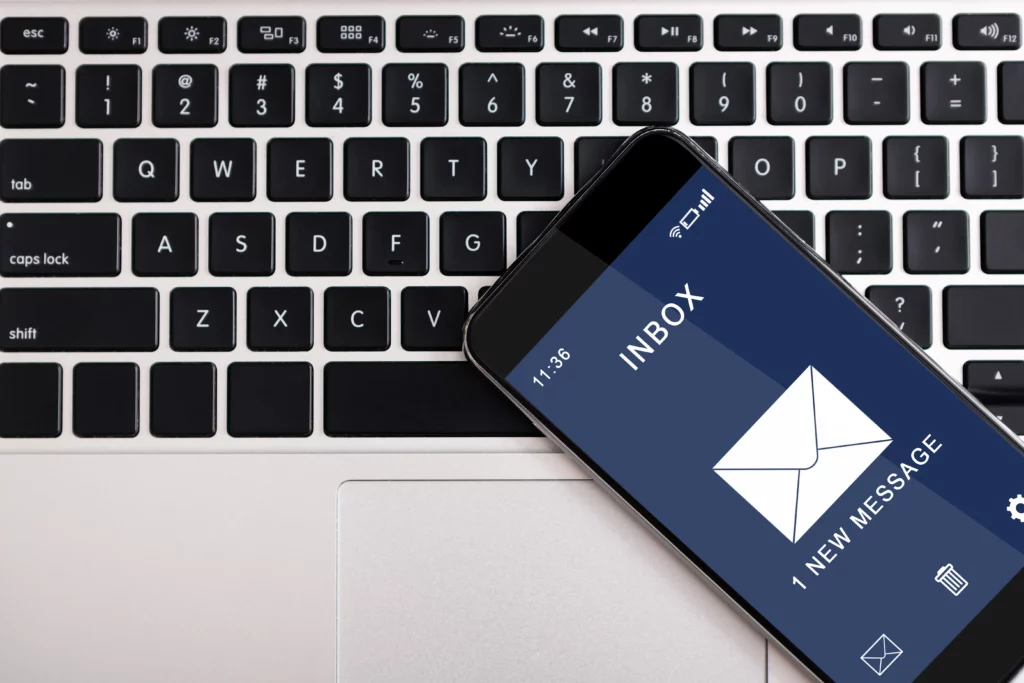 Best Practices For Conversational Marketing
Find Your Voice
Consumers aren't just looking for personalized experiences. They're looking for brands that they can relate to and connect with on a deeper level. So don't forget to use some creativity in your conversations — consider using emojis and GIFs or informal phrases, just as if you were talking to a friend. 
A chatbot or other messaging system isn't the time to use extremely formal language and lengthy responses. Your prospective customers do want information, but they also want to feel comfortable and not have to scroll and scroll to read the information you're responding with.
Personalization
We might sound like a broken record, but customers expect a personalized experience and failure to capitalize on this can have a negative effect on your business's success. Personalized marketing is an important message to drive home! 
Customers only want to know more about your product or service if it directly relates to and benefits them. Providing them with personalized information that helps them picture your product/service making their life better makes them way more likely to make a purchase down the line.
Analytics: Use The Data You Get From Conversational Marketing
If customers are engaging in conversation with you on any level, they're sending you signals. 
Whether the conversation is with a live agent or an automated chatbot, that potential customer is giving you information about their needs, their pain points, the goals they have, where they are in the buyer's journey, and more.
Don't let that valuable data disappear into thin air. Use it to inform how you categorize the conversational qualified lead (CQL) and communicate with them from that point on. Which email segmented list should they be on? What offers would they be most interested in? 
Analyze the data you collect to make informed marketing decisions moving forward. The more you know about a customer, the better chances you have of tailoring an experience for them.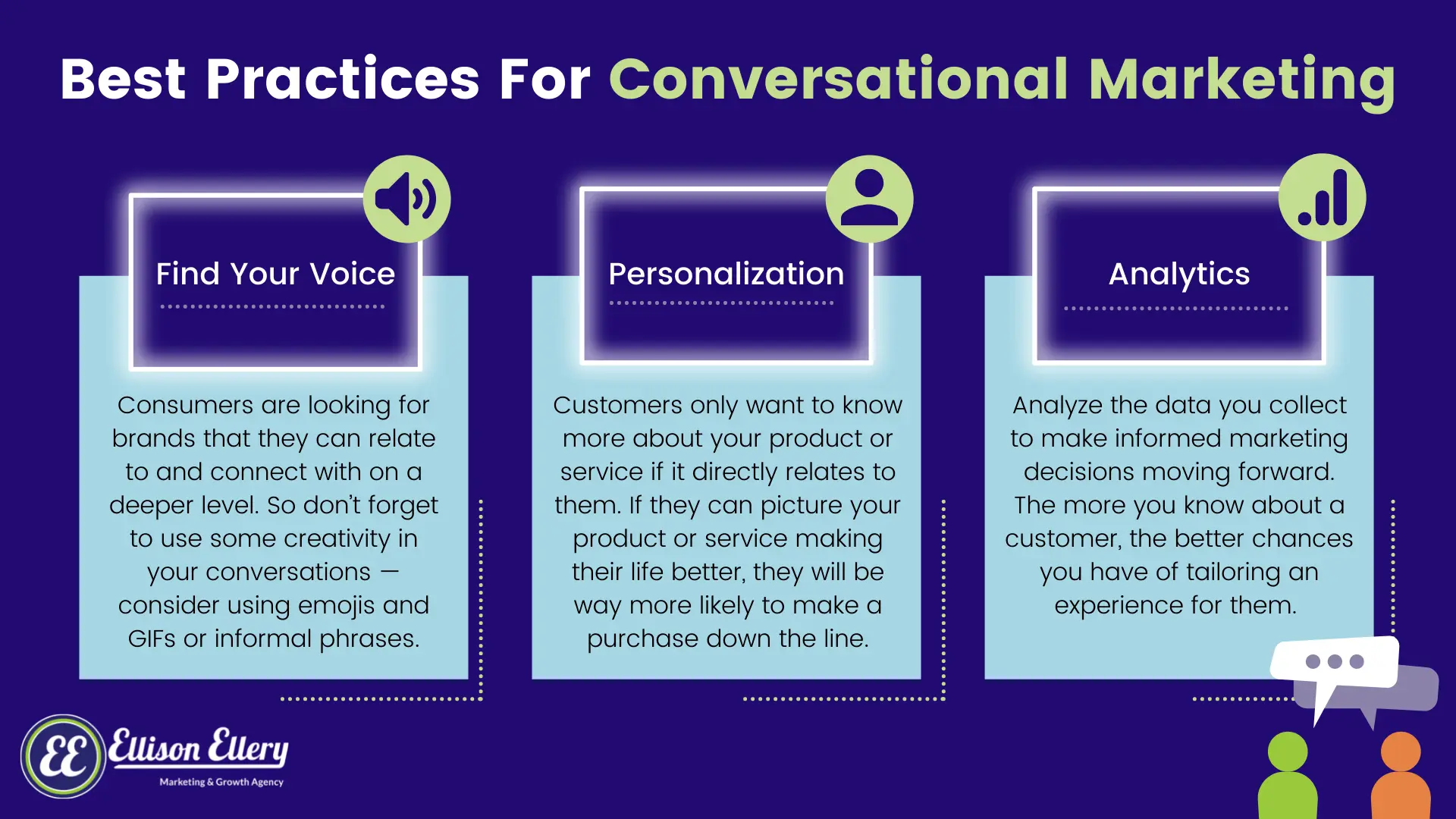 Where Do Conversations Fit Into Your Inbound Marketing Strategy?
The purpose of inbound marketing is to create an experience for your target customer that provides them with valuable content and fosters their connection with you and your brand. 
Sound familiar? 
Yup, inbound marketing has essentially the same goal as conversational marketing. 
However, there is a key difference to note: inbound marketing is a way to initially attract potential customers to your brand, while conversational marketing does the work after a potential customer has landed on your website/other relevant channels.
While inbound marketing places a focus on things like building a website and writing valuable blog content — ultimately encouraging users to fill out a form or schedule an appointment — conversational marketing's focus is on directly building up a 1:1 relationship with an already interested potential customer. 
Conversational marketing doesn't replace your inbound marketing strategies; it maximizes the value of the leads that your inbound marketing strategies attract.
To recap what this means:
Use inbound marketing to first attract potential customers to your brand and your products/services.
Use conversational marketing to start conversations that help your audience understand what exactly they'll get from you by answering their questions on their time.
Conversational Marketing: Better Relationships, Better Sales
Understanding conversational marketing and implementing strategies correctly can help grow your business and increase customer loyalty. People aren't soon to forget exceptional customer service experiences — and they most definitely don't forget negative ones.
Marketing techniques that speak directly to your customers makes your company feel more accessible and guides your customers to make purchasing decisions that are best for them. 
Our goal at Ellison Ellery is to help you create the best digital experience for your potential customers, build your brand's reputation, and help you make more sales. 
The experience that your customers go through is just as important as the product/service that you're trying to sell. 
Contact us today to learn more about optimizing your digital marketing efforts to bring in more customers.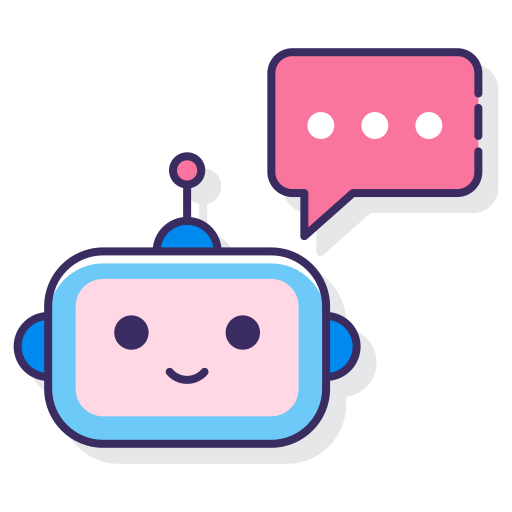 Start

talking

with your future customers
Want to learn how to speak directly with your customers? We'll walk you through how to implement Conversational Marketing for your business so you can start reaching your customers where they are.