Conversion Optimization to Grow Enrollments
Our Focus is on Driving Your College More Enrollments
Let us help you increase your student yield. One of the easiest and quickest ways to increase your yield is by improving your website conversion rate (CRO) on your website.
I will work with your team to increase your conversion rate from website visitor to lead/ inquiry. Over 70% of your visitors leave your website and . And, for Higher Ed, it can be much higher! 
Building on Your Success
A lot of work goes into driving prospective students to your website. We will build on your team's success and motivate more of those visitors to engage in your enrollment process! 
We will help to make it easier for prospective students to answer their questions and inspire these visitors to learn more about your institution. This isn't easy! If it was, everyone would have an amazing website.
If your website is too cumbersome to change and there are people at your university that will be opposed to change, we can set up a 24/7 hour Higher Ed Chatbot on your website to help workaround your website. 
Baby Steps Lead to Giant Enrollment Gains
As a first step, I will do an in-depth review of your analytics. I will figure identify where people are dropping off, experiencing friction, and providing recommendations.
We may suggest tweaks to your:
Landing pages
Content
Website
Hierarchy
Forms
Click-to-chat
And so much more
Want To Boost Your Sales?
We help to identify friction points in your marketing and sales process to create better experiences for prospective buyers. And we delight them, turning them into brand evangelists.
What's an Enrollment Funnel? 
The goal is to get more of your current visitors to become engaged in learning more about your university and to inquire to learn more about your school. Each person who visits your website either is interested in learning more about your university or leaves and probably never returns.
We want to encourage each of these visitors to enter into your enrollment funnel, so you can community what makes your university amazing. If prospective students enter into your funnel, then you have broken through the clutter and you are able to communicate with them one-on-one. We can help you do this at scale too, while still allowing for personalized communication. 
This doesn't mean you will enroll all of these students, but you are much more likely to meet your enrollment goals– if we can get more people into your funnel and then lead nurture them once they engaged in your enrollment process. 
We want to inspire prospective students to enter your enrollment funnel. Here is a funnel we created to help illustrate the steps and questions a prospective student goes through before requesting to learn more about your school.
We want to find the friction points (frustrating parts of your website) and remove them or work around them. 
Here is a funnel we created to help illustrate the steps and questions a prospective student goes through before requesting to learn more about your school.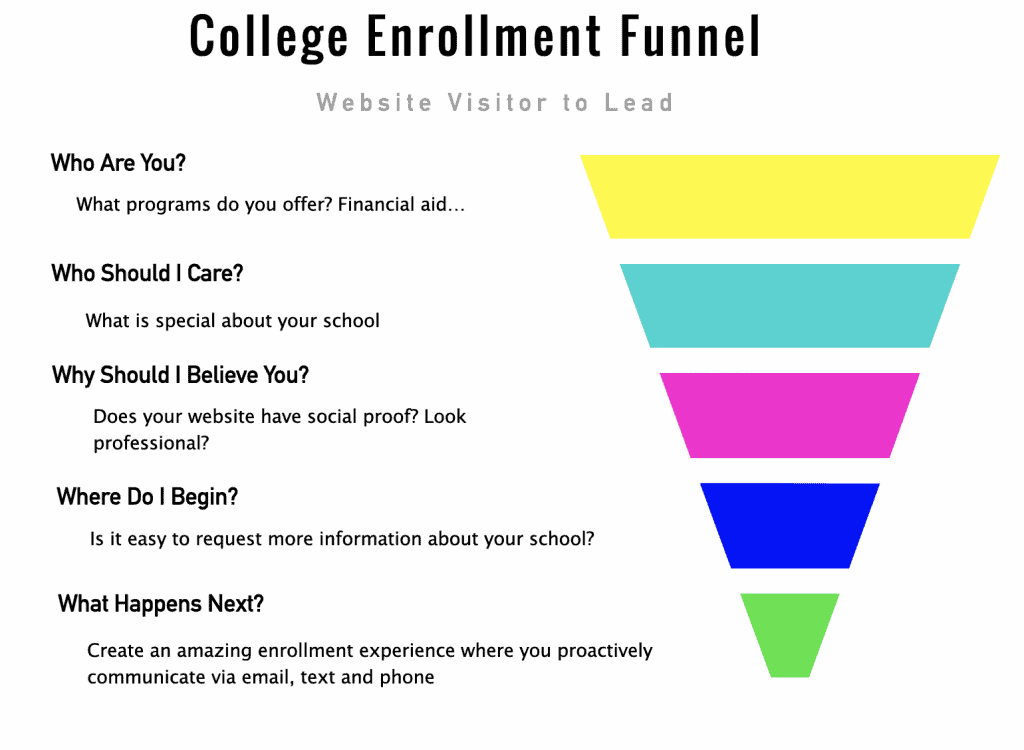 Our Goal is to Increase Your Website Conversion Rate Drastically
Once you receive our recommendations, if you do not have the internal staff, don't worry, we can make these needed changes to your website.
Your college needs to grow enrollments. I am here to help! The goal of this project is to find short-term, and long-term wins focused on driving your college new revenue from enrollments. 
Let's work towards Growing your Revenue and Yield by 10-20%! 
The old mantra of working smarter, not harder applies to your website too. Let's get your website to work smarter rather than harder and generate more qualified leads with conversion rate optimization (CRO).
We will ensure your website analytics are set-up and tracking your conversions correctly. We will also make sure your analytics are properly tracking all of your marketing channels. 
You can't improve what you can't measure. 
Website Conversion Optimization Process Steps
Step 1: Schedule a Consultation 
We will review your goals, objectives, timeline, and budget. Then we kick-off the project with agreed-upon deliverables and timelines. 
Step 2: Conducting a Conversion Rate Audit
I will review your current conversion website funnel, setting baseline conversion rates for your school (your current conversion rates, leads, and starts), and I will go after some low-hanging fruit. This way you can start seeing results in as little as a few weeks. 
If no prior tracking is available, I will help set-up your analytics to make sure you are capturing the right information to create a benchmark. If this is the case, it may take a bit longer to get started. However, creating a benchmark is incredibly important.
Back to the mantra, you can't fix what you can't measure. 
We Will Go After Quick Wins!
Here are some of the things we will tackle at the beginning of our project together.
Step 4: Understanding Why Users Do What They Do On Your Website (optional)
Student Journey Mapping
Sometimes we don't know exactly why someone enrolls at your college or boot camp, or why people visit your website and choose not to continue down the funnel and learn more about your school. We now have a way of getting to this information.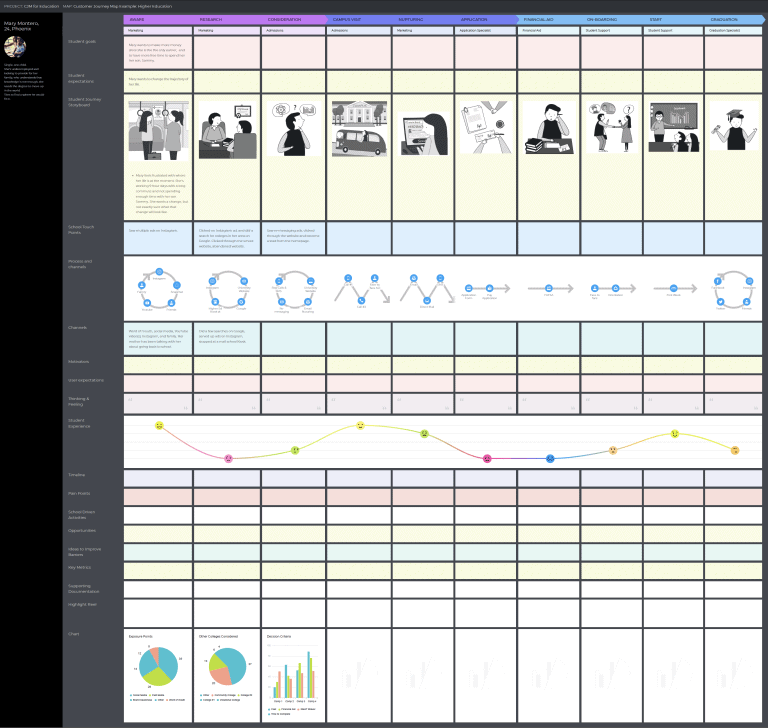 Through Website Optimization, we will be able to increase your website conversion rate, but can only see what happened on your website; we can't understand why it happened.
If you want to get to the heart of why your prospective students do what they do,  and what he or she is feeling, then you may want to do qualitative research called a Student Journey Map.
Student Journey Maps identify key interactions and define the various feelings, motivations, and expectations that a prospective student might have at each touchpoint.
You can also create a student journey map to capture your student experience from enrollment to graduation and even your alumni or donor experience.
The ultimate goal is to help colleges learn more about their students in order to market to them better, enroll more, and service them more effectively.
For most schools, 95% of visitors leave without requesting more information or applying. There is no way to get 100% of visitors into your funnel since people come to your website for a number of different reasons; but you should be able to increase your website conversation rates by 20%, 30% or even 40% by better understanding what motivates your prospective students and why they are leaving; and by doing website conversion rate optimization.
You would need to marry both elements together to truly achieve outstanding conversion results.
You may need to do a qualitative study to better understand your Student Journey by using a Student Journey Map.   Read on to find out how to do this.
Step 5: Documenting Recommendations, Prioritizing and Creating Experiments
The research phase is now done. I will document my recommendations and present my findings. Together with your team, we will prioritize the next phase. I will work to create data-backed hypotheses, so we can set-up the appropriate test on your website.
While most changes will positively move the needle, it's important to see if we can increase conversion rates from 8% to 12% or higher. This is why we test several variations. We may test the look of your form multiple times to see if we can continue to increase the conversion rates.
Step 6: Analyzing And Learning From Your Test Results
During this phase, I provide you with results from the tests. This can help to fuel further optimization efforts. When continue running the test until you've reached data significance, you have to do post-test analysis to decide on the way forward.
For some colleges, you can reach significance in a few weeks, some schools will take longer. 
Step 7: Creating a New Set of Hypothesis and Testing (optional) 
Your website may see a 20% improvement in conversion rates! However, it's important to continue testing and improving. Our enrollment cycles are cyclical and that matters. What works in January may not work in July.
By now, you must have realized that the success of your CRO efforts is contingent upon how consistently you work toward it. While you wait for your previous test(s) to arrive, you should kick start the work on your next set of tests. Or at least a few months later