About Kinneret
Caring for Those Who

Cared

For Us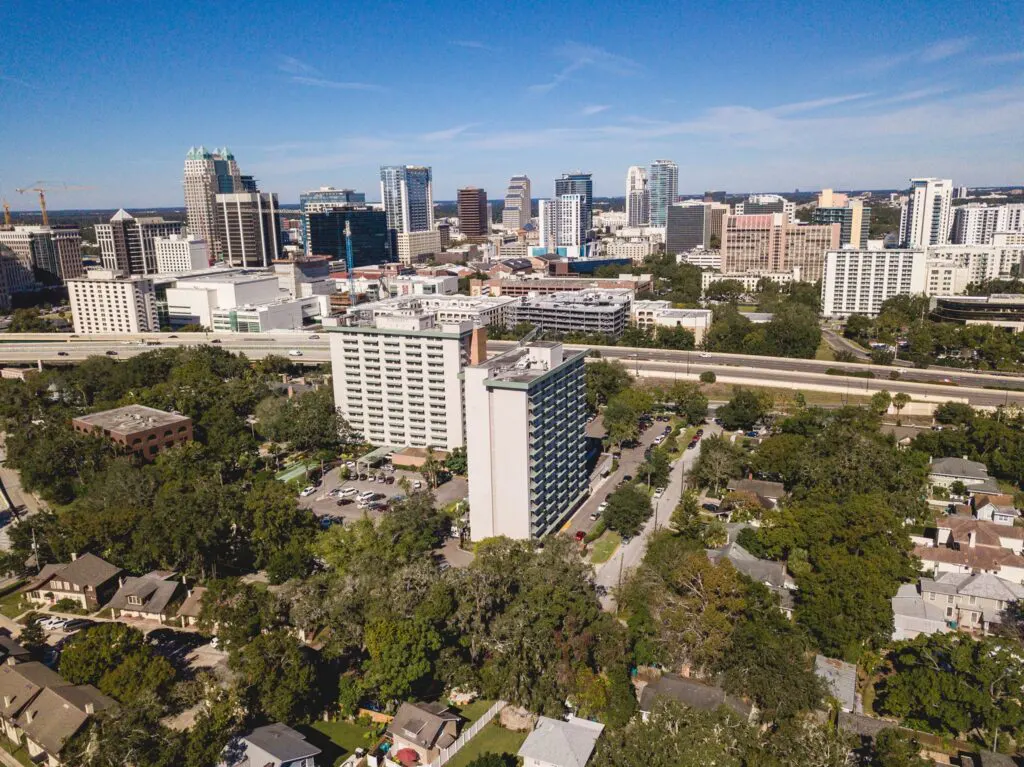 Located in vibrant downtown Orlando, Kinneret Apartments provides affordable, independent senior housing with amenities and social activities that enhance the lives of low-income seniors.
The Kinneret Council on Aging (KCOA) oversees the operation of Kinneret Apartments and provides additional support and enrichment through educational, spiritual and social programs that further create a warm and loving atmosphere.
Kinneret was the first non-synagogue facility erected by the Orlando Jewish community. In 1960, members of the Jewish Community Council learned about a federal Housing and Urban Development (HUD) program providing low interest mortgages to build affordable housing for seniors. Abe Wise, founder of the Kinneret Apartments, located land near Lake Lucerne, which reminded him of the Sea of Galilee, known in Israel as "Lake Kinneret."  Its name is derived from Hebrew כִּנּוֹר (kinnor) meaning "harp" because of its shape.
While Kinneret was founded on Jewish traditions and values, all programs and services are provided to residents on a not-for-profit and non-discriminatory basis.
KCOA provides free services and programs to their low-income seniors including:
Nanny and Papa's Kitchen: KCOA funds the popular bi-monthly "Food Pantry" which provides a grocery bag full of nourishing food to 175 residents at no cost to them.
Health and Wellness Education: They offer twice-weekly exercise classes, which provide residents the opportunity to exercise their minds, bodies, and souls.
Cultural Activities: They offer a variety of fun and engaging cultural activities such as live music and themed evenings. Celebration of Jewish holidays, Shabbat meals and an annual Seder are an integral part of their programming to foster Jewish identity.
Excursions: Excursions include trips to Publix, Walmart and area restaurants. There are opportunities to take advantage of existing community activities by providing free transportation to the venues.
Meal Delivery: Distribution of Kosher holiday meals to all low-income Jewish seniors in the Central Florida community for Rosh Hashana, Hanukkah and Passover.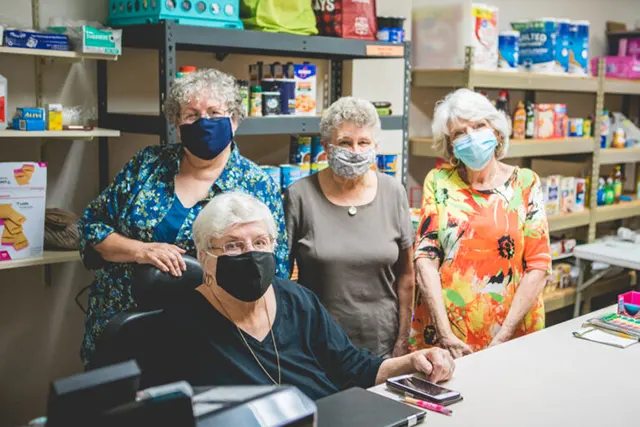 The Problem
Announcing the

Sale

of the Apartments
In the beginning months of 2021, the Board of Directors of the Kinneret Apartments approved a plan to sell the apartments to a qualified buyer. 
They reached this difficult decision after two years of study and exhaustive strategic planning efforts including consultations with senior housing experts and Orlando Jewish community leaders.  
The need for modernization of the buildings, the rising costs of capital repairs on a 54-year old campus, and continuing change in the escalating numbers of seniors in need led the Kinneret Board to carefully consider options that would allow the use of limited resources for the most impact.
Rhonda Pearlman, the Kinneret Board President, said "…the best path forward for a sustainable future supporting Kinneret's mission for caring for those who cared for us is to sell the property to an experienced affordable housing owner."
We at Ellison Ellery and the Board anticipated that the decision to sell the apartments would be cause for concern and many questions from both the current Kinneret residents and the Orlando community. 
That's why Ellison Ellery developed a careful strategy to help make this big announcement to the community. 
And, understanding how important donations from individuals or corporate sponsors are for KCOA to continue providing its services, we knew that the Kinneret website needed a complete redesign in order to attract more donors. We also wanted the website to be an informational hub for those with questions about the building sale process. 
The Solution
A Strategic

Communication Plan

and Website Redesign
Here's what we did during the few months we worked with the Kinneret Apartments and KCOA.
1- Strategic Communication Plan: Announcing the Sale
It was important that the announcement for the sale of the buildings was approached in a way that made both the current residents and the community feel informed and assured. In writing these communications, we collaborated with the Board to ensure the message was right.
We created sets of communications for current Kinneret residents, for Kinneret Apartment staff, for the local media, and for the Orlando community.
1. Kinneret Resident Outreach
Frequently asked question documents for current residents
Letters announcing the sale of the buildings for current residents
Language Translation
Since the Kinneret Apartments house seniors speak different languages, we translated the documents into three different languages (English, Spanish, and Russian) to ensure the best clarity of message. We printed out the documents in each of these languages for the residents and also added these translations to the website.
2. Kinneret Apartment Staff Outreach
FAQs for the Kinneret buildings' staff
Wrote a letter to the staff to communicate the upcoming changes and expectations
Created a presentation outline to communicate these changes to the staff
3. Media Outreach
Press release about the upcoming sale
4. Community Outreach
Wrote email communications to let the community know of this upcoming sale to be as transparent as possible
Created a presentation deck to use over the Zoom meetings designated for communicating these upcoming changes.
On top of this, we coordinated when and how all of these documents were distributed.
We transferred all of the information from Kinneret's old website to a brand new website with a beautiful WordPress theme.
We wrote new website copy, added imagery, re-organized the website with new hierarchy, set-up Google Analytics and Google Console, and improved the user-experience and SEO. 
Interested in having Ellison Ellery design your new website?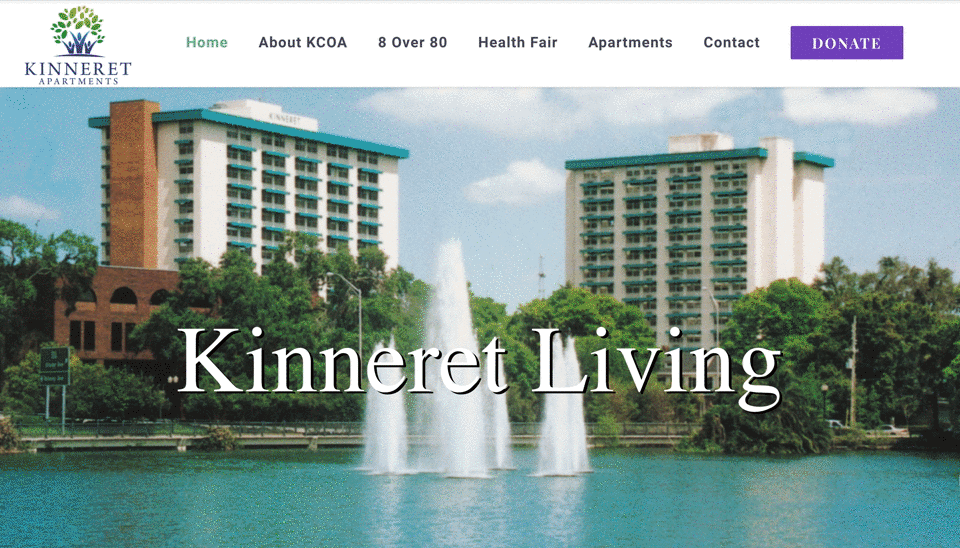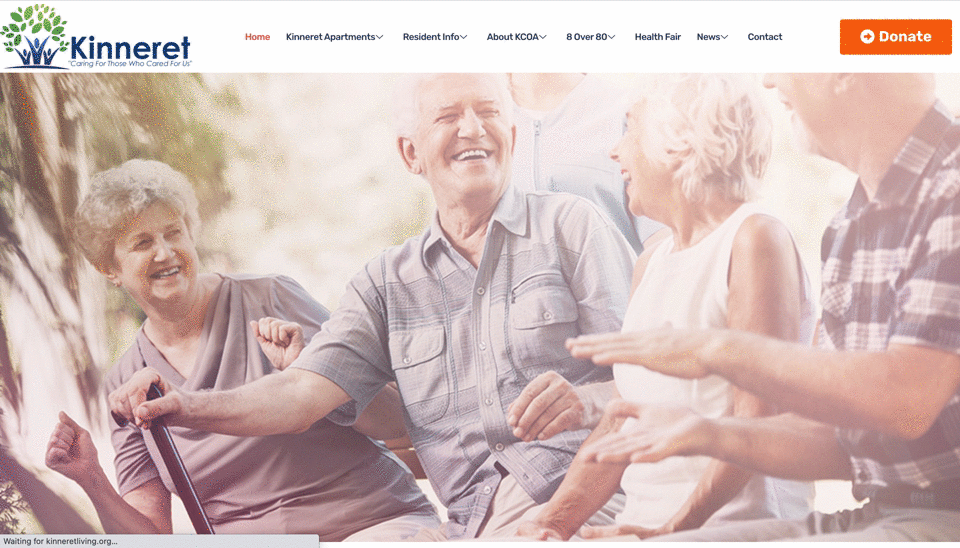 We wanted the new website to reflect the amazing work that Kinneret does. And now it truly does. 
We focused on showcasing all the amazing services and amenities offered at Kinneret Apartments. 
Plus, we helped KCOA create an identity outside of only serving the residents of the Kinneret Apartments. KCOA will now work on re-inventing itself to serve seniors in the larger Central Florida community. 
The new website also has an increased ease of navigation and more call to action buttons for prospective donors and sponsors.  
We included integrations into Kinneret's email system for a seamless experience and layered in email automations to create a follow-up communication sequence. 
We also set up a newsletter sign up from the website so people can stay up to date on all that KCOA is doing for seniors. 
Both the current Kinneret residents and the Orlando community have now been notified about the Kinneret Apartments being put up for sale. And, thanks to our collaboration with the KCOA, they have been provided with all of the information they need to feel informed and reassured. 
By creating a comprehensive set of communications, conducting media outreach, and giving Kinneret a fresh new look on their website, Ellison Ellery helped Kinneret successfully announce the plan to sell the apartments while addressing its residents' concerns and driving more interest for prospective donors and sponsors.
We are honored to have worked with such an amazing non-profit. The work done at Kinneret Apartments is truly inspirational, as are all those involved in its success.