The University of Arizona Global Campus (UAGC) was once Ashford University. Our work began with Ashford University several years ago and then expanded to Fullstack Academy. In the beginning, we did several secret shops and marketing audits for Ashford University and Fullstack Academy.
In 2020, the University of Arizona purchased Ashford University, and the school split into two organizations: The University of Arizona Global Campus (UAGC) and Zovio.
Zovio became UAGC's Online Program Management (OPM), managing its marketing, enrollments, and a few additional service lines.
The new UAGC leadership team engaged Ellison Ellery through a recommendation from a previous Zovio leader.

Marketing Audit + Strategic Consultant
At first, Renee came in as a strategic consultant to help with a multi-month marketing audit. During this intensive audit process, Ellison Ellery reviewed every aspect of Zovio's marketing for UAGC, such as brand messaging, campaigns, marketing reports, etc. From this work, UAGC was able to see systemic issues with how Zovio was spending UAGC's marketing dollars.
We are able to accomplish this because our perspective and processes are far less influenced by status quo university politics, departments, and personalities. In such projects, objectivity is gold.
Before creating a new brand strategy, we needed to understand the school's current marketing approach, strategy, and budget allocation. We kicked things off with an in-depth discovery engagement and did a deep dive into what their competitors are doing and how they are positioning themselves.
Often, schools request agencies to jump right into executing tactics like SEO or paid search without conducting thorough research beforehand. This can be a costly oversight.
For UAGC, we reviewed a vast array of data points, including reports from the school itself, qualitative research, and survey data. We did a thorough review of their SEO reports and paid media reports, along with speaking with faculty members personally.
As storytellers, we look for the story within the data and search for the meaning in different systems, processes, and fragmented data.
We also created a summary document that clearly articulated our findings and why a change was needed to achieve the university's enrollment targets.
And while it's important to know what happened to cause lower-than-expected enrollments, it's critical to get insights on how to fix these issues to drive higher enrollment rates and tuition revenue in the future.
Expanded Engagement to Fractional CMO
UAGC's leadership team asked Renee to join the team as their Fractional CMO to help them onboard new UAGC marketing hires and to work on new strategies to improve UAGC's enrollment, brand messaging, campaigns, and more. This role was an interim role to help their team with a pivotal transition in their business.
Increasing Brand Awareness
Based on the audit, it became clear that prospective students didn't understand who UAGC is, even after millions of dollars were spent on display ads. Ellison Ellery audited all the creative used in their display ads, messaging, and visuals, along with a deep dive into their reports.
We began looking at their brand story and messaging: why they were not reaching their ideal prospective students, what might be lacking in growing UAGC's awareness, and how to connect to prospective students on an emotional level.
Next, we executed a mood board to help UAGC pivot its brand identity from a corporate look to a more welcoming and personable university. Our goal was to help the university look and be more approachable.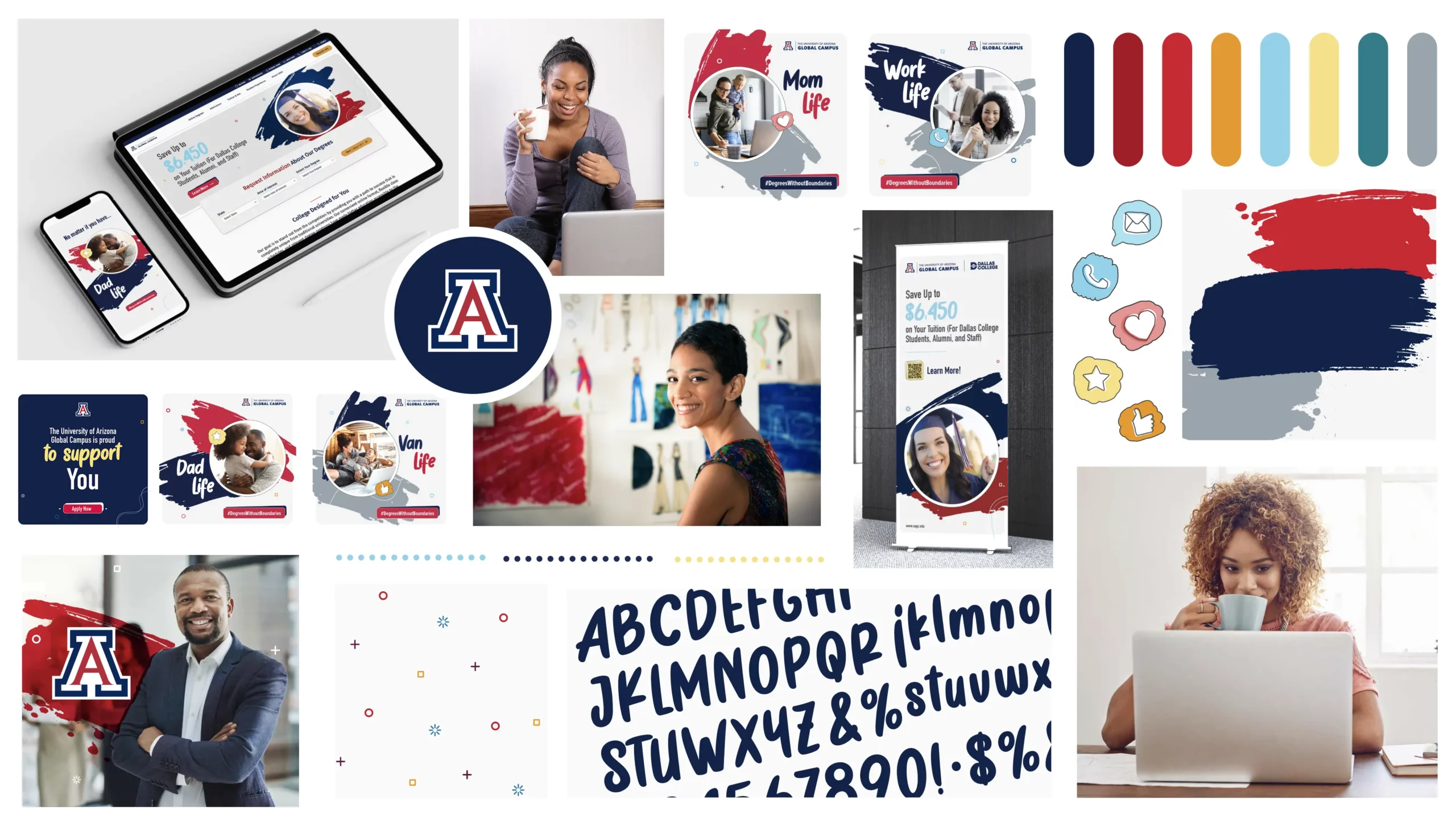 We emphasized the importance of connecting with students (current and prospective) by appealing to what they value, what they clearly need to be successful in school (present), and what students hope to become in the (future).
The best memories have an emotional connection, and who hasn't dreamt of "what they want to be when they grow up"?
Finding that past passion and showing their prospective student a path to accomplish that goal is a key element in connecting with them on a deeper level and communicating with them on a human level.
With this in mind, we set a list of deliverables to propel UACG on the path which ultimately led to higher enrollment.
Video Testimonial from Katie Scheie, UAGC's Chief Operating Officer
UAGC Deliverables:
Marketing Audit Diagnostic: We identified pockets of waste where UAGC was getting lower returns on its marketing investment, along with recommendations on how to fix this.


Recommendation Decks + Summary Memo and Presentations to Leadership: Set of actionable recommendations on how UAGC can transform its marketing function to unlock enrollment growth.


New Marketing Strategies to Test: We identified the most valuable channels to utilize to grow graduate tuition revenue.


Go-To-Market Strategy for their School of Business: We created a blueprint on how to forge deeper bonds with prospective students.


Qualitative Research: Ellison Ellery hosted several focus group workshops with UAGC's leadership team and student-facing employees from Zovio and UAGC to better understand the brand, its challenges, and the best approaches to move forward with. In-depth summaries were written up for UAGC and socialized with their leadership team.


New Brand Identity Work: Based on researching UAGC students, reading student reviews, and interviewing staff, UAGC needed to create a more approachable brand. After the research, Ellison Ellery's team created a new mood board, along with new social media graphics, to show UAGC how to best use these new branding elements in their marketing. To create a brand identity that is recognizable and captivating, we developed their brand personality, brand attributes, mood boards, and brand messaging maps. Then we added visual examples of how to speak to their audience across multiple channels.


Brand Vision, Purpose, and Mission Work: Renee also worked with UAGC's leadership team to help facilitate their new brand vision, purpose, and mission work.


Developed a Brand Messaging Guidebook: The messaging guide documented UAGC's unique value propositions and identified UAGC's brand personality traits, how to best apply those traits in internal and outbound communications, and how to craft compelling and authentic messages for its programs and stakeholders.


Value Proposition Strategy: Renee did extensive value proposition research and work to propose 20+ new value proposition alternatives to provide immediate value to prospective students, along with ways to differentiate the school from its competitors.


School of Business Strategy: Renee developed a new go-to-market strategy to expand UAGC's Forbes School of Business and Technology awareness. This strategy can be adjusted and applied to other colleges within the organization.


Graphic Design Work: Designed admissions mailer box for UAGC to mail cap and gown, along with other related graduation items to military members in active duty abroad. Ellison Ellery also created 26 different retractable banners for UAGC's partnership programs, along with other design work.


New Website: Created a website to promote a new program UAGC was launching in China. Ellison Ellery wrote the copy and designed the website in less than a week to get the website live for an in-person event UAGC's China partner was holding.


Go-To-Market Strategy for Partnerships: Renee worked to develop a new GTM strategy for UAGC as they pursue new partnerships and corporate relationships.


Secret Shopped the Admissions Enrollment Process: A secret admissions shop allows a university to understand its enrollment process and uncover possible areas of friction. We filled out inquiry forms as if we were prospective students and documented the entire chase process, including documenting each of their lead nurturing emails and their send cadence.


Content Repurposing Strategy: We built a content marketing strategy and provided ways to repurpose content for UAGC. We created a blueprint to make it easier to amplify the content UAGC was already creating.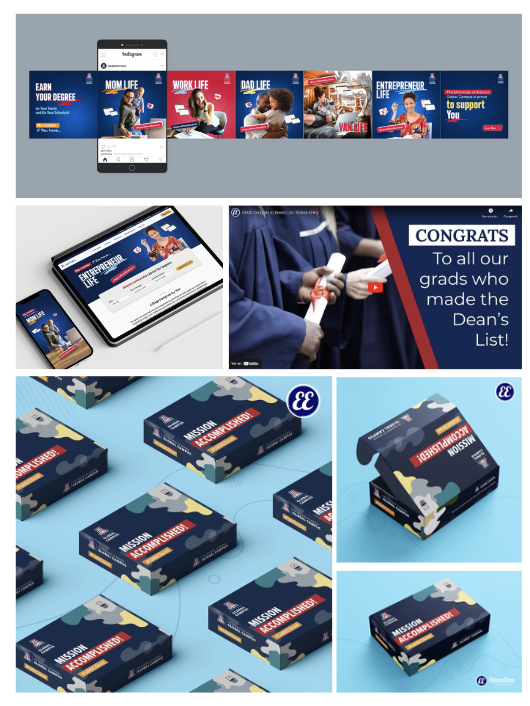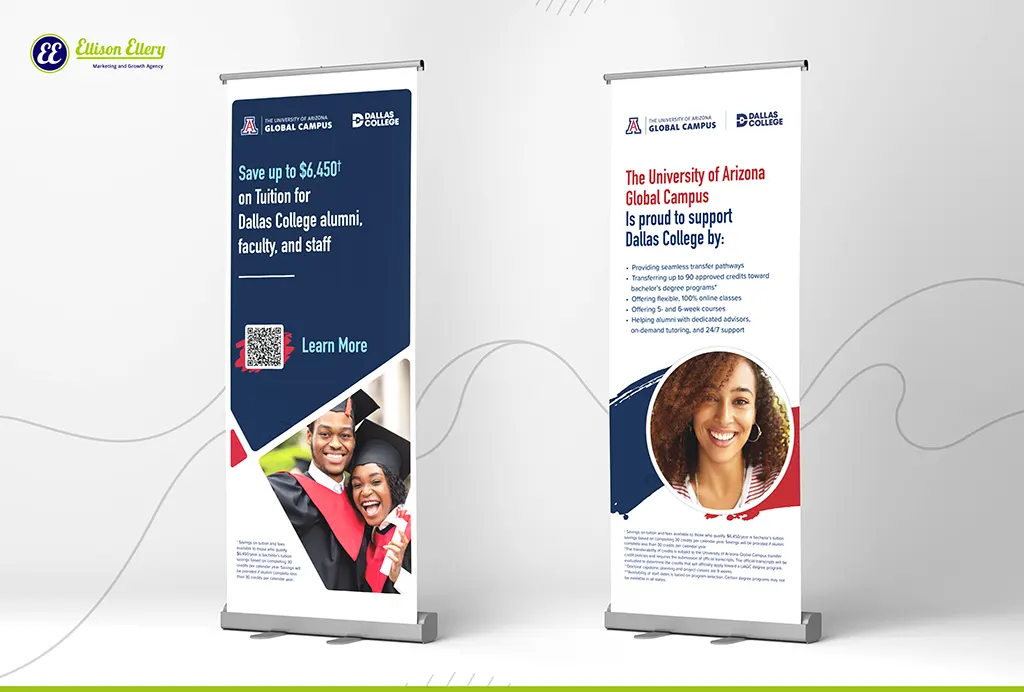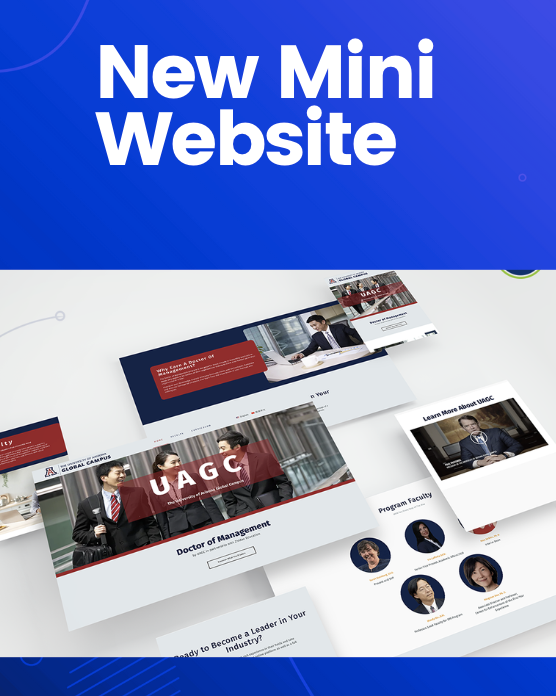 Why Did UAGC Hire Our Agency To Help Increase Enrollment Rates?
At Ellison Ellery, we work outside your university's day-to-day organizational structure, allowing us to uncover insights spanning different departments that are often too challenging for schools to discover independently.
Additionally, we have a 20-year track record of helping universities grow enrollments. Our agency helps universities improve student enrollment and onboarding experiences to delight prospective students and improve yield.
What Was Done as a Fractional CMO (Narrative):
Marketing Audit and Marketing Consulting
We began with deep marketing diagnostic work, reviewing every report available, meeting with their social team, paid media teams, creative teams, and many more departments.
During this process, we understood what was working, what wasn't working, and what to do about it.
The meeting cadence was relentless, but this was needed to truly understand what was going wrong in their marketing and enrollment process, causing their enrollments to continue to drop.
One big takeaway was also the need to reduce the meeting cadence. Some team members were in meetings eight hours a day, every day. Our process began with a comprehensive audit, research, and diagnosis of their current marketing, along with a deep dive into UAGC's branding strategy.
We dug into the data, asked the right questions, tapped into trends, gathered insights to clarify their story, and found their throughline in all the data to pinpoint where UAGC, through Zovio, can reign in their marketing spending and put those funds to better use in other channels with different messaging.
UAGC had little authority over Zovio, especially on how Zovio should spend UAGC's marketing dollars. This made it a challenging environment because UAGC had some influence but little authority.
Before Renee's involvement, Zovio's culture was focused on direct response, leveraging lead generation vendors for a majority of the lead flow. Zovio would manage these lead generation vendors and purchase leads from vendors, and then their enrollment team would aggressively phone chase the inquiries. Zovio's marketing would reach its inquiry generation goals, but a large portion of those inquiries would not convert.
As the Fractional CMO for UAGC, Renee would try to unite Zovio's marketing and enrollment teams into one performance team with shared goals. This was a delicate dance that needed to be done between both organizations to get alignment between marketing and admissions to create a performance team.
Renee needed to help Zovio make a cultural shift from a direct response marketing organization to investing more in brand development, inbound marketing, and to introduce new channels and tactics.
Renee pulled out examples of wasted spending to show how that money could be re-invested into other channels without impacting their enrollment numbers.
It took several months of Renee citing specific examples to show the Zovio team to start making impacts in how they managed UAGC's marketing budget and tactics.
During this process, Zovio let go of several leaders on the UAGC account. These changes needed to happen for Zovio to change its marketing and enrollment philosophy.
In current news, since Zovio was not able to meet their enrollment goals, UAGC was able to terminate their contract with Zovio and move their marketing in-house, taking full control of their strategy, marketing spending, and more, as UAGC no longer relies on Zovio.
About the University of Arizona Global Campus:
The University of Arizona Global Campus prides itself on helping those college students who typically don't fit into the traditional university environment. For many of UAGC's students, life took over, and other responsibilities took precedence. But their students never lost sight of their dream or desire to level up and challenge their current situation.
UAGC provides a diverse range of graduate degrees and high-value credentials with marketable skills. UAGC offers over 60 degrees.
UAGC actively works to retain first-year enrollees and emphasize the economic return of completing their programs. They offer mentorship while supporting students' individual timelines. They have also created a culture that cares. It's a beautiful internal initiative spearheaded by some amazing folks within UAGC.
About Ellison Ellery
We help universities with their rebranding campaign, paid media management, and search engine optimization (SEO is the act of improving your website).
Whether rebranding your entire university or promoting a specific graduate program, our team of top-notch creatives and seasoned marketers can help you bring your message to the people who matter most: future students.
We are a strategy-first agency. Once the research and strategy are set, our agency can help you deploy your marketing and adhere to each channel's best practices, whether that is paid search, content strategy, search engine optimization, or web development.
Over the past 20 years, we've performed countless qualitative studies and technology evaluations, set up focus groups and user-testing, and audited dozens of enrollment funnels.
All that work adds up to a unique level of expertise in higher ed marketing. That's why our clients keep coming back and why we grow primarily by referrals.
We gather insights, dig into the data, ask the right questions, and unearth trends to find the best way to improve your enrollment story.