While some colleges have found a way to grow enrollments, many others are seeing their enrollment numbers decrease. This means there will be budget cuts leaving money to spend on staff, course improvements, and marketing. Read on to get actionable tips on how to improve enrollments for colleges.
If COVID has taught us one thing, it's that we need to change or die.
I remember reading an article with this exact title more than 15 years ago.
In this article by Fast Company, when doctors told patients they needed to change their lifestyle after having a massive heart attack or else they would die, more than 40% of these heart attack patients ended up dying because they wouldn't change.
Is change really that hard? Even in the face of death?
The simple answer — yes.
Now, while you won't personally die if your school doesn't change its enrollment strategy, your institution may die from a lack of revenue and enrollment growth.
The decisions you make in your enrollment strategy can have profound consequences.
In this article, we're going to breakdown the positive impact strategy, technology, and process can have on your enrollment cycle.
By following these strategies, you should be able to grow your enrollments and improve your enrollment experience even in these turbulent times (without growing your budget and costs!).
COVID has been the final breaking point for so many colleges.
Don't let it be your college's nail in the coffin. You can make several changes now that will impact your next start.
This article covers
Why your college should redesign its enrollment strategy
The importance of a great website experience
How to improve your enrollment experience
Let's jump in!
How to Improve Enrollments for Colleges? First Plug Up Your Enrollment Leaky Bucket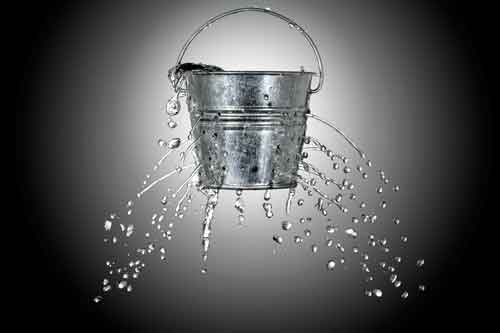 What's a leaky enrollment bucket?
The best way to describe this analogy is to think of new college applicants as the water going into the bucket, while other applicants fall out the bottom of the bucket before starting the program or drop during course Add/Drop time.
At times, students are dropping out almost as quickly as new people are coming in.
This hurts a college's overall yield and makes the enrollment cycle unpredictable.
You may have hundreds of people apply, but a large percentage of those people do not persist. Colleges must work hard to improve their enrollment experience since many of the students who do not persist can be first-generation college students and minorities.
There are a few things you can do to plug the leaky bucket and have more of those students follow through with their education at your school.
It's important to note that just because a student has completed the application process does not mean he/she will become a future graduate.
We're here to champion the students who may drop out of the process early.
Before we can impact change, we need to understand why change is needed. Let's start with our perspective on enrollment.

How are your

marketing

efforts contributing to your company's growth?
Schedule a brief discovery call to receive a complimentary consultation for your business.
Changing Your Perspective On Enrollment Management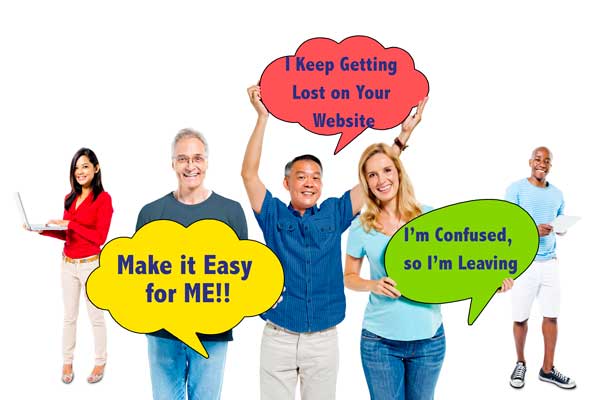 I've spoken and worked with so many colleges and universities over the past 20 years.
Often, I hear the school doesn't want to make changes to their enrollment process because they do not want to turn into a sales organization or use aggressive enrollment practices.
Let's unpack this sentiment.
By changing your enrollment experience, you are better serving students. Your college will not become a sales organization — think of this as servant leadership.
Prospective students come to your website to learn more about your college and to find out if your college is the right fit for them.
Make it easier for them to find these answers. Go through your website as a prospective student. Is it easy to find answers? Is your website clearly explaining why someone would want to enroll or what differentiates your school?
This article is going to go in in-depth on this topic, so keep reading.
If you don't have the time, schedule a quick, no strings attached consultation and we can discuss your school's biggest challenges and how an enrollment audit may help you overcome them.
Newsletter Sign up!
Get our best content on digital marketing in your inbox 2 times a month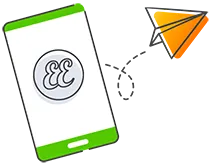 Colleges Put Up Unintentional Hurdles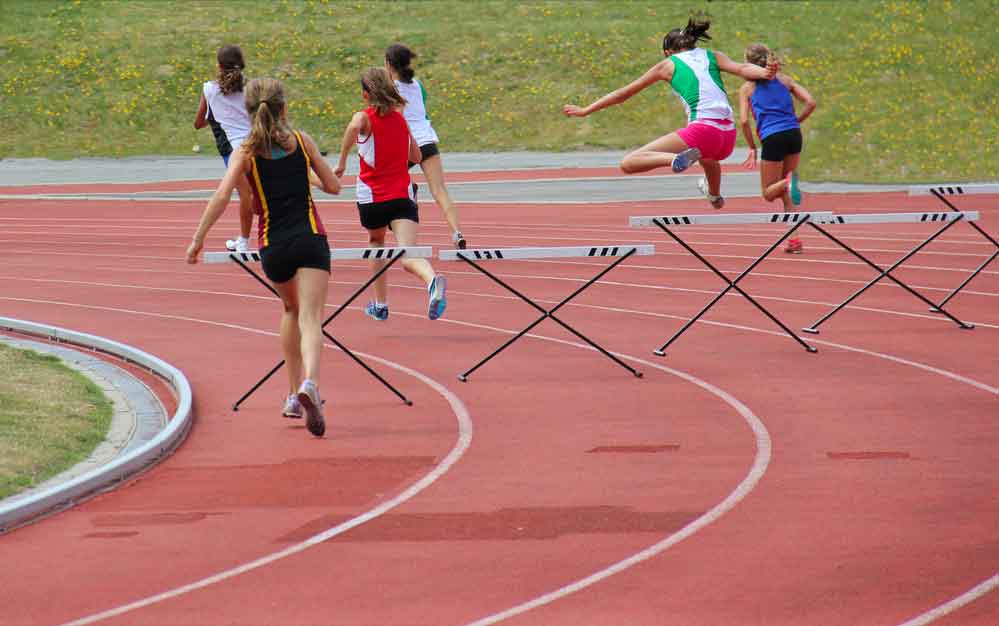 At times, colleges can put up unintentional hurdles for prospective students. I've seen many schools think that if a student will overcome these hurdles, then he/she will be a more motivated student and will be more likely to graduate.
I find this hypothesis to be flawed and unsupported by actual data.
Prospective students are coming to college to learn — not to prove themselves as worthy students to the college they're enrolling at.
We are underserving those already underserved. And if we continue to put up these unintentional enrollment hurdles, will only help to further deepen the gap between students.
How Your Website Experience Can Be a Hurdle
Your website is the first hurdle that a student needs to overcome: "I came to your website to learn more about your college and found it hard to figure out if your college is for me."
Prospective students are coming to your website to get answers to these types of questions and more.
You may need to work with your team to create a better user experience on your website that directs prospective students to the answers they're looking for.
Having trouble driving traffic to your website? Find out how to improve your SEO in our blog post SEO for Universities: How to Increase Website Visitors and Enrollments.
Ask + Answer These Questions to Remove Your Website's Hurdles
Make it easy for prospective students to find answers to these questions:
Why would I want to enroll at your school?
No need to make a direct comparison with other colleges, but you should be able to communicate what makes your college special.
What personal outcomes should I expect from getting an education at your college?
Make sure your college communicating the value it can afford to your students' futures.
How easy will this decision-making process be for me?
Make sure the student can quickly find answers to these questions:
Can I afford your college?
What support will I receive?
Do students/others talk highly of your school?
Do you offer career services and in what capacity?
Will this degree help me in my career pursuits?
How Can You Make Answers Easy to Find for Prospective Students?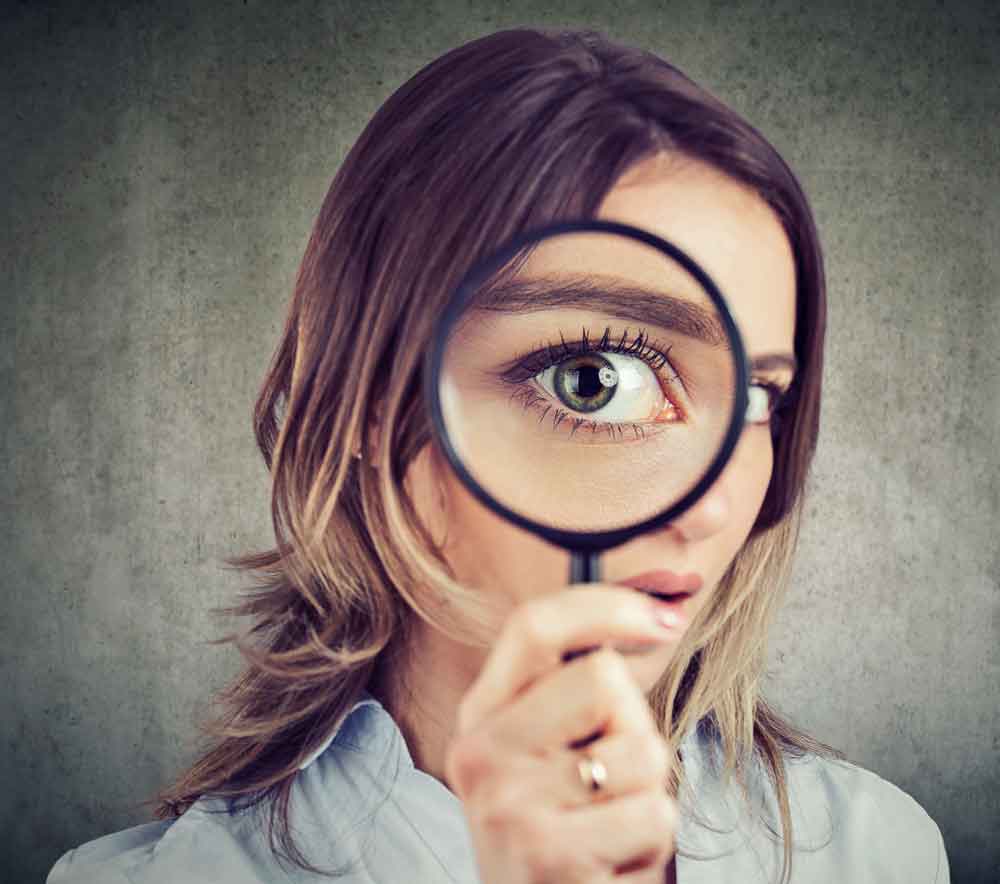 You may need to change how your website navigation is set up, your content marketing strategy, your lead generation, and your nurturing strategy. and so much more.
The goal is to make it easy for someone to understand "why" he/she needs to enroll at your school.
Take account of all of your school's unique perks and offerings and decide which to push in your marketing. These could include:
Status
Unique campus experience
Quality of education
Networking and job prospects
Support
Ease of enrollment and online education
Accelerate program, quicker graduation, quicker to get to a new career
How are you communicating your uniqueness? If you're not sure, let's chat to discuss your communication strategy and if it needs to be improved.
How to Improve Your Enrollment Strategy
Now, let's get into the nitty-gritty of how to actually improve your enrollment experience.
First, you need to capture the visitor's information using a "request for more information" form on your website.
You must capture their information so you can continue to communicate with them and build value for your institution. If the person leaves without engaging with your institution, then the relationship may have ended before it began.

How are your

marketing

efforts contributing to your company's growth?
Schedule a brief discovery call to receive a complimentary consultation for your business.
1. Create Lead Nurturing Email and Text Message Sequences
Lead nurturing is the process of developing relationships with prospective students at every stage of their decision process. The focus should be on understanding your prospective student's needs and putting them on a communication track that will help answer their questions about your college.
You can even put people on different tracks depending on where they're at in the process. For example, you can put prospective nursing students on a different track than business students or undecided students.
You can use an email service with automation or a higher ed CRM that has automation. Developing a solid tech stack for your school is key to boosting enrollments.
What's a tech stack? A tech stack involves the different tools and services you use and layer on top of each other to help with enrollment, marketing, and Admissions.
If you're not sure how to pick the right tech stack for your school, we can help.
Your branding efforts and lead generation help turn prospects' heads but nurturing turns them into students.
Watch this video to see how Ellison Ellery was able to help Western Carolina University effectively rebrand their identity. We also recently pushed an extensive article on How to Nurture Your Prospective Students from Inquiry to Enrollment through Lead Nurturing.
Watch this Video to See What We've Done for Western Carolina University
2. Use Marketing Automations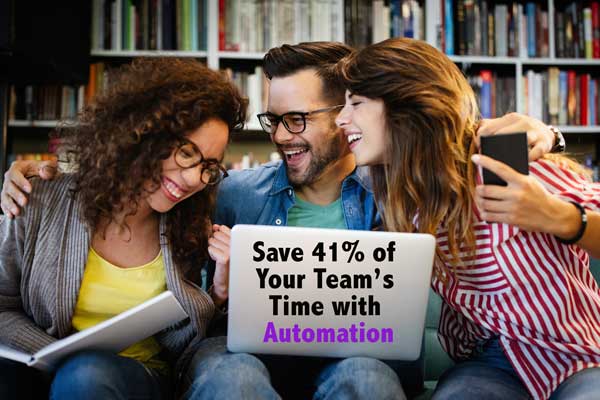 Your team can save 41% of its valuable time with more thoughtful automations.
How?
Your CRM or email system can be set up to communicate according to a cadence you set-up. (We can help you set this up! )Your system can also help to keep your staff following a prescribed playbook of activities and events.
The automation sequence should include a mix of emails, text messages, and phone calls. The sequence can help to keep prospective students moving along the enrollment path by following up with them when they miss a deadline or simply scheduling an information session or an enrollment appointment — and so much more!
It's become more challenging than ever to keep enough staff to service all of your inquiries. This is why you need to lean on your CRM and marketing automation to communicate the value of your institution and degree.
Students showed interest in your school and they want to learn more about your school! I can't tell you how many times I have secret shopped a college or university's enrollment process only to find out that inquiries are not being responded to because of staff shortfalls.
Newsletter Sign up!
Get our best content on digital marketing in your inbox 2 times a month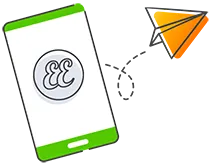 3. Avoid Transactional Communications
Try to avoid transactional communications — this includes saying things like "Click Here to Apply"; these types of communications are not adding value to your relationship with prospective students.
The goal is to aim for more informative and brand-building communications. Try not to miss opportunities to reinforce what makes your college spectacular.
4. Send Engaging Communications
Engaging communications includes anything that relates to prospective students on their level. And one of the best ways to engage students is through text message!
A good CRM can send out SMS/MMS text messages to individuals or to a group of students you select through the filter system.
You can send out text communications to promote:
Upcoming events
Enrollment deadlines
Financial aid deadlines
Webinars
Brand-building communications
COVID updates
Safety updates
Referral requests
and so much more!
Make sure to also include videos and graphics that help differentiate your school and build value.
Each touchpoint you create needs to have a purpose!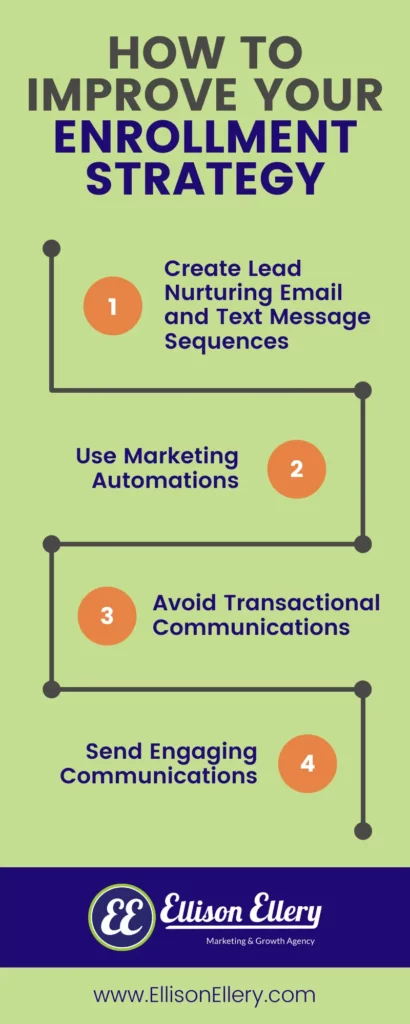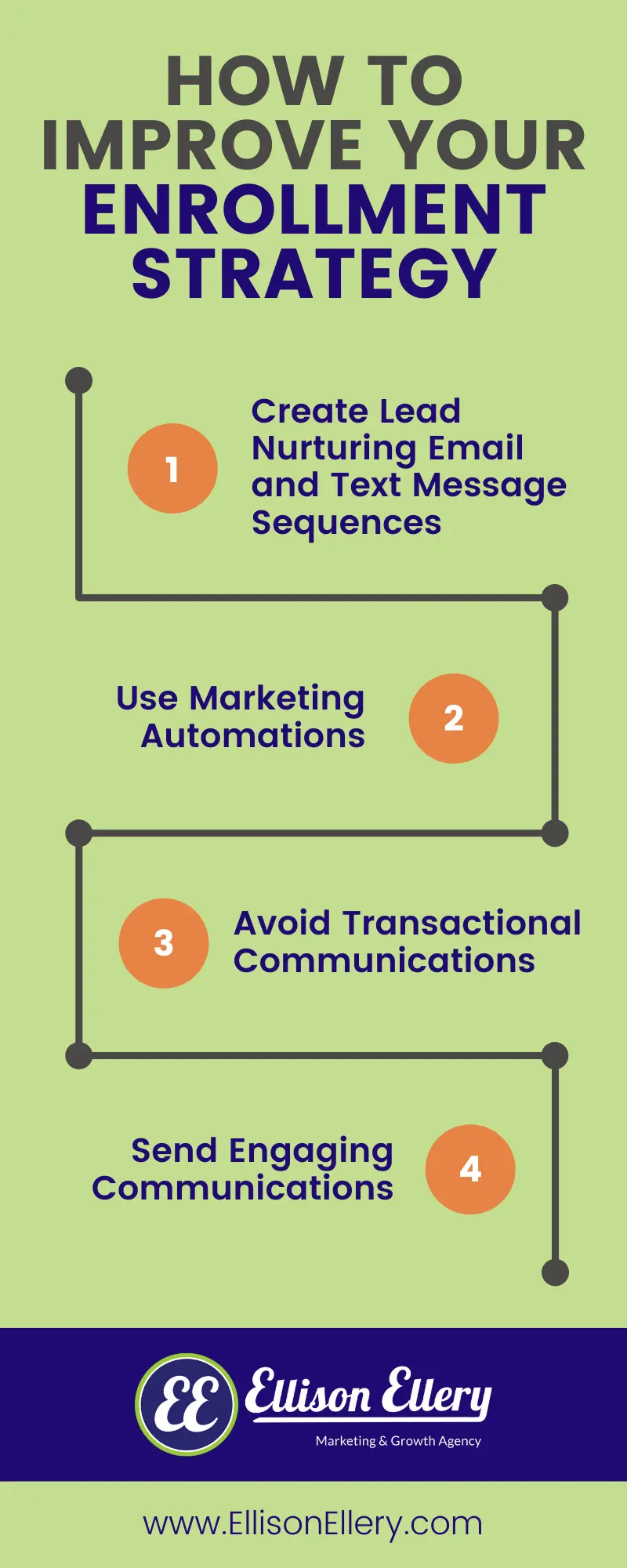 Conclusion
It's important that your school and leadership team take the time to evaluate your enrollment strategy.
It can be easy to get caught up in the stress of trying to meet your start goals that you don't stop to take a moment and reflect on why upping your enrollments is such a struggle.
A great way to stay on top of the latest trends and marketing strategies is to attend conferences. Check out this list of higher ed conferences you should attend to stay in the loop.
Take a moment and ask yourself if your enrollment process:
Differentiates your school
Builds value through lead nurturing
Shares social proof
Creates an inclusive and welcoming environment
Helps answer questions and objections
If you're not sure about any one of these, it's probably a sign you need to re-evaluate your enrollment strategy.
Not sure where to start? Schedule a call to discuss how we can help grow your enrollments. Transforming your enrollment strategy can be difficult — but, with the right growth partner, you can start experiencing the results of enrollment optimization right away.