We strategize, we work with higher ed agencies, we develop branding campaigns, we post unique content on social media, yet still struggle to drive enough enrollments for programs. Why?
Universities and colleges spend so much time and effort on branding campaigns that it seems impossible they would be coming up short driving enrollments. This can be especially true driving enrollments for graduate programs.
Often colleges and universities push prospective students to fill out an application too soon in their decision process, causing lower than anticipated yield.
Think about the effort your university is putting into applicants; reviewing individual applications, getting transcripts evaluated, and so much more, only for the student to pick another school or simply decide not to enroll.
On average, students are applying to 10 colleges at a time, meaning nine colleges will be rejected after putting so much effort into evaluating their application.
Pushing a prospective student to fill out an application too soon is a big reason your yield is lower than your institution would like it to be.
Instead of directly presenting an application, allow and encourage the student to learn more about your school. Take a step back and encourage your prospective student to request information by either filling out a form on your website, through website chat or social media. This begins a conversation, piques their interest and curiosity without straight away demanding the commitment of an application. By requesting more information this student is considered an inquiry or lead, and is the first step to driving higher enrollments.
The goal now is to develop a relationship with the prospective student where you can share value and differentiate your school and program before driving them to fill out an application.
Why?
Let's start with a deceptively simple question: What is a lead?
If you buy a mailing list, are those people on the list considered leads for your college or university? If someone fills out a request for more information on your website, is this a lead? What if someone downloads the MBA guide your school created, or attended an online info session?
The answer may surprise you.
No one needs leads for the sake of driving more leads. Forcing prospects at the top of the funnel (they are just learning about you) to fill out an application can waste your enrollment team's time. But how do you tell the difference between a hot lead (someone genuinely interested in your school) and one that's only lukewarm?
Each institution needs to decide what constitutes a good lead vs a bad lead. It is important to align marketing and Admissions with what a good lead is, and the follow up process on these leads from your outbound strategy to your lead nurturing strategy.
Some schools will buy leads from higher ed lead generation vendors but not all of these sources are the same. Are you tracking these vendors by affiliate ID? Are you closely monitoring their conversion rates?
Let's break down how to keep visitors moving smoothly through your funnel (this is what we call the process from awareness to enrollment) so that they don't drop out before ever learning how great your school is!
Below👇 is a visual representation of a funnel. This way, you can see what type of tactics can be done based on where someone is in their enrollment process.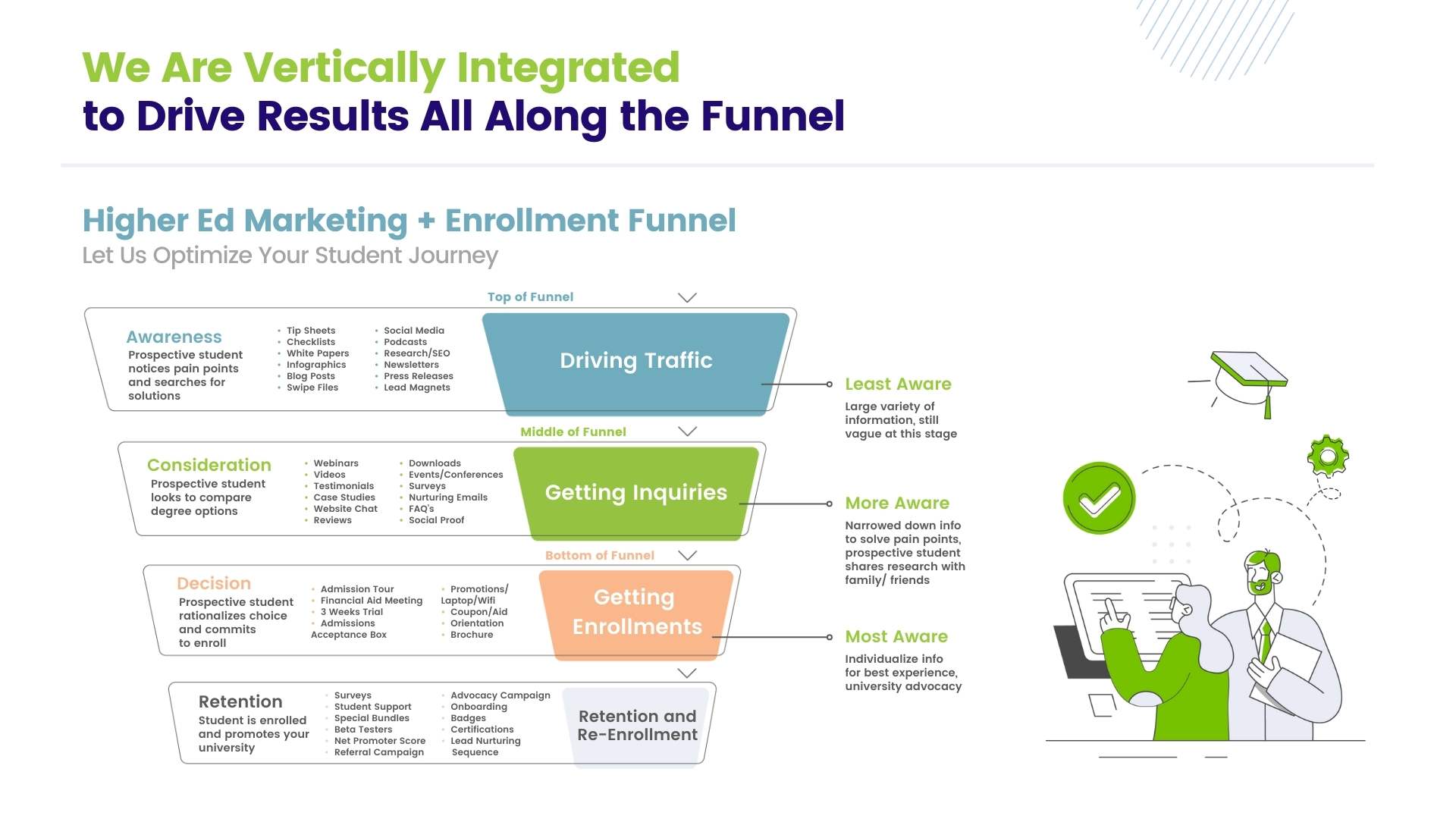 The Student's Journey Has Never Been So Complicated
What is a Student Journey?
A student journey map is a visual representation of your student's journey. This journey starts at the awareness phase. You can create a few separate maps that document the entire admissions process and enrollment journey, then an onboarding journey all the way through graduation, and even create an alumni journey map.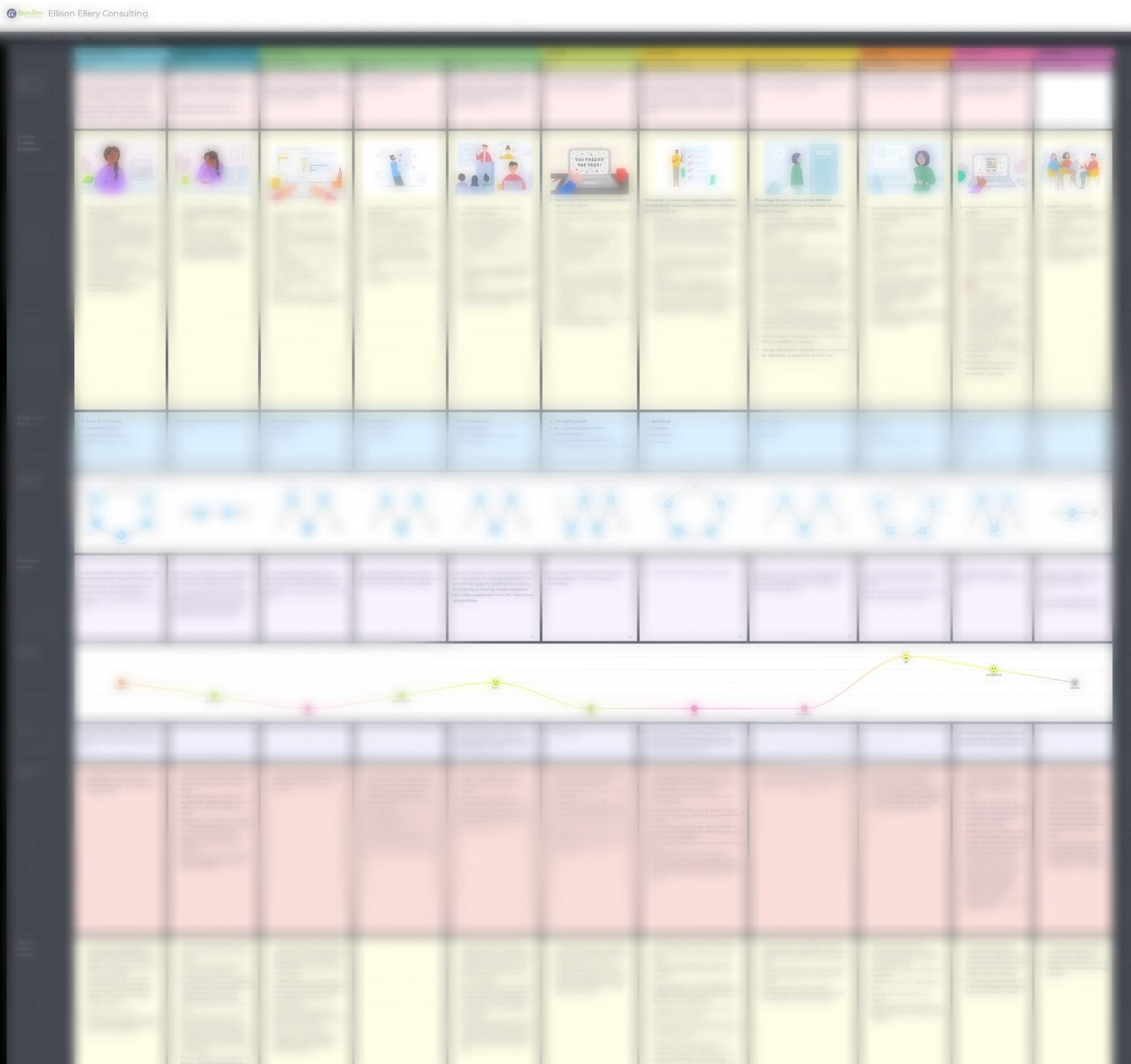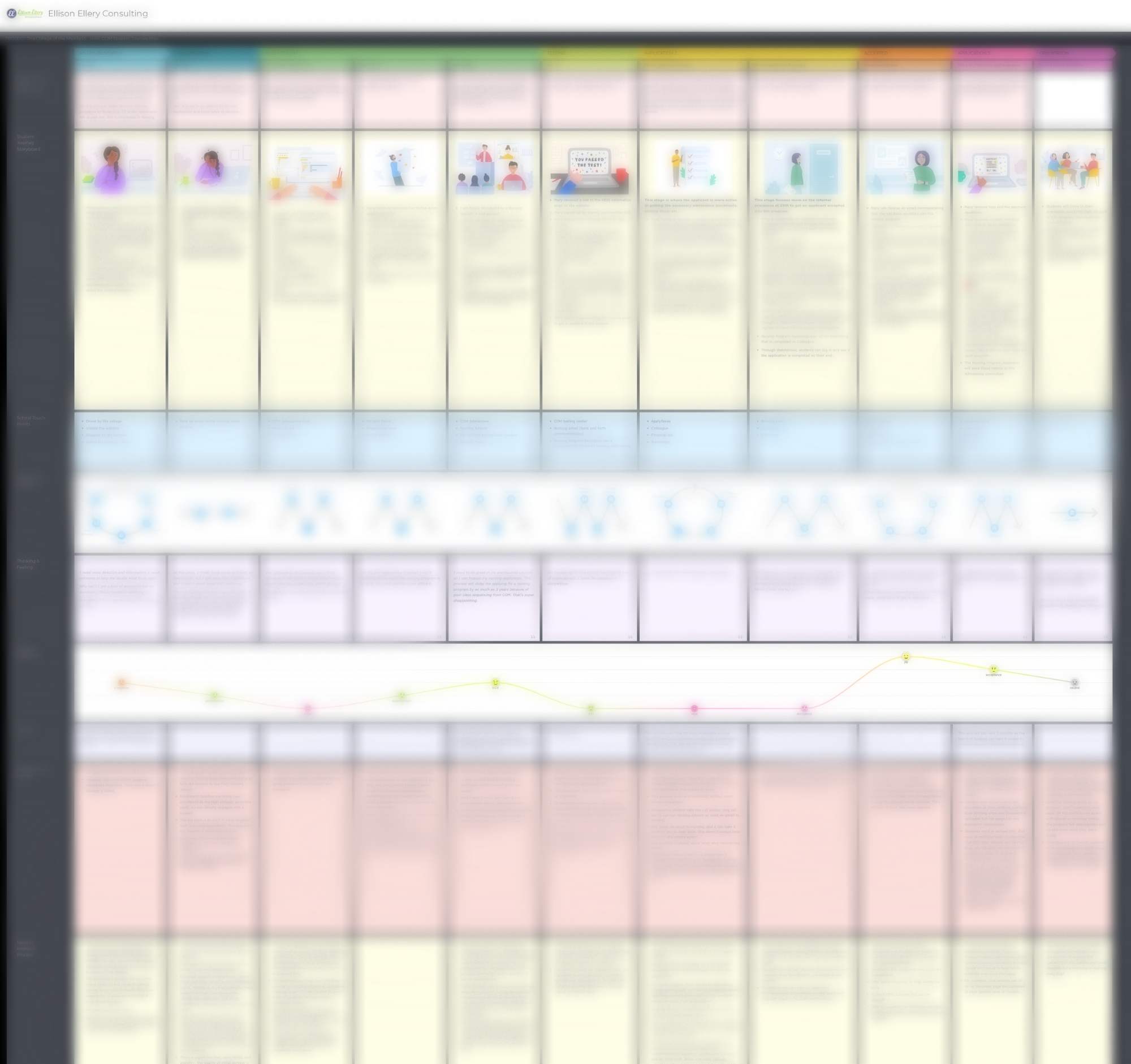 Let's take a closer look at each stage of the student journey, so your college can create content that supports driving enrollments:
Awareness Phase
Does your local community know about the programs your institution offers? Get your name out there!
Do they use LinkedIn, TikTok or YouTube, Google Maps, during their research phase? Learn more about Local SEO and how it can help your college or university be found.
Reverse engineer what your competitors are doing. How are your competitors marketing their nursing or engineering program? It may make sense for your institution to be there too.
Need more tips to expand your awareness? Check out 19 College Marketing Trends to Boost Your Enrollments in 2023.
SEO for Universities: How to Increase Website Visitors and Enrollments?
How to leverage your university's value propositions in its marketing?
Interest
Now that someone is aware of the programs your school offers, it's important to decide what content will keep them interested in learning more? In this stage, it's essential to understand the various interests of your prospective students.
Once you collect someone's information, you must nurture the relationship. You probably wouldn't marry someone after a first date (even a good one) so let's use a similar approach. How are you a good fit for each other? This may sound like a stretch, but it's a fair analogy for college enrollments. If you enroll an impetuous student, that student will likely withdraw or drop out of your college just as quickly.
Nurture prospective students through a series of stages before they become enrollment ready. This blog post breaks down the value of investing in inquiry nurturing and the best ways to do it.
Email Lead Nurturing: How to Nurture Your Prospective Students from Inquiry to Enrollment.
Instigation
You must understand your prospective students and what they are looking for. How? Ask them!
Engage each student in a relatable way. What might resonate with them: humorous emails or emotional success stories and constant words or quotes of encouragement? How can you cater your campaigns to your prospective student's needs and interests to have an emotional impact?
How Do You Know What to Send Prospective Students to Keep Them Engaged?
One of the best ways to get to know what motivates prospective students to enroll is to ask your recently enrolled students and prospective students.
You can do this in several different ways from:
One-one-interviews
Student user studies
Student workshops
Lead nurturing techniques won't push your prospective students through the enrollment funnel if you don't understand their student motivations and keep them engaged with the appropriate content.
Reach out to Ellison Ellery to kick off your qualitative studies. We can help you get to the heart of what is most important to your students.
Many universities hire us to interview their students, prospective students, and alumni to get to the heart of why they enrolled, their feelings about the university, and to seek out advice on how to improve their process. For other schools, we host story brand workshops. Whether you hire us or not, it's incredibly important your institution does more one on one qualitative research with your students.
Consideration
Your prospective student is interested in your school or programs, and they're ready to put you on their shortlist. Students want to enroll and find the right school for them and it's your job to give them the reasons why your school meets those needs. Clearly communicate what differentiates you from competitors, and why should they continue considering your school? Help them decide.
Enrollment
Great! Students are enrolling at your college or university. Next, create a strong onboarding process, and continue offering student services all along the way. A big first step, is to make sure your systems all speak to each other, from your CRM to your LMS to your SIS, then look at a student's experience and see how you can continue to improve the process. The quicker universities and colleges realize they are in a service business, the quicker they can affect change.
Alumni Satisfaction
Once a student graduates, it's vital to turn them into brand advocates. The more value you provide to your alumni, the more likely they are to enroll in another program, share positive experience through word-of-mouth and social media, and possibly hire other alumni. Also, what career service opportunities does your institution offer? What about networking opportunities? How are you staying engaged with alumni?
Newsletter Sign up!
Get our best content on digital marketing in your inbox 2 times a month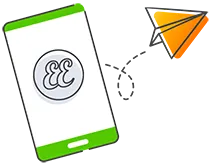 Free Webinar
"Why Your Lead Generation Efforts Fail:
Proven Ways to Win More Customers in 2022"
How to Optimize Your Website for Higher Ed Lead Generation?
Why Your Prospective Students Leave (And Never Come Back)?
What do paid media efforts, branded search, SEO (non-branded search), social media posts, and everything in between have in common? They all work to drive people to your website.
An optimized website is your hardest-working employee. It should entice visitors to want to learn more about your school or programs. Even the most effective lead generation campaigns can bring underwhelming results if your website is plagued with poor user experience, slow speed, and mediocre messaging.
What happens when you visit a website that won't load? Or when you can't find the program you're looking for (even though you know the university offers it)?
Or when the website, even if it's highly ranked on organic search, simply looks outdated and unattractive?
It's much harder to convince visitors to stay so oftentimes, they end up leaving at the first sign of trouble.
This can be happening for several reasons:
Your website takes too long to load
Your message (value props) are not clear enough
Visitors can't easily understand the information, (poorly worded or disorganized)
Your website isn't attractive
Your website isn't optimized for mobile
Your website has poor usability (hard to navigate and hard to find info)
Virtual Workshop
by Ellison Ellery Marketing and Growth Agency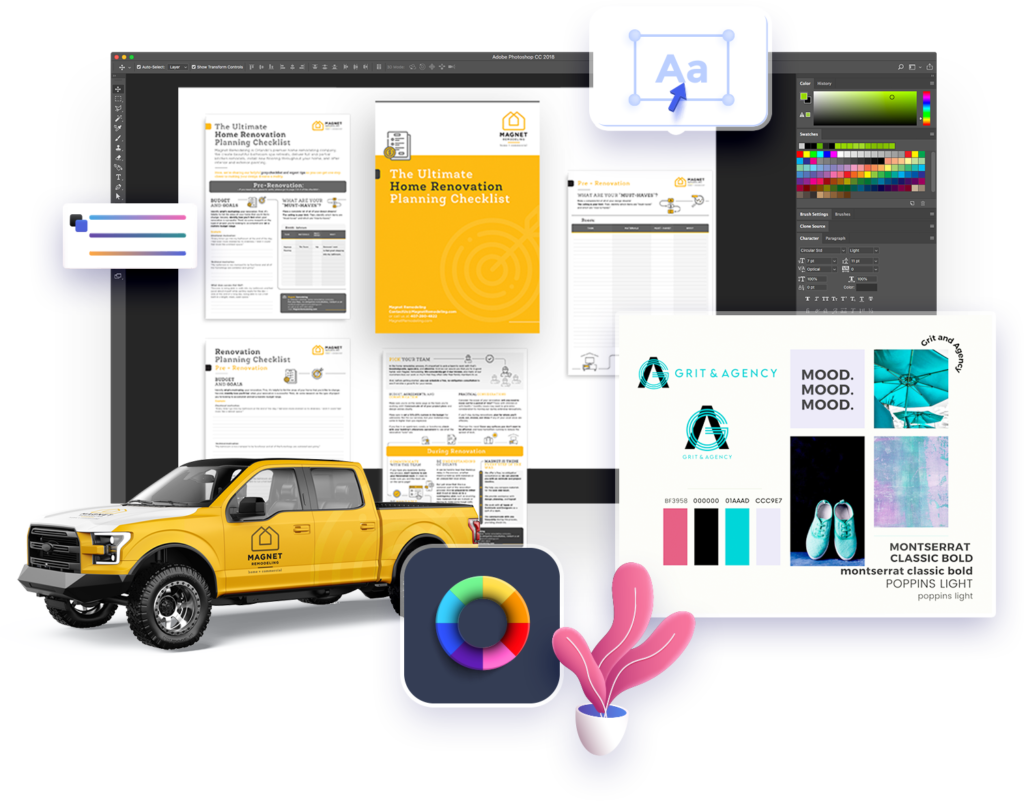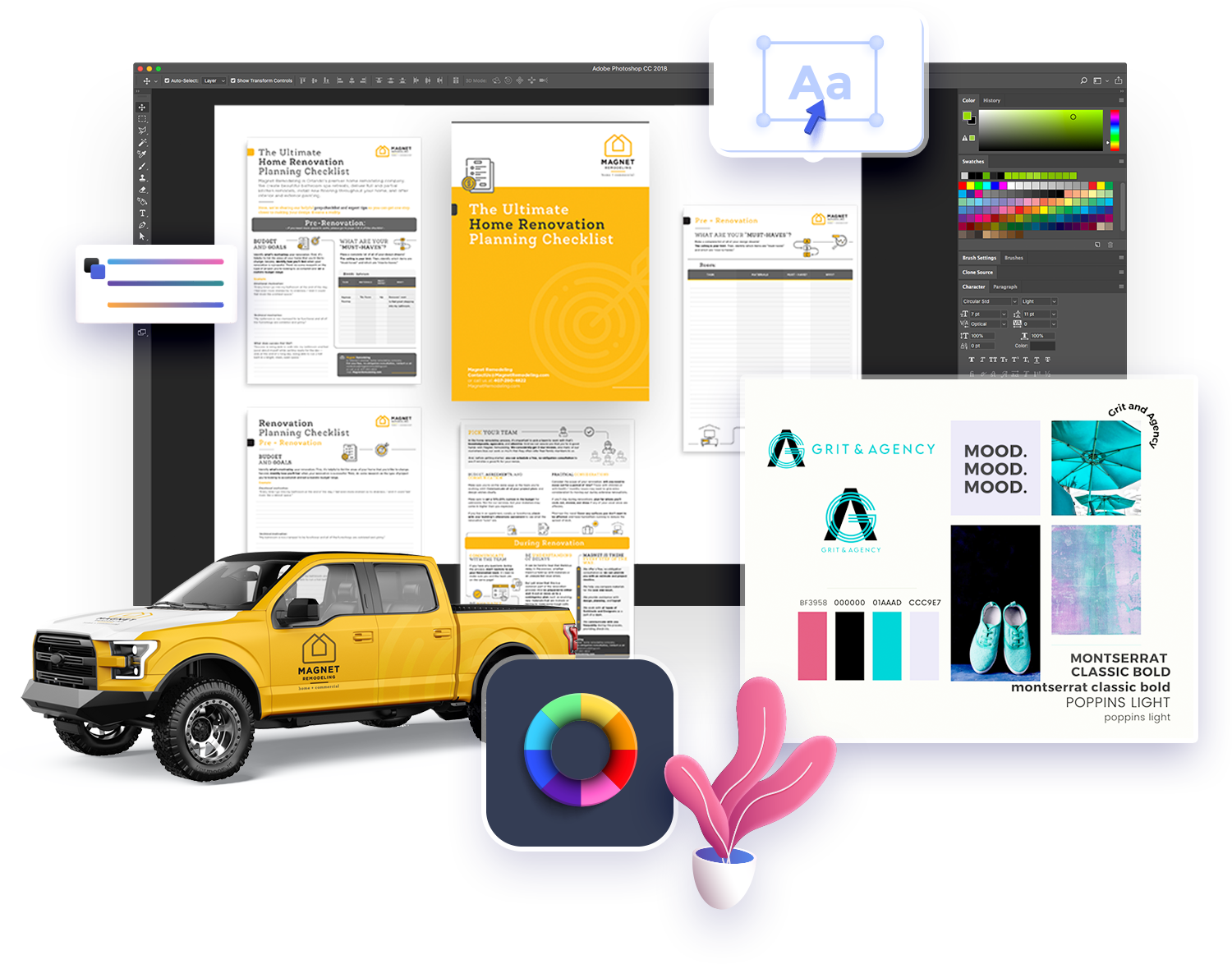 "Uncovering Your True Brand Story"
We'll host a customized one-on-one brand messaging workshop so your business can get clarity on what it does, how it does it, and what pain points it's solving for. The workshop is one portion of your deliverable. We also take what we heard in the workshop and then apply that to write your mission statement, vision statement, and a few one-liners for your business.  You'll have everything you need to have a clear vision of how your product and service benefits your buyers.
Virtual workshop 3-4 hours (Additional hours included in price for creating a Summary Memo.) 
How to Remove Friction From Your Website
Friction points are moments or areas of frustration that can circumvent or dishearten a prospective student, making them give up and walk away. Let's say you're on a website and start filling out a form. There's a CLEAR button right next to the SUBMIT button, and accidentally the prospective hits the clear button when they intended to submit their information.
That's a huge friction point.
The prospect may be agitated from that single wrong click that he or she doesn't bother to fill out the form again, leaves the website, and disappears into the rabbit hole of the internet.
When does someone need to clear their personal info? Does the form need a "clear" button? The person will close the browser window if he or she does not want to fill out the form. There is NO need for a clear button. This is just one small example of many friction points.
Other common friction points include:
It's too difficult to speak to a human support/sales representative
Poorly organized website, difficult to navigate
Lack of transparency in features, pricing, or other key information
Calls to action are unclear or require too much of the prospect
It's imperative to deliver information across multiple channels (text, video, etc.) and to provide prospects with multiple entry points. Offering ebooks/ guides, downloadables, student success stories, whitepapers, demos, free trials, and other goodies can help attract students in various stages of the journey.
Here's another thing to consider: Your design aesthetic can be a friction point.
Users form an opinion about your site almost immediately
First impressions are 94% design-related
Websites are often too complex, busy, and lacking in navigation aids
75% of consumers judge a school's credibility based on its website design
Interrogate your design by walking through it as a prospective student. Start a search on Google. Find your website, examine your title tags, and compare how your website is positioned against the other listings. Does your school stand out?
Of course, you may not be in a position to provide an unbiased answer. Using trusted friends, colleagues, or a focus group can be useful for generating objective feedback. There are also online tools available, such as HotJar or Mouseflow, which create a "heatmap" of your website, showing you which elements of your site real visitors are drawn to, where they get stuck, and when they bounce (or leave your website).
Heatmaps are an awesome tool for identifying which design elements may be causing friction and which ones are doing their job well.
Never expect that a visitor to your website will leap chasms and douse flames to submit an application—even a small degree of friction can turn a potential lead into a disappearing act.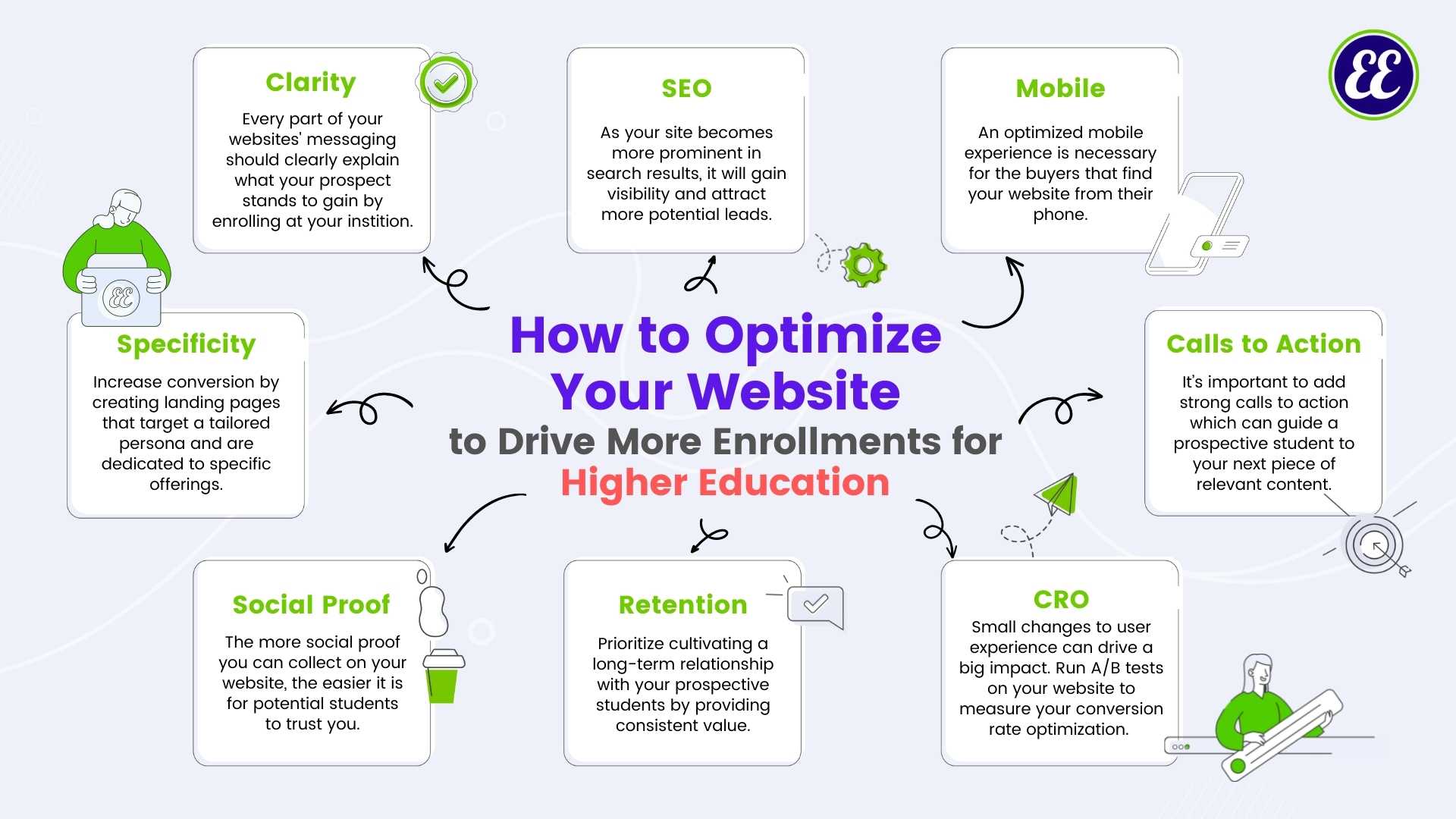 Higher Ed Content Marketing & SEO Strategy
SEO is search engine optimization. This is where you adjust your website intentionally to increase your chances of being found by search engines. Be sure to bookmark this page on improving your search engine visibility for your university or college website.
68% of online experiences begin with a search engine, and more than half of all website traffic comes from organic searches. Other prospective students can learn about your institution from local events, word-of-mouth, brand campaigns, and through other strategic initiatives. That's why your central communications, branding efforts, and SEO efforts should be closely aligned.
By merging your content marketing strategy and SEO efforts, you can drive higher-quality traffic to your website through organic search engine results and social media referrals.
Getting to page one of the search results is vital because:
75% of users don't click past the first page!
The first three organic search results get 60% of all traffic from a web search.
Leads coming from a search have a 14.6% close rate, compared to just 1.7% from channels like print or direct mail advertising.
SEO for colleges and universities is more cost-effective than paid advertising alone. As your site becomes more prominent in search results, it will gain visibility and attract more potential leads.
SEO is not meant to replace paid advertising, but it's an added strategy to ensure your college or university brings in the right prospects and takes them down the enrollment funnel.
Here are a few good reasons to invest in SEO:
Long-term gain. While upping your content strategy game will require a significant upfront investment, it can bring long-term interest to your school. Much like the concept of compound interest, it eventually makes your university money while you sleep.
Better conversion rates. Traffic from your enhanced content strategy offers better conversion rates than other channels. Although paid search can produce results quickly, it can lack authenticity and eventually plateaus, forcing you to spend more money on generating similar or fewer enrollments.
Newsletter Sign up!
Get our best content on digital marketing in your inbox 2 times a month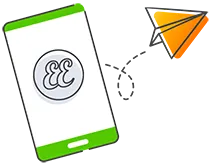 How To Run An SEO Audit
SEO is something you're probably always working on. Even if your efforts are somewhat passive, when was the last time you thoroughly checked your website's SEO?
Broken links, 404 errors, slow page loading speed, and other performance issues all penalize your site's ranking and make it harder for your website to generate leads. Even if you do usher visitors to your site, a poor user experience will stick with them longer than the ad that took them there.
This article goes in-depth on how to perform your own SEO Audit for your college for your university or college website.
Tools like SEO DeepCrawl, SiteBulb, Ahrefs, and SEMrush perform audits that help you identify problems with your site's performance and provide you with recommendations on what you can implement going forward.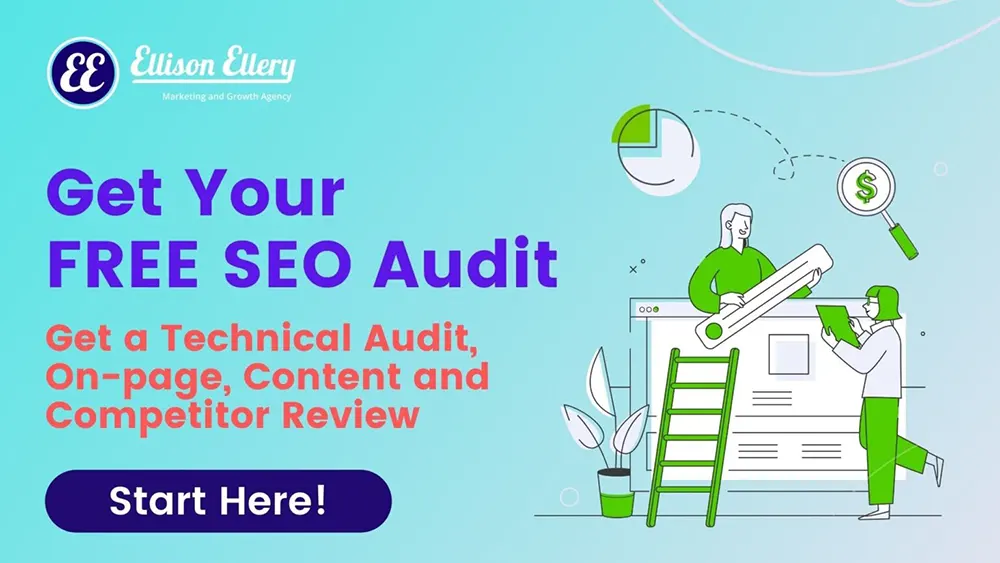 Optimize For Mobile
Optimizing your website for mobile is no longer a bonus, it's a must. An optimized mobile experience is necessary for the students that find your website from their phones. A confusing mobile layout will drive prospective students right into your competitor's arms.
It doesn't take too long to check your website's mobile compatibility, and doing so can drastically improve your lead generation by increasing your website's reach.
Improve Your Calls-to-Action (CTAs)
Improving your calls-to-action (CTAs) is one of the most impactful changes you can make! A weak call to action won't motivate a prospective student to click, whereas a clear and engaging one will not only generate more leads, but those leads will often be more qualified ones.
The first step is to identify your most-visited website pages. Using heatmaps or other data, identify what visitors are looking for. What SEO keywords are on the page? Once visitors arrive, what do they do—click a link and then navigate to your tuition page or another page? Where they go next clues you in on why they came in the first place.
Once you have a sense of what people want from the page, it's important to add strong calls to actions which can guide a prospective student to the next piece of content. This could be a blog post, a downloadable piece of content (lead magnet), or to schedule a call.
There's no limit to the number of CTAs you can place on a single page, but they should be organic, not spammy. The key is to always provide value to your visitors.
Most landing pages don't do a good enough job connecting with a prospect to solve their pain point, and consequently, they don't offer sufficient value to convert visitors into applicants.  Check out this blog post on Higher Ed Landing Page best practices + infographics.
Watch this Video to Increase Your Higher Ed Landing Page Conversions: Best Practices to Follow
Use opt-in CTAs that encourage visitors to sign up for your email list in exchange for something valuable. Here is an example, we created this admissions tip sheet: help admissions teams refine their enrollment outreach strategy, to entice more universities and colleges to learn more about us by providing something valuable in exchange.
Lead magnets are an incredibly effective marketing tactic, but it's important that your lead magnets fit into your bigger content strategy plan.
Create Offer-Specific Landing Pages
When someone lands on your website, you only have so much time to convert them from a visitor to a lead. Instead of directing a broad group to a general page, increase conversion by creating landing pages that target a tailored persona and are dedicated to specific offerings.
Your ad can offer anything from information on a specific topic to a free trial or lead magnet. As long as the landing page delivers on the promise, you're giving the visitor something very specific and relevant to them, increasing your chances of converting them into a lead.
Of all the visitors that come to your website, 96% of them aren't ready to make a decision just yet.
Get quick lead generation wins on your landing pages by following these easy steps:
Back up your copy with social proof.
Make your call-to-action (CTA) copy more relevant and have them higher on the page, lower on the page, and also consider your sidebar.
Make sure your CTAs are visible on desktop and mobile.
Upgrade your headline to catch the attention of buyers.
Your CTAs need to be eye-catching and make sense for where the visitor is in their student journey.
Optimize your landing pages and your thank you pages as touchpoints with relevant CTAs, social proof, and copy that addresses the needs of your target audience. They're a perfect opportunity to address the specific pain points of your ideal student and explain how you can help solve them.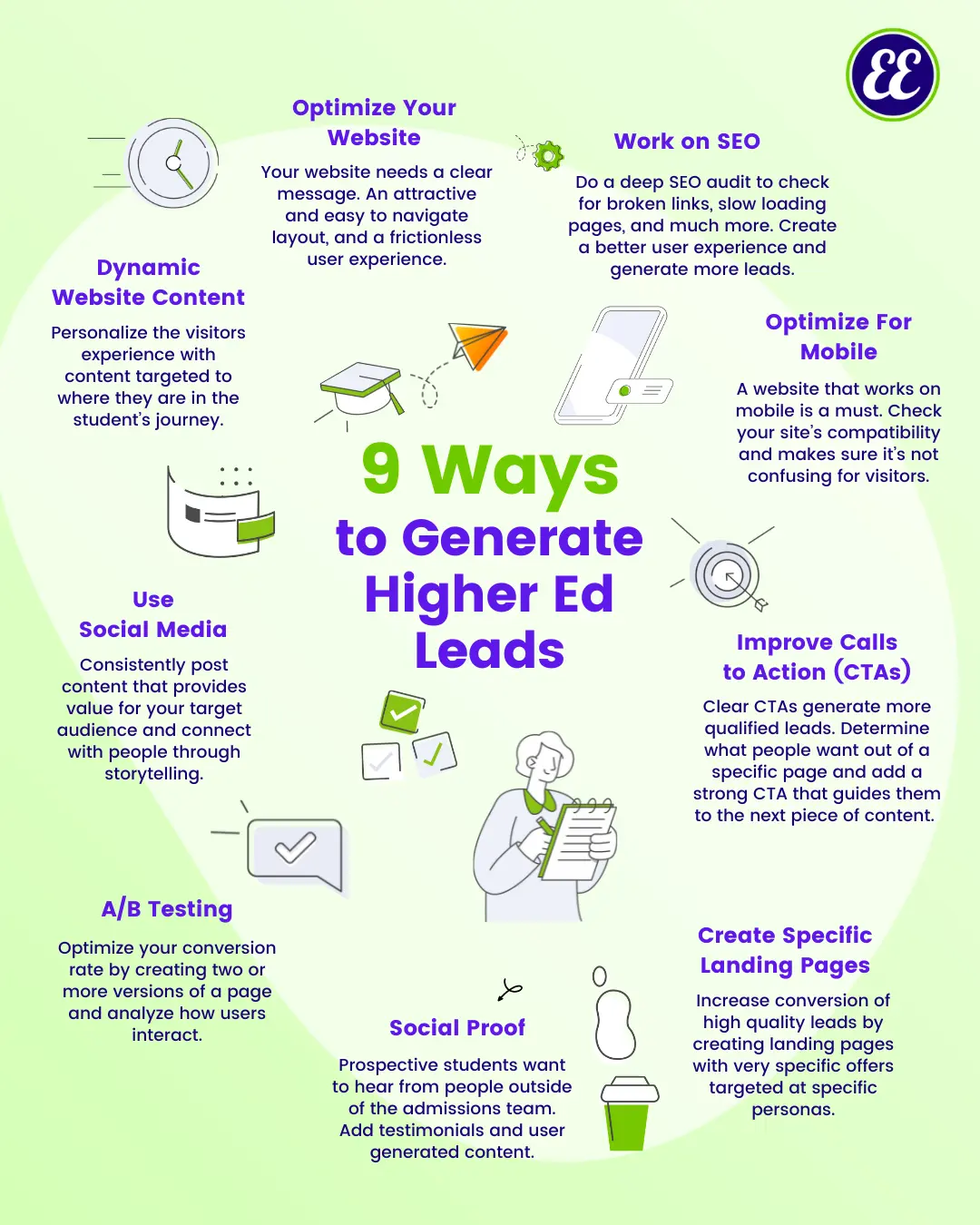 Improve Your Credibility with Social Proof
You can make claims about your programs all day long, but where do we go when we want truthful insight into what an experience or service is really like?
While almost all universities dislike U.S. News and World Report rankings, we all know they tell prospective students about the quality of education they will receive. No matter how flawed the rankings are, students and parents value them.
What other rankings or third-party validation does your university or college have? Princeton Review, rankings from niche associations, Poets and Quants?
To leverage 3rd-party validation, see this example from Leavey School of Business from Santa Clara University. They have their rankings in three different spots on their landing page.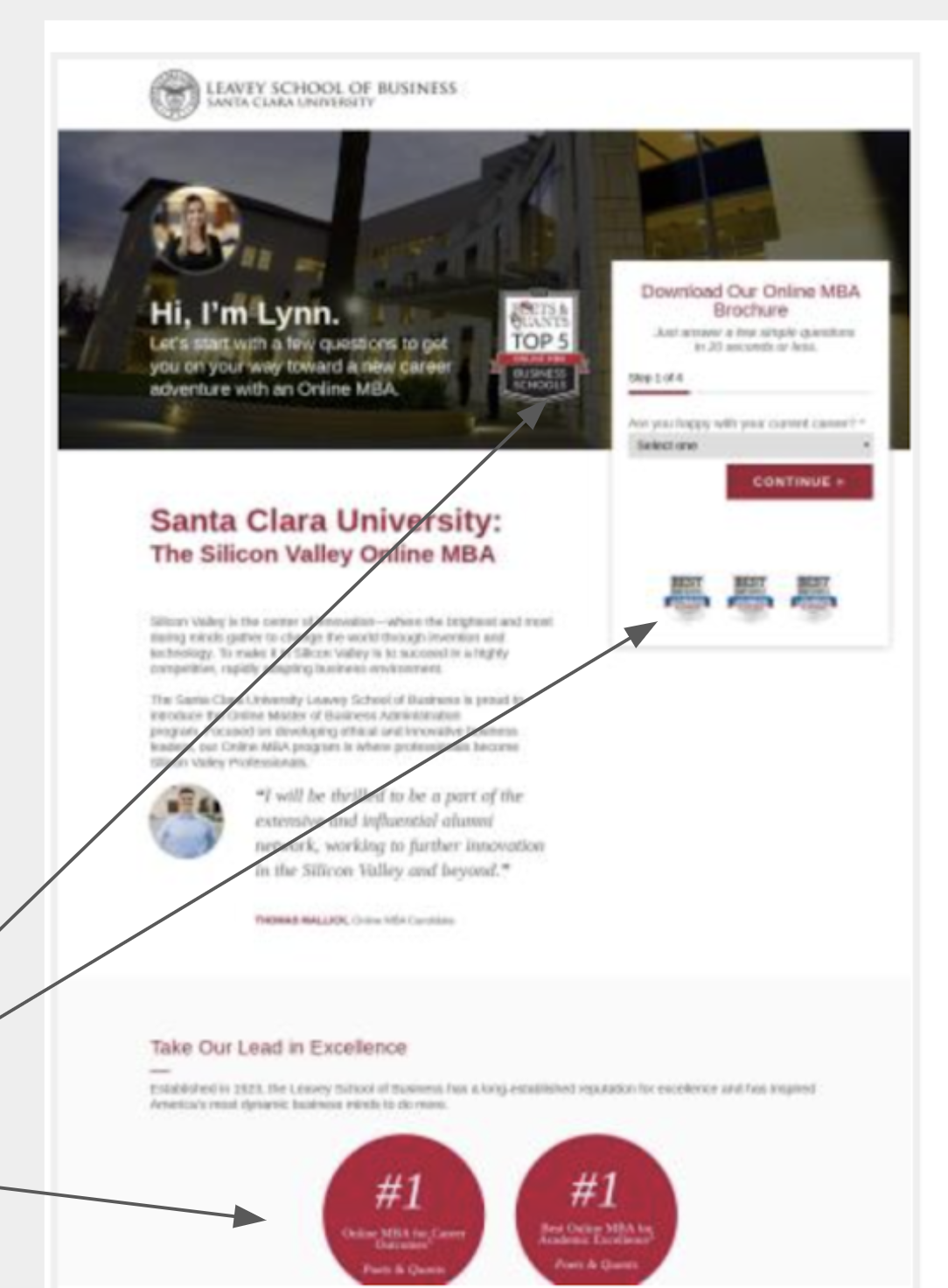 We want to hear from someone who's been there.
What can you do to showcase positive student experiences? Use social proof, of course! The more social proof you can collect on your website, the easier it is for potential students to trust you, and the more they trust you, the more likely they are to apply.
Examples of social proof are case studies, student testimonials, and user-generated content. Highlighting rave reviews online will help convince nonbelievers by demonstrating how others have benefited from what you have to offer.
97% of consumers say that online reviews impact their decisions. (Podium)
Testimonials can increase sales page conversions by 34%. (VWO)
57% of consumers prefer buying from a business that has at least a 4-star rating. (HubSpot)
40% of people say that they have purchased a product because it was used by an influencer. (AdWeek)
It requires an average of 40 reviews before a potential buyer can trust a business's review and star rating to be accurate and authentic. (BrightLocal)
85% of consumers are of the view that online reviews older than 3 months are irrelevant. (BrightLocal)
Getting students and faculty to create testimonial videos can be tough. That's why we created this video filming guide. You can download it here. We created this guide to make it easier to ask for video testimonials, so you can leverage them in your marketing.
Run A/B Tests and Do Conversion Rate Optimization (CRO)
Running A/B tests on your website is one of the best ways to measure your conversion rate optimization.
The process is simple: show two or more versions of your webpage to different website visitors, then gauge how those distinct groups interact with your site.
Is one version seeing more clicks on the call to action? Does it have a lower bounce rate? Identify your goals and see how the competing iterations stack up, then start applying what you learn about which headers, images, and design elements work best to similar tests on other pages.
Even something as simple as the color of a button can have a dramatic effect on conversion results. When Performable switched the color of their call to action button from green to red, they saw a 21% increase in conversion rate!
Here are a few tips for running an effective A/B test:
Isolate Variables & Remove Blind Spots: Don't test multiple variables at once and use heatmap software to take advantage of visual data.
Fail Faster & Cheaper: Create smaller tests with smaller variables to get faster feedback.
Use Prediction Metrics: Stop using "Sale" or "No Sale" as your key metric for a test's success—focus on predictive metrics such as whether a visitor submitted their information, clicked a call to action, or remained on the page.
What is Heat Mapping? Watch the Video to Learn More About Crucial Insight into Buyer Behavior
Test Your CRO Knowledge
Take our CRO quiz and get a Higher Ed Conversion rate benchmark ebook.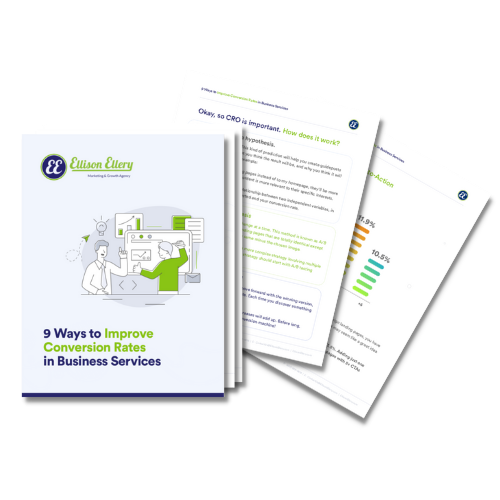 Should You List Your Tuition?
The short answer: yes. Transparency in tuition is a good thing if you can manage it. You can also test how you show your tuition using CRO testing mentioned above.
Some colleges do not publish their tuition because they want to communicate their value before showing their tuition costs. However, many prospective students are more sophisticated and will move on to a competitor with transparent tuition costs. Be sure to include your fees and summarize your costs to make it easier for prospective students. The best tuition page we've seen is from the University of Phoenix.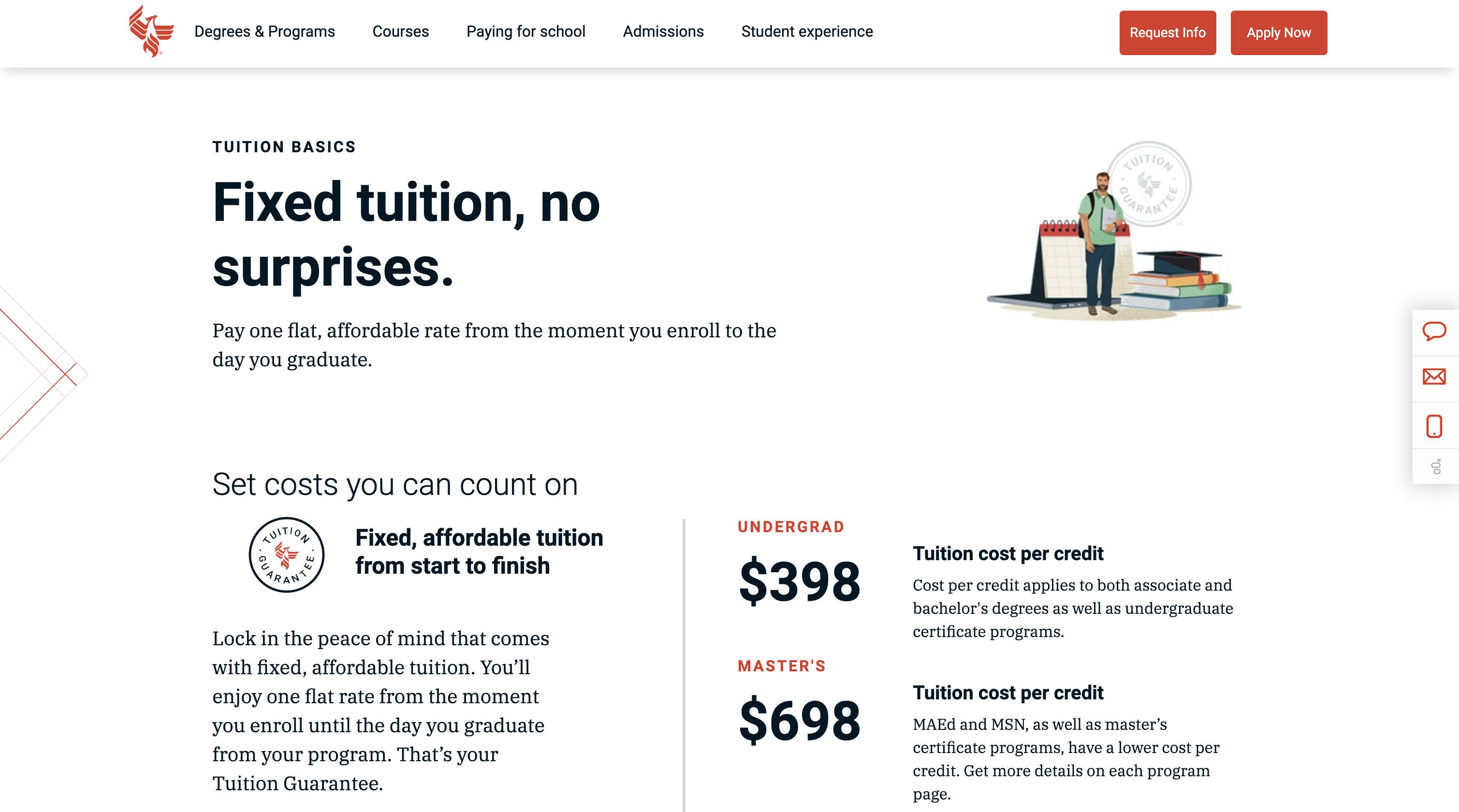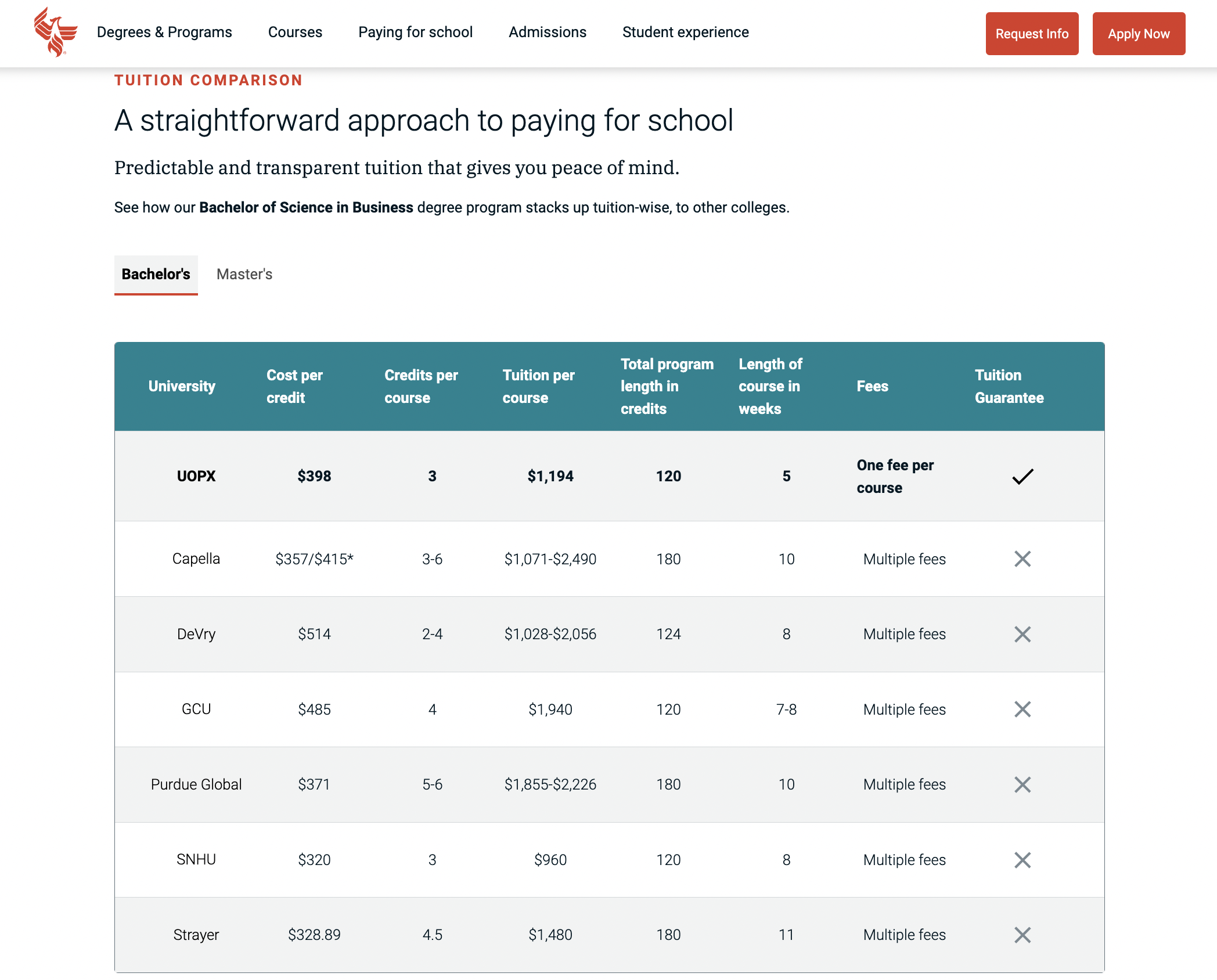 We understand how challenging it can be to provide prospective students with information that is both clear and easily digestible—after all, no one wants to sort through a spreadsheet to identify which technology fee applies to them.
Consider publishing a chart comparing yourself to your competitors (and be honest about it). Again, see how the University of Phoenix compares its tuition costs to other universities. By helping your prospects reach a decision, you are building value and winning more qualified leads.
Clarity of Message: Leading With Your Value Proposition
Clearly communicating the value you provide for your website visitor is a must.
Every part of your website's messaging should clearly explain what your prospect stands to gain as a student. Show it through a value statement in the form of:
Bullet points (see?)
A strong, bolded sentence or header
Unambiguous icons with brief captions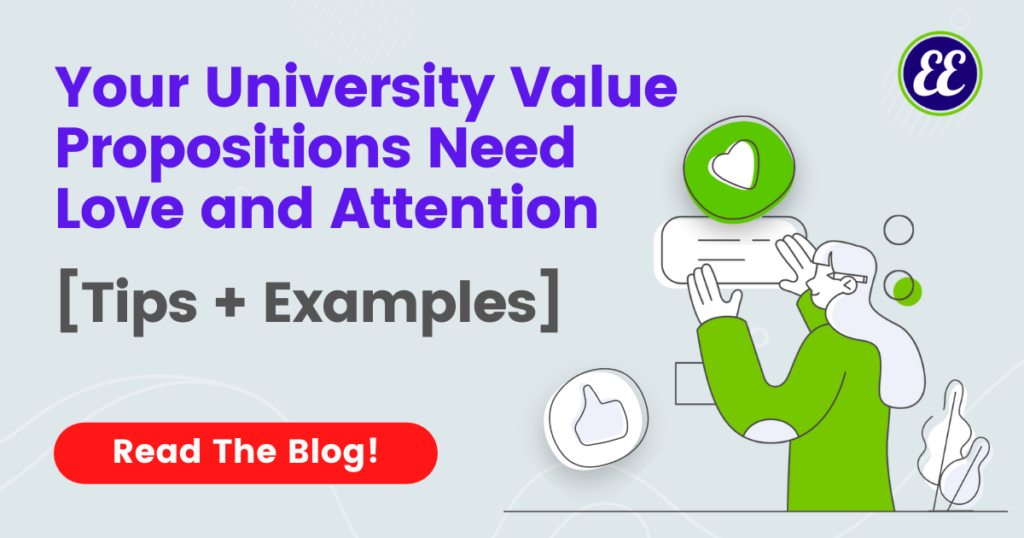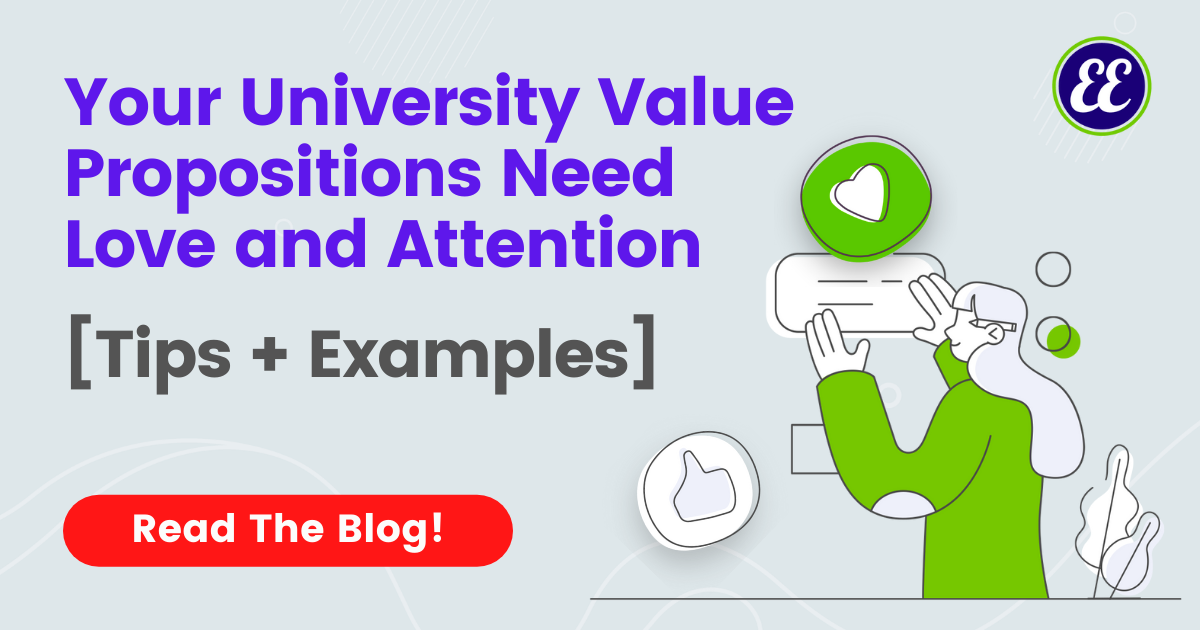 Always remember that people tend to scan rather than read word-for-word, so make your value proposition explicit. Your content should be scannable, not incorporated into long blocks of text where the prospect may miss it.
According to the LIFT model, your website needs to optimize for six conversion factors to improve experiences for your website visitors:
Value Proposition
Clarity
Relevance
Distraction
Urgency
Anxiety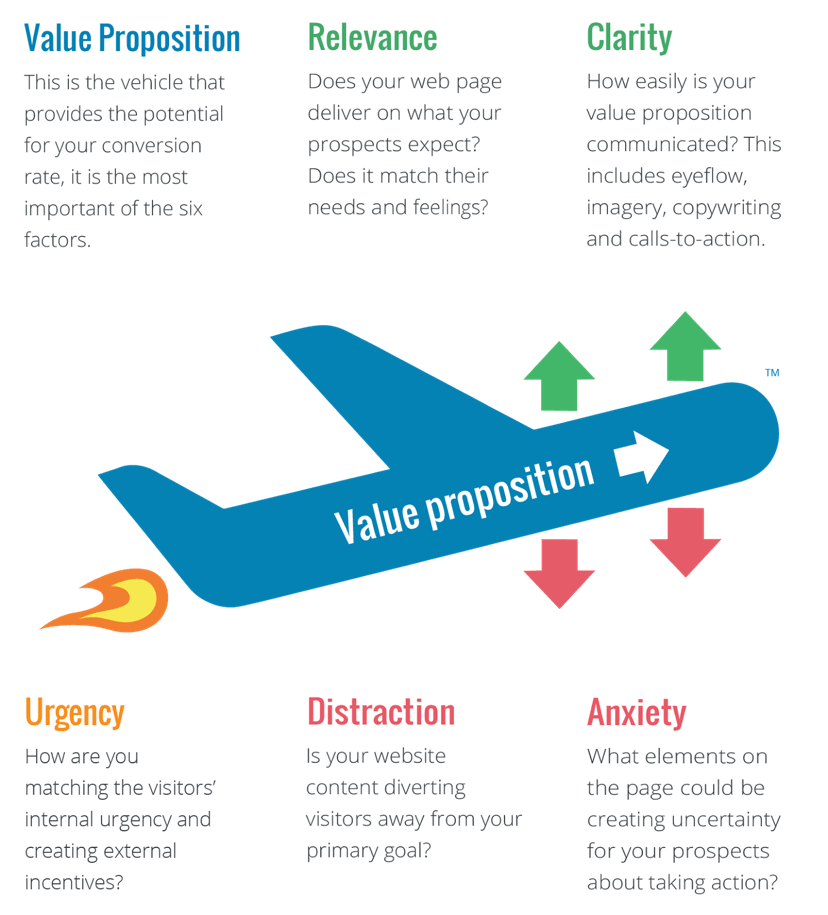 How To Improve Your Messaging
It's no secret that messaging matters. There is a need for colleges and universities to invest in strong copywriters who can clearly communicate what your university or college can offer can make a huge difference in your lead generation strategy. You don't want hard-earned website traffic to bounce (leave your website) because he or she isn't sure how your school or programs can help them or what programs you offer.
Keep testing what copy and calls-to-action (CTAs) resonate best with your audience. Using A/B testing, reviewing your website analytics, hosting student focus groups, and continually asking for feedback will help you determine what works for your ideal student.
Remember—most visitors won't tell you why they leave, consider running user studies to ask them, but strong messaging is critical as it will keep them around by tapping into their wants, needs, and emotions.
Social Media Paid Ads
TikTok & Reels for Higher Ed
Most schools have been hesitant to even try TikTok because of the platform's reputation for being a haunt of preteens and Gen-Z. However, by March of 2021, the age group 10-29 accounted for only 47% of the users.
It's also important to consider the algorithm for TikTok and Instagram Reels; posts aren't only shown to your followers. It works much like search engines, with keywords, hashtags, and user behavior dictating which content comes to the forefront.
So, if you're posting educational or relatable content that ties back to what you offer, you are essentially creating a breadcrumb trail which a user can follow back to your profile, website, and funnel.
Check out universities killing it on social media. Find out why this is the MUST channel for your college or university.
Watch this video for more info about short-form videos 👇👇👇.
LinkedIn For Higher Ed
Did you know 80% of leads generated from social media come from LinkedIn?
It's the #1 social media platform for content distribution — making LinkedIn Ads one of the best options for helping your school drive more leads and applications.
Learning how to reach your target audience and make the most of LinkedIn Ads has real potential to be the ace up your sleeve regarding social media marketing. If you're able to position yourself (or your school) as a thought leader in your respective field and get your content in front of the right eyes, the payoff will be astronomical—and you'll have another marketing tool in your repertoire.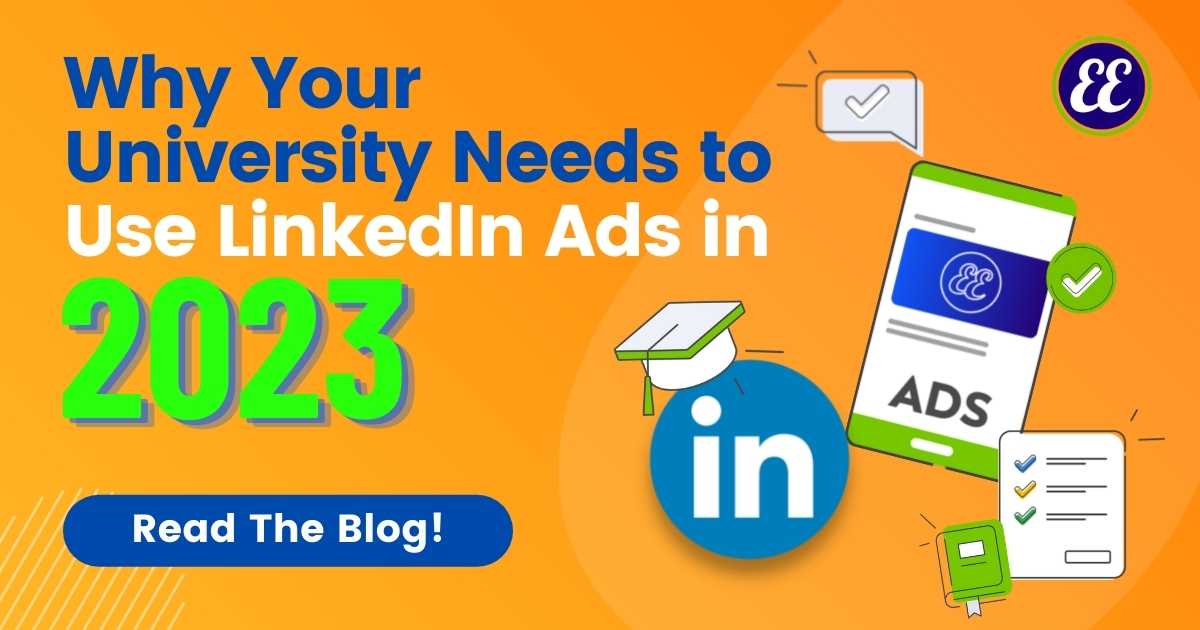 Pinterest For Higher Ed
Pinterest hasn't traditionally been the focus of Higher Ed campaigns. However, many schools have succeeded with targeted Pinterest ads—depending on your target audience, it may be a viable option for you, too. Pinterest requires a thoughtful content strategy and a separate content pinning plan, along with ads.
Instagram For Higher Ed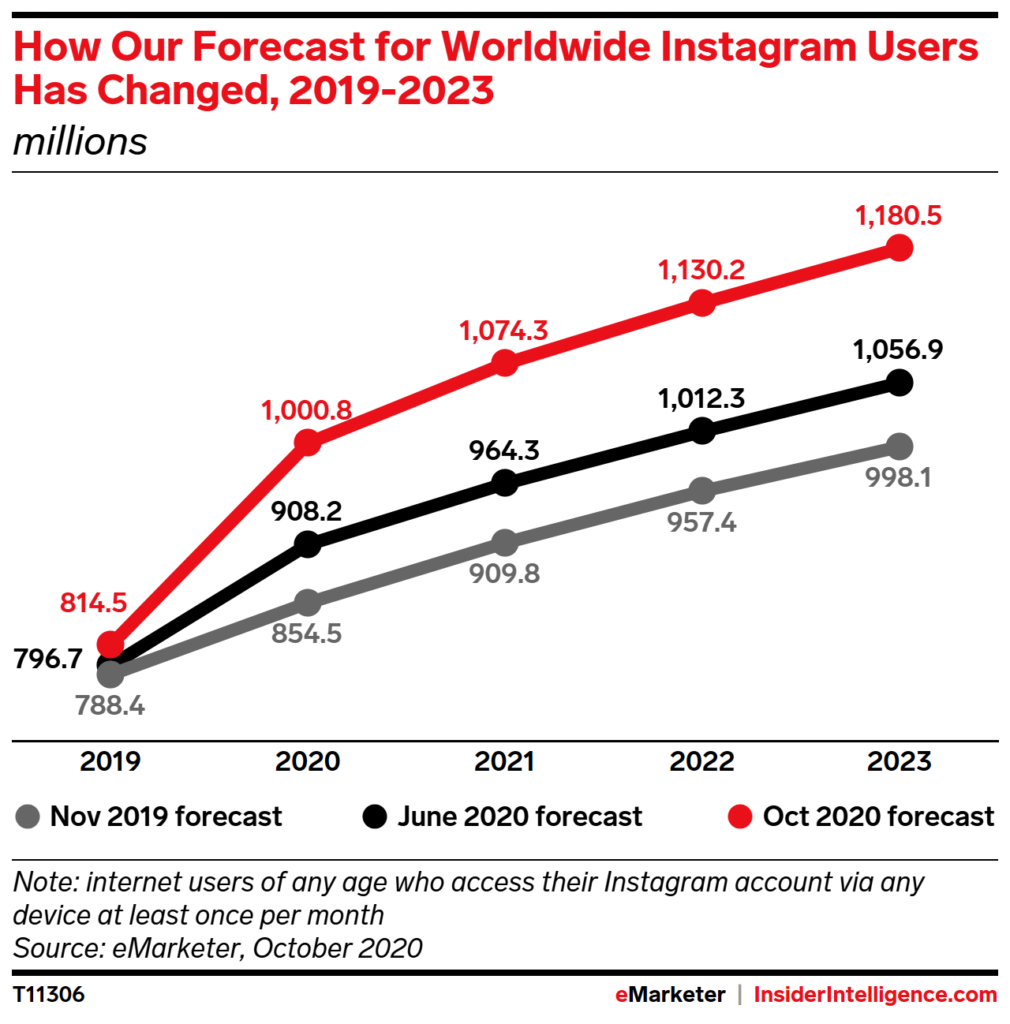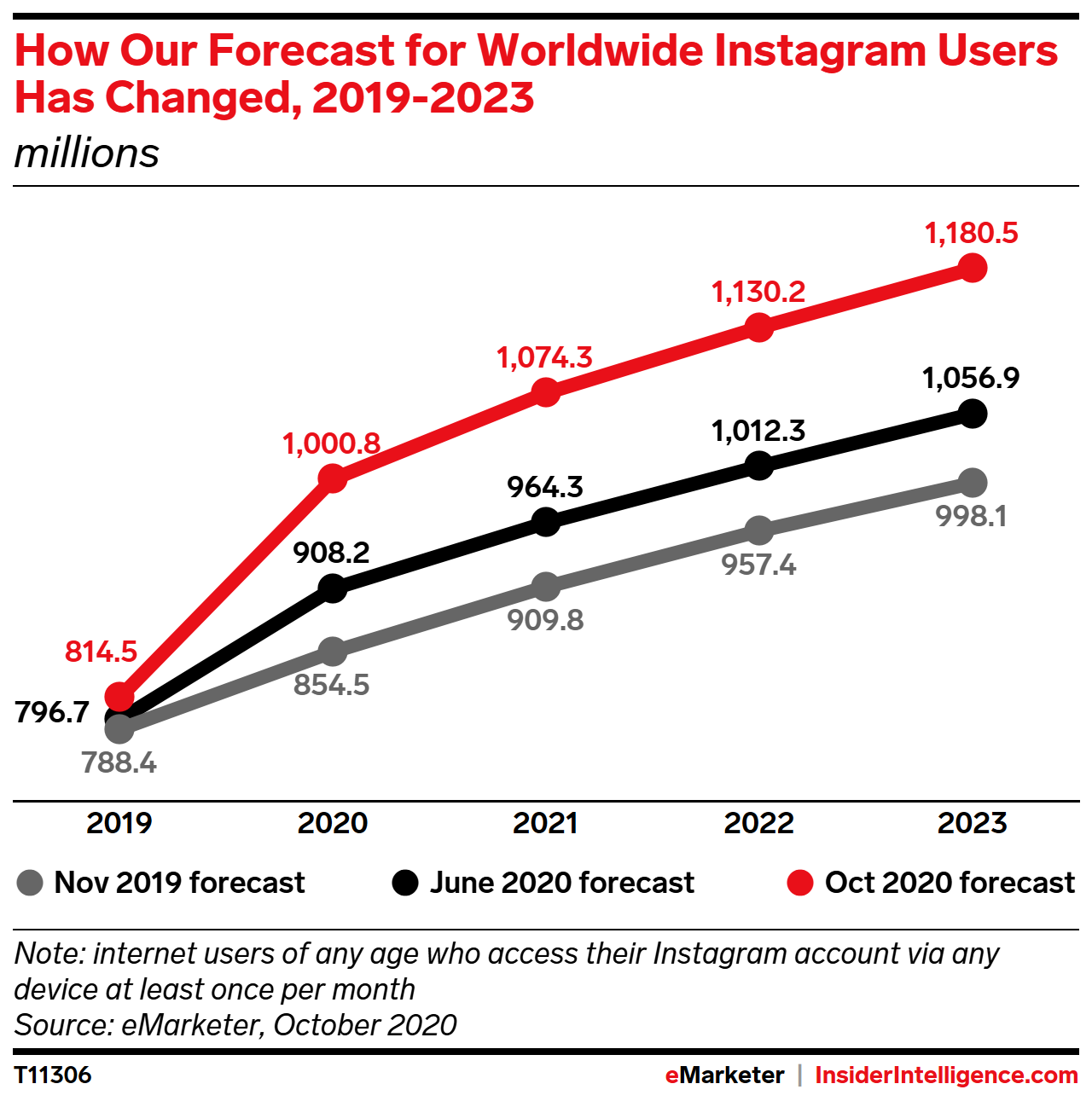 Instagram is quickly becoming a popular channel for marketers. The schools that do Instagram well have seen massive engagement on this platform compared with others.
Schools experience their most significant engagement ratios on Instagram—meaning that of the major social sites, Instagram fosters the highest number of interactions.
Instagram presents the perfect opportunity for you to connect with potential students on an emotional level. Storytelling has always been a powerful marketing tactic, but how do you leverage the power of story (in this case an Instagram story) for your school?
Show that there are real people behind the process What is your campus culture like? What is the story of the founders?
Create a picture of what life is like for current students by showing images and photos that reflect what you offer
Repurpose user-generated content onto your social media as social proof that you have happy students
Don't be afraid to get creative.
Gone are the days of starched suits and monochrome ties—injecting personality into your school will create more interest, more engagement, and ultimately more applications.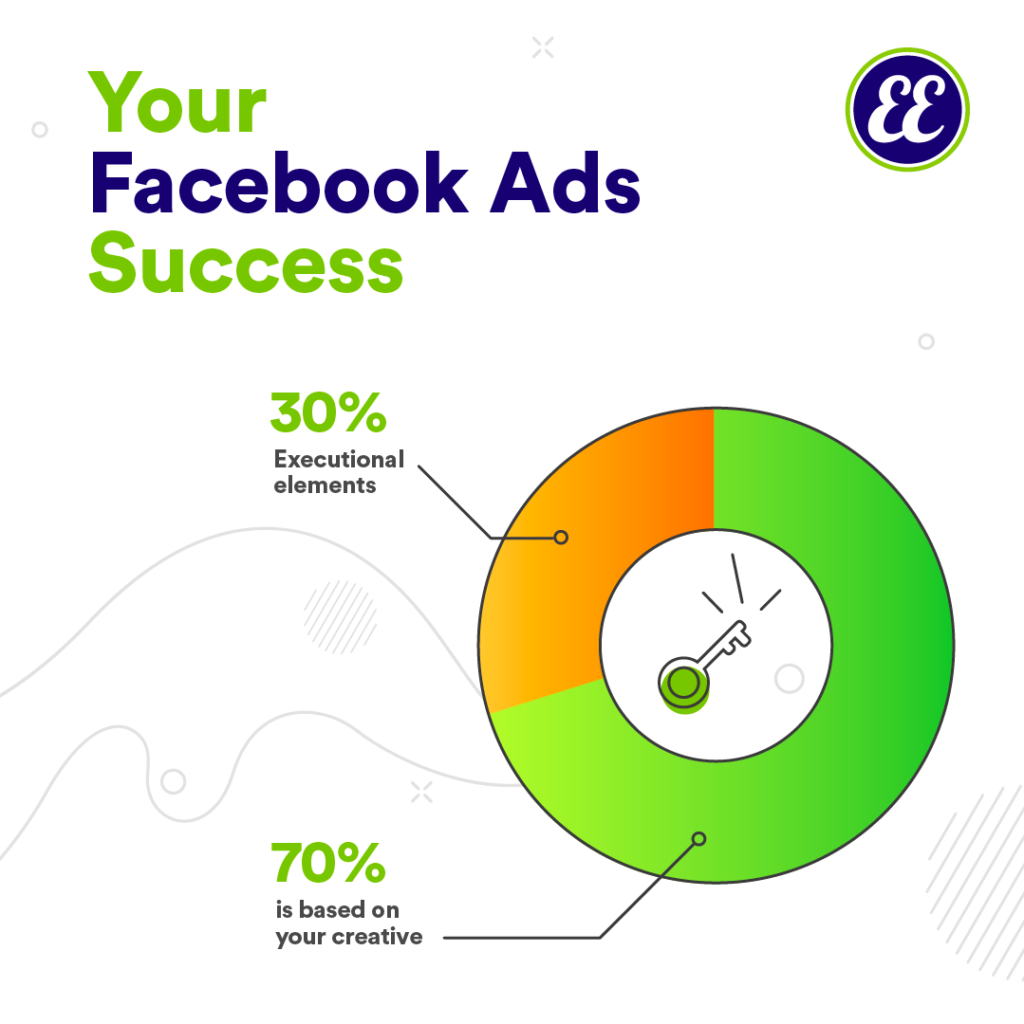 Paid Advertising Strategy (Outbound Marketing)
Using Social Media For Lead Generation
You might have heard at one point that social media isn't an effective way to increase enrollments, but here is the hard truth: If you've tried using social media to generate leads and haven't had any success at all, it's because you need a better strategy.
You can't just post random content at random times and call it a day. Your posts need to be consistent and they should always provide value for your target audience.
It sounds like a lot of work, but the hours put into social media can pay off if you do it right. Marketers are investing in social media: brands spend 14.7% of their marketing budget on social media. Failure to focus on your social content can turn people away from your brand or not even realize you exist.
Advertising in Paid Media
Ads are everywhere we look—they're an inescapable fact of modern life. That's good and bad. It means you have more opportunities to get in front of your ideal audience, but that they're less likely to pay attention.
No matter how big your ad budget is, concentrate on who your target audience is and what they want to see on each platform. Plastering the same ad across the walls of the internet won't get you nearly as many leads as ads that are designed with specific personas in mind.
Paid media includes:
Facebook ads
Linkedin ads
Search engine ads (Google, Bing, etc.)
Ads on websites your target audience engages with regularly
And remember—where you send a fresh lead is absolutely critical. Be sure to create different landing pages that are targeted to different stages of the admissions cycle for your paid media campaigns. You want to test multiple variations of your landing pages so you can continue to optimize for conversions and how to reduce your cost-per-lead and overall spend, while optimizing for more leads and sales.
Ultimately, you want to focus on building value with prospective students without forcing a conversion. If your content is good, then content consumption can be a win for your school. Aim to include a more passive CTA (such as the opportunity to sign up for a newsletter) mixed in with more enrollment-oriented CTAs.
Remarketing to Higher Ed Leads
Have you ever visited a car manufacturer's website or bank website and then noticed all of the ads are from those companies? You were just retargeted!
Remarketing is a tactic that involves positioning yourself in front of potential prospects who are already familiar with your school. Making use of tracking pixels and other retargeting technology will allow you, for example, show ads specifically to prospects who have already visited your website or otherwise engaged with your content.
Remember, those prospects came to your website for a reason. If you set up remarketing campaigns correctly, then you can improve your chances of getting that person back to your website. Remarketing converts up to 50 percent of web traffic (versus the two percent converted with search campaigns).
They say life doesn't offer many second chances, but this is one of them. Make the most of it by taking the opportunity to tell your story, speak to prospects' pain points, differentiate yourself, and offer something of value!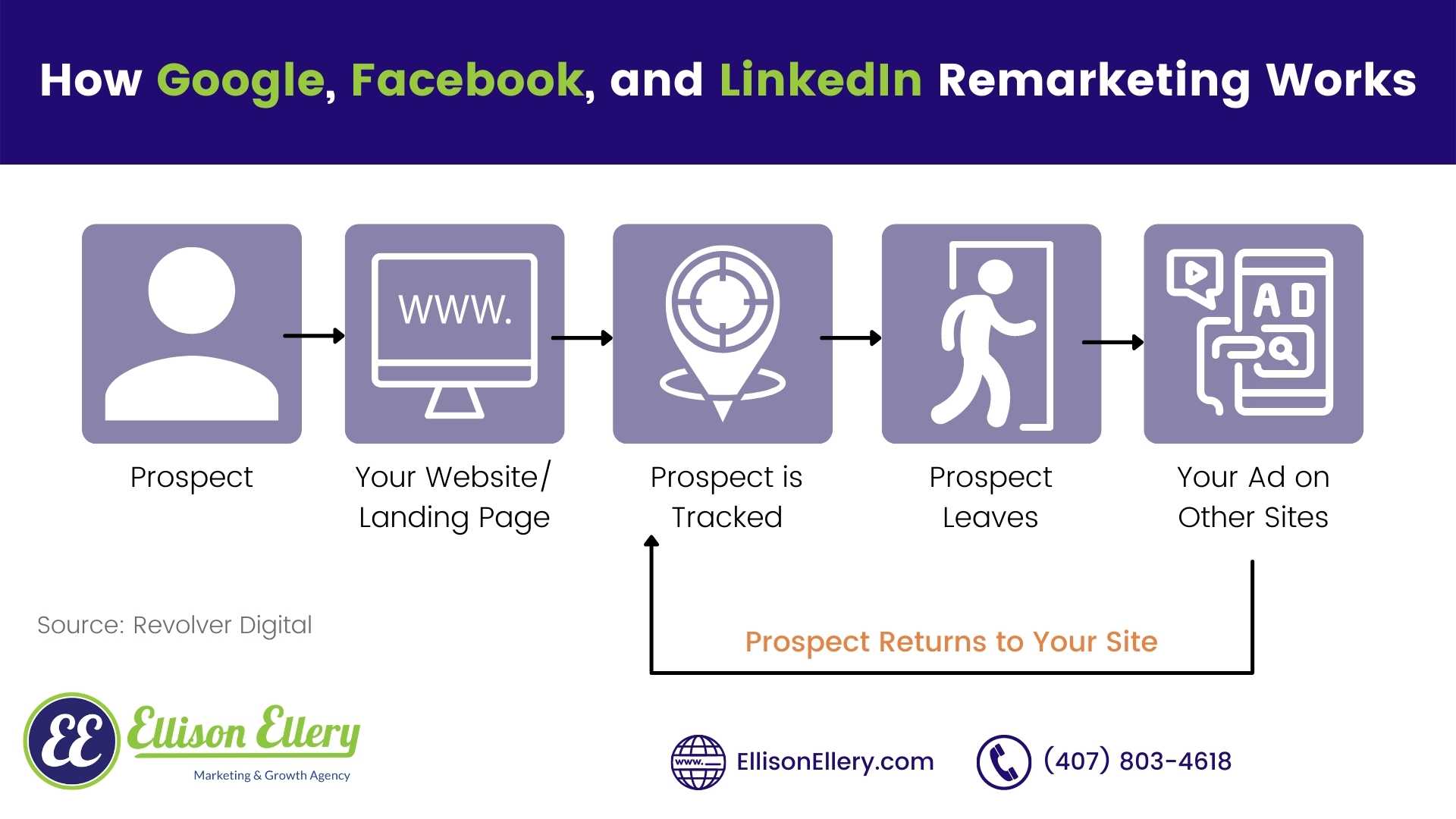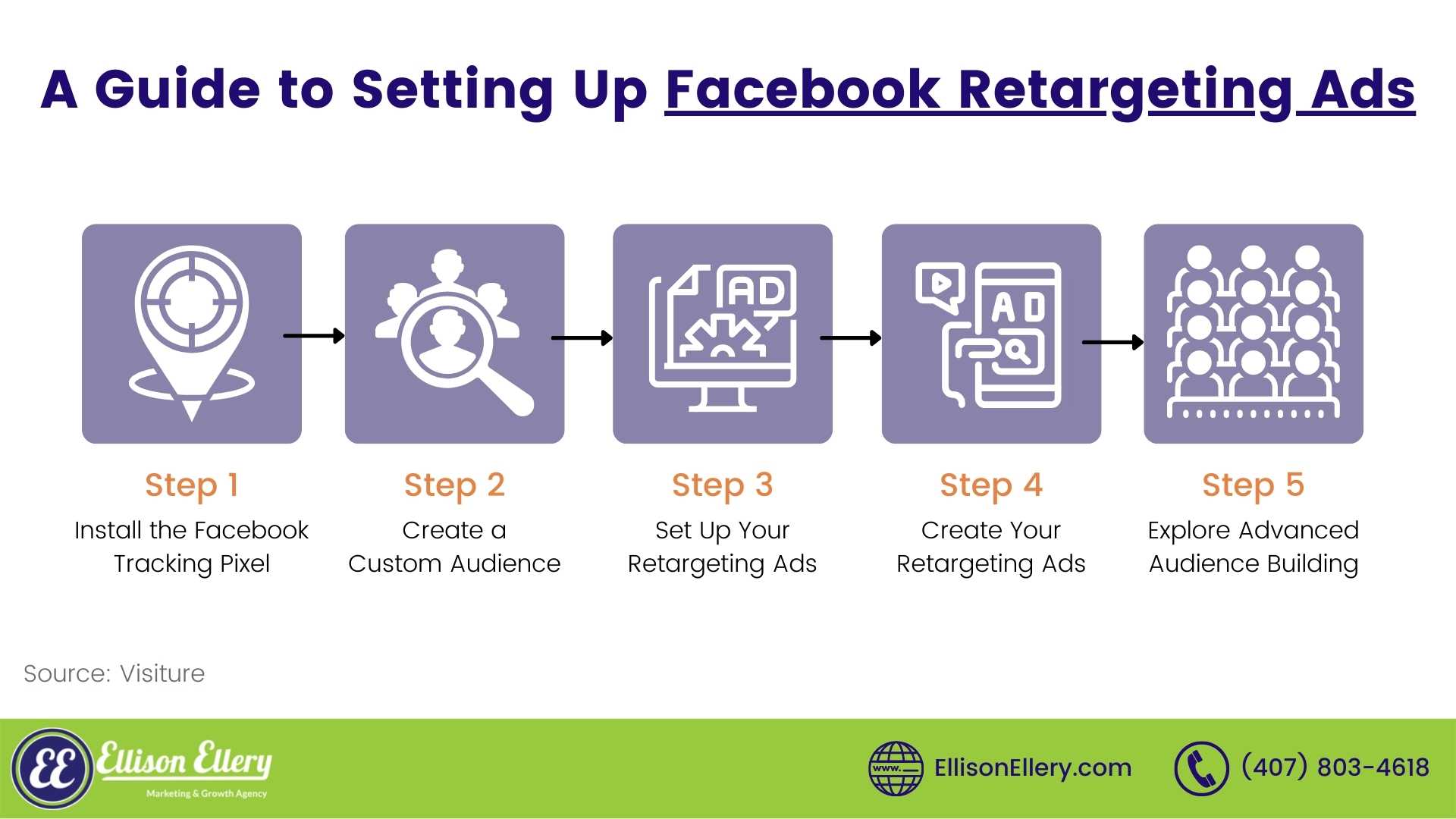 Other Higher Ed Lead Gen Strategies
Thought Leadership
If done right, thought leadership helps you build authenticity, transparency and a personality.
You will need to empower your team to share their expertise. Having multiple voices in your thought leadership strategy will expedite your results, but know that your results will compound over time, so don't give up when you don't see results quickly.
You don't need to spend hours on platforms like LinkedIn, but you will have to set aside time for your core thought leadership team. Do you have someone at your university who can post on LinkedIn 2-3 times a day? It's natural for us to be drawn to work that feels urgent, which is why marketing strategies like thought leadership so often fall by the wayside, but make no mistake, if you don't make thought leadership a priority, you won't get results.
Here are some tips for creating a robust thought leadership strategy:
Be considerate of your reader's attention and create content that is valuable
Avoid being self-promotional or sales like; instead, focus on sharing your expertise
Stick to versatile messaging that is widely applicable to others in your industry
Stay up-to-date on topics relevant to your audience and comment on them
Never try to present someone else's insight as your own
When content comes directly from your Dean or President, it can help drive prospective students as well as fostering transparency and credibility, and it can also help with hiring top talent. Prospective hires can better understand what your college or university stands for, your purpose, values, mission and how you serve your students. This makes your institution a more desirable workplace and, of course, better hires are as wonderful for your students as they are for your institution.
The Benefits of Blogging
If you aren't blogging, you should be. Check out this blog post to find out why your school should be blogging more (See what we did there?)
Most schools focus on bottom-of-funnel messaging and content when the majority of their target prospective students are unaware of their brand. Not only do blogs function as a great way to build authority, improve SEO, and promote content repurposing, but a well-groomed blog post will also generate leads.
How often have you typed a question into Google and read the answer on a blog without realizing it? Probably more times than you think. If that organization offers a solution to your pain point, it's a natural place to go visit to learn more.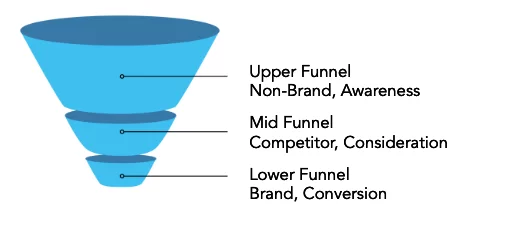 Brand Storytelling
A school with a remarkable story can win over its audience and raise the perceived value of its brand. Storytelling conveys purpose, and schools with purpose are the ones that ultimately stand out and capture a student's heart.
The strongest stories tap into people's emotions and help them believe in what the school stands for. Read more about how to use storytelling with video examples.
At the end of the day, a prospect who connects with your brand may not dive straight to the bottom of the funnel, but it can transform them into an advocate (remember how powerful personal recommendations are as a conversion tool?), build a relationship, and plant the seed of future engagement.
Repurposing Content
On top of the importance of creating a well-developed content strategy, it's equally important to execute a content repurposing strategy. Once you've invested the resources in creating a piece of content, you don't have to file it away forever. Instead, repurpose it into a video, or break it out into several pieces of smaller content that can be consumed fully in social media feeds like LinkedIn or Instagram.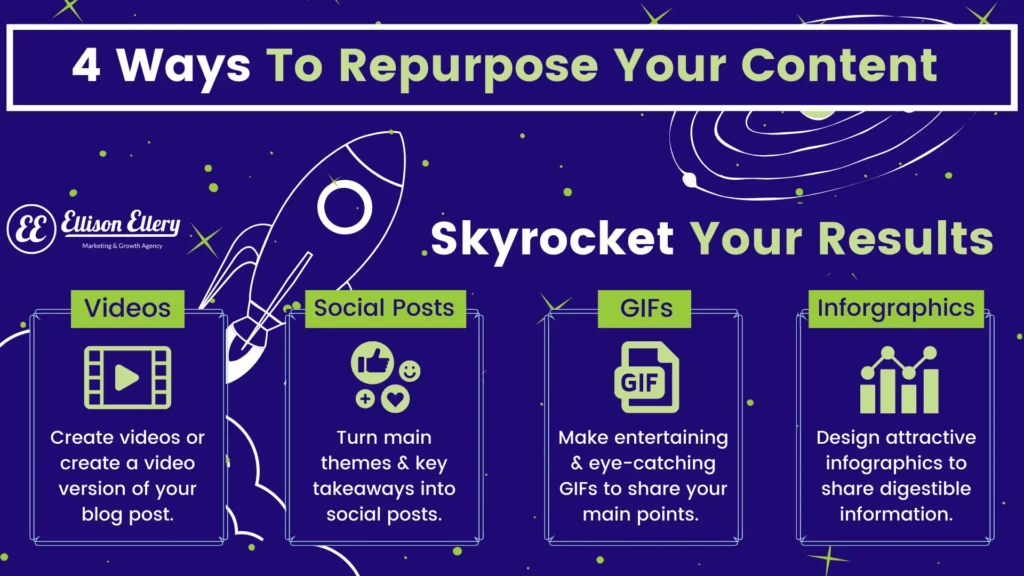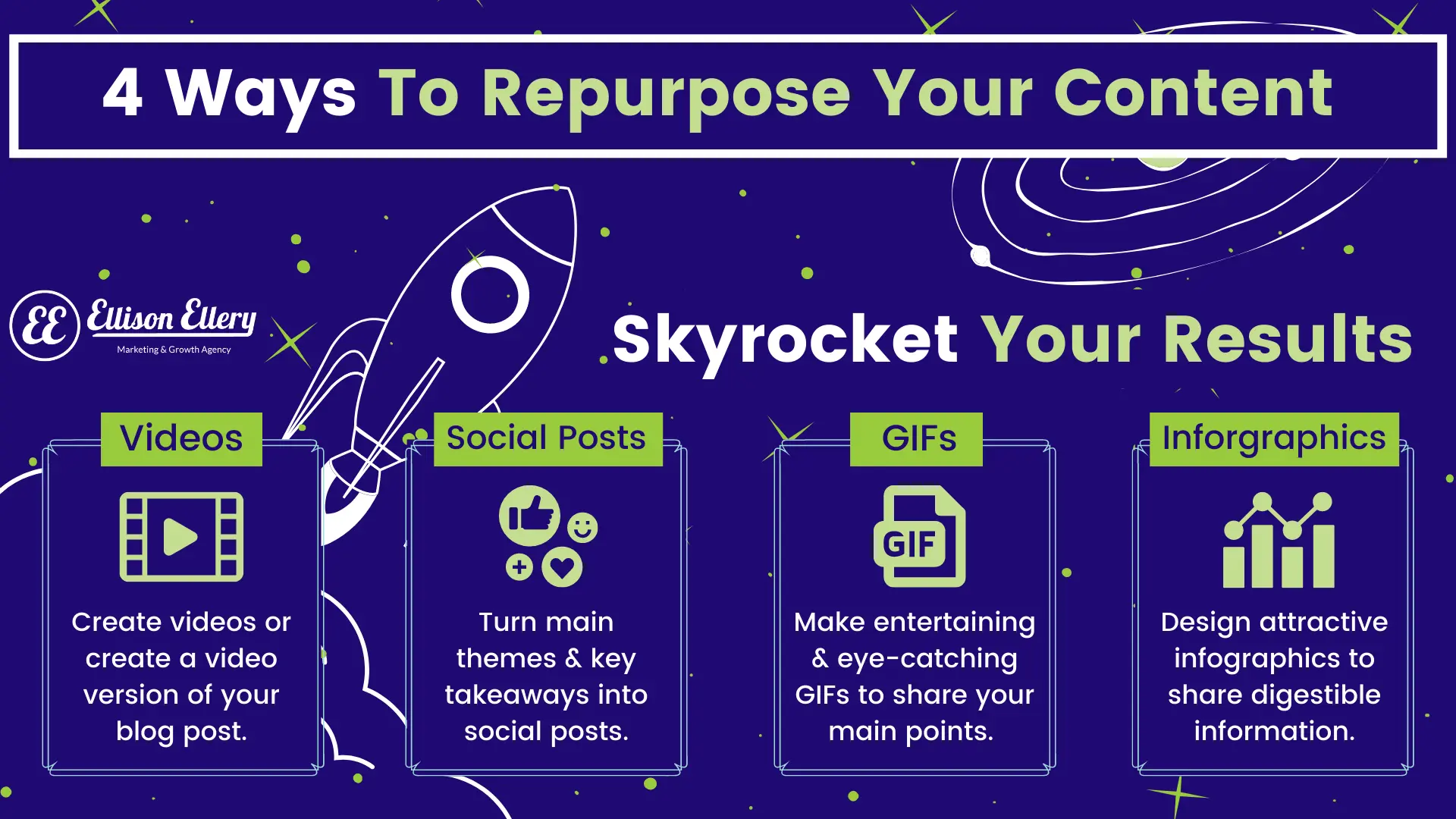 No one platform or format will ever reach the entirety of your audience, which is why it's important to diversify your messaging and repurpose your content.
Amplify and leverage your content across platforms!
Some prospects prefer a short video, but others would rather read a blog post. Some want bullet points, others prefer a graphic, and others want a text-heavy, in-depth breakdown. If you've already got the heavy lifting of creating the content done, appeal to everyone!
Social Listening
Social media is great for promoting your school, but it also presents a huge opportunity to inform your lead generation strategy in another way: social listening.
What is social listening? Think of it like a survey, one which takes a cross-section of potential prospects, leads, current students, and more. Essentially, social listening is paying attention to both analytics and everything that is being said about your school across social media platforms.
Nearly two-thirds of marketers in 2021 found that social listening helped them increase the value of their brand. It's an unfiltered look into the public face of your brand, analyzing traditional data, thoughts, feelings, perceptions, and misconceptions about your brand.
With a solid social listening strategy in place, you can determine:
If and where your customer service needs to be improved
What features your product is missing according to users
Insights into the persona of your audience to inform your target market
What content resonates most with real people and why
Improving on these areas will improve your lead generation efforts.
Launch a Podcast for Your University
Podcasts have changed the way we learn and consume knowledge by increasing the accessibility of information and putting the voices of experts directly into consumers' heads.
Consider starting a podcast, or become a guest speaker on podcasts. There are a number of websites that help connect podcasters with guest speakers, such as Guest Speakers, that you can deploy in your thought leadership strategy.
If you choose the right podcast, you're putting your voice directly into your target audience's ear, literally, while also creating partnership opportunities. (You can also advertise in podcasts or seek out influencer sponsorships.)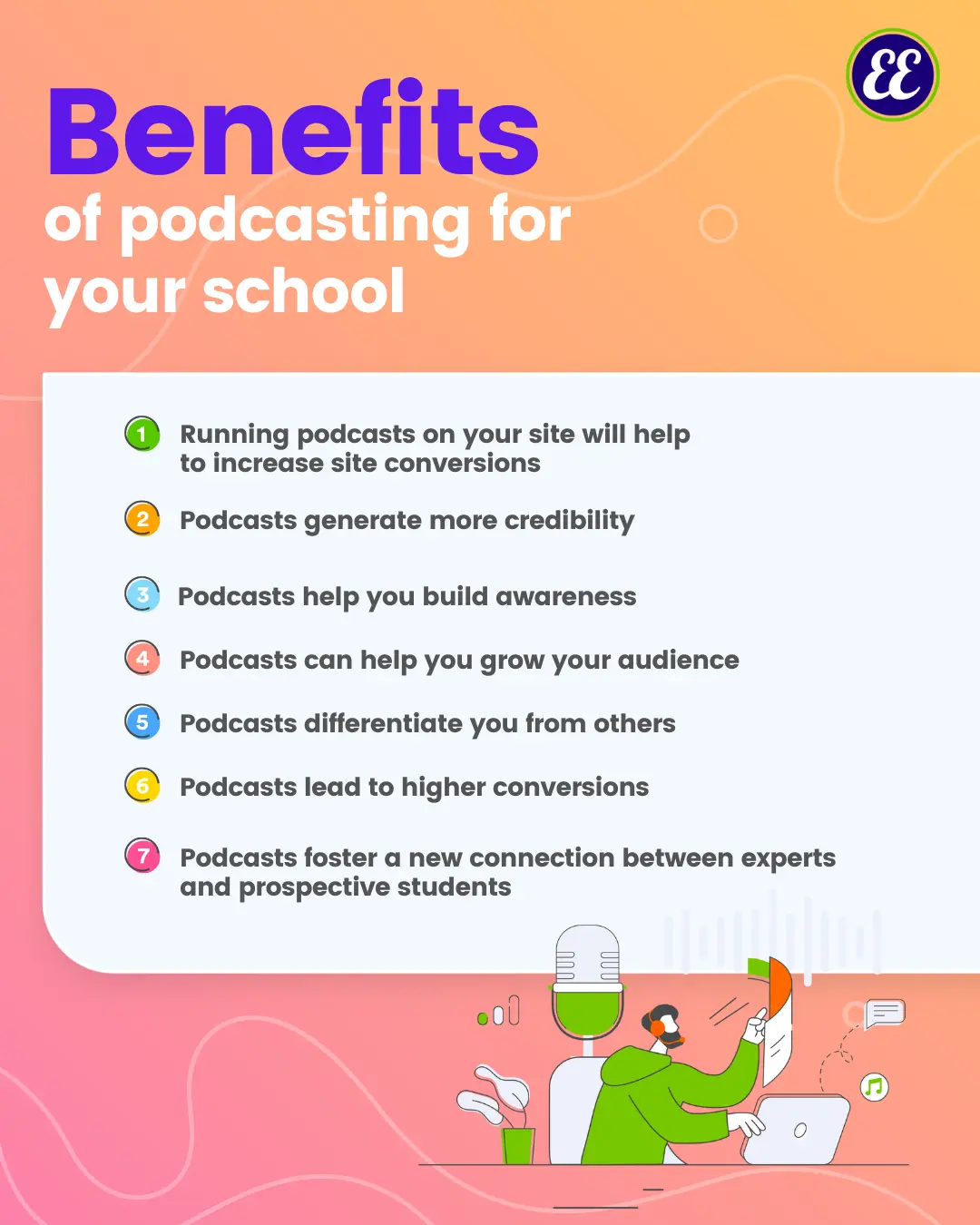 Speak at Conferences
Of course, the traditional can be just as effective as the innovative. While many large-scale physical gatherings have been curtailed for the past two years, opportunities for speaking directly to your audience are reemerging—and you can't afford to ignore them.
This can be a great opportunity to promote graduate degrees.
Speaking at a large, in-person gathering confers a number of advantages, not the least of which is reputability. Oftentimes, establishing yourself worthy of someone else's attention is one of the first hurdles on the docket, and you take on the role of expert.
This promotes engagement by giving them the opportunity to directly ask questions about your product or service.
Here are some statistics on what marketers think about the value of in-person events:
52% of business leaders agree that event marketing offers more ROI than other marketing channels (Harvard Business Review Analytic Services)
85% of marketers believe engagement at events is an important way to accelerate the buying journey (Marketing Charts)
79% of U.S. marketers win sales using event marketing and 44% of marketers report a 3:1 return on investment (Statista)
Successfully translating a speaking opportunity into revenue takes planning, finesse, and follow-up, yet 97% of marketers agree that attending in-person events plays a major role in outcomes (Bizzabo), so it's important to consider rolling event marketing into your overall brand strategy.
Employee Advocacy
If no one is engaging with the content that you share, you're essentially shouting into the abyss. Engagement is the goal, so try leaning on your employees to help tell your story.
Content shared by employees receives 8x more engagement than content shared by brand channels. It's the same reason that people love word-of-mouth referrals from people they know: people trust personal connections. Create a culture in your organization that encourages your staff to share your content on their personal profiles and make it easy for your employees to get involved.
Ultimately, it takes more than just getting your employees to "like" your posts, although that's a great start. Look to tools like EveryoneSocial and AgoraPulse to help you add gamification and prizes to encourage your staff to socially share your posts.
Employee advocacy strengthens your brand by giving it more credibility and increased visibility. While potential students might recognize your brand, hearing from employees(aka real people) primes them to become a lead in a way that the broader brand voice can't always do.
Lead Nurturing
Email Marketing Strategy For Higher Ed Lead Generation
Prioritize cultivating a long-term relationship with your prospective students. Most schools do not have an enrollment lead nurturing plan. Your school can do better!
An effective email marketing strategy is one of the most powerful tools in your lead generation efforts. On average, every $1 spent on creating your email marketing plan generates a return of $42.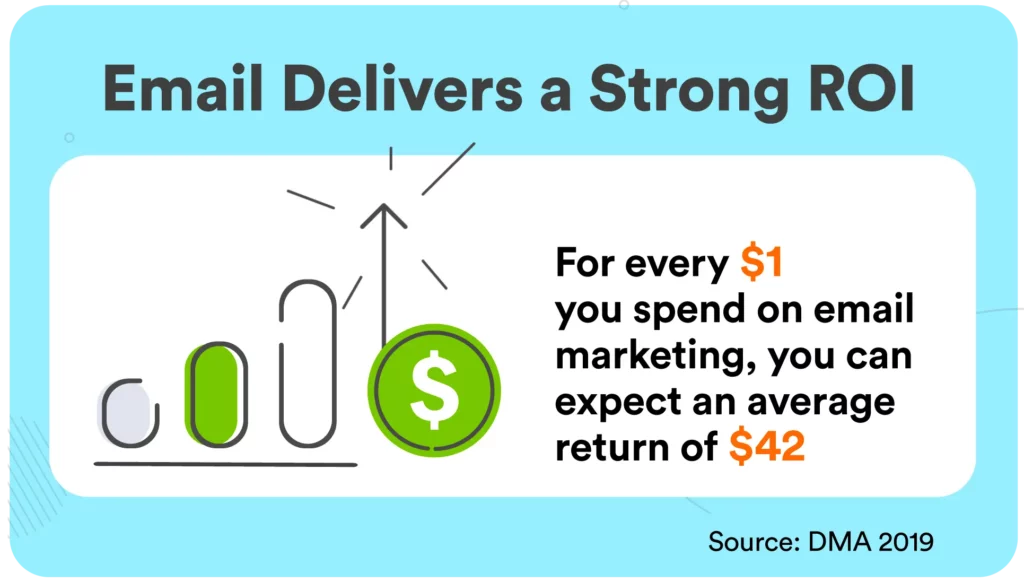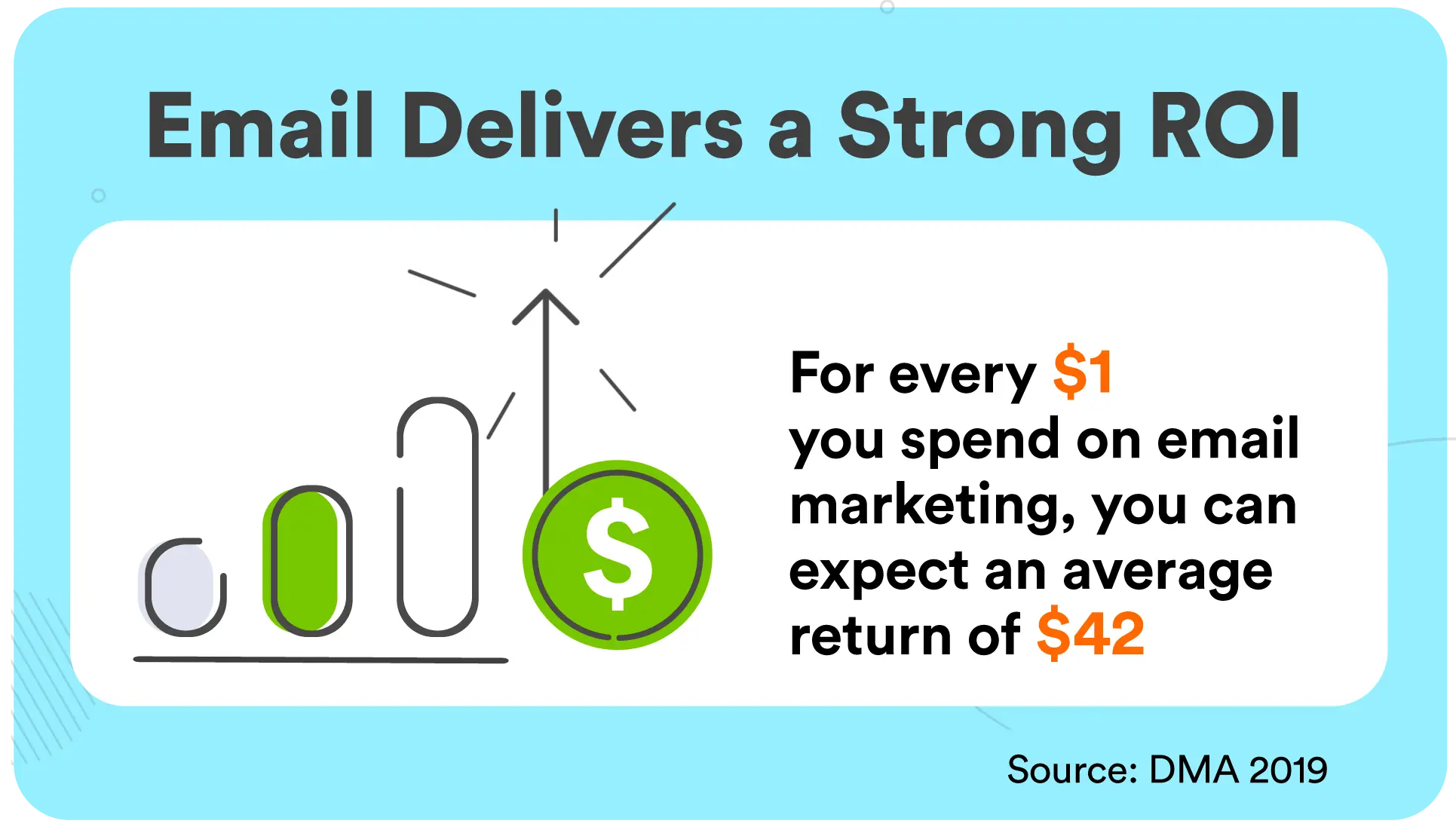 Once a potential student subscribes to your email list, you have much more control over what they see from you. Plus, it's easier to measure your progress because you can see how your leads respond to your campaigns and processes and even market to them based on those interactions.
However, you can't just blast out emails and expect the dollars to start rolling in.
77% of email marketing ROI came from segmented, targeted, and triggered campaigns.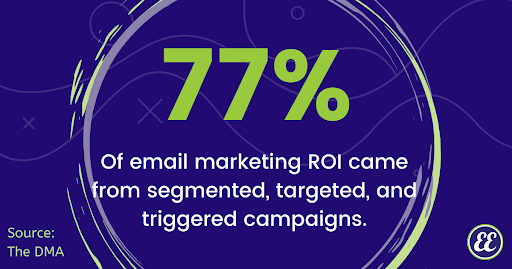 Personalization is exhausting, but it works! Modern life is full of noise. Our attention has become a hot commodity, so why should we spend it on generic blast emails from faceless corporations?
Best email marketing practices make the extra effort to personalize content, guarantees a much bigger ROI, and are better for building trust in your institution.
And yes, you should be using emojis in their subject lines! You're not selling to a business—you're selling to a person. According to Campaign Monitor, using emojis in emails can see up to a 56% increase in their unique open rates.
And, don't squander your first email after someone requests information with a transactional communication. The first email you send to prospective students will be your most opened and read communication! Make sure it is an excellent enrollment touchpoint.
Read this graphic to learn more.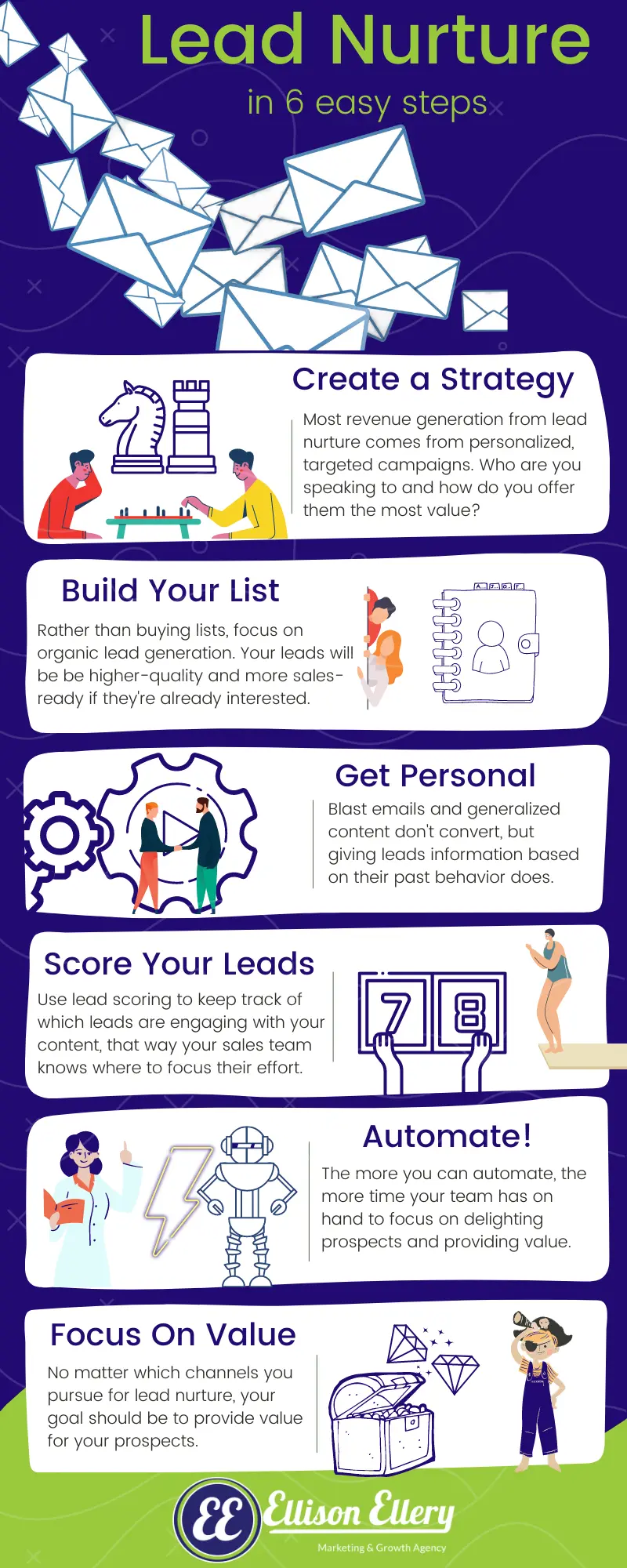 Build Your Email List Organically
You want high-quality leads because they are more likely to convert into applicants. While seeing a ton of leads pour in might feel positive, in reality, 500 low-quality leads won't increase your revenue or help you grow, but waste your time and steal your focus.
When universities buy lists of students who took the SAT/ACT, it's common to get a very low return return on those dollars spent.
Save your money and build your own list organically through a proven inbound content strategy.
Use Emojis in Your Emails and Be Personable in Your Emails
Why? Because it works. 👇👇👇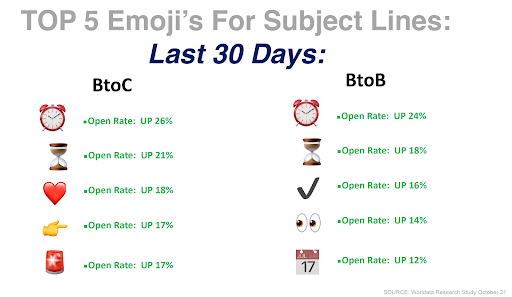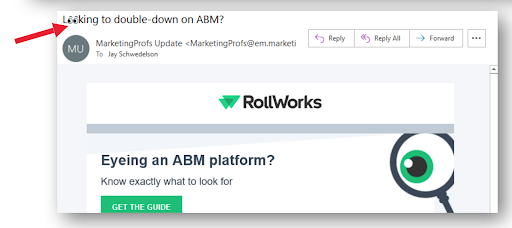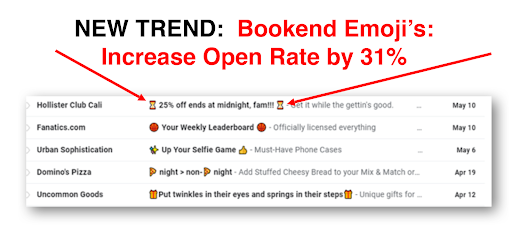 Use suspense in your subject lines for an improvement in open rates.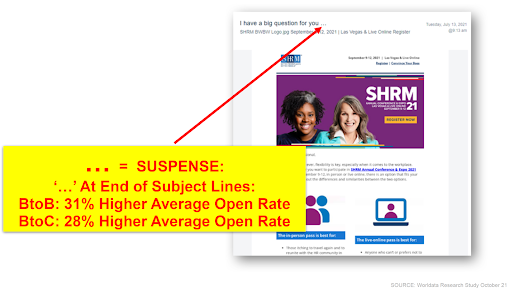 Suspense works.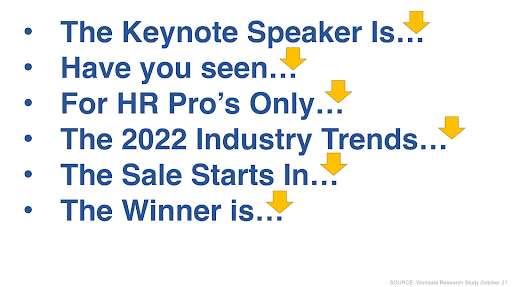 Score Leads (With Points) & Nurture Them
It can be hard to tell at first, but your ideal students are sending you signals. The actions they're taking on your website are direct indicators of where they are in the student journey.
If your visitor downloaded a whitepaper or ebook, for example, does that mean they are ready for an admissions call? Probably not. But they are willing to learn more about your programs, which means they may become enrollment-ready over time.
Determine what steps to take next that will help move students down your funnel by looking at their actions on your website. Use this information to "score" your leads, or keep track of how much interest they've shown in your programs via site visits, clicks on calls to action, email opens, and other types of engagement.
Lead scoring can help you get organized, but what's most important is the plan you develop for those crucial next steps. Most people on your website are not ready to apply immediately, but even if they aren't ready to cross the finish line, they may be willing to tag along until the next mile marker.
What can you send them that adds value? Build a relationship with your prospects to convert them from someone who only wanted your whitepaper to an enrollment-ready lead who knows how your programs will improve their lives.
Newsletter Sign up!
Get our best content on digital marketing in your inbox 2 times a month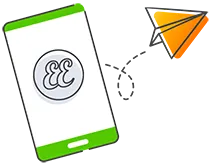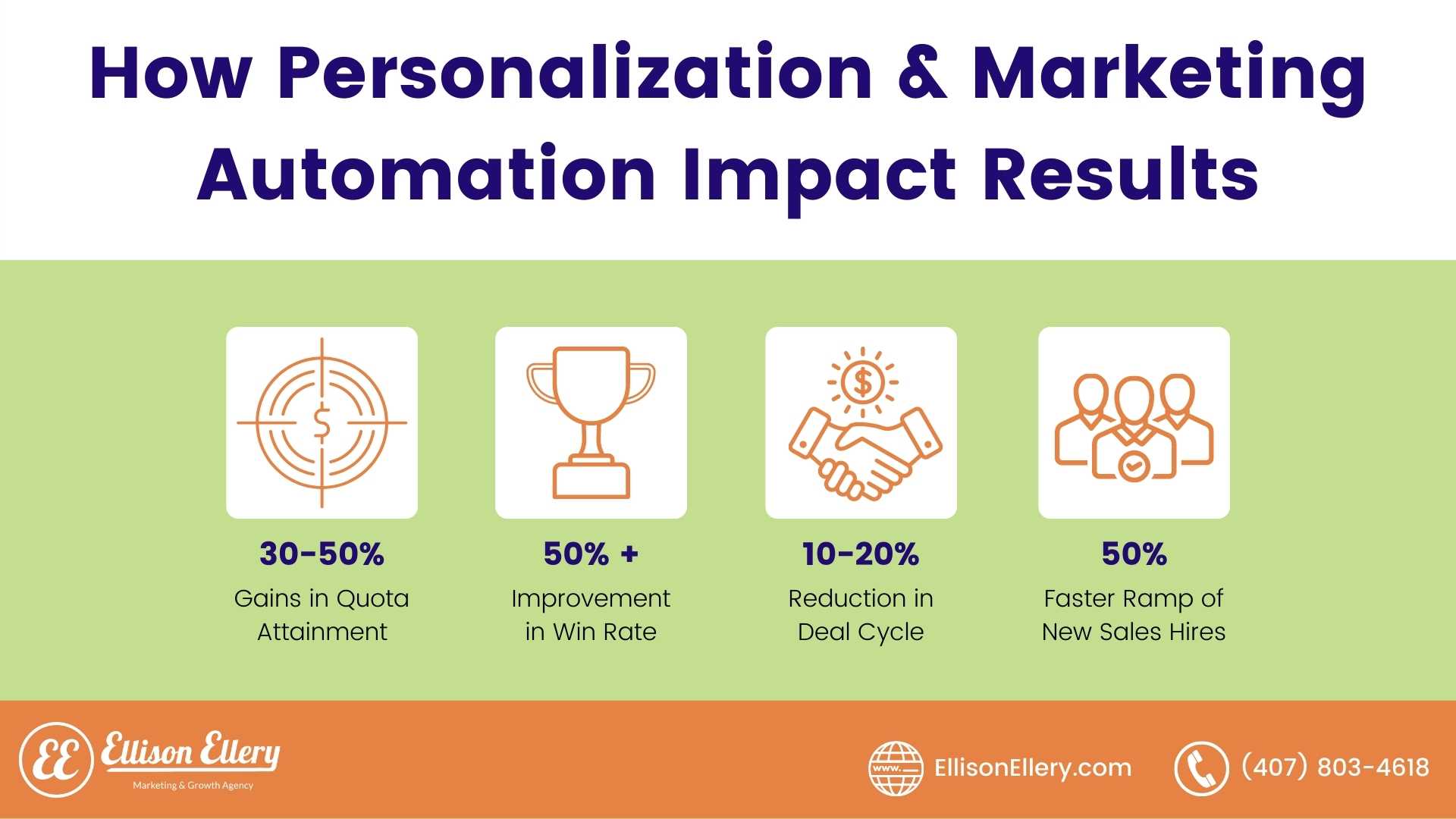 Save Time With Chatbots
Remember when we said that your website should function like a hardworking employee? We meant it, and chatbots are a great example of how to make that happen.
Automated lead bots collect data from website visitors so that you and your team don't have to! Chatbots save your team time and manpower on the customer service end, but they also help you focus your efforts on high-quality leads.
Consider your ideal student (industry, pain points, interests) and use this to inform your chatbot strategy.
The goal of your website is to show your ideal student that you have the answer to their problem, but it typically takes more than cold, hard facts to convince them. You want the user experience to be relatable and intuitive for your visitors.
Dynamic Website Content
Personalize your students' experience with dynamic pages and content. By tracking your prospects individually through a centralized CRM, you can offer on-page content tailored to a specific lead, their place in the student's journey, and their persona.
A journey that feels relevant is much more likely to convert than a generalized experience. (Look at e-commerce platforms like Amazon. How often do you see intriguing product suggestions based on your past behavior or interests? Their website is ruled by dynamic content!)
Leveraging dynamic content will help if you identify key information such as:
What are the pain points and anxieties afflicting your ideal student?
How does your ideal student make decisions?
Who does your ideal student turn to for research?
You can then synthesize this information into your broader lead generation and conversion plan, to make data-informed decisions and iterate.
Don't make assumptions about your audience. Doing actual research makes an enormous difference when creating a foolproof marketing plan. Need help with your qualitative research? Or developing a marketing plan?
Ask For Referrals
Did you know that referrals have a 70% higher close rate and the duration of the enrollment cycle is more than halved? There's a simple explanation: people trust recommendations from friends and colleagues.
But how do you transform students into promoters? Well, sometimes the easiest way is to ask.
Even if a student loves your school and promotes it, not everyone they speak to will take action on their advice. However, if you incentivize referrals with a reward, you suddenly have a double whammy on your hands:
The existing student will refer you to more potential prospects, thereby increasing brand awareness and lead generation
The referees will feel more obligated to apply so that their friend or colleague will reap the reward on offer, not to mention what they themselves will receive
If you haven't, send an email to your most loyal students. Ask them for referrals and reward them if those referrals come through. You have nothing to lose, but so much to gain!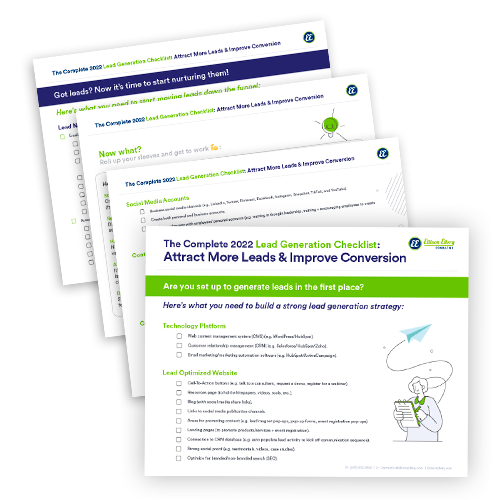 Get the Free Checklist
The Complete 2022 Lead Generation Checklist:


Attract More Leads & Improve Conversion
Conclusion
There's no shortage of ways promote your school, but every marketing ecosystem has its own rules of engagement. You must work hard to identify who your audience is, where they spend their time, and how best to connect with them.
Need help creating a marketing strategy that works for your school? Reach out to our team at Ellison Ellery Consulting to learn about our Higher Ed Marketing Services, including SEO, Paid Search, and More —we're always happy to help!