With over 660 million professionals and 30 million businesses, LinkedIn can be used to promote your brand, increase leads, and bring in more revenue.
Did you know 80% of B2B leads generated from social media come from LinkedIn? 
It's the #1 B2B social media platform for content distribution — making using LinkedIn Ads for B2B one of the best options for helping your business drive more leads and sales. 
In this article, you'll learn how to reach your target audience and make the most of LinkedIn Ads for B2B.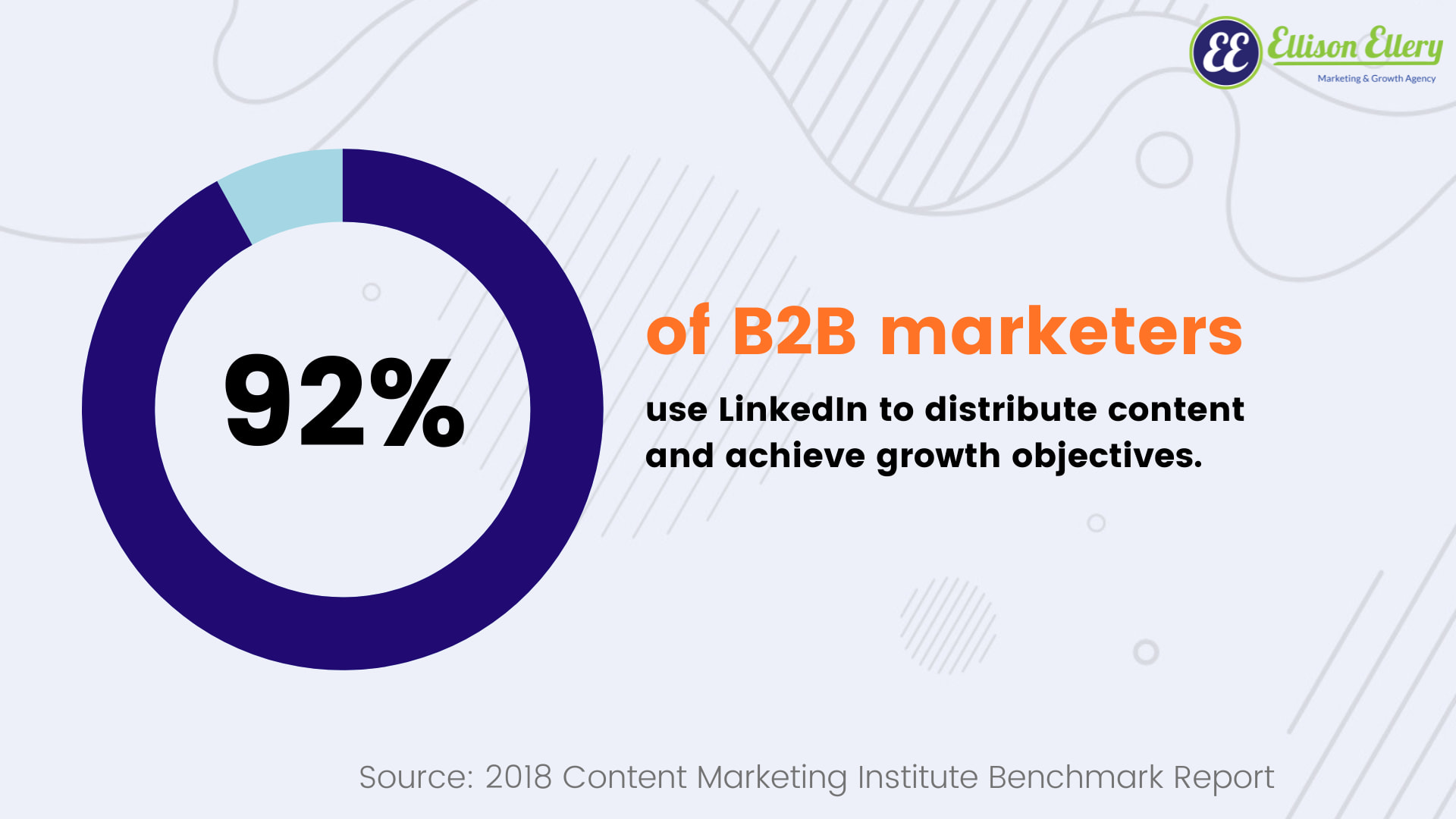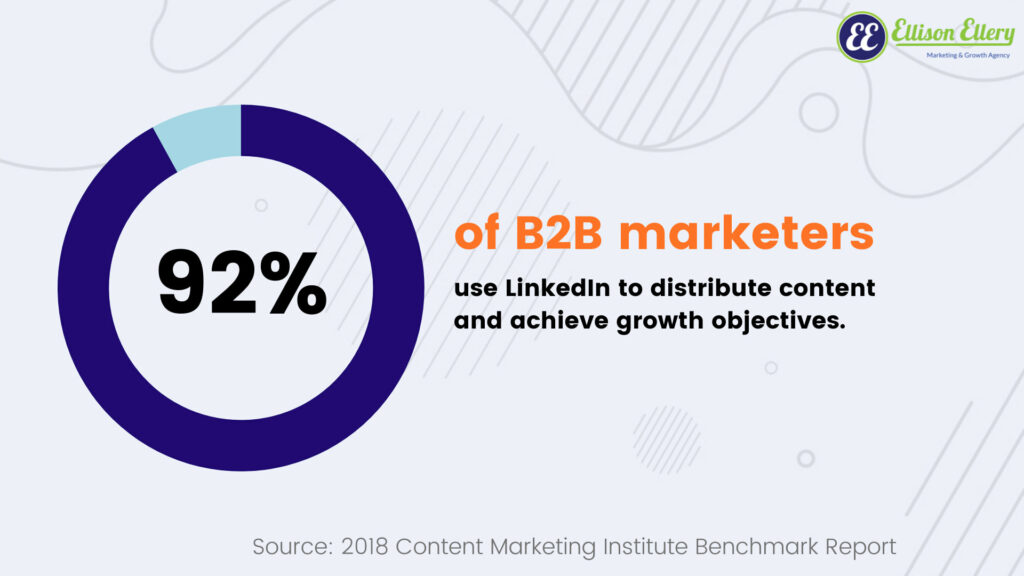 How are your

marketing

efforts contributing to your company's growth?
Schedule a brief discovery call to receive a complementary consultation for your business.
It's important to level up your marketing and sales strategies on LinkedIn to stay relevant and showcase authority in your industry. The key to getting the most out of the platform is an integrated paid-organic strategy, with a team of experts by your side. Our team of digital marketing wizards can help your business create measurable goals and deliver results, all while staying true to your brand.
Ellison Ellery specializes in B2B lead generation and marketing agency to help companies confidently leverage strategy and technology to address their business challenges and meet or even exceed their goals.
LinkedIn Ads for B2B: Optimize, test, repeat.
With LinkedIn constantly evolving, now is a great time to reach your ideal customer base with ads. The platform offers a variety of unique advertising types, but don't just "set it and forget it."
Use our tips below to make sure you're getting the most use out of what LinkedIn has to offer: 
Complete your LinkedIn profile. A LinkedIn page is required if you want to set up ad campaigns, and it's important you have an eye-catching page with complete information. Completed pages can receive 30% more views than those that are incomplete. Make sure yours is well-optimized in every applicable section before creating your first ad. 
Run ads to matched audiences. Customize LinkedIn targeting with your own business data. This set of targeting options helps you re-engage website visitors with Website Retargeting, nurture prospects with Contact Targeting, and run account-based marketing (ABM) campaigns with Account Targeting.
Test different ad combinations. Marketers generally see a 37% improvement on CTRs when targeting via both Sponsored Content and Message Ads. Test dynamic ads with compelling visuals like video and infographics (as mentioned in the next section!).
Install LinkedIn's Insight tag. This handy snippet of code allows businesses to track conversions, update campaigns automatically, and ultimately learn more about your audience for better campaign performance in the long run.
Implement a Strategic Content Strategy
Thought leadership and content go hand-in-hand to deliver a successful lead generation strategy. Decision-makers in the B2B space are willing to pay a premium to work with companies that have used thought leadership to establish a clear vision for the future. Engaging and insightful content allows your business to get in front of your buyers, build trust, and close more deals. 
Identify your objectives first. Before even creating content, make sure your objectives are clear and measurable. Your content will do more work for your business when there's a purpose and goal.
Build an editorial calendar. Keep content in mind that is tailored to your audience to publish and repurpose images, infographics, posts from your company blog, or links to events, webinars, ebooks, and other content. You don't need to reinvent the wheel, and a calendar will help you stay on track.
Post consistently. The highest-performing companies on LinkedIn post several pieces of content each week (and some even post daily!). 
Create a compelling lead magnet. Offer your audience something valuable and educational – something they would want to engage with and download. It's free for them and builds authority. It's a win-win situation.
Share content business professionals will want to see. To help position your business as a thought leader and spread your brand story, it's critical to post content people will want to stop scrolling for. People are exposed to over 3,000 ads a day! It's your job to make your content and ads stop scrolling worthy. Share customer success stories, a demo of your product, or even a sneak peek at your upcoming webinar to inform your audience what's on the horizon, better yet, create high value-add content for your prospects. You will need to dig in to find out what your prospects will value the most and give them that content as a lead magnet.
Dominate Account-Based Marketing (ABM)
Account-based marketing involves identifying, communicating with, and landing your ideal clients. ABM has slowly but surely gained traction in the past few years as marketers hyper-focus on their target audiences. 
ABM relies on building relationships, making LinkedIn one of the most effective platforms for B2B. Through tools like LinkedIn InMail, which lets you specifically target key accounts and personnel, ABM proves its worth and was the new most-used and engaging marketing channel in 2021. 
The Company Targeting option within LinkedIn allows you to easily run ABM campaigns, matching you up with target companies against 13+ million business pages. Select your target accounts, analyze your existing customer base, and keep things personal.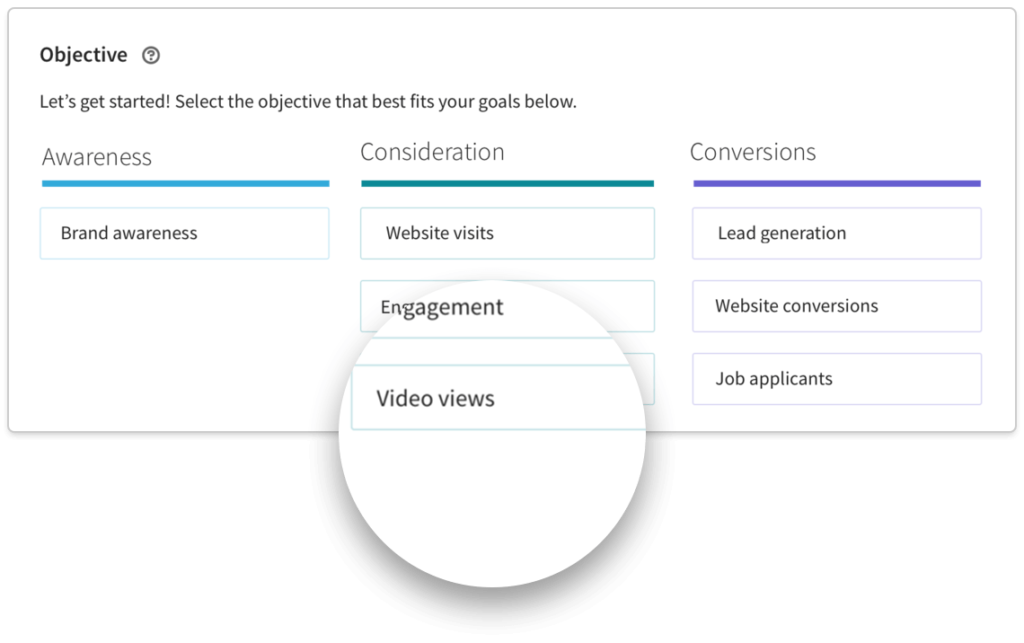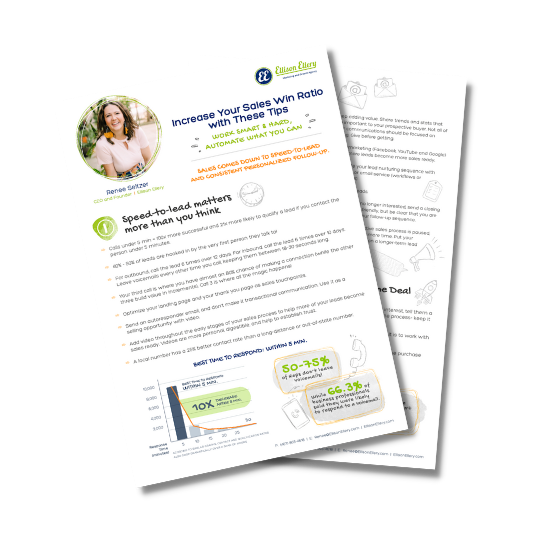 #WinMoreSales Sales Tips Sheet
Get quick, actionable tips on how to increase your sales win ratio. 
Just fill out the form below and we'll send you a FREE copy of our #WinMoreSales sales tips sheet! 
Turn Your Employees into Advocates
Employees are hands down the most important asset to any business. When you integrate employee engagement as part of your LinkedIn strategy, it drives trust and authenticity to your brand. Plus, indirect access to your employee's connections opens up even more opportunities for lead generation and exposure to your content or offerings. 
Here are a few of our favorite ways to turn employees into advocates on LinkedIn:
Encourage employees to share your content. 
Re-share your employees' best LinkedIn articles. 
Ask your executive team to @mention your Page. 
Drive press and broader engagement by asking your top executives to mention your page in their posts. 
Leverage LinkedIn Elevate to unlock the full power of your employees' networks. Elevate is a full-suite employee advocacy platform that connects organizations and employees to achieve branding, sales, and hiring goals. 
Cater campaigns to leverage employee networks.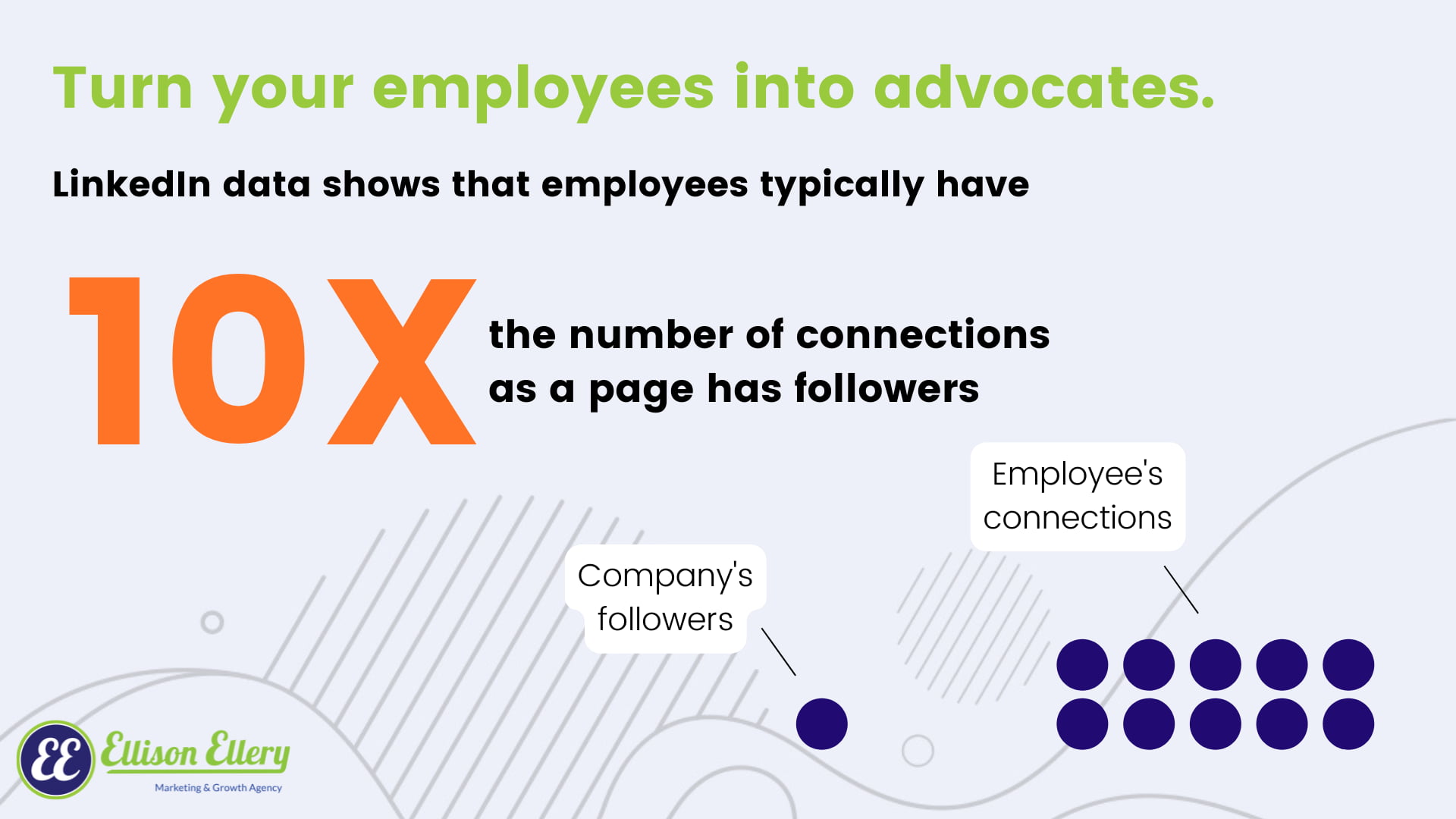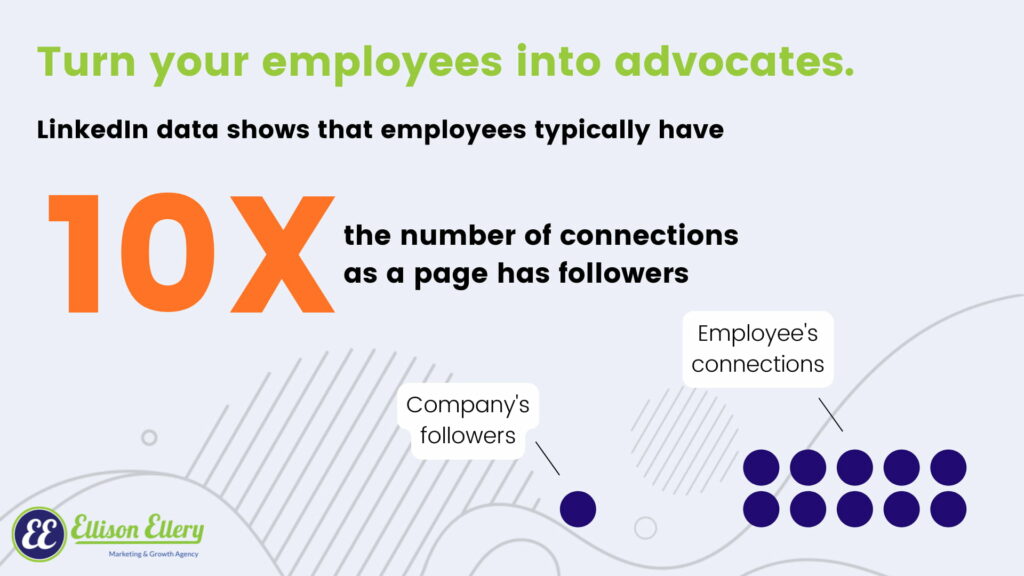 Get the Experts in your Corner
Leveraging LinkedIn to its fullest can seem daunting. It is after all a constantly growing lead generation machine, and in a fast-paced business lifestyle, as we all live in today, it can be advantageous to bring in a team of experts who can help your business reach revenue goals even faster. 
Ellison Ellery is a consulting firm and marketing agency specializing in B2B lead generation to help companies confidently leverage strategy and technology to address their business challenges and meet or even exceed their goals.  
We help B2B companies develop a strategy that allows you to reach the right buyers – at the right time, with the right content – and drive them to the next step in the buyer's journey.
And we don't stop there — we work with your team on a lead nurturing strategy (what happens after the lead is submitted). We optimize each touchpoint to make your buyer more buyer ready!
Only 1-3% of your website visitors are ready to buy now! If you want a bigger portion of the 97% who are not ready to buy right now, let's talk! There are a million moving pieces, but it's attainable. Our goal is to drive you more leads, sales and bottom line profits! 
Our goal is to help you meet yours. With a fine-tuned ad and content strategy for LinkedIn, you'll close more deals and scale faster than you think.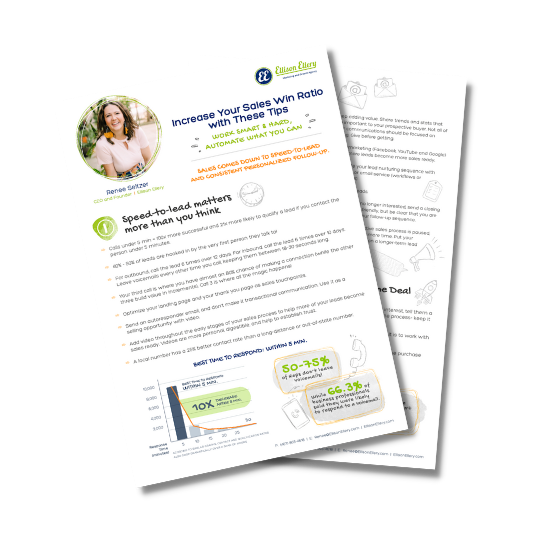 #WinMoreSales Sales Tips Sheet
Get quick, actionable tips on how to increase your sales win ratio. 
Just fill out the form below and we'll send you a FREE copy of our #WinMoreSales sales tips sheet!