With over 660 million professionals and 30 million businesses, LinkedIn can be used to promote your brand, increase leads, and bring in more revenue.
Did you know 80% of B2B leads generated from social media come from LinkedIn?
It's the #1 B2B social media platform for content distribution — making using LinkedIn Ads for B2B one of the best options for helping your business drive more leads and sales.
In this article, you'll learn how to reach your target audience and make the most of LinkedIn Ads for B2B.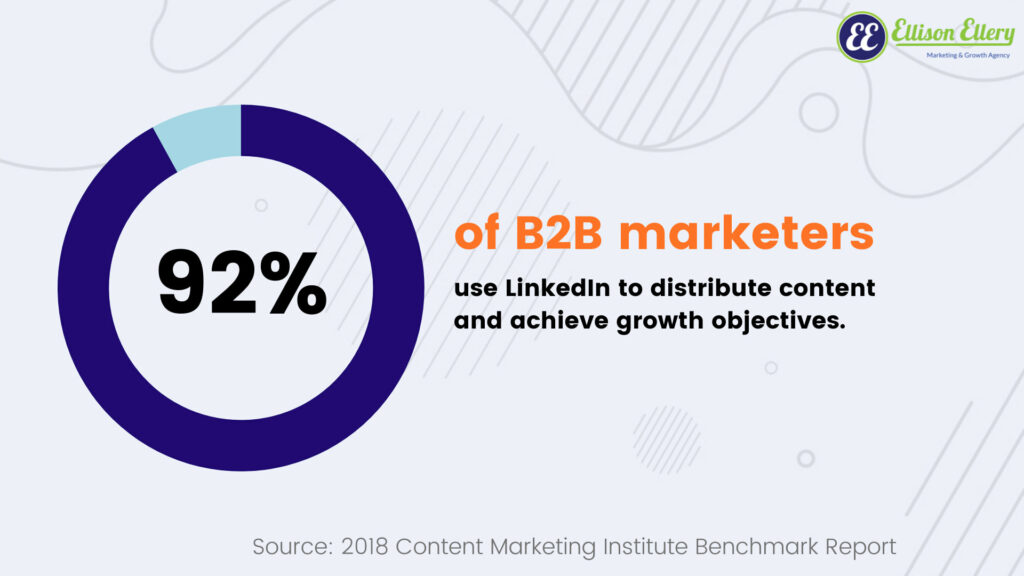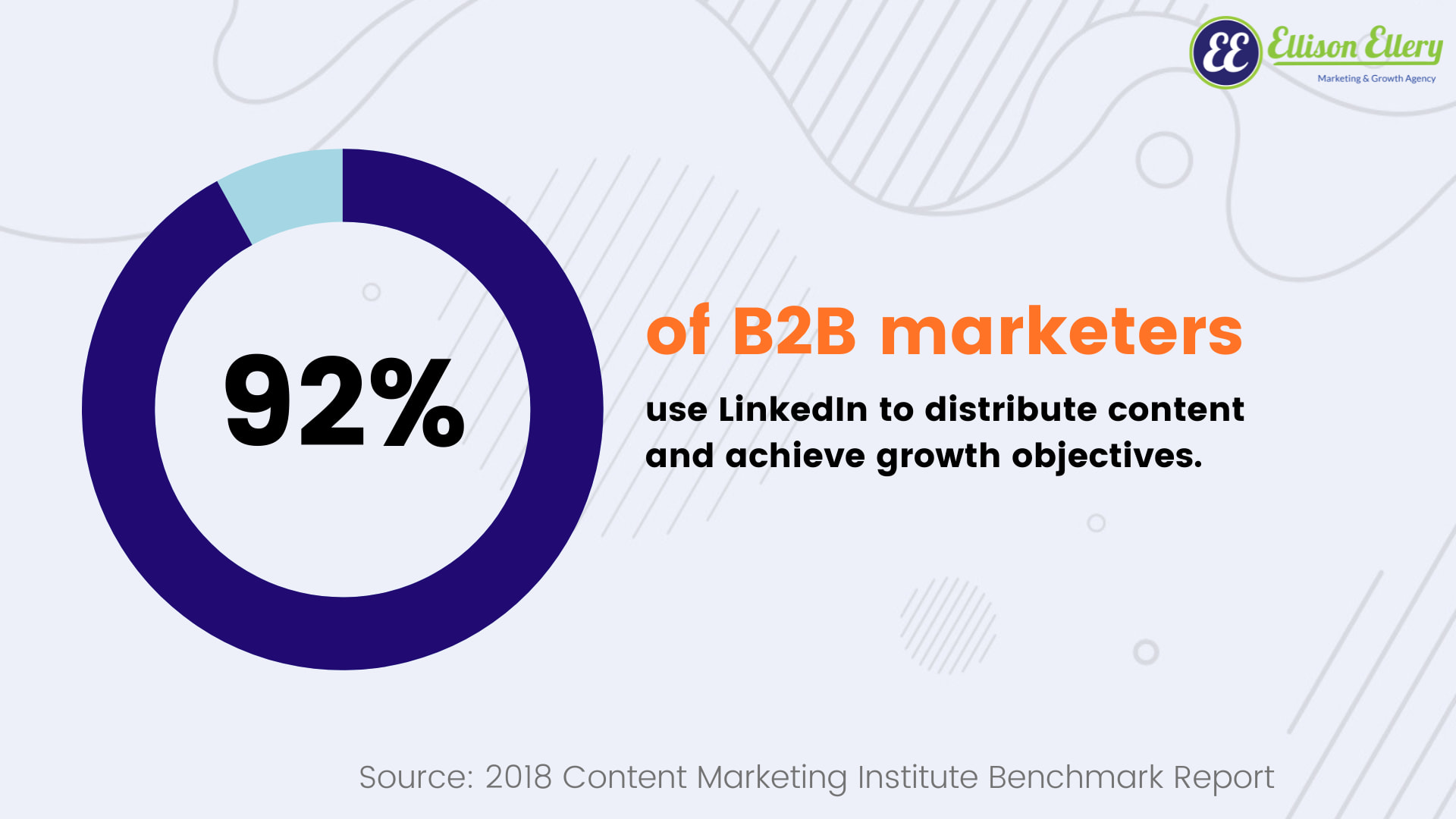 How are your

marketing

efforts contributing to your company's growth?
Schedule a brief discovery call to receive a complimentary consultation for your business.
Using LinkedIn Ads to boost your marketing and sales strategies will ensure that you stay relevant and showcase authority in your industry. The key to getting the most out of the platform is an integrated paid-organic strategy. Our team of marketing experts will work alongside you to help your business create measurable goals and deliver results, all while staying true to your brand.
Ellison Ellery specializes in B2B lead generation and marketing agency to help companies confidently leverage strategy and technology to address their business challenges and meet or even exceed their goals.
LinkedIn Ads for B2B: Optimize, test, repeat.
With LinkedIn constantly evolving, now is the best time to reach your ideal customer base with ads. The platform offers a variety of unique advertising types tailored to maximize your reach:
Sponsored Content or Single Image Ads
The standard advertisement that appears as a post in the user's feed. These ads maintain the flow of the user's feed while presenting your ad in an organic manner.
Carousel Image
A collection of multiple content links strung together in an eye-catching format. This form of advertisement commands attention and stands out on a user's screen.
Text Ads
Unobtrusive ads that appear as clickable text beneath the LinkedIn toolbar. These often rely on short and sweet calls-to-action to direct the user's attention.
Video Ads
Embedded video links that display an advertisement using the site's media player. These are a great way to implement video resources and hold a user's attention
Sponsored InMail
Advertising messages sent directly to a user's inbox by verified profiles. This method allows you to directly interact with your target audience and generate more quality leads.
Newsletter Sign up!
Get our best content on digital marketing in your inbox 2 times a month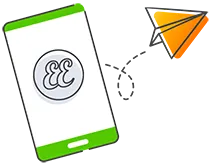 But even with these great advertising options, don't just "set it and forget it." Use our tips below to make sure you're getting the most use out of what LinkedIn has to offer:
Complete your LinkedIn profile
A LinkedIn page is required if you want to set up ad campaigns, and it's important you have an eye-catching page with complete information. Completed pages can receive 30% more views than those that are incomplete. Make sure yours is well-optimized in every applicable section before creating your first ad.
Run ads to matched audiences
Customize LinkedIn targeting with your own business data. This set of targeting options helps you re-engage website visitors with Website Retargeting, nurture prospects with Contact Targeting, and run account-based marketing (ABM) campaigns with Account Targeting.
Test different ad combinations
Marketers generally see a 37% improvement on CTRs when targeting via both Sponsored Content and Message Ads. Test dynamic ads with compelling visuals like video and infographics (as mentioned in the next section!).
Install LinkedIn's Insight tag
This handy snippet of code allows businesses to track conversions, update campaigns automatically, and ultimately learn more about your audience for better campaign performance in the long run.
Implement a Content Strategy
Thought leadership and content go hand-in-hand to deliver a successful lead generation strategy. Decision-makers in the B2B space are willing to pay a premium to work with companies that have used thought leadership to establish a clear vision for the future.
Engaging and insightful content allows your business to get in front of your buyers, build trust, and close more deals! By refining your content delivery strategy, you can maximize your market appeal to potential buyers, and retain the interest of your existing audience base.
Identify your objectives first
Before even creating content, make sure your objectives are clear and measurable. Your content will do more work for your business when there's a purpose and goal.
Build an editorial calendar
Keep content in mind that is tailored to your audience. Publish and repurpose relevant images, infographics, posts from your company blog, or links to events, webinars, eBooks, and other content. Stick with methods that get reliable results and build a calendar to keep your content schedule on track.
Post consistently
The highest-performing companies on LinkedIn post several pieces of content each week (and some even post daily!)
Create a compelling lead magnet
Offer your audience something valuable and educational – something they would want to engage with and download. It's free for them and builds authority. It's a win-win situation.
Test dynamic ads
Videos, graphics, and other visuals capture users' attention. Research by LinkedIn has shown that adding rich media to your LinkedIn Ads for B2B can increase CTRs by as much as 38%.
Share content business professionals will want to see
To help position your business as a thought leader and spread your brand story, it's critical to post content people will want to stop scrolling for. People are exposed to over 3,000 ads a day! It's your job to make content and ads that stand out and catch interest. Share customer success stories, a demo of your product, or even a sneak peek at your upcoming webinar to inform your audience what's on the horizon. Better yet, create high value-add content for your prospects. You will need to dig in to find out what your prospects will value the most and give them that content as a lead magnet.
Dominate Account-Based Marketing (ABM)
Account-based marketing involves identifying, communicating with, and landing your ideal clients. By focusing on specific lead-gathering techniques based on qualifiers in the LinkedIn accounts of your target audience, ABM optimizes the sales process by leading you directly to leads that are ready to buy.
ABM has slowly but surely gained traction in the past few years as marketers hyper-focus on their target audiences due to its "quality over quantity" approach, which ultimately serves to cut back on time wasted pursuing unqualified leads pulled from a less-targeted marketing campaign.
ABM relies on building relationships, making LinkedIn one of the most effective platforms for B2B. Through tools like LinkedIn InMail, which lets you specifically target key accounts and personnel, ABM proves its worth and remains one of the most-used and engaging marketing channels of 2023.
The Company Targeting option within LinkedIn allows you to easily run ABM campaigns, matching you up with target companies against 13+ million business pages. Select your target accounts, analyze your existing customer base, and keep things personal.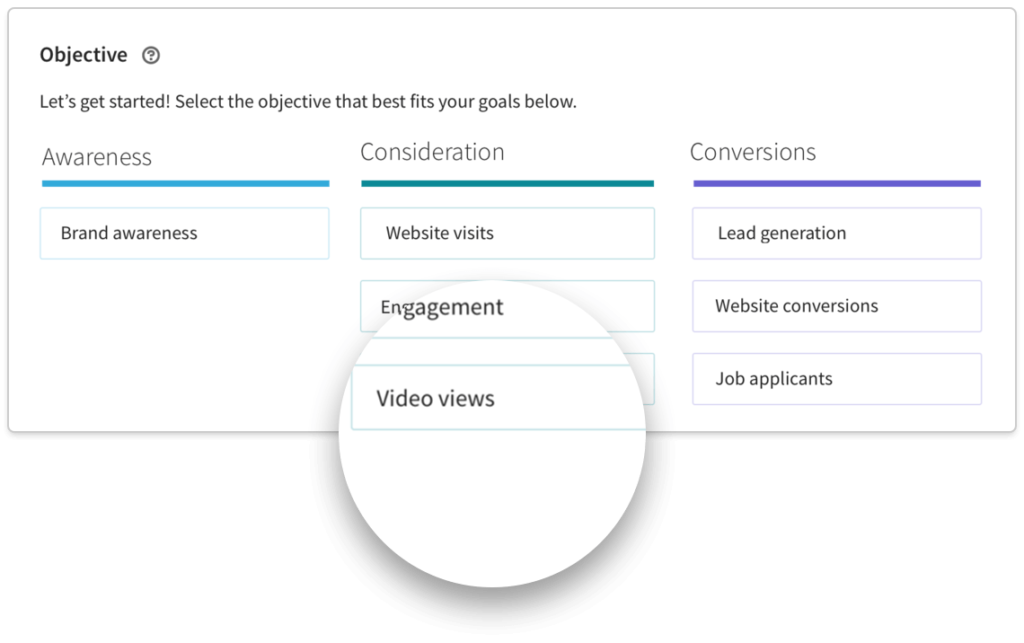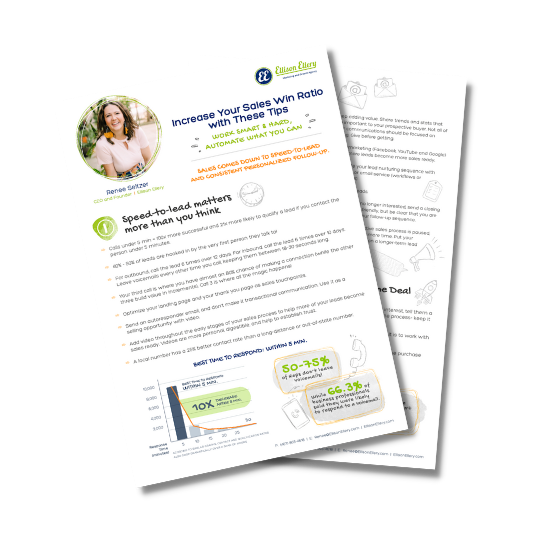 #WinMoreSales Sales Tips Sheet
Get quick, actionable tips on how to increase your sales win ratio. 
Just fill out the form below and we'll send you a FREE copy of our #WinMoreSales sales tips sheet! 
Overhaul Your Conversion Tracking
Keeping tabs on your conversion rate is a key part of any marketing strategy, but did you know that almost 90% of LinkedIn ad campaigns are set to over-report conversions? While a high conversion rate may look good for the marketer, overly-generous conversion tracking can mislead your ad campaign and ultimately hurt your bottom line.
LinkedIn offers two types of options for conversion tracking:
Last touch last campaign
The most recent campaign that has had an ad interaction in the conversion window will get credited with a conversion. This means that only the ad that was clicked immediately before the conversion happened will be counted.
Last touch each campaign
Every campaign that has had an interaction in the conversion window will get credited with a conversion. This counts every ad interaction as a conversion, regardless of the actual number of leads generated.
Newsletter Sign up!
Get our best content on digital marketing in your inbox 2 times a month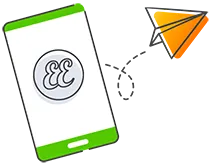 Using the "last campaign" feature will ensure that you can focus on the ad that ultimately led to a conversion. While this allows you to place a higher direct value on the last touch, it fails to credit other ad interactions that may have driven the buyer's decision.
On the other hand, a conversion tracker set for "each campaign" would show, for instance, 6 conversions to account for all of the ad interactions – but these conversions would only amount to a single lead.
This shows you the exact path the buyer took to arrive at the conversion point, but it can also mean that your conversions are overrepresented to your clients.
Our recommended strategy? Utilize both methods by assigning a value to each interaction.
In this example, you would use the last touch last campaign as your primary conversion and assign it a $200 value. Afterward, you set up a last touch each campaign and assign each interaction a value of $15.
This gives you the full perspective of your conversions, and helps you to prioritize the campaigns that are getting the most attention and driving the most sales.
Turn Your Employees into Advocates
Employees are hands-down the most important asset to any business. When you integrate employee engagement as part of your LinkedIn strategy, it drives trust and authenticity to your brand. Plus, indirect access to your employee's connections opens even more opportunities for lead generation and exposure to your content and offerings!
Here are a few of our favorite ways to turn employees into advocates on LinkedIn:
Encourage employees to share your content.
Re-share your employees' best LinkedIn articles.
Ask your executive team to @mention your Page.
Drive press and broader engagement by asking your top executives to mention your page in their posts.
Utilize LinkedIn Elevate to unlock the full power of your employees' networks (Elevate is a full-suite employee advocacy platform that connects organizations and employees to achieve branding, sales, and hiring goals)
Cater campaigns to leverage employee networks.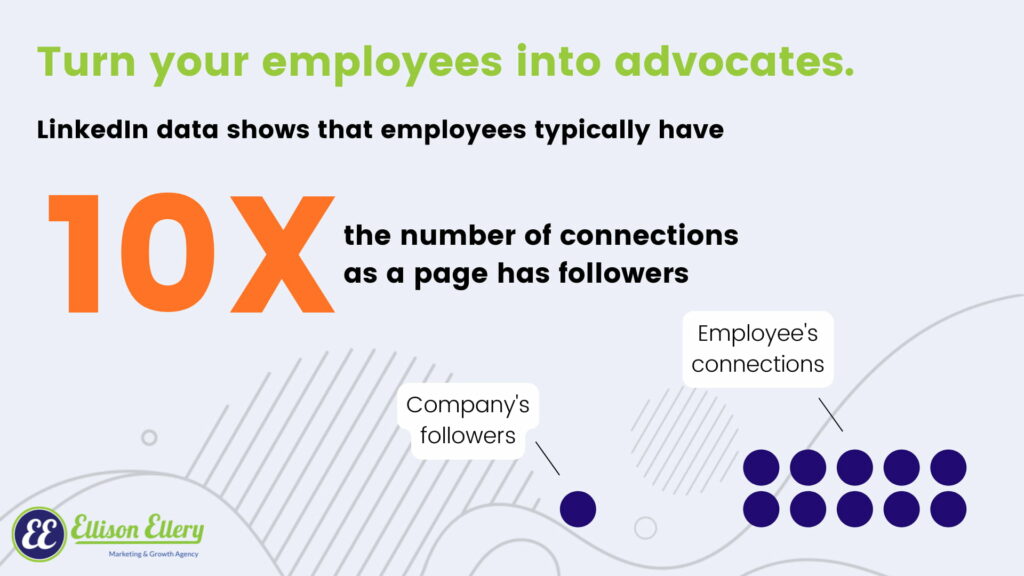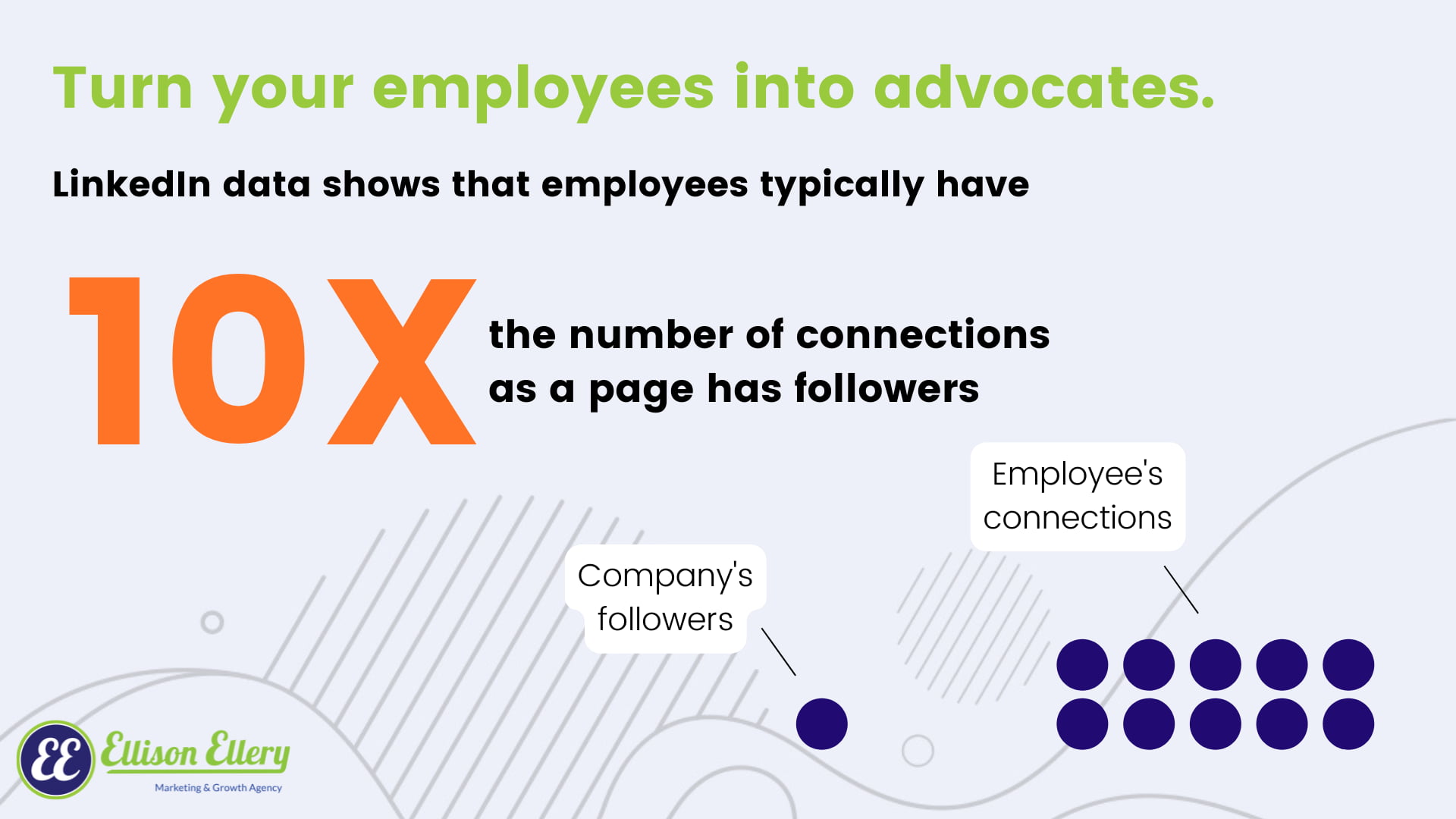 Get the Experts in your Corner
Leveraging LinkedIn to its fullest can seem daunting – it is, after all, a constantly growing lead generation machine. In today's fast-paced business lifestyle, you need a team of experts on your side who will help your business reach revenue goals even faster.
Ellison Ellery is a consulting firm and marketing agency specializing in B2B lead generation to help companies confidently leverage strategy and technology to address their business challenges and meet their goals.
We help B2B companies develop a strategy to reach the right buyers, at the right time, with the right content – and drive them toward the next step in the buyer's journey.
And we don't stop there — we work with your team on a lead nurturing strategy (what happens after the lead is submitted). We optimize each touchpoint to make your leads more buyer-ready!
Statistics show that an average of only 1-3% of website visitors are ready to buy. If you want to tap into the other 97%, look no further than Ellison Ellery! With our experts always on the lookout for newer and more effective digital marketing strategies, we will work alongside you to drive more leads, sales, and bottom-line profits to your business!
Our goal is to help you meet yours. With a fine-tuned ad and content strategy for LinkedIn, you'll close more deals and scale faster than you think.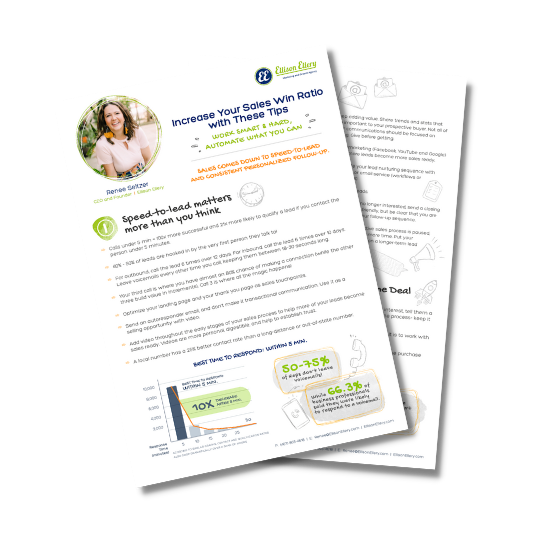 #WinMoreSales Sales Tips Sheet
Get quick, actionable tips on how to increase your sales win ratio. 
Just fill out the form below and we'll send you a FREE copy of our #WinMoreSales sales tips sheet!