Use the power of video marketing to break through the clutter.
It's not hard to see that video has become one of the most popular content mediums in the past few years. YouTube is the world's second-most visited site (behind Google) and the world's second-most visited social platform (behind Facebook).
And people are watching a whopping over 1 billion hours of videos on YouTube every day!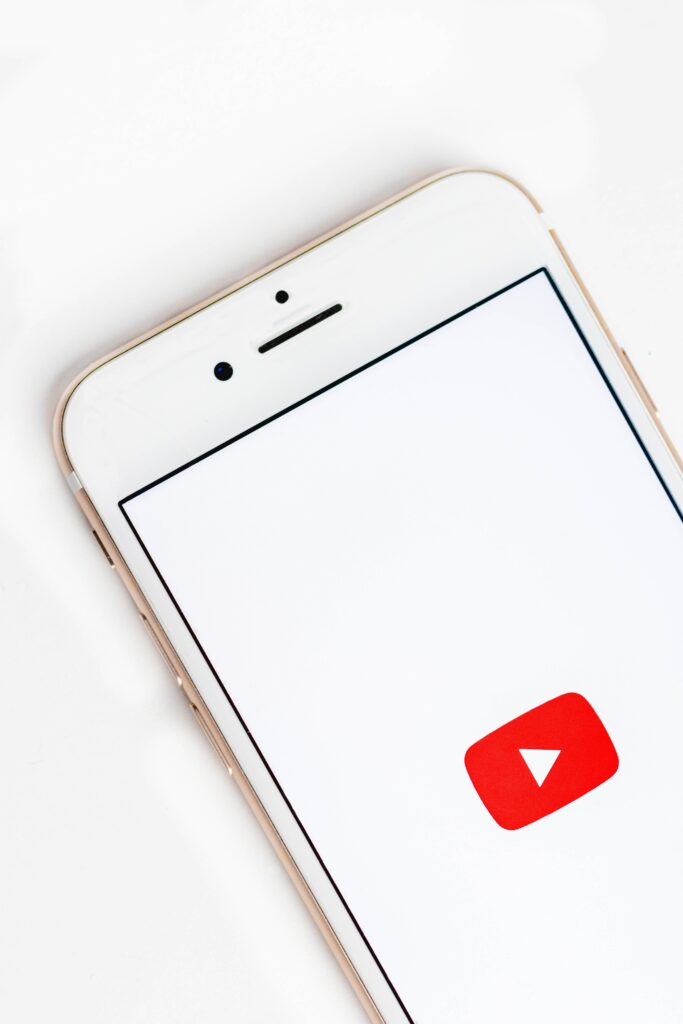 Video is popular on many other platforms too — TikTok, and even the relatively new Instagram Reels, show this. This is because videos are visually rich and are easy to digest.
Your brand needs to start harnessing the power of video marketing, and here's why:
Viewers retain 95% of a message when they watch it in a video, compared to 10% when reading it in text.
Social media posts that contain a video have 48% more views than those that don't.
Those are some crazy numbers! We're betting you want your prospective and current customers to hear what you have to say — and video marketing is the best way to make sure they do.
That's why we're going to share with you 5 powerful reasons why you need to incorporate the video in your marketing strategy!
Videos can boost your social media presence.
Videos dramatically increase conversions.
Videos can automatically help you rank higher in search engine results.
Videos help build customer trust.
Videos are the best way to reach Gen Z.
Let's dive in.
Newsletter Sign up!
Get our best content on digital marketing in your inbox 2 times a month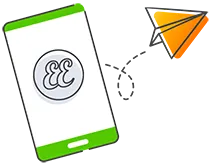 How are your

marketing

efforts contributing to your company's growth?
Schedule a brief discovery call to receive a complimentary consultation for your business.
1. Videos Can Boost Your Social Media Presence
Struggling with engagement on your social media channels? You need to start posting more videos!
It might feel like you're always battling social media algorithms when trying to get more exposure. Let the algorithms work for you! Social media algorithms promote video content more than images because videos generate more engagement and promote longer view times. These are two metrics the social platforms value most. Did you stay on the social platform longer than before, and are you more engaged?
And, the longer a viewer watches your content, the more likely an algorithm will promote that content to a wider audience! Algorithms reward you for creating content people want to view.
Here's some stats across the main social media platforms:
Videos on Instagram generate more engagement than any other of the platform's content types.
Tweets with videos get 10 times more engagement
There's a 10 times increase in engagement with videos uploaded directly to Facebook (as opposed to sharing a YouTube link) Try to always post natively!
Facebook and Instagram saw a 40% increase in usage due to COVID-19 — views for Instagram Live and Facebook Live doubled in one week.
66% of marketers who have started marketing on TikTok have reported success
When scrolling through social media, people are much more likely to stop scrolling and watch a video rather than read a long caption. It's just easier.
Plus your message will spread more easily! People are more likely to share your video content with a friend or a coworker because they know they'll probably watch it.
2. Videos Dramatically Increase Conversions
You know how important converting your audience into leads or sales is. And you know how frustrating it can be when you're not getting many conversions.
Guess what: video marketing can help increase conversions by 80% when implemented on a landing page. Who would want to miss out on that kind of success rate?
Plus customers are up to 84% more likely to purchase after watching a product video. Now that's exciting.
Taking the time to create even a 30 to 60-second video that showcases your product(s) or services can be the very thing that makes a sale. You want to reel in your leads as quickly as possible, and showing them a video is the best way to do that.
Use videos and kinetic movement in your email campaigns too.
More Reasons to Incorporate Video In Your Marketing Strategy to Improve Conversion Rates:
Video on landing pages can increase conversions by 80%
Customers are up to 84% more likely to make a purchase after watching a product video
Video can improve your ranking in search results—including multiple types of media indicates to Google that your website is informative
A marketing video can attract up to 300% more traffic and leads.
Video-based social media posts generate 48% more views.
Emails with video have a 300% higher click rate.
If a webpage has textual and visual content, 72% of viewers will prefer watching the video to understand a product or service. (HubSpot)
Newsletter Sign up!
Get our best content on digital marketing in your inbox 2 times a month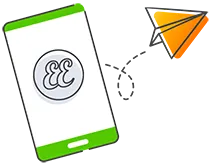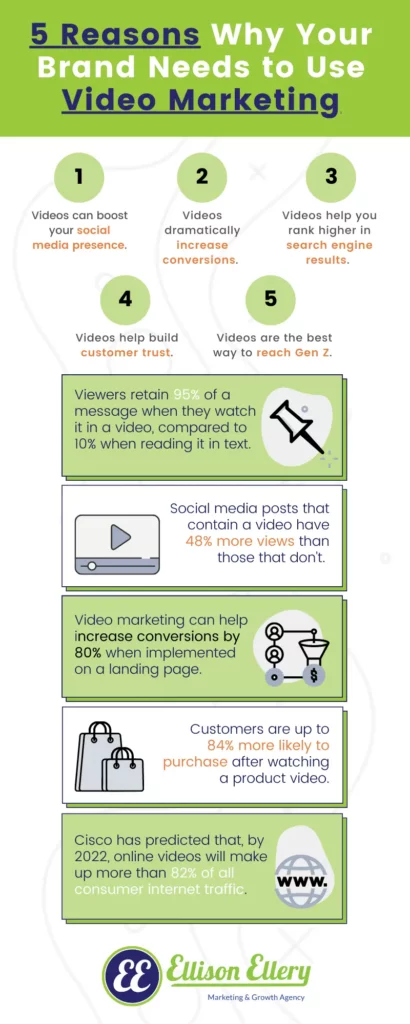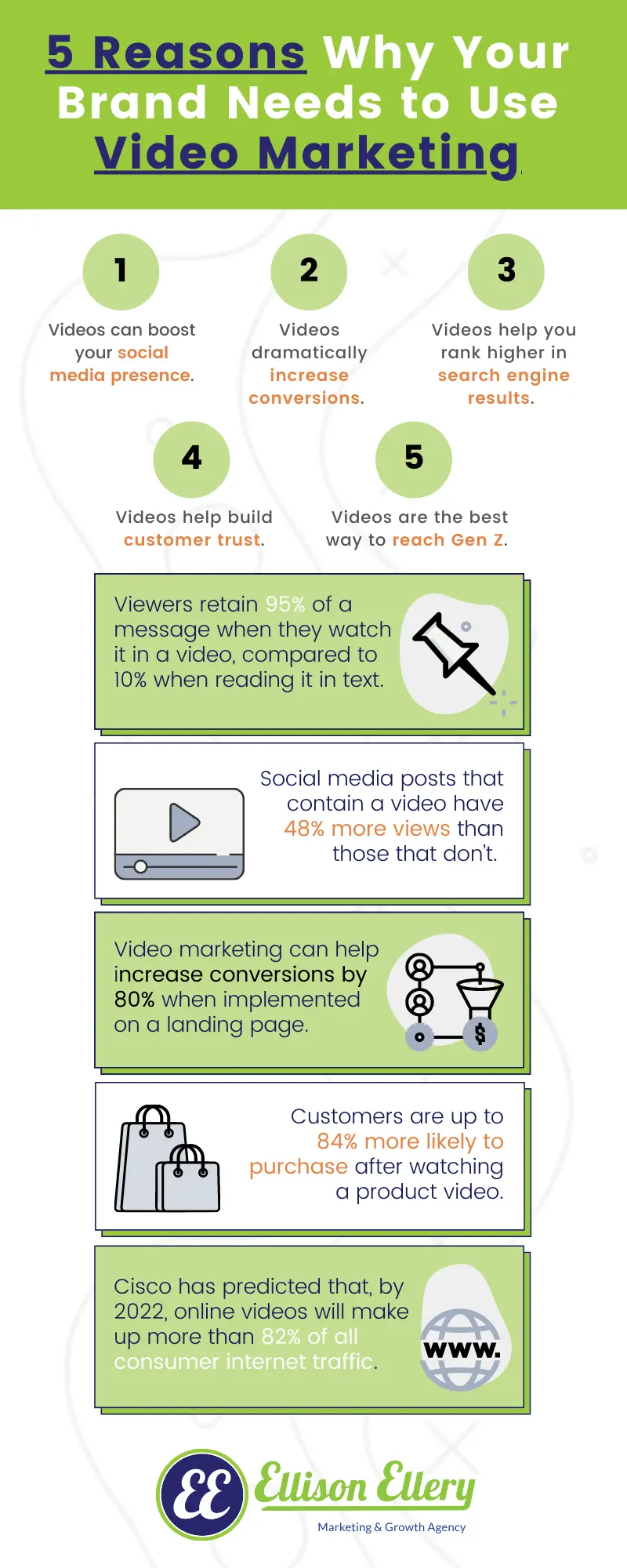 3. Videos Can Automatically Help You Rank Higher in Search Engine Results
You want to rank well in search engine results, and video can propel you to the very top.
When you embed videos into your site's pages, this will improve your dwell time. Dwell time is a huge factor in search ranking. If Google sees that people are spending more time on your site, they'll reward you for it by ranking you higher.
Google is also looking for diversity of content when it comes to search ranking. If your pages just have text, you won't do so well.
However, if your pages have a mixture of media (including text, images, videos, and downloadables), this lets Google know that your pages are more likely to be informative. And they'll want to put it in front of more people.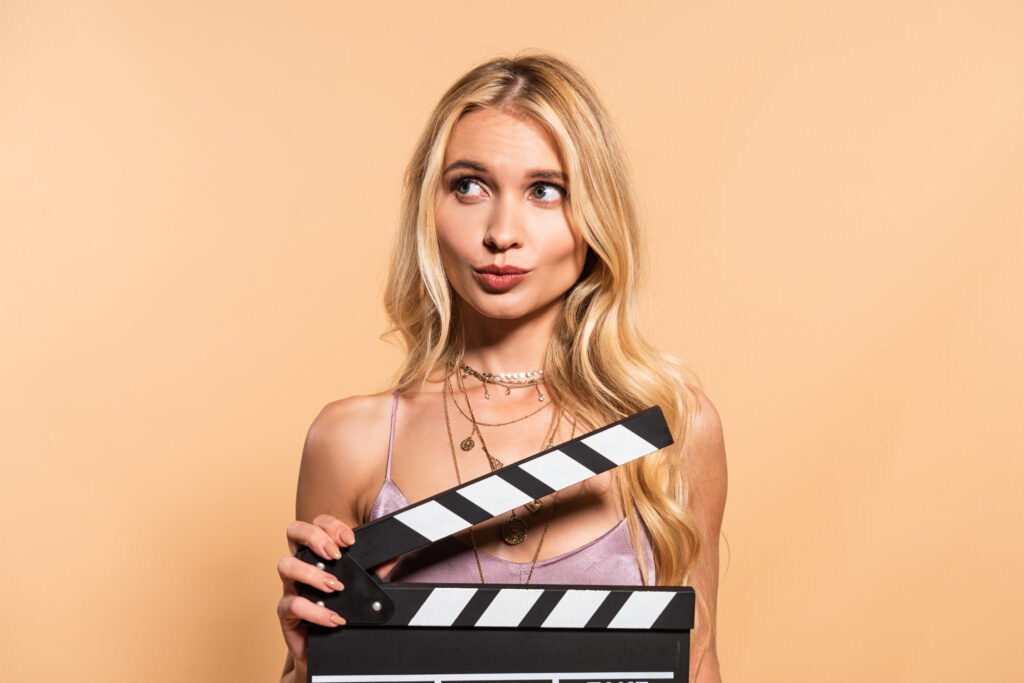 4. Videos Can Help Build Customer Trust
You can help build customer trust by including more videos in your marketing. If you take the time to create quality videos, customers are more likely to think that your company and services are legit.
You can create a few different types of videos to build customer trust:
Customer testimonials
CEO Interviews
Employee interviews
Showcasing your services/products
Tutorials for your services/products
Show your audience your credibility and the depth and breadth of what you have to offer.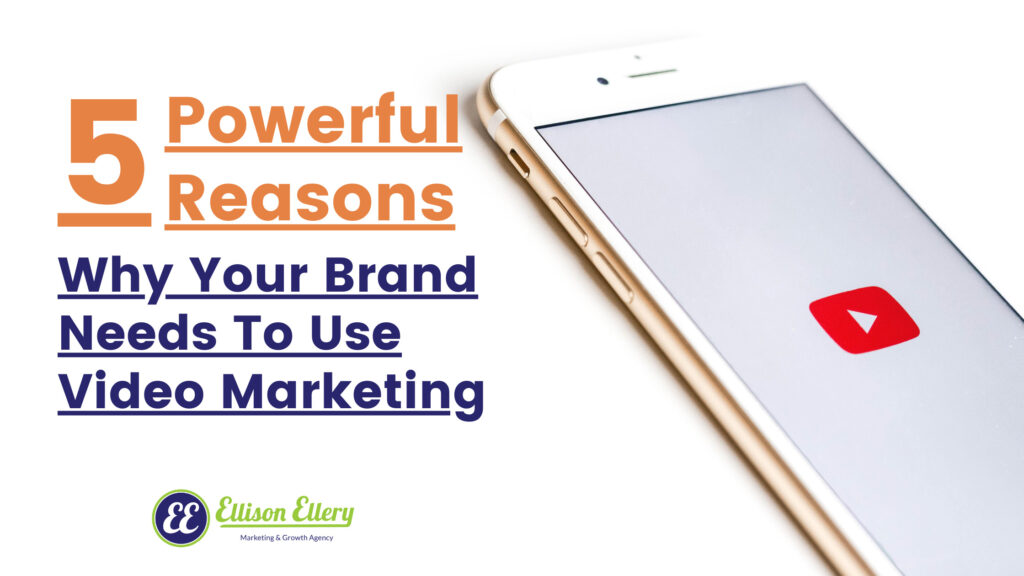 5. Videos are the Way to Reach Gen Z
Finally, videos are one of the best ways to resonate with Gen Z. As social media natives, they crave video content.
Why try to reach Gen Z? They're one of the largest driving forces of the economy. And they have a spending power of over $140 billion.
Millennials and Gen Zers made up 46% of the global population in 2019, so you're going to want to meet them where they are.
50% of millennials and Gen Zers said they "couldn't live" without video in their daily lives.
Having grown up on YouTube, they're used to primarily consuming content in a video format. And they're always looking for new content. That's why one of the best ways to actually capture their attention is through video!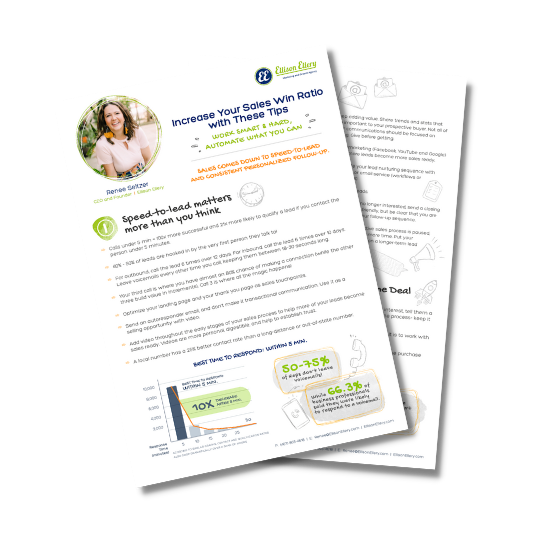 #WinMoreSales Sales Tips Sheet
Get quick, actionable tips on how to increase your sales win ratio. 
Just fill out the form below and we'll send you a FREE copy of our #WinMoreSales sales tips sheet! 
Now What?
Wondering when the best time to start focusing on increasing your video content is? Right now.
Cisco has predicted that, by 2022, online videos will make up more than 82% of all consumer internet traffic — you don't miss out on this trend! Get ahead of your competitors by establishing yourself as a video marketing master.
How Ellison Ellery Consulting Can Help You
Our team consists of marketing veterans, GenZers, storytellers, advertising professionals, and inbound marketers. Advertising, at its core, is a personal medium, and we're bringing the human factor back to an industry that often forgets it.
We help businesses create memorable marketing and sales moments that move the needle and drive additional revenue growth by delighting prospects and tying marketing to metrics.
We have created campaigns allowing businesses to make authentic connections with prospects using the channels that most resonate including social media, SMS/MMS, chatbots, social media autoresponders, videos, automation, and storytelling.
Together we will work together to craft your story and find the right channels to tell it. Video should be a big part of your strategy moving forward. We can help you create these videos from beginning to end, teach your staff how to create their own video content, and use it in your inbound marketing strategy. Also, we can help you create user-generated content from your customers and/or users.
We are here to help you grow revenue! And, we're not married to any one tactic or approach. We want to create the best strategy for your business to target your specific buyers, and drastically grow your revenue.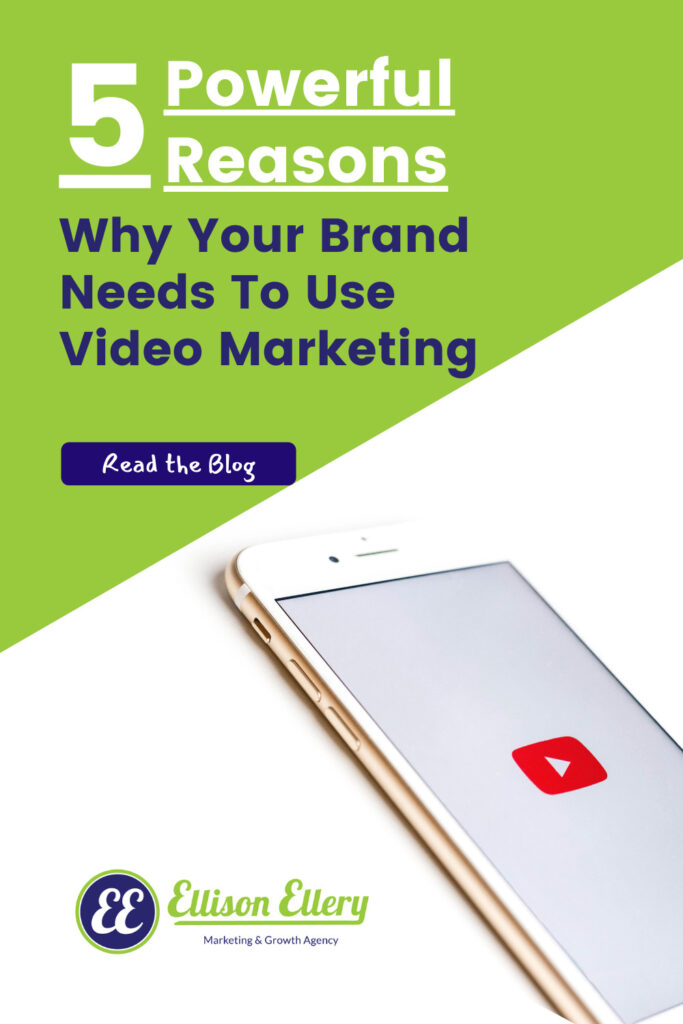 How are your

marketing

efforts contributing to your company's growth?
Schedule a brief discovery call to receive a complimentary consultation for your business.