When you create a great piece of content, the last thing you want to do is let it go to waste. Unfortunately, this happens far too often with many not even realizing their mistake. Far too often a university will produce a great piece of content, publish it in one place, forget about it, and move on.
This happens so often with social media. A university will create epic social media posts or videos, and then those great pieces of content never get used in the enrollment process, on the website, or on other social networks.
Often this happens because of department silos!
We are going to show you how to take one piece of content and repurpose it over and over. We are going to show you how to turn your one piece of content into 10 new pieces of content!!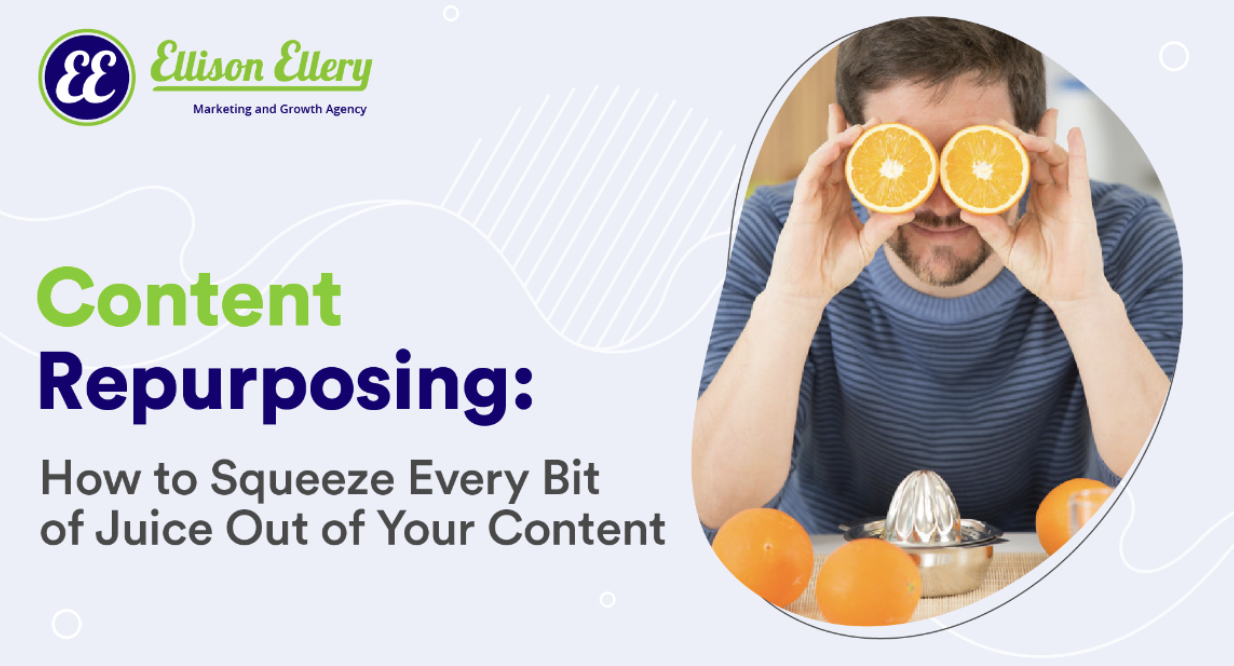 What is Content Repurposing?
Content repurposing is an extremely valuable technique for increasing the longevity of a single piece of content! Using this strategy, you get more out of the time you've spent creating one outstanding piece of content whether that is a video, webinar, long-form blog post, etc.
Content Repurposing Allows You to Amplify Great Ideas
Let's take a quick dive into how you can be more strategic by leveraging content that you've already created. Time to recycle! ♻️
Costs are going up everywhere, squeezing us from every side. In order to compete, we now need to become 24/7 content creators (enter: TikTok), push out thought-leadership pieces, create videos—and do it all amidst the great resignation. But how??
At times, you may feel like you're on a never-ending hamster wheel 🐹 of keeping up with trends, coming up with new ways to talk about the same thing, and then doing it all over again the next week in order to grow.
So, how do you get off the hamster wheel? The answer is content repurposing (also known as "content recycling" ♻️).
This is where you take an original piece of content and repurpose it, allowing you the opportunity to squeeze every bit of juice 🍊out of each piece of content you create so you don't have to brainstorm new content ideas each week.
The best part? This strategy works for everyone!
Why Would You Want to Repurpose Your Content?
For starters, it's a great way to spread your message to a broader audience across multiple platforms.
This strategy can give your university more touch points with prospective students and allow your prospective students another opportunity to connect with your university on his or her terms.
Depending on your resources as an organization, your content repurposing strategy can be as straightforward or as involved as your team can handle. We will do a deep dive on ways to repurpose your content.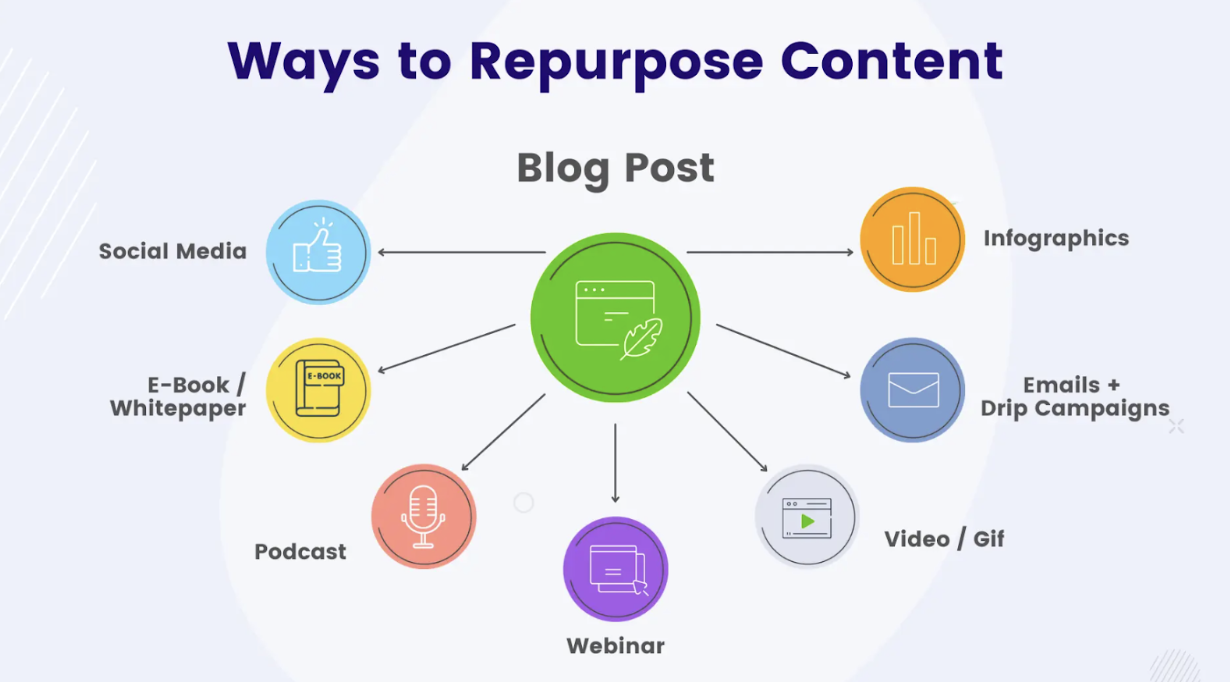 When one department or agency creates a great piece of content, someone on your staff should flag this piece as a cornerstone piece to be repurposed. It's important to understand how all of this works in your greater content strategy.
What Is Content Strategy?
Your content marketing strategy is an ongoing plan that includes the brainstorming, execution, promotion, and management of the ways you use content to reach your target audience. A solid content strategy helps you focus your efforts on the types of content that can help you achieve your goals.
Publishing quality content is great for all sorts of business objectives, from increasing brand awareness to higher ed lead generation. A well-executed content strategy can help you develop deeper relationships with prospective students, which can improve your yield and drive up your enrollments.
Watch this video, where we go into more detail about the power of developing a great content strategy.
Even though content creation is important, it can be hard to create new content daily, especially since there are so many different ways people prefer to consume content!The good news is you don't have to create content daily. You just have to know how to repurpose what you've already done and recycle it! ♻️
7 Ways You Can Repurpose Content
Content repurposing is the act of taking one piece of content and turning it into another. This process can involve using some or all of the original content as part of the new form or reworking it entirely.
Why would you want to repurpose your content? For starters, it's a great way to spread your message to a wider audience. Some people like to read 📚, others like to watch videos 🎥.
It can be as simple as turning a video into a gif or as involved as turning an infographic into an entire blog post.
Developing a content strategy that uses repurposing is such a game-changer; you get more out of your time and energy. Here are 7 ways you can repurpose your content:
Newsletter / email distribution
Social media posts
Videos
Creating Short-Form Video Content
Gifs
Infographics
Webinars
Start with Long-Form Blog Content
A great place to start is by evaluating your long-form blog content.
Almost every university in the country has a blog (and if you don't, this is your wake-up call to start one!). Blogs have changed drastically over the past few years. A few years ago, you could get away with a shorter blog post, but that is no longer the case.
We are going to show you how to leverage the hard work you've already put into your blog posts and then repurpose that content for social media, email copy, and so much more.
Keep reading to learn how to leverage and amplify your content over and over again!
Where to Start? Long Form Content
If you're unsure where to start, we recommend starting with your longer form website or blog content. These longer formed content pieces are generally well-researched, and there was a reason you put the time and effort into that topic to begin with.
If you do not have a big library of content to choose from, here are suggestions on how to find content topics your audience is interested in.
How to find topics that are important to your prospective audience?
Let's say you are trying to connect with more prospective students.
You can:
Do keyword research using tools like Semrush and Ahrefs
Research what keywords your competitors are using in their paid search campaigns (this can be done using tools such as Semrush, Ahrefs, and iSpionage)
Speak with your current students
Speak with your Admissions team to ask them what types of questions they most often receive from prospective students, parents, etc.
Browse subreddits, Quora, and forums
Check out trending videos on TikTok and YouTube related to higher ed, or a specific program (find the videos with lots of views to indicate this topic is more popular)
Look at what pages on your website are the most popular and try to understand why
Look at your website search history, analytics, and chat history to find recurring themes
Once you have some great longer form blog content, you can move on to the next step.
Let's Start Repurposing
Now that you've created excellent content, it's time to start repurposing! This is where it gets exciting. All the time you spent writing is about to go to good use.
And, we want to emphasize the need to distribute your content forever!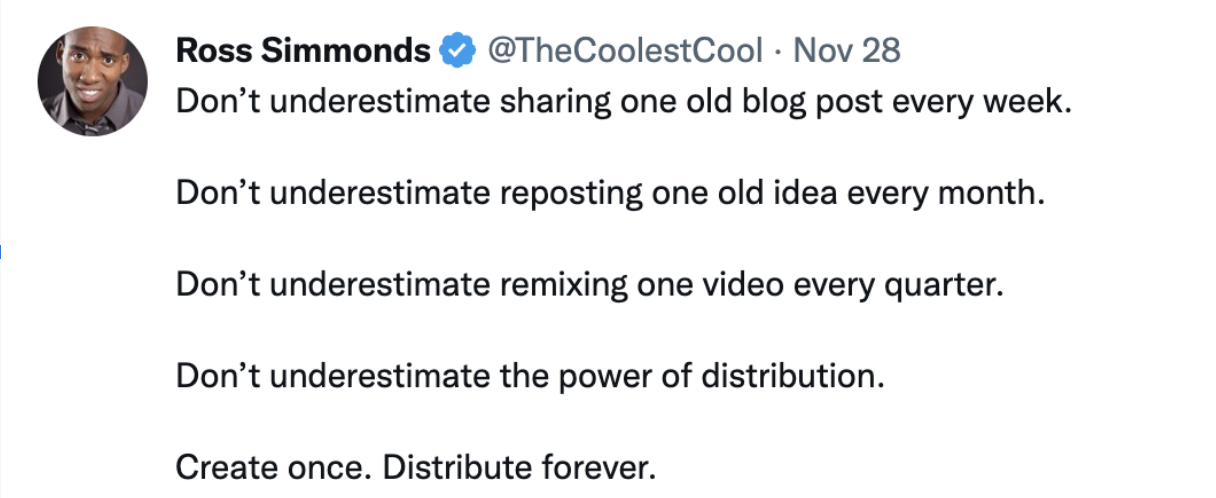 1. Leverage Your Blog Content in Your Newsletter or Emails
This option is the easiest and does not require a lot of repurposing. With the blog post you've just published, you can now turn it into a newsletter to send out to all your subscribers. Depending on the length of your post, you may want to edit it down to be more easily digestible.
Don't worry, you can always add a link to the full-length blog post at the bottom of your email.
2. Reformat Your Content in Different Ways to Post on Social Media
Social media is a great distribution channel.
When you publish a new blog post, you usually share it on social media by simply providing a short description and linking to the article.
But a content repurposing strategy gives you many more options to display your blog post's shining content — without actually letting people know it's from your blog!
Just like with creating a video (discussed below), review your blog post for its main themes and key takeaways — then figure out which social media platform(s) will be the best for presenting this information. Your blog post has sections covering different subtopics, statistics, quotes, and other tidbits that can be used in a social media post.
Here are some ways you can repurpose your blog content for social media:
Create an Instagram Reel
Create a TikTok
Create a carousel post for your Instagram, Facebook, and LinkedIn feeds
Create a thread on Twitter with your blog's most notable tidbits
Share your repurposed video on all of your profiles
Go live on Instagram, Facebook, or LinkedIn to give a mini-talk on one of your blog's key points
Share the highlight tidbits in your email blasts or promote the post in a newsletter
Everything within your blog post (the interesting quotes and stats, for example) serves a purpose that relates to your niche and enrollment goals. You probably also answered multiple questions that are relevant to what you do!
So when you turn them into social posts, you know that you've created quality content that contributes to your overall content strategy.
Write Up Longer Text Posts on Social Media
Let's say you find out that LinkedIn is a great channel to promote your graduate school programs. Your team can leverage this channel to position your college as a thought leader, network, and have discussions with other industry experts and prospective students.  
To get the conversation started, edit your blog post down to fit Linkedin's posting requirements. On LinkedIn, text posts do very well, so don't fear posting a longer form text post.
👉 You can share some insights from your blog post using emojis to help emphasize the points you would like to make. 👈
Create Carousel Posts
A carousel post has more than one photo or video, which users can view by swiping left on a post through the phone app. LinkedIn, Instagram, and Facebook allow you to post carousel posts. This style of posting can help catch your prospective student's attention and highlight some of your favorite facts or topics from your blog post.
Check out this example we created. We took some stats from a blog post, created a carousel post, and then distributed it on LinkedIn, Instagram, and Facebook.
Once you've published the carousel, include a link to the full-length blog, and be sure to check back often and engage with your audience by responding to any comments or questions that may have been left.
Next, you can continue leveraging social media to drive more people back to your blog post. You can create stories and reels to promote your new piece of content.
Create More Twitter Content
The same advice applies to Twitter. Don't settle for just one post; try to create as many original social posts as you can.
Play around with different formats, rephrase information, and engage with your audience!
At the end of the day, it takes a lot less time to record a video or create a graphic if you already have all the information you want to tell your audience. Use this as an opportunity to create unique, engaging content that will catch your audience's attention as they doom scroll through social media.
When you create a great blog post, naturally, you want people to talk about it. You can take matters into your own hands and start the conversation on social media by starting a Twitter thread sharing your blog highlights.
For Twitter, you are greatly limited by the number of characters allowed. This is where you can boil your content down to its main points, and share your main points in a longer thread.
Use this opportunity to answer frequently asked questions, interact with your audience, and learn what piques their interest for inspiration on your next blog post and the next piece of content that you can repurpose!
3. Create Videos
Videos are one of the most effective ways to repurpose content.
People love videos. And that's why they make for great content! They have the ability to grab someone's attention better than anything else.
Why? Videos are entertaining, dynamic, and easily digestible.
And research backs up people's love for video:
Viewers retain 95% of a message when they watch it in a video, compared to 10% when reading it in text.
Social media posts that contain a video have 48% more views than those that don't.
Pages (like your blog posts) that include videos are automatically ranked higher in search engine results because videos improve your dwell time (time on a webpage).
Videos help build trust with your audience.
Videos are the best way to reach Gen Z (your students)! 50% of millennials and Gen Zers said they "couldn't live" without video in their daily lives
How do you repurpose your blog into a video?
Review your blog post for its main themes and key takeaways and create a script. You can create a "presentation" style video with music, b-roll, and text — but don't be afraid to get in front of the camera as well!
Videos that contain live people do better than videos that don't.
You can even record a video of yourself going through the main points of the video. For example, I often want to read an article while taking my dog on a walk and I would love to just hit play and have someone read me the article, so I don't have to wrangle my phone while walking.
Once your video has been finalized, you can use it in so many different ways:
In your email marketing campaigns
Social posts on Facebook, Instagram, TikTok, Twitter, LinkedIn, and more (adjust the size to match the platform and video length)
Post on your YouTube channel
Embed the video on the original blog post, somewhere else on your website, or on your landing pages (you can host the video on YouTube, Vimeo, Wistia, etc.)
Landing pages with videos generally perform better. Check out these higher ed landing page best practices.
You'll be able to extendthe potential reach of a blog post far beyond what it would have been without video!
Create All Types of Video Content
Consider creating graphics, GIFs, short videos, or any other media you feel will resonate with your audience.
Check out this higher ed blog example. See how we added graphics to make the content more engaging, along with a short video that delves deeper into the blog topic.
If the video is longer, you can slice and dice the video into multiple smaller pieces of content (especially great for Reels/Shorts) and post them over time on your social media channels. These smaller pieces can be used across nearly all of your communications channels including social media, YouTube, your blog, or your website.
Not only can these videos help students, but each shorter piece of content you create can help you get in front of your prospective students differently.
Some prospective students may have ignored your blog post promotions but saw a 3-minute clip your team created on social media and are intrigued to come back to your website to learn more.
Just be sure to include a link to the full-length blog post in the comments, and engage with your audience as they like, share, and comment on the post.
Even if the student does not want to read your full blog, this 3-minute clip is a touchpoint that moves that student closer to enrollment.
We need students to engage with your university to be in their consideration set when they decide to attend a school. If the prospective student doesn't remember your university, then it's unlikely that the student will enroll at your university. This is why it's important to keep transforming your content into different forms so you can better connect with more students.
4. Create Short-Form Video Content
TikTok, Instagram Reels, and YouTube Shorts have become the most popular way for people to consume content in recent years and will continue to grow exponentially.
5. Create Gifs
Because they're so eye-catching, gifs are a great way to get digestible information across to your audience — and they're also just great for entertainment.
You can create gifs from the videos and social media posts you've repurposed from your blog.
Pick a few really interesting moments from your repurposed video and stitch them together into a gif.
As another distribution channel, you can share gifs through text messages too!
Or, if you created a carousel for social media, you can stitch the slides together to create a quick-paced gif. Don't have a lot of text on the slides, as it can easily overwhelm viewers.
The goal is to be entertaining — so be entertaining! Even if you are a prestigious institution, you don't need to be stuffy. To break through the clutter, your creative needs to lean in with entertainment first.
The possibilities for what you can do with these gifs are endless! Post them on social media, include them in your email campaigns, put them in your original blog post, use them in MMS marketing… you name it.
6. Create Infographics
Infographics can be a great way to share a lot of information visually. As an example, check out these higher ed landing page infographics we recently created. These infographics go along with our higher ed landing page blog post. This is a great example of how we are leveraging each piece of content to promote another piece of content. At times, we will share the infographics on social media, or allude to them for a visitor to click through to visit our website.
And since the human brain processes images better than text, your audience will most likely give an infographic more love than a written blog post.
To repurpose your blog post into an infographic, note your blog's key ideas and have a graphic designer place them into an easily digestible, attractive infographic.
If you really break down the content in your blog post – the different sections, the facts, the important definitions – you'll find almost an unlimited number of quality content ideas to turn into infographics.
Need an infographic? Contact us, and we can discuss helping you write and create your future infographics. We can also help you develop your content strategy and repurposing strategy.
And since infographics are more approachable pieces of content, this makes them great candidates for sharing and reposting — giving you more reach and opportunities for engagement!
Plus, infographics have shown to be helpful link-building tools to improve your website visibility and SEO results.
7. Webinar Repurposing Strategy
If your university creates engaging webinars, then use these webinars in your content repurposing strategy.
One webinar can turn into so much awesome content that can be repurposed in:
Emails
Multiple social media posts (video, carousels, thought leadership)
Soundbites leveraged by salespeople, email copy
Blog posts
Video content (long-form, short-form, snippets, Reels, TikToks, etc.)
and so much more!
Once you have a long webinar recorded, you can send the video out as a replay to your audience.Only 20% of people who sign up for webinars actually show up—don't despair if your sign-ups do not attend live!
Leverage your on-demand replay. The power is in the replay.
Be sure to download our webinar repurposing blueprint + blog article for more ways to repurpose your webinars.
In the case of this webinar example, you can cut your footage into shorter 2-3 minute videos that can be shared on social media. You can use these short clips to promote the full version of your webinar (with an available on-demand replay on your website) and you can also share these videos as stand-alone insights.
(These shorter clips work better on social media.)
Next, write up a blog post featuring the insights shared in the webinar. Add your webinar video and shorter insight video clips to your blog post. Re-share your blog post on social media or run ads to this content.
Create gifs, carousels, and videos from this content!
These are just a couple of the many types of content you can create using one bigger project as your foundation.Need more ideas on how to repurpose your content? Read our blog!
Stagger Content Publishing Over Several Weeks to Months
After you've drafted the blog, newsletter, and social media posts, you should have more than a handful of content ready to be published. However, you don't want to spam post them all in a matter of days.
Over the next 4-8 weeks, publish these different posts on your social channels. This is where the effort of creating such a long blog post pays off! You'll be able to fill your social calendar for the foreseeable future without having to create new content daily.
In the meantime, you can begin working on a new blog post to create a seamless cycle where you constantly have content to publish while only creating one truly original blog post every 1-2 months.
In a few months, do it all over again! This content should be recycled ♻️! And, in a few more months, do it again! This time see what you can tweak. TIP: You can repost your content on social media multiple times over time (every 4-6 weeks). Don't post great content just once.
Revisit the Content Every Few Months
It doesn't end there! Every few months, revisit all the content you've produced and repurpose it again!
You can do this by reposting your favorites, merging two posts into one, posting them on different social channels, or in another format. The are endless possibilities for you to repurpose this content!
Don't get swayed by the initial time investment; it'll all be worth it in the end.
Content Distribution
Content needs to be distributed. Be sure to allocate a percentage of your budget for content distribution, which is a mix of human resources to post your content on different channels, and,you will need to budget a certain percentage for paid content distribution.
The exact mix of how much you should allocate will vary gratefully depending on your overall budget, which marketing channels you are already using and your overall goals.
This horse meme is a perfect depiction of what happens with content development and distribution. Companies will spend so much money creating their content, and then will not plan on how they will distribute the content.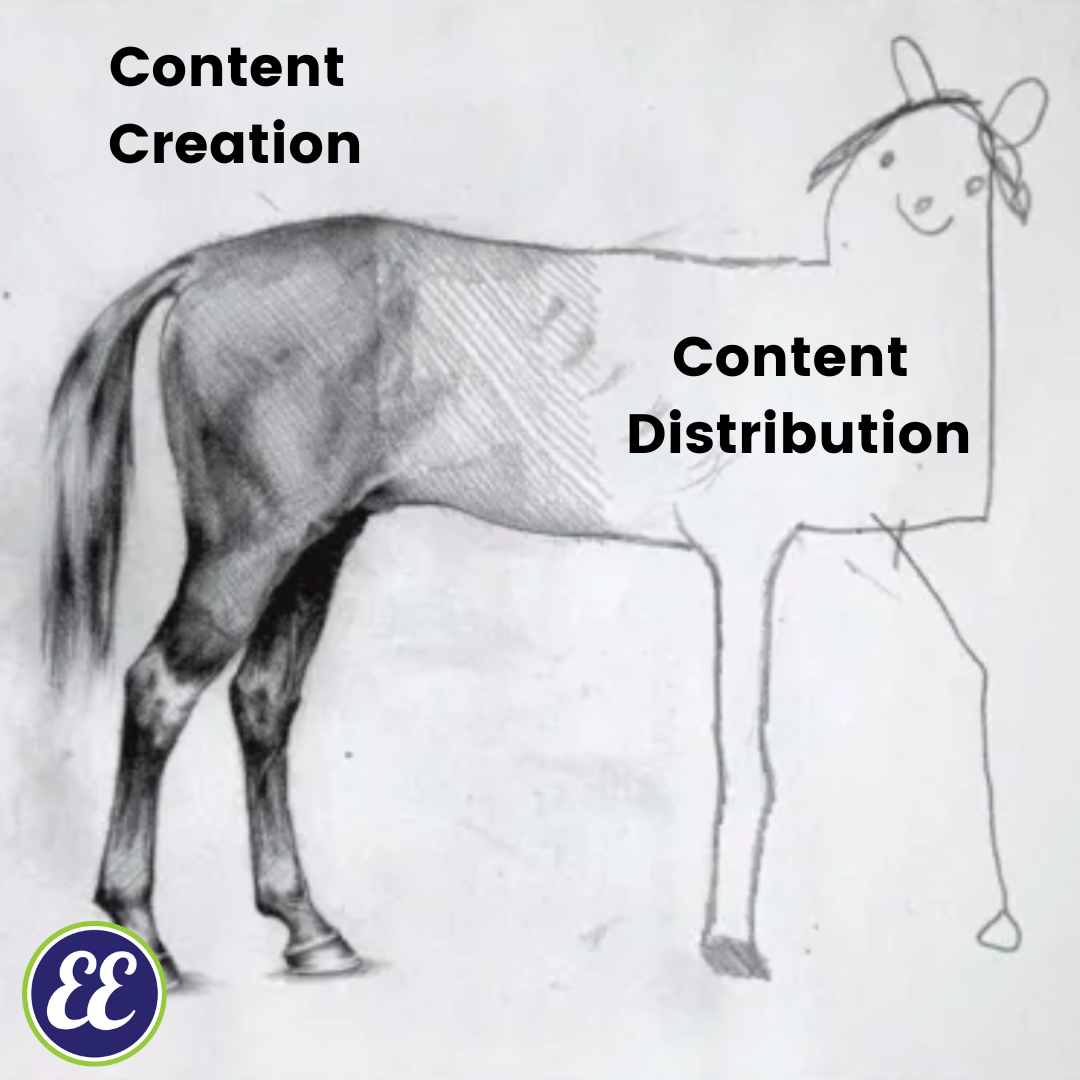 Leveraging Paid Channels for Content Distribution
Paid channels are pay-to-play. In exchange for promoting your content on an external site, you pay a fee. This can include various platforms such as:
Paid ads
Social media ads
Influencers or reviewers who are paid to speak about your university brand
Be sure to check out our Higher Ed paid media services to help you create your content distribution strategy.
Content Distribution Checklist
We are here to help! Download this content distribution checklist to help you get started.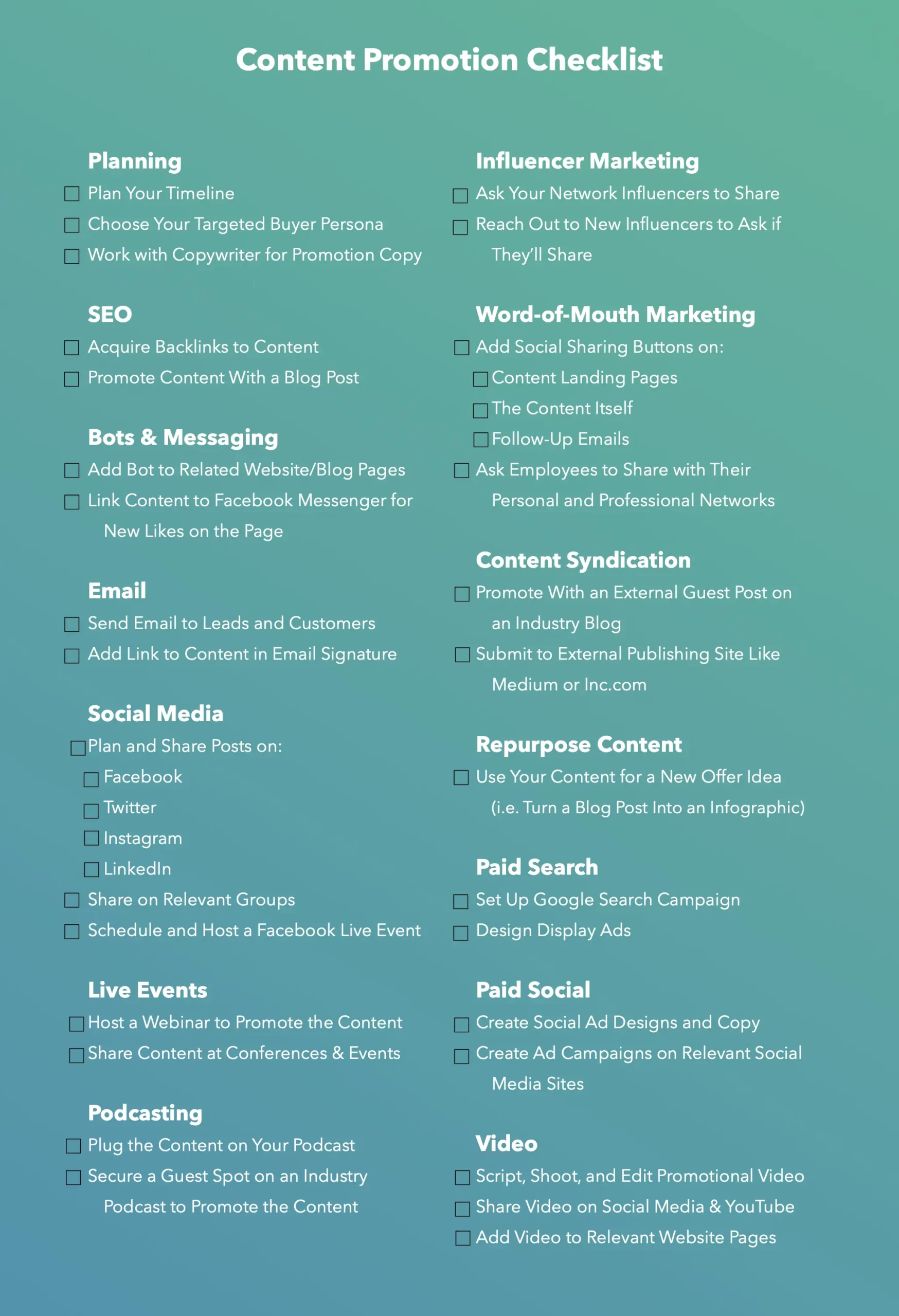 Here is more information about content distribution.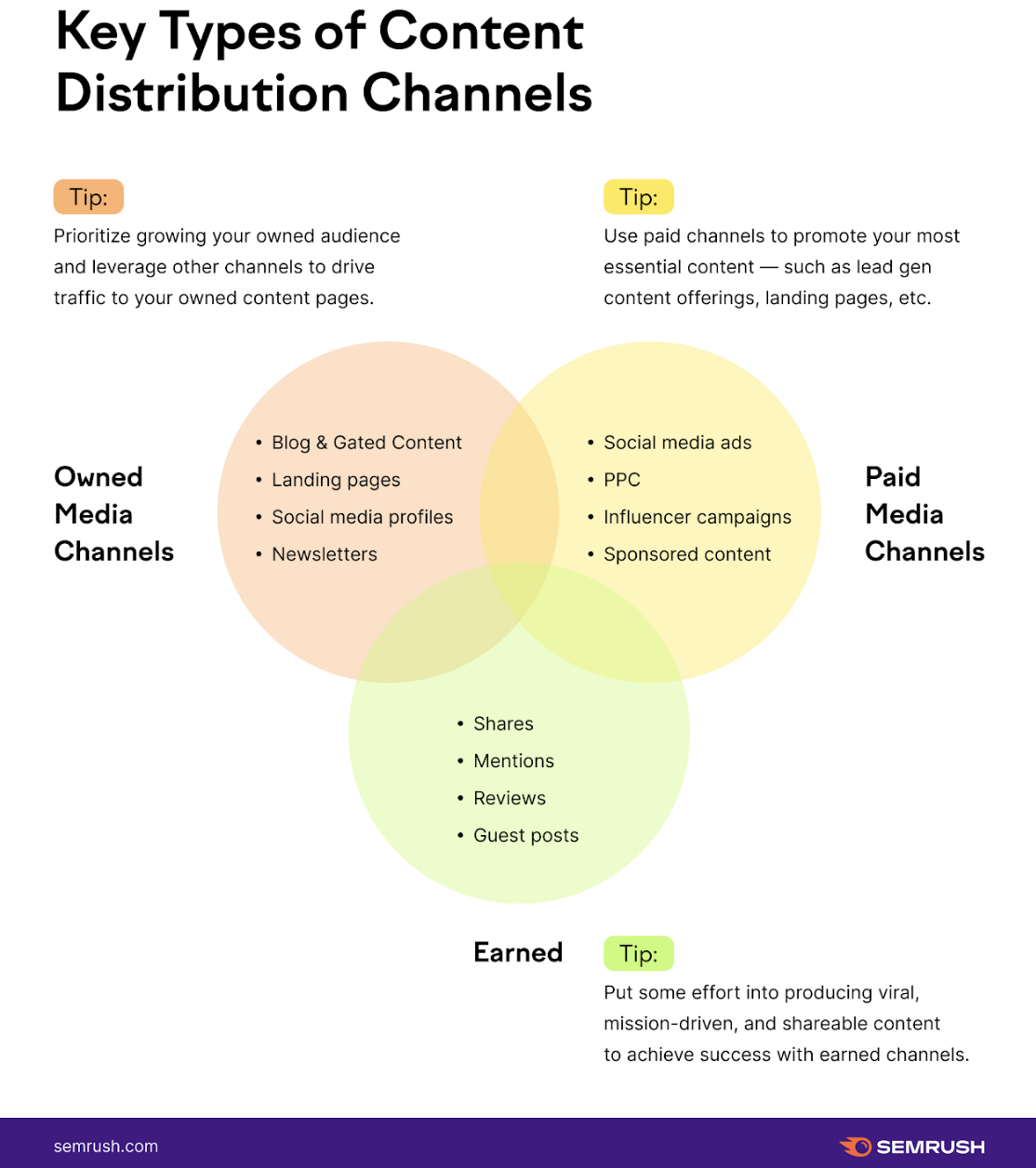 Ellison Ellery is Here to Help!
Ellison Ellery is a digital marketing firm that works with universities and colleges to grow its brand and reach new audiences. Our team consists of experts in the fields of higher ed enrollment strategy, SEO, web development, content development, and paid search – higher ed is our specialty!
Our firm brings the all-too-scarce human element into each project we undertake. Our mission is to delve into your story and learn just what it is that makes your school special. By understanding your unique positions and goals, we will work to formulate a winning strategy that puts your students first!
If you're looking for a company to help expand your enrollment, build your online presence, and create seamless digital experiences, then contact us for a free marketing assessment today!