In recent years, universities and educational organizations are discovering the power of a Webinar-based strategy to attract new students. Over the years, our agency has sat through hundreds of Admissions webinars, and we are sharing key takeaways that you can leverage at your college or university. Why make the same mistakes as others when you can learn from them?
Is your institution hosting Admissions webinars and not seeing enough value to rationalize hosting more of them? No worries! In this guide, you'll receive a comprehensive breakdown of higher-converting webinars and ways to leverage and amplify your webinar to extract more value after the event for months to come.
The Value of Admissions Webinars:
For those who may be new to a webinar-based advertising strategy, there are several ways webinars can help you grow your enrollments. Admissions webinars can help your school:
It helps answer your prospective student's questions and objections.
Allows you an opportunity to differentiate your school.
Webinars provide an excellent opportunity to use them as offers to promote on Google, on your social accounts, and your website.
It gives you a reason to send emails to your prospective student database.
It creates an opportunity to be more transparent with prospective students and gives your institution a chance to start developing a relationship with these prospective students
Reach a broader audience to drive enrollment.
How to Repurpose Your Webinar Content: (Leverage + Amplify)
Most universities host webinars infrequently because they can be too burdensome on the staff and may not drive the needed results to warrant the workload to produce them. This is because most universities and colleges do not have a well-documented process and have not created the right promotional assets for the webinar. Keep reading as we'll provide you with these tips below.
Plus, we can send you a copy of our go-to webinar blueprint for you to use with your next webinar!
When producing content, you need to develop a strategy and blueprint to ensure you get the most value from these webinars. Most institutions would say their webinars were not a roaring success because the webinar is not utilized after the event is over.
Think of your webinar as a TV spot. Once you run the spot once, you wouldn't throw it away, would you? No, probably not. The same should go for your webinar content. Webinar replays, and content repurposing is where your institution will get the most value from a webinar.
Throughout the rest of this article, we'll be talking about what is known as content syndication. Let's assume that you've already strategized the content of your webinar, and it goes off without a hitch!
Your Institution Needs More Video Content
Videos would win the 🥇 in the 2021 Marketing Olympics games because they outperform the competition in every category on social media
148% more organic reach
2x total clicks
20-30% better conversion rates ✅
It's no wonder why 61% of marketers are planning on increasing their video spend in 2021 😱
This is your chance to leverage these webinars to help your university create more video content.
Turn Your Webinar into 10 Pieces of New Content
Now, your webinar can be sliced and diced into multiple smaller pieces of content. These smaller pieces can be used across nearly any of your communications channels: social media, YouTube, your blog, or your website.
Head on over to our design portfolio page for some examples of how we were able to repurpose content!
Not only can the replay give prospective students added value, but each shorter piece of content you create from the webinar will allow you to leverage and get this in front of your prospective students differently.
Some prospective students may have ignored your webinar promotions but saw a 3-minute clip from your webinar on social media and then wanted to watch the entire webinar. Even if the student does not want to watch the full webinar, this 3-minute clip is a touchpoint that moves that student closer to enrollment.
We need students to engage with your university to be in their consideration set when they decide to go back to school. If the prospective student doesn't remember your university, then it's unlikely that the student will enroll at your university.
Check out our Tiber Health Case Study to see how Ellison Ellery created a set of marketing materials to promote their Admissions webinar, along with the lead nurturing communications and creative assets used to promote their Admissions webinar(s). The goal is to develop great assets that can be leveraged repeatedly.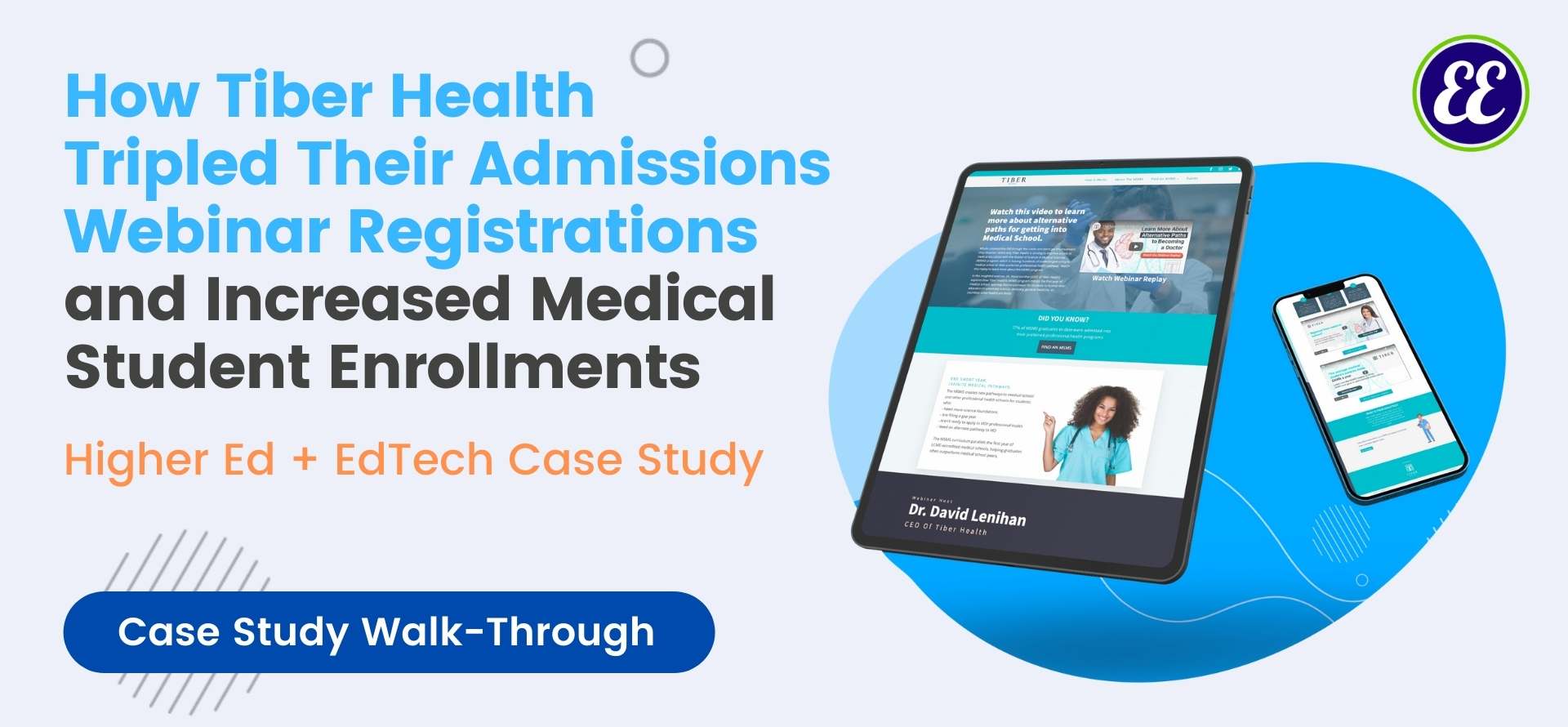 Understanding Webinar Content Repurposing
Content repurposing is the act of taking one piece of content and repurposing it for other contexts.
Why would you want to repurpose your content? For starters, it's a great way to spread your message to a broader audience across multiple platforms.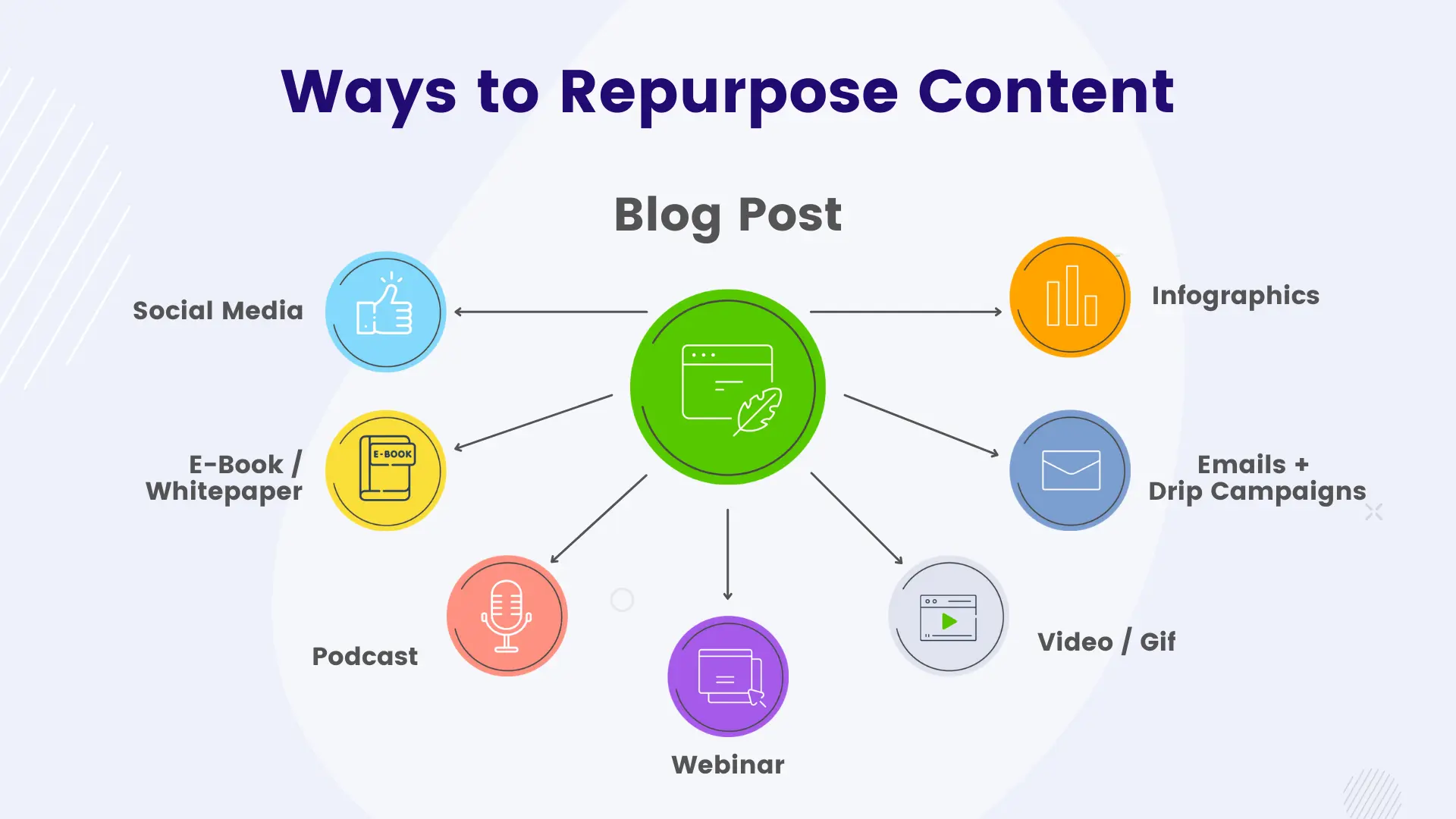 This strategy can give your university more touch points with prospective students and allows your prospects another opportunity to connect with your university on their terms.
Take a public and controversial figure like Joe Rogan, who has leveraged this strategy to drive new listeners to his show. While many in his audience like to listen to his full shows, clips of his shows are posted on social media (snippets/ nuggets), which can draw prospective new listeners to his brand.
His staff is extracting infinite hours of content produced, and now thousands are seeing the Joe Rogan Experience for the first time daily.
This strategy has worked for countless other content creators/celebrities. For example, Oprah's Soul Sunday takes clips from her recorded show to promote her upcoming Sunday episode.
Depending on your resources as an organization, your content repurposing strategy can be as straightforward or as involved as your team can handle.
Let's take a 60-min webinar as an example; it can be turned into:
3-10 shorter insightful video clips (we call snippets) and put back out on social media (bam, you just created new social media video content!!).
The clips can be turned into articles for your website.
The content can be leveraged to create social media carousels.
Those articles can inform infographics and so on.
Below we provide 20+ different ways your university can leverage and amplify your webinar content into something else.
Content repurposing is an extremely valuable technique for increasing the longevity of a single piece of content! Using this strategy, you get more out of the time you've spent creating the webinar.
Check out our blog post on Content Strategy: 4 Easy Ways to Repurpose Your Content to learn more content repurposing tips.
Ways to Leverage Your Webinar Content
Let's move from the theoretical to the practical. Below, we've put together best practices to follow for content syndication, also known as content distribution. Find the ones that work the best for your organization's resources and goals.
Remember to edit your webinar replay to remove slow parts and dead air. This one is important, and it's a vital step. People are more forgiving of dead air and slow spots when listening during a live webinar, but not a recording.
Once you edit your webinar, here is what you can do with it:
Record the webinar and leverage the replay on your website.
Create video thumbnail design and other design creative needed to promote your webinar and video snippets (shorter clips), along with social media cover photos.
Send your email database a replay webinar link. And, over time, send them your shorter snippets, along with email context and a CTA. Try to add some additional type of offer to further entice the prospective student to attend. How about an application waiver, and they can get the code sometime during the webinar? Make it like an easter egg hunt 🙂
Post the entire webinar on YouTube, Facebook, LinkedIn, and/or other preferred channels.
LinkedIn only allows for 10-minute videos, so you'll need to edit them down to post them natively on LinkedIn.
Twitter only allows videos up to 2:20 seconds.
When posting on YouTube be sure to write engaging video titles, descriptions and include chapters so someone can easily jump to the section that matters the most to them. Also, when uploading these videos, do not post them as unlisted unless there is a business reason to do so. You want more people to expose as much of your content as possible to increase your brand's awareness.
Add calls-to-actions to your posts and video descriptions, along with links so someone would know what to do next.
When you share content across platforms, it's important to post these videos natively to the given platform. Don't simply post a YouTube link on LinkedIn or Facebook. Social platforms reward you for keeping people on the platform. The algorithm will limit your exposure if you try to take the visitor to another platform.
As mentioned, do not just post your webinar or snippets just as you recorded them. Webinars require some clean up before they can be reposted as a replay.
Videos length matters, especially for your snippets. Videos 2:30 minutes or less do best. However, if you have great insights to share, videos can go longer.
Leverage Your Webinar to Create Different Types of Content
Write a blog post or a series of blog posts about your webinar topic.
Post your video in your blog post.
Use the clips you've extracted as a topic to write about. The key is making the content fresh with as little labor as possible.
Create a white paper or ebook from the content in your webinar. This can also be leveraged as an offer to entice people to watch your webinar's end or attend your webinar.
Document the questions you received during the webinar and use these insights to develop your future website content and new email content, plus, your website FAQs.
Write up your webinar takeaways and create a carousel post on social media.
Create a TikTok/ Instagram Reel featuring some of the highlights from your webinar or inspiration you've taken from your community.
Create an infographic from the content of your webinar.
Post all of your past webinar content in a library on your website.
Audit your blog content to identify which blog posts or website pages would benefit from a video snippet or the full webinar video. This is an important step! And, add a CTA to watch the entire webinar.
Leverage your webinar in future email lead nurturing campaigns and automations. You have new content to share, so share it!
Bonus Tips to Ensure Your Webinar Generates New Enrollments for You University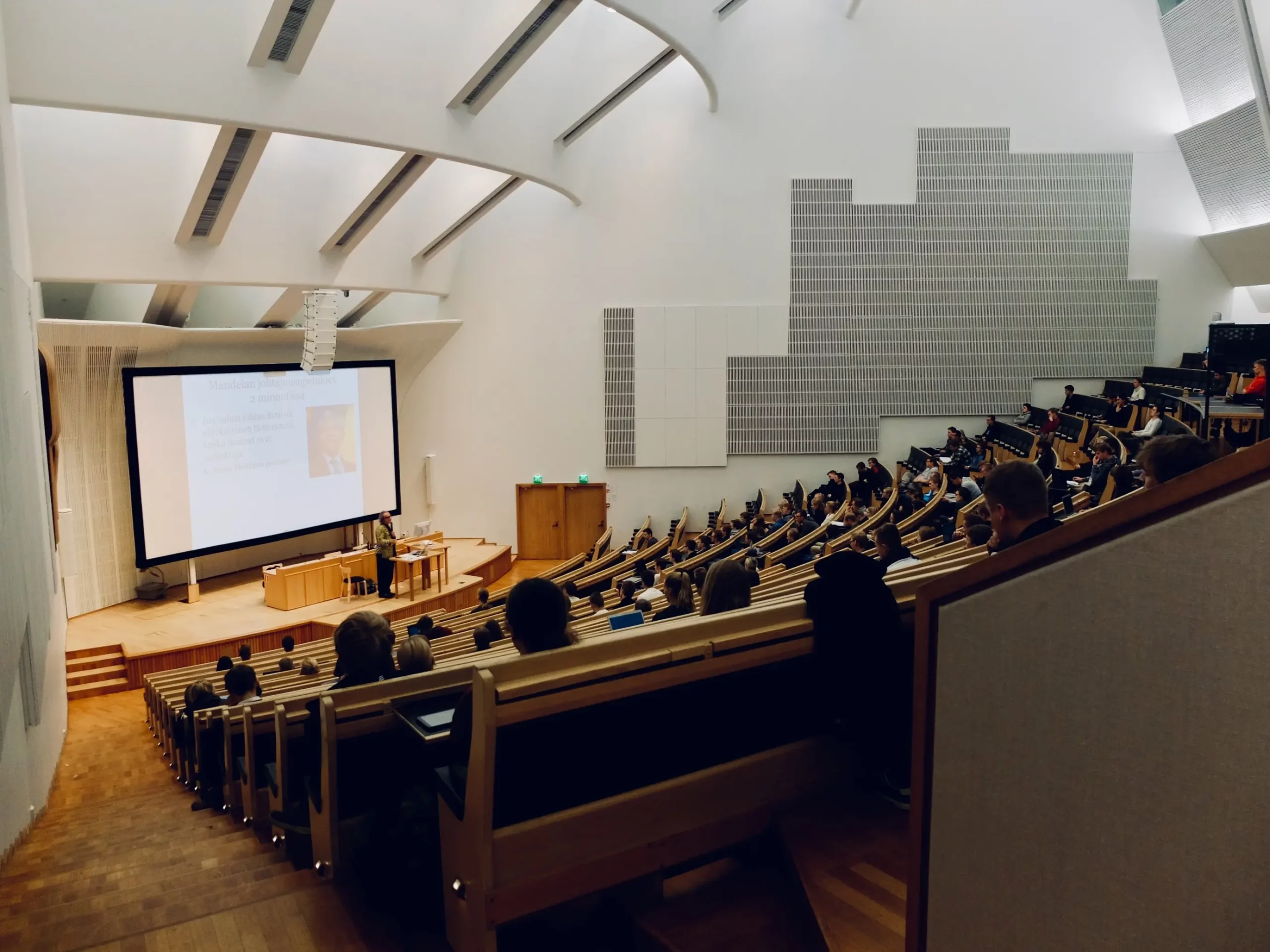 The webinar landing page: Instead of using the Zoom sign-up portal as your landing page, it's better to host the webinar natively on your site, by creating it's own landing page with a form. You can integrate your website form and Zoom together.
Be sure to create a custom email communications for this event to include reminders.
After the event ends, then use the same landing page and convert your sign-up page into a replay page. This way, if someone accesses an original promotional email, this page will still be functional. The goal is to remove any areas of possible friction and make it easy for someone to watch your replay and engage with your content.
Include a call to action on the replay page to sign up for the next event.
Be sure to have your next event's information, promotional content, and email automations ready before publishing this CTA. If it's not ready, hold off on promoting it.
Consider a second call to action (CTA) for something else of value on your landing pages or in your email communications. Think of this as breadcrumbs you are leaving in a forest for prospective students to find. Each new offer can help your institution develop a relationship and educate the prospect to get them to be more enrollment ready.
Retarget Webinar Viewers with Paid Media
Once a prospective student has clicked on your webinar marketing or signed up for your webinar, you can retarget those prospective students with additional relevant content to develop your relationship with the prospective student further.
This helps you stay on top of their mind and builds more trust. You can retarget your attendees to engage with another piece of content, or drive them to an offer of some sort. It may still be too early to bombard them with enroll now type of creative.
Can't skip the second and third date before proposing 💍 (Higher Ed's equivalent to asking for someone to fill out an application).
Don't Gate Your Replay
Don't gate your replay. Gating content is when you require someone to fill out a form in order to access the content. . It's more advantageous to get more people to watch your replay than it is to get their contact info, at this point.
However, on your replay page, you can offer the prospect something else that they would find very valuable and use that as a lead magnet to collect their contact info.
For example, this blog post is ungated, but if someone wants to access our webinar blueprint (high-value lead magnet), then the person would share their contact info with us. Our agency then would not start calling the prospect but instead, try to build a relationship with them through email.
Create a Video Content Library On Your Website
As you create more content, your university can build a video library page on your website to house all your event replay videos.
Categorize your videos (similar to what you see on a streaming service like Netflix) to make it easier for someone to find the top answer they're looking for.
Check out this company's "On-Demand Events" section of their website.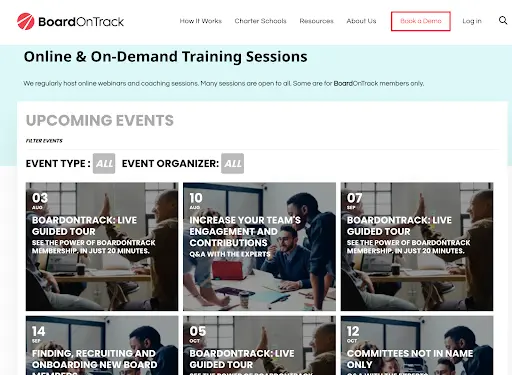 Get Access to Our Webinar Project Blueprint
If all of this sounds like a lot, there's a better way! Our experts at Ellison Ellery have put together the Webinar Project Blueprint. Plus, get access to a video walkthrough on how best to use the blueprint for your webinars.
This tool has helped hundreds of educational organizations craft their perfect webinar and syndication strategy.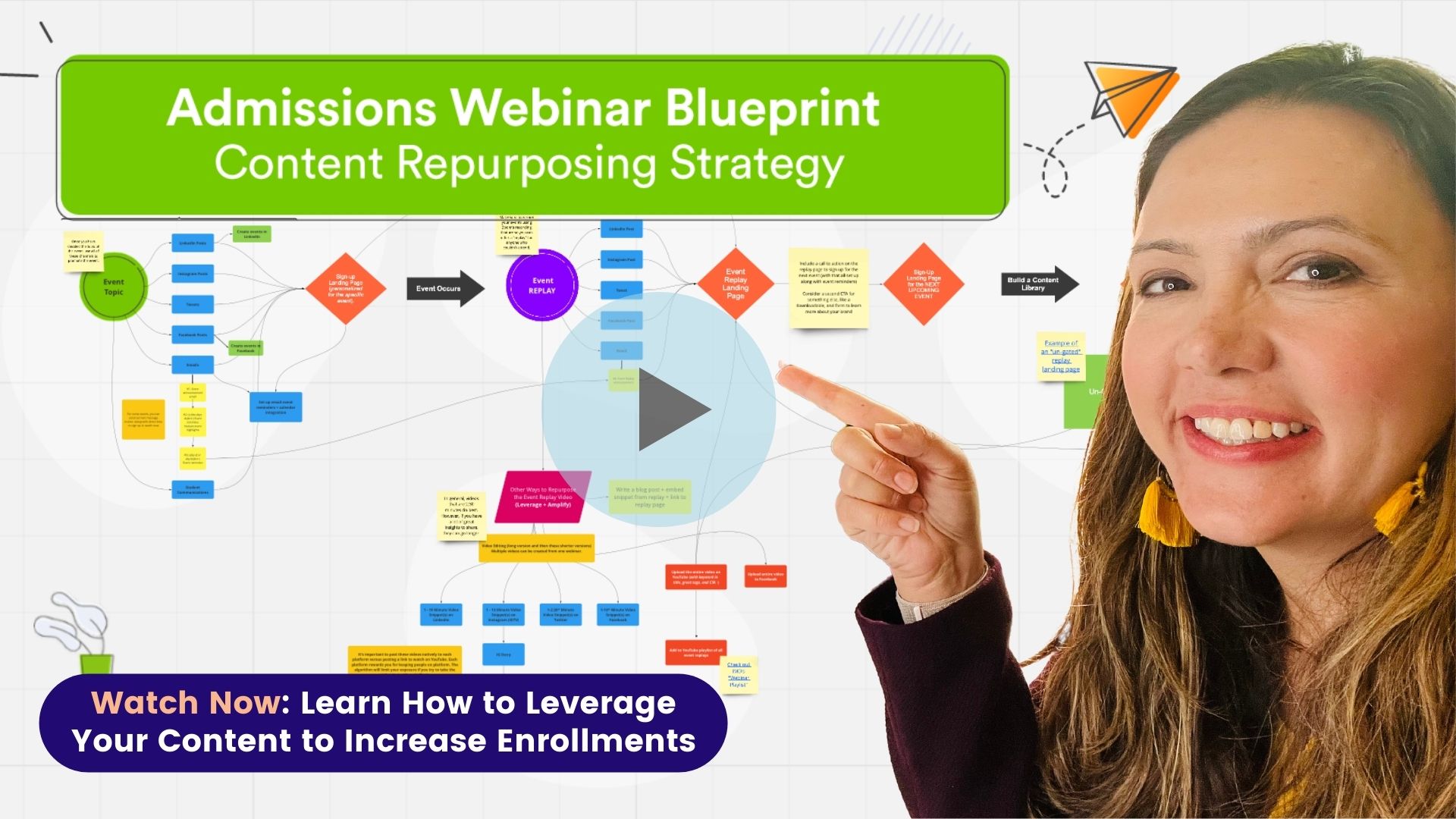 We will email you access to our Webinar Blueprint and video walk-through. Let us know if you have any questions about using the materials.
Leverage webinars and content repurposing to get more enrollments! 
Ellison Ellery has been marketing universities for almost 25 years! Let us help you increase your enrollments and tuition revenue. 
See our Higher Ed Marketing Services or better yet, schedule a call with Renee Seltzer our Founder, to discuss how we can help you grow.
We've created several thought leadership articles around content strategy:
How to Grow College Enrollments
Quick intermissions to let you know our blog is loaded with articles on how to grow college enrollments: