Texting is one of our main ways of communicating with friends and family.
But, surprisingly, many colleges, universities, and bootcamps are not using text messages as a communication tool.
Text messaging gives you the opportunity to stay in touch with prospective students (on their level!) so that your school is still top of mind.
When prospective students fill out a "Request for Information" form on your website, don't let the phone number section go to waste — put them on a text message drip campaign where you control the experience!
Stop running campaigns and start having conversations with prospective students.
In this article, we'll cover why you should dedicate more time to text messaging in your enrollment strategy and the best ways to utilize this underused marketing platform.
How to Create a Robust Lead Nurturing Strategy
Lead nurturing is the process of developing relationships with prospective students at every stage of their decision process.
The focus should be on understanding your prospective students' needs and putting them on a communication track that will help answer their questions about your college and build value for your institution.
For example, a prospective nursing student would go on a different track than a prospective business student.
Or, a student who simply filled out your "Request for Information" would go on a different track than someone who immediately applied for one of your programs.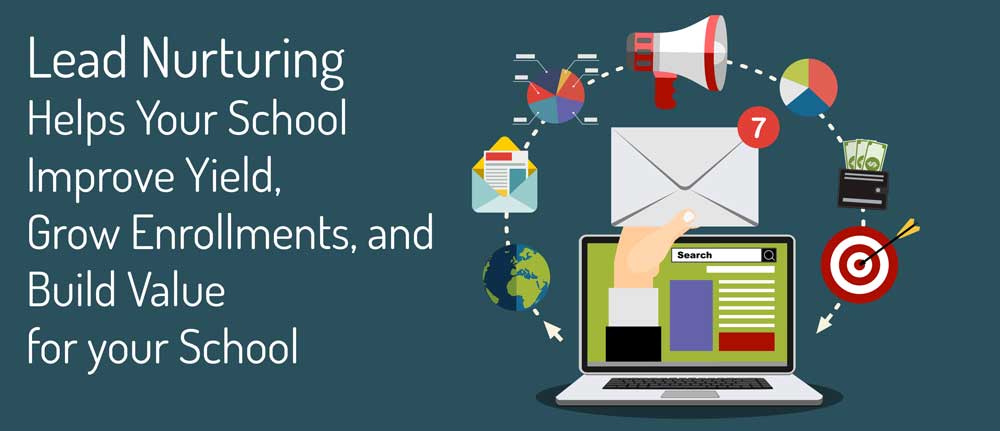 What to Include in Your Lead Nurturing Mix
Sure, email is the most typical platform for lead nurturing. But that doesn't mean it should be the only platform you use.
And you should also consider greatly reducing your reliance on direct mail in the lead nurturing process — consider only sending a unique "feature" piece at a certain part in the enrollment cycle.
(Imagine the benefits for the environment here too!)
Being Human in Your Communications
Make sure your mix of communications demonstrate humanity and empathy!
Imagine you sent communications that said something like:
"It's okay to be undecided — that's what college is for! We're here to help you figure out what is important to you, what you excel at, and to help you find your place in this world."
And then you provide examples/support on how you would do this for them.

How are your

marketing

efforts contributing to your company's growth?
Schedule a brief discovery call to receive a complementary consultation for your business.
How to Use Text Messaging in Your Enrollment Strategy
SMS is the most preferred way for billions to communicate.
Yes, your students prefer communicating via text message than any other channel.
Text messages are opened at a 98% text message rate. If you send something engaging and valuable by text message, it's almost a sure thing it will be seen.
Let's discuss how you can start implementing text messaging in your enrollment strategy!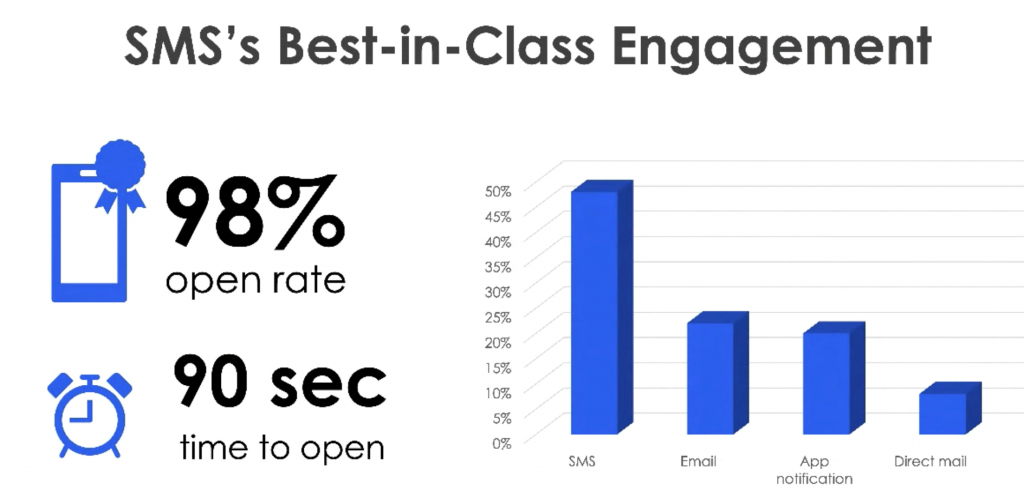 What to Include in Your Text Messages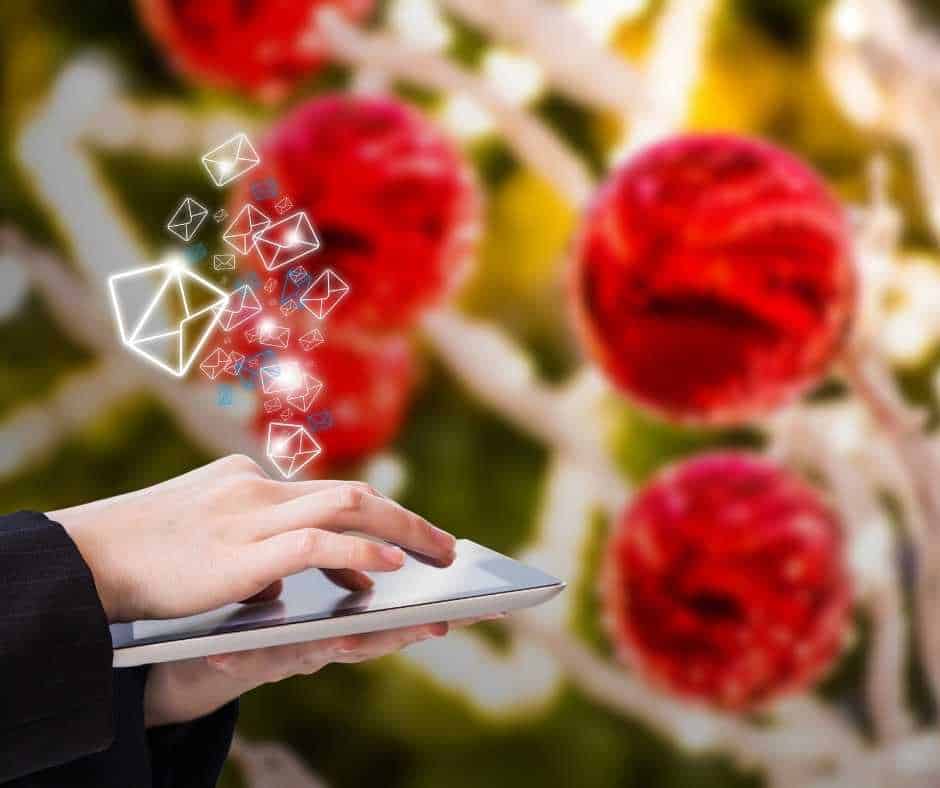 Each touchpoint you create with prospective students needs to have a purpose.
Ask yourself: is this communication adding value?
How to Proof Your Text Messaging Content
When creating text message content, ask yourself if the content:
Differentiates your school (shares what makes your school special)
Builds value
Shares social proof
Creates an inclusive and welcoming environment
Helps to answer questions and objections
Examples of Text Messages You Can Send
Not sure what kind of content you can include in text message marketing? Here's just a starter list:
Upcoming events
Enrollment deadlines
Financial-aid deadlines
Webinars
Brand-building communications
COVID updates
Safety updates
Referral requests
and so much more!
(Scroll to the end to see a more comprehensive list of ideas for you to take back to the drawing board!)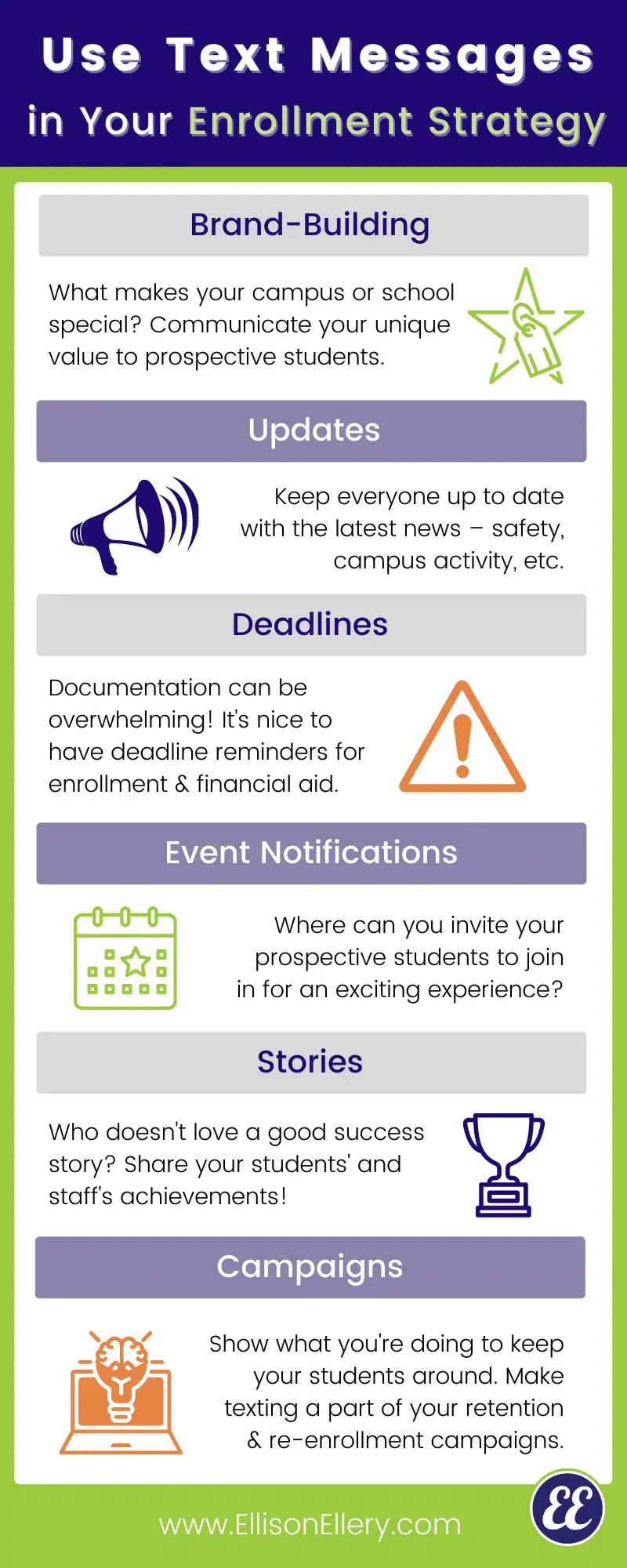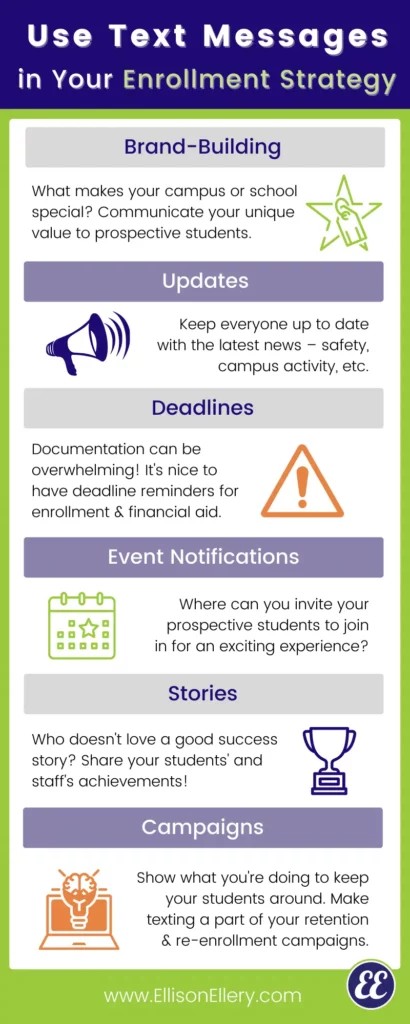 Send Encouraging Videos All Along the Enrollment Cycle
Video can be a powerful tool in lead nurturing. They're more engaging than pictures alone, and definitely more engaging than just text.
MMS is where you send images or videos text messages.
You can include text messages along with your video to communicate why prospective students should watch the video and/or what action they should take after watching the video.
Example Video #1:
Check out this video we created for a fake university (Ellery University) to be shared via MMS.
This is an example of what your college can send students to keep them motivated throughout the enrollment process. Sometimes students just need a bit of encouragement to keep going.
I've heard from many colleges that they believe sending text messages can feel spammy.
Here's some good news on that front: it's not!
Example Video #2: Keep Students Motivated While Filling Out Their Financial Aid
What if your college sent a 30-second video by text messages (SMS or MMS) about what makes your college special?
Or what if you got a popular professor on board with filming an introduction to the school and covering some exciting material?
How to Fit Text Messages into Your Lead Nurturing Sequence
Here's an example lead nurturing sequence to show you where and how to insert text messages in your own sequences.
When a new inquiry comes in, send out a fantastic first email the moment their information is submitted.
Next, send out a text message or two within 1-10 minutes of their submission. 
Within 24 hours, follow-up with a phone call.
Then, over the course of the next few weeks, you will send a set of communications that tell your college's story, build value for your institution, and help communicate why someone would want to enroll at your institution.
Importance of Testing + Optimizing Your Strategy
However, it's important to test if text messages or phone calls work better for your type of student.
If you find text messages work better, then continue to refine your text message communication strategy; layer videos such as student testimonials, welcome messages from professors, a "day in the life" of a student video, polls/surveys, and so much more.
Again, your team will need to put on its Optimization Hat and test different communication tactics to see which ones resonate with your students.
Maybe videos resonate more with nursing students while engagement opportunities resonate more with business students.
How Does MMS & SMS Look on Mobile Devices? 
Want to see MMS in action?
Check out these screenshots to see how it looks on someone's phone.
MMS Text Message Example

How are your

marketing

efforts contributing to your company's growth?
Schedule a brief discovery call to receive a complementary consultation for your business.
More SMS/MMS Campaign Ideas
Brand building (what makes your campus or school special?)
Automatic reminders (reduce your no-shows!)
Campus activity notifications
Automated enrollment documentation that needs to be completed including Financial aid
Appointment confirmation and follow
Campus event notification and invitations
Retention campaigns
Re-enrollment campaigns
Student testimonials
Financial aid information
Answer questions
Referral requests
Send promotions and scholarship information
Celebrate holidays
Congratulate students on achievements and exam completions
Share student and staff success stories
Share hiring or graduate success stories
Share College or University achievements
Conclusion
It's important that your school and leadership team take the time to implement a robust text messaging strategy.
It can be easy to get stuck in doing your lead nurturing the same way you always have — but introducing change also introduces opportunity for growth.
The benefits of using text messaging in your enrollment strategy include:
Differentiating your school
Meeting prospective students on their level
Fostering two-way communication
Being considered more approachable
Sending more engaging content (videos + pictures)
Not sure how to start building your text messaging strategy? We'd love to chat. Figuring out how text messaging will work for your school can be difficult — but, with the right growth partner, you can start experiencing the results of a more robust lead nurturing strategy right away.