If you're looking at your Google Ads account with a sense of anxiety, you're not alone. The platform can be overwhelming, and much like maintaining a home, it may seem like there's always something that could use a little repair, tweaking, or freshening up. Knowing exactly how to make improvements and where to start the process might seem out of reach. But don't worry — it's not.
This article will outline how to audit your Google Ads account.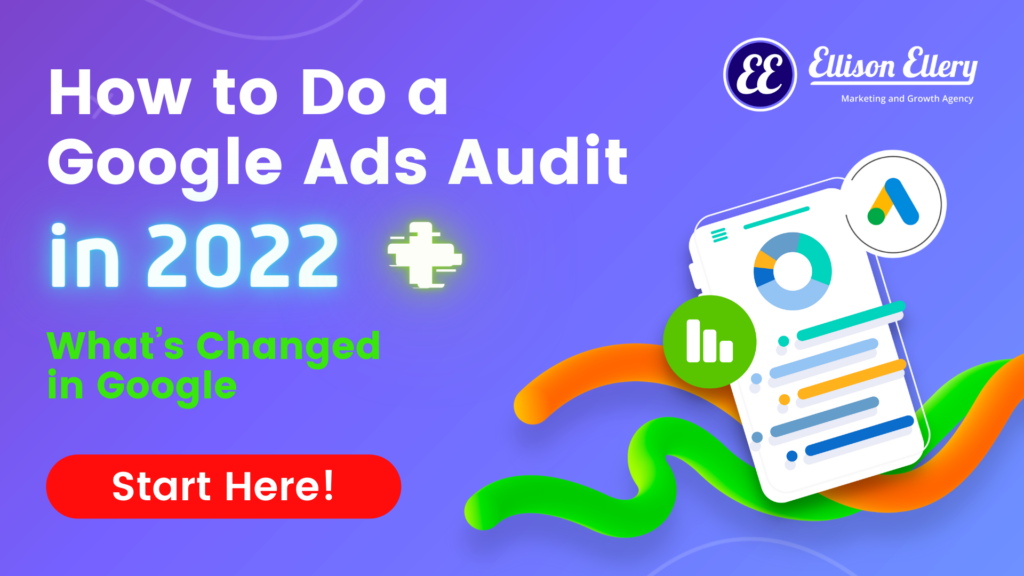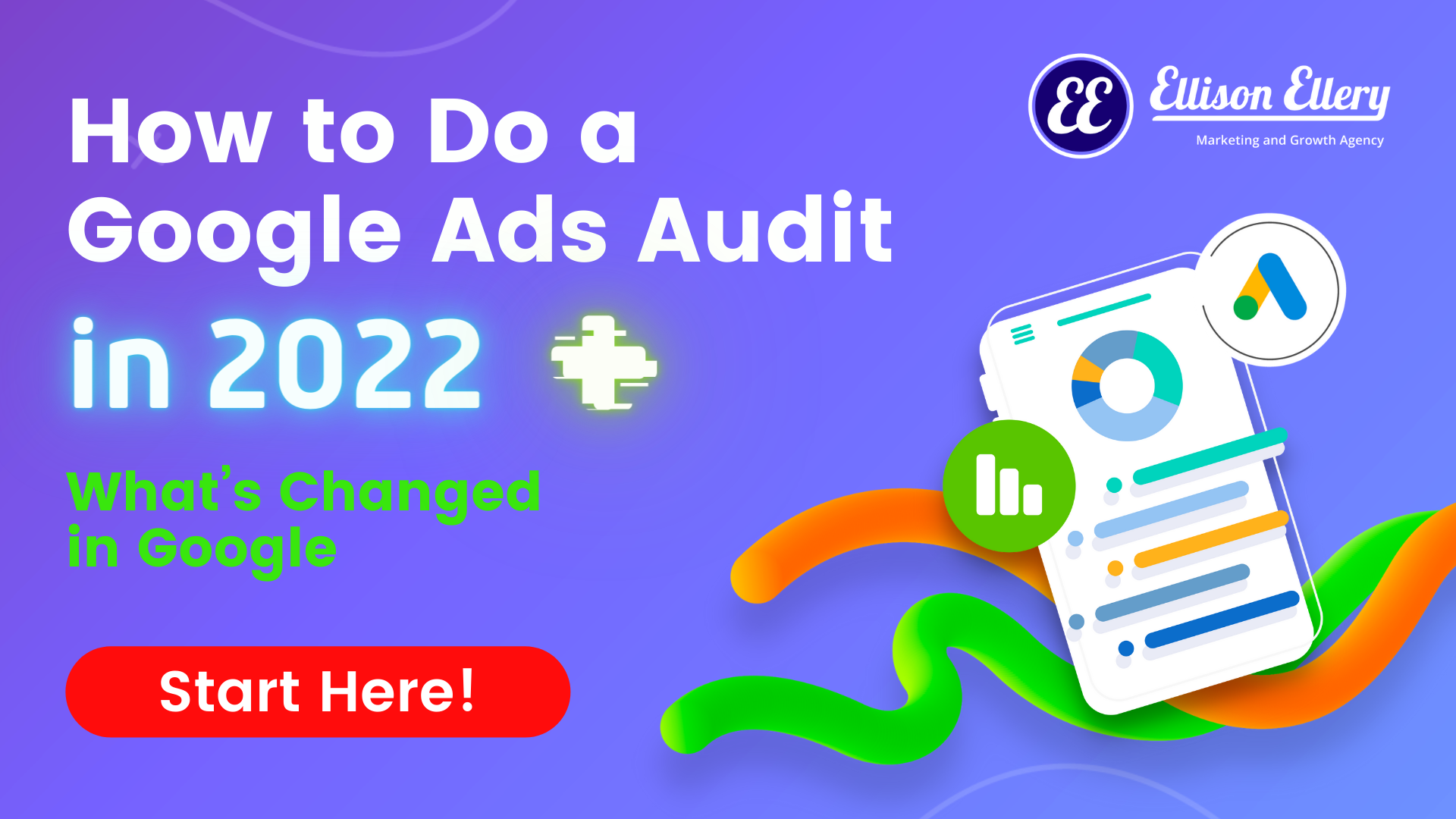 Whether you're an agency account manager, part of an in-house team, or a small business owner handling your account, the following insights will help you improve your account structure, organization, and overall effectiveness. After you've finished reading, you'll be on your way to making impactful account updates and tweaks that will lead to knock-out KPIs.
While the article below outlines all you'll need to conduct a Google Ads audit on your own, there is a faster way to get great feedback on improving your account: Ellison Ellery provides complimentary audits.
Yes, you *heard* that right!
We do the work for you, thoroughly examining your bidding strategy, campaign efficacy, and profitability benchmarks against verifiable industry standards. If you would like our help, let's get started! Request a Google Ads Audit by filling out a quick form, and one of our digital marketing experts will reach out with the next steps.
In this blog post, you'll learn how to replicate this process independently.
Are Google Ads Worth It? To answer this, let's consider a few statistics:
Google Ads has a click-through rate of nearly 8%.
Display ads yield 180 million impressions each month.
For users who are ready to buy, paid ads on Google get 65% of the clicks.
43% of customers buy something they've seen on a YouTube ad.
Most businesses see an average of 200% ROI on their Google Ad spend.
Hundreds of thousands of companies use Google Ads to promote their businesses, which means that even if you're ranking organically for a search term, your results are being pushed down the page, beneath your competitors.
Newsletter Sign up!
Get our best content on digital marketing in your inbox 2 times a month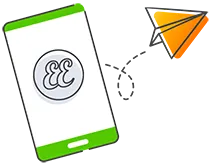 According to Wordstream, 82% of spend was allotted to Google Ads and 18% to Microsoft.
If you want to learn the ins and outs of conducting an audit on your own, keep reading.
What is a Google Ads audit, and Why Does it Matter?
There are many aspects to maintaining a Google Ads account. An audit looks at these account elements – account structure, bidding strategy, targeting methods, settings, ad scheduling, budget, etc — wholistically as well as individually to ensure each component is working both cohesively with the others and efficiently on its own.
A PPC audit typically includes a review of the following:
Account Structure

Are your ad groups and keywords grouped in a way that optimizes for relevancy and Quality Score?
Bidding Strategy

Are you properly utilizing different keyword match types and bidding appropriately?
Targeting Methods

Are you familiar with the different targeting options and are they configured for optimal results?
Account Settings

Many account settings have both subtle and major effects on overall performance.
Exposure/Visibility

What percentage of the time are your ads showing for your most profitable keywords?
Budget Assessment

Are you allocating enough advertising budget to really compete in your specific industry?
How To Conduct Your Own Google Ads Audit, Step by Step:
Step 1 – Begin with the end in mind.
When conducting a Google Ads audit, it's important to determine what your goals are.
Are you looking to:
Improve ROI/ROAS
Drive more leads
Increase conversions
Reducing your cost per conversion (CPA)
Understanding what type of improvement will be most valuable to your company, brand, or business will help guide the audit process and allows you to determine where to focus your auditing efforts.

Step 2 – Account Settings
Do you have conversion tracking set up?
This ties in closely to the first step. After you determine what the main goals of your account are, you need to make sure you're tracking them correctly by setting up conversions correctly.
Search Engine Journal has reported that just 29% of Google Ad accounts have conversion tracking set up correctly.
If you're lucky, you'll have an internal IT or dev department to help you with this process. If not, here is a link to Google's conversion tracking setup guide.
Step 3 – Account Structure
Account structure is not a one-size-fits-all setup. What is best and/or most efficient for one company or business may not be the most advised route for another. However, since the budget is implemented at the campaign level, there are some account structure best practices, tips and tricks, that will go a long way to maximizing your budget:
Do you have search ad campaigns and display ad campaigns separated? Make sure your campaigns are only targeting one network at once. Google Ads recommendations will often suggest combining the two, however, we have found that this is not the best method as these campaigns often spend the majority of the budget on display first, leaving less money for high-intent search ads, among other concerns.
So separating display and search campaigns will give you better control over your budget and refine your funnel, as display ads are typically better for awareness goals and search campaigns allow you to focus further down the sales funnel.
Campaigns can and should be separated based on keyword grouping, keyword budget allocation, location/geographic area, services, and/or goals.

Get a Complimentary

Google Ads Audit

to unlock hidden pockets of growth and

cost savings
Schedule a brief discovery call to receive a complimentary consultation for your business.
Here are a couple of examples of the importance of campaign segmentation:
Separate campaigns by service or product: If there are services you offer that provide more leads or are more important to your business or brand, you should separate these out into their own campaigns. Again, this will allow you to allocate your budget more efficiently, focusing on the most important products or services. Tip: Create separate landing pages to improve your quality score and conversion rates.
Separate campaigns by location: If your brand or business focuses on multiple locations – maybe one is more popular that another, or busier on certain days. Separating your campaigns by location allows you to, again, allocate your budget to show ads where they will have the most impact. You can also adjust the radius by a campaign for different services or products. A customer may drive 30 miles for one product but only 5 miles for another product or service. It's important to know this and test your radiuses over time.
Automate Your Account with Google Ad Scripts: By segmenting your campaigns properly, you will be able to add Google ad scripts to help you manage your day-to-day adjustments in your account. Your account may need hourly adjustments, and it's not realistic for a human to make these adjustments. This is where Google ad scripts can help you manage your account hourly, daily, etc.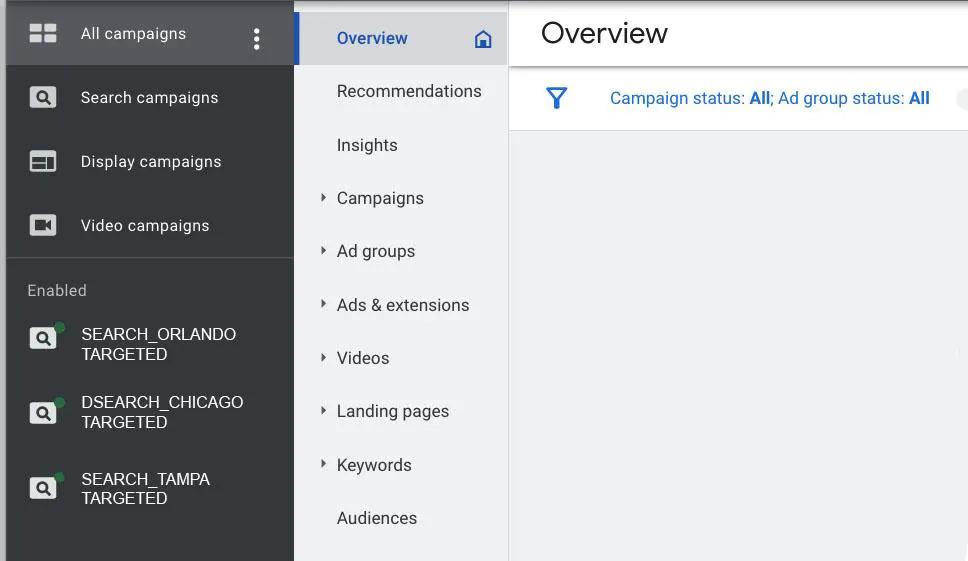 Additionally, suppose you have a few keywords using most of the campaign budget, not allowing other keywords to get enough budget to show up in the auction, limiting their chances of being clicked on. In that case, separating these keyword phrases out into their own campaign is a may be a great idea. This will allow you to have more control of your budgets and strategy.
Let's say you have a restaurant or campus with multiple locations. You can set up separate campaigns by location/city/radius and allocate different budgets to each campaign. You can allocate your budget any way you think best between your locations, with more budget going to the most profitable and/or popular location.
You can also add a script that tells Google if you can't spend the money for one location, but the other one is converting well to allocate the unused budget from one campaign to the other. This is true for products, ad groups and so much more.
Once you have determined your most profitable keywords, we suggest giving those their own ad group. This is often referred to as a Single Keyword Ad Group of SKAG. Not all of your keywords should be put into SKAGs, but consider this option for your most profitable or more costly keywords.
What's Changing with Google and What to Do About It
Starting June 30, 2022, responsive search ads are the only Search ad type that can be created or edited in standard Search campaigns.
As part of this change, you'll no longer be able to create or edit expanded text ads.
However, your existing expanded text ads will continue to serve alongside responsive search ads, and you'll still see reports on their performance going forward.
Additionally, you'll be able to pause and resume your expanded text ads or remove them if needed. You'll also still be able to create and edit call ads and Dynamic Search Ads.
What Should You Do Now?
Google recommends you have at least one responsive search ad in every ad group in your Search campaigns by June 30, 2022.
According to Google, advertisers that switch from expanded text ads to responsive search ads, using the same assets, see an average of 7% more conversions at a similar cost per conversion.
Use these best practices to create effective, responsive search ads:
Repurpose high-performing content from your expanded text ads and focus on reaching 'Good' or 'Excellent' Ad strength.
Ad strength provides you with feedback on the effectiveness of your responsive search ads and action items to improve them.

According to Google, advertisers who improve Ad strength for their responsive search ads from 'Poor' to 'Excellent' see 9% more clicks and conversions on average.
Check your account's Recommendations page. These customized suggestions can help you quickly add or improve responsive search ads. We recommend you check these recommendations regularly, but don't just accept them! Often these recommendations can drive down your performance.
Pin headlines or descriptions to specific positions in your responsive search ads if needed.

This is useful if you have certain messages that always need to be shown.
If you need to use pinning, try to pin at least 2-3 options to a position.
Use ad variations. This can help you test different versions of your assets at scale and review their performance across multiple campaigns.
Review cross-campaign asset reporting to understand which headlines and descriptions resonate the most with your customers. Improve your ads by replacing "Low" performing assets with new headlines and descriptions that are based on your "Best" performing assets.
Evaluate the success of your ads based on incremental impressions, clicks, and conversions your ad groups and campaigns receive. Responsive search ads help you qualify for more auctions, so ad-level performance and metrics like clickthrough rate and conversion rate may not paint a full picture of your performance.
Newsletter Sign up!
Get our best content on digital marketing in your inbox 2 times a month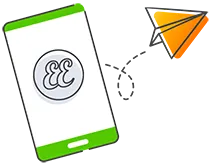 Google Ad Groups
Once you've determined your campaign structure, you'll need to further separate your campaigns into ad groups.
Ads Per Ad Group
Now that Expanded Text ads have reached their sunset. We recommend testing 2-3 responsive Text Ads per ad group.
Step 4 – Bidding & Keyword Strategies
Are you properly utilizing different keyword match types and bidding appropriately?

Google offers 12 bidding strategies, with each strategy having pros and cons. Each strategy will need to align with your campaign goals and funnels differently.
You should be using Google's automated strategies! Google is so sophisticated and takes thousands of data points into consideration when bidding that it's best to let Google do what it does best.
This doesn't mean you should accept Google's optimization recommendations. Often accepting those recommendations causes you to overspend on the account.
Are you getting clicks and spending money on keywords that aren't converting?
You should consider improving your ad copy and targeting if your impression share is below 80% when compared to your competitors.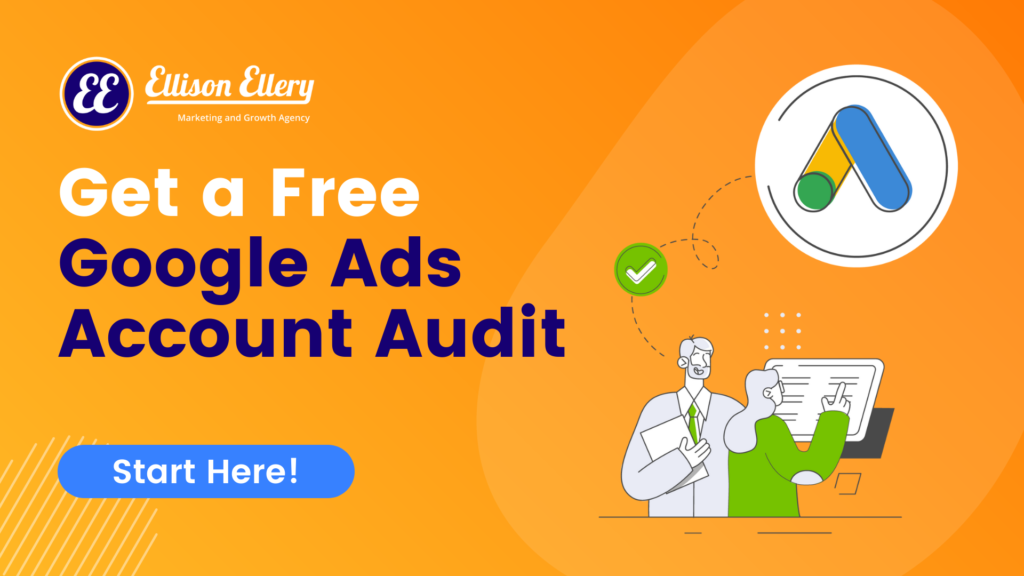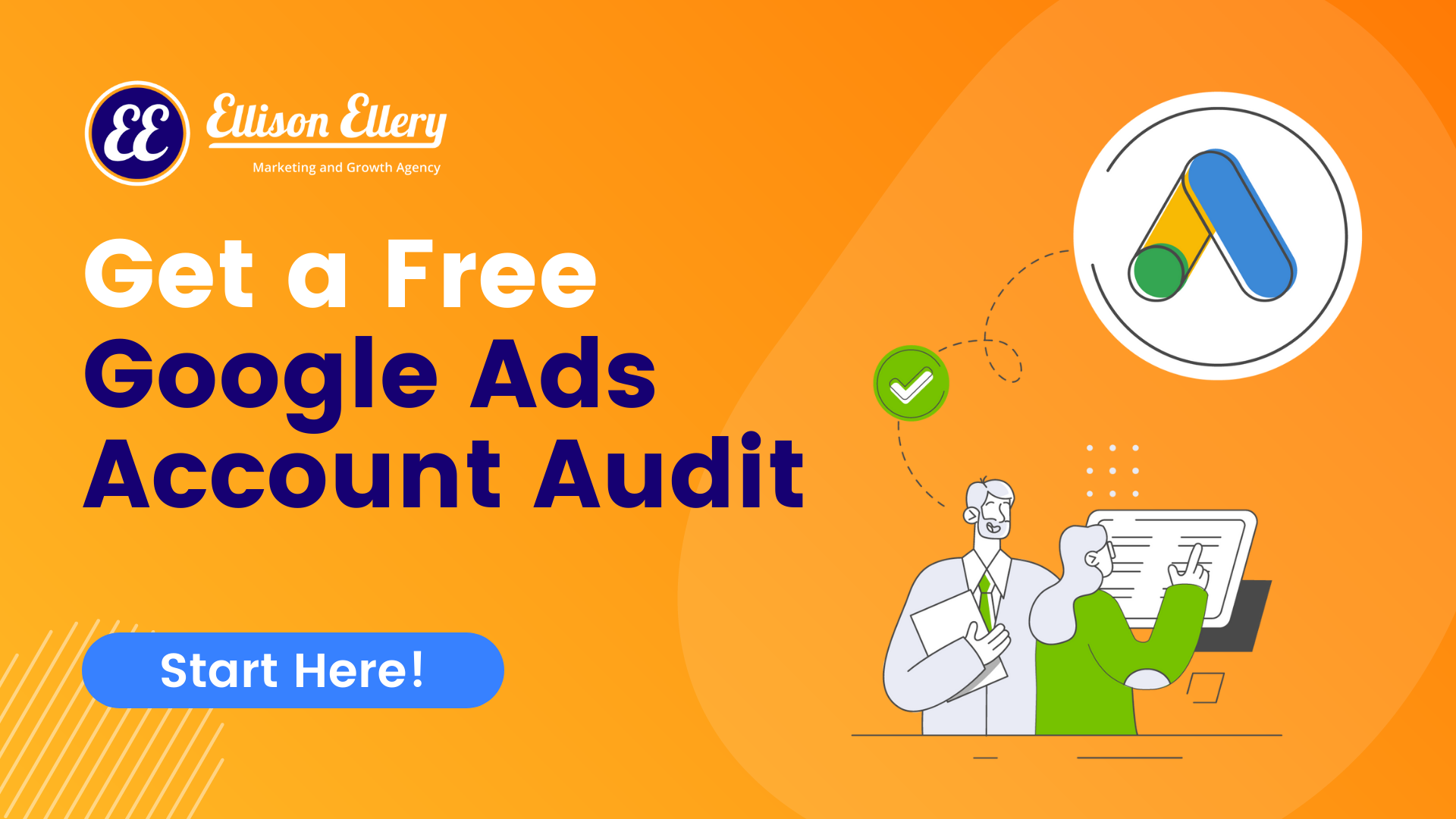 How to Improve Your Google First Page Bidding to Drive Up Results
Look at how many of your keywords are below the estimated first-page bid.
If you're unfamiliar with Google's first-page bid, an estimate is an approximate bid needed to reach the first page of Google's search results. You should keep an eye on this as you audit your Google account. Most clicks go to ads and organic results on the first page of the Google search results.
Suppose your most profitable keywords or those that drive a lot of traffic are below the estimated first-page bid. In that case, it's probably time to boost those keywords, especially if you're trying to keep up with or outpace competitor bidding.
Not all advertisers can fit on the first page of Google results for a given relevant search, so Google uses sophisticated artificial intelligence to figure out who should show up on the first page.
As you may have guessed, how much you are able and willing to pay-per-click is a big deciding factor, but it won't guarantee you a top spot. Google weighs several data points and takes everything into account, including what your competitors are doing, figuring out who gets listed on the first page, including if your expected click-through-rate, ad relevance, or landing page experience needs to be optimized and constantly evaluated to see if it can be improved upon
Your rankings change daily based on your budget, click-through rate, and what your competitors are doing. If your competitors are running out of budget for the month, and your account still has budget remaining, then that increases your chances of being seen more often and your placement on the first page.
Evaluate Your Keywords
It's also a good idea to take a look at your search terms. Are your ads showing up for low intent keywords or not exactly relevant to your products or services?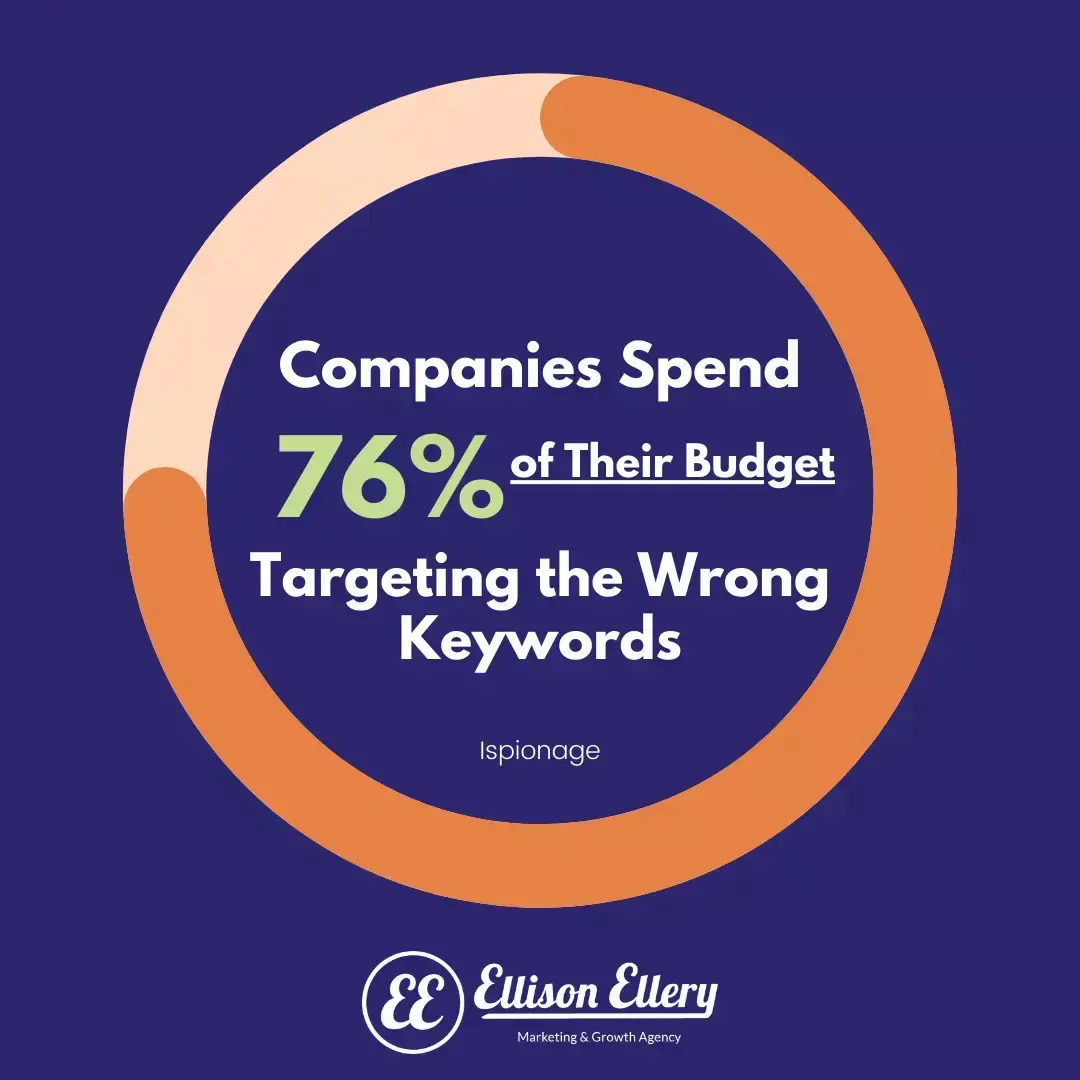 For example, someone Googling "Orlando Aquarium Near Me" is likely looking for an attraction that showcases ocean life, not looking to buy a saltwater aquarium. If your business is focused on selling saltwater aquariums, fish, and supplies people looking for ocean-related theme parks clicking on your ads is wasting your budget.
Find search terms in your Search Terms Report, and make sure they are being added to your "negative keyword list."
Step 5 – Targeting Methods
Are you familiar with the different targeting options, and are they configured for optimal results?
You probably already know and understand that your ads must be shown to the right people in the right places. However, just one small button toggle that can make a big difference, and that's your "location options" setting.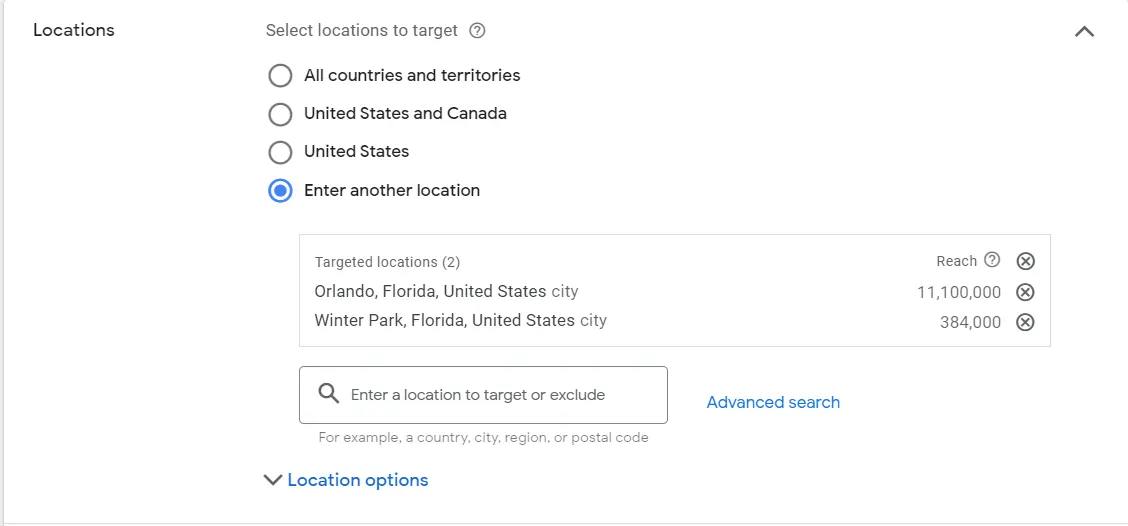 Showing ads to people within a location and to people interested in a location are two very different things.
For example, if someone in India has been researching saltwater fish, and you have a Saltwater fish store in Orlando, it's unlikely that you'll want your ads showing to someone in India. But if you have "presence or Interest" selected (see below example), that will happen.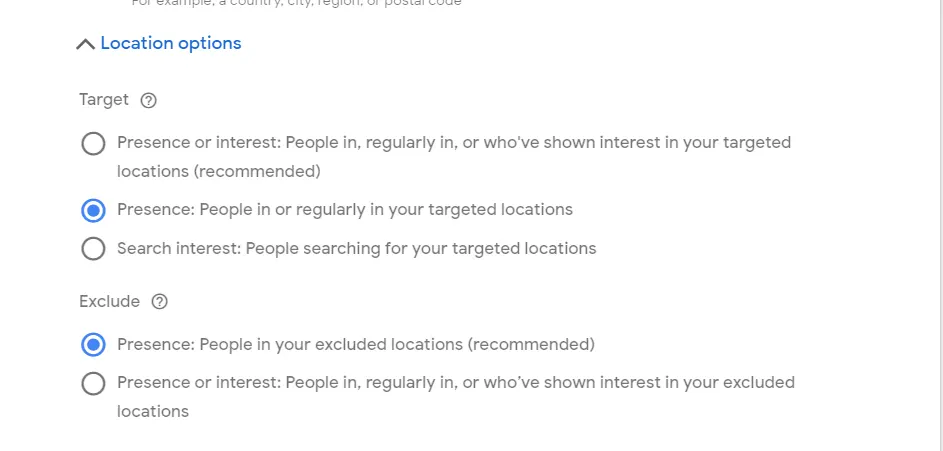 Step 6 – Exposure/Visibility
What percentage of the time are your ads showing for your most profitable keywords?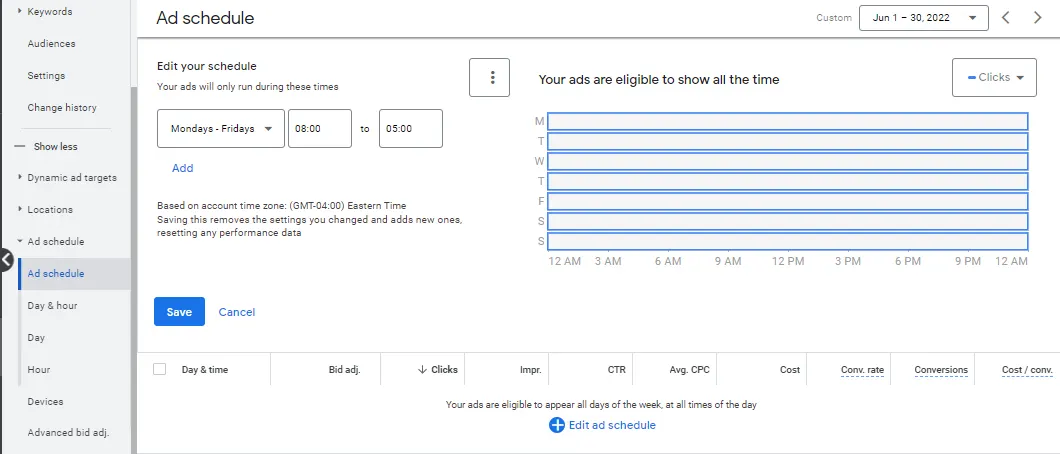 Sometimes, it's just as important to make sure your ads aren't showing as it is to make sure your ads are showing up.
For example, suppose your goal is to increase calls to your business unless you have an unlimited budget. In that case, it's probably best not to have your ads – or at least your call extensions – showing when no one is at the office to answer calls; this can be true for holidays and days when your office is short-staffed.
Similarly, if your goal is to increase call volume, it might be best to increase the bid for your ads shown on mobile devices, over desktop or tablets.
You can do this under the "Devices" tab, and can apply the adjustment at the campaign or the Ad Group level.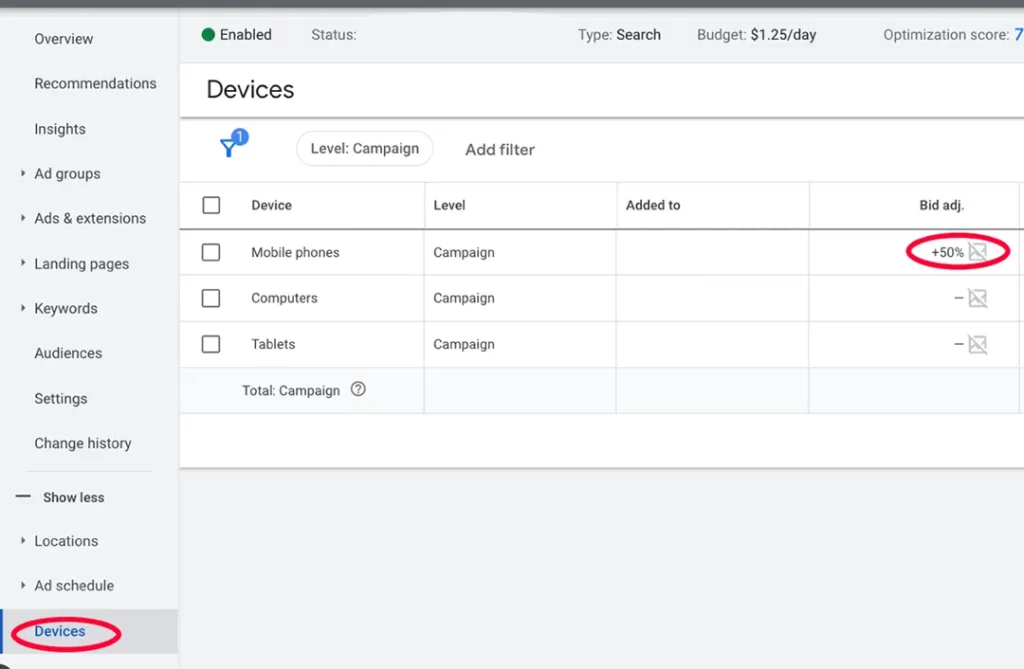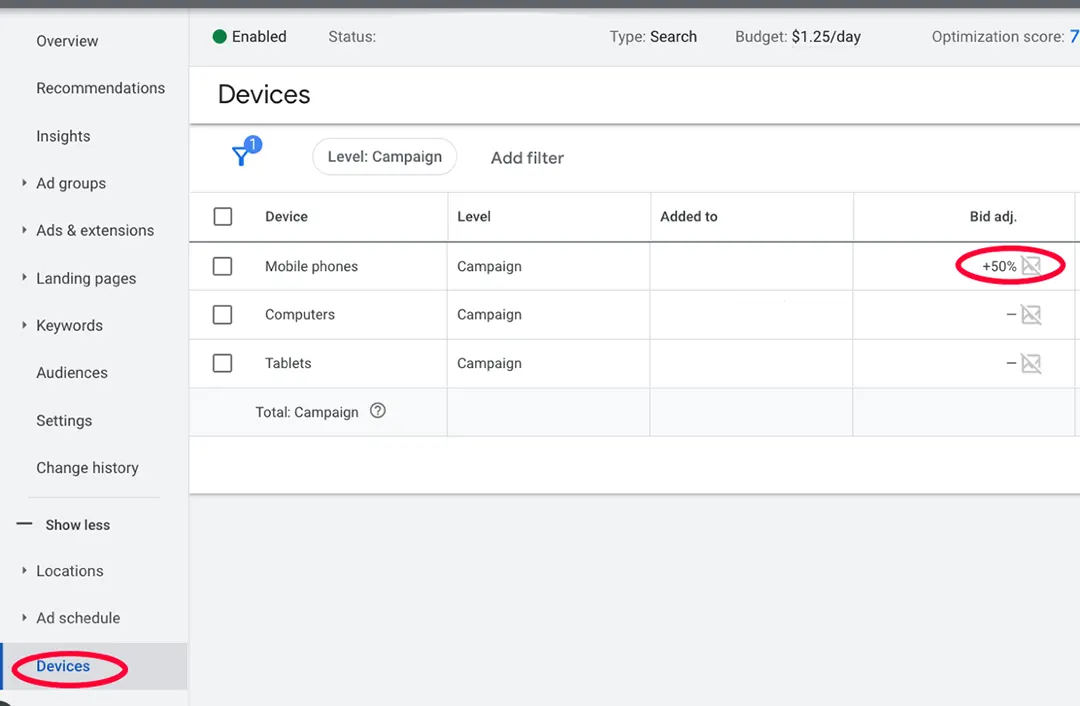 Step 7 – Budget Assessment
Review your highest converting keywords within each ad group. Do you have one or two that seem to be gobbling up the majority of the budget?
As mentioned above, it may be time to create a separate campaign for those terms with a specified budget. This will allow other keywords to perform while still allowing those top converters to do their job.


Get a Complimentary

Google Ads Audit

to unlock hidden pockets of growth and

cost savings
Schedule a brief discovery call to receive a complimentary consultation for your business.
Moreover, are you allocating enough advertising budget to compete in your specific industry?
When you reach out to Ellison Ellery, we apply our secret sauce tactics and look at how your account budget compares to what others in your industry are spending. If your top competitors' budgets are outsized compared to yours, it might be time to access your marketing mix and reallocate channel spending.
2022 Search Advertising Industry Benchmarks, According to Wordstream
In the below table, you'll find the average cost per click, cost per lead, click-through rate, and conversion rate for search ads across 23 different industries. Click on a metric name to sort the list by that metric.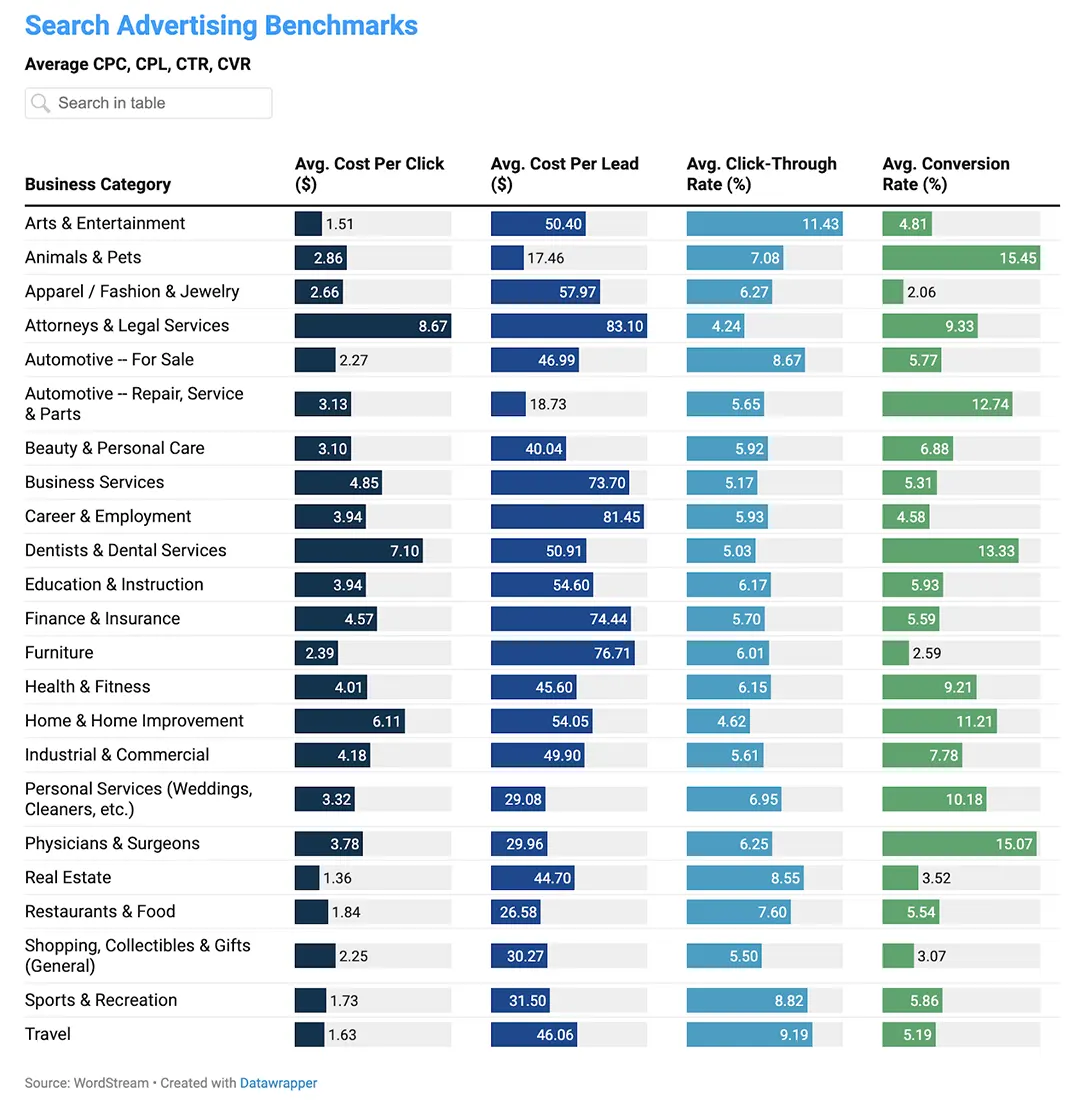 Source: WordStream
How Are Conversion Rates from 2021 to 2022?
For some industries, average conversion rates are going up; others are going down. There can be several contributing factors, including increased competition, poorer performing landing pages, bidding on irrelevant ads, competitors with better offers, slow loading landing pages, etc.
How confident are you about how well your landing page(s) convert for your business or university?
Learn more about ways to improve your landing page by reading this blog: 18 Essential Tips: Get Your Highest Landing Page Conversion Rates (to ensure you create the best-performing landing pages).
There are several ways to influence your conversion rates. Take our Conversion Rate Optimization quiz. Once you take the quiz, you'll receive an ebook and industry best practices to improve your ROI. Plus, the ebook includes industry benchmarks to see how your pages compare with others.
The blog posts discuss how many form fields you should include on your landing page, how to create a strong offer, and much more. You must test your landing pages and continue refining them over time to keep your conversion rates up.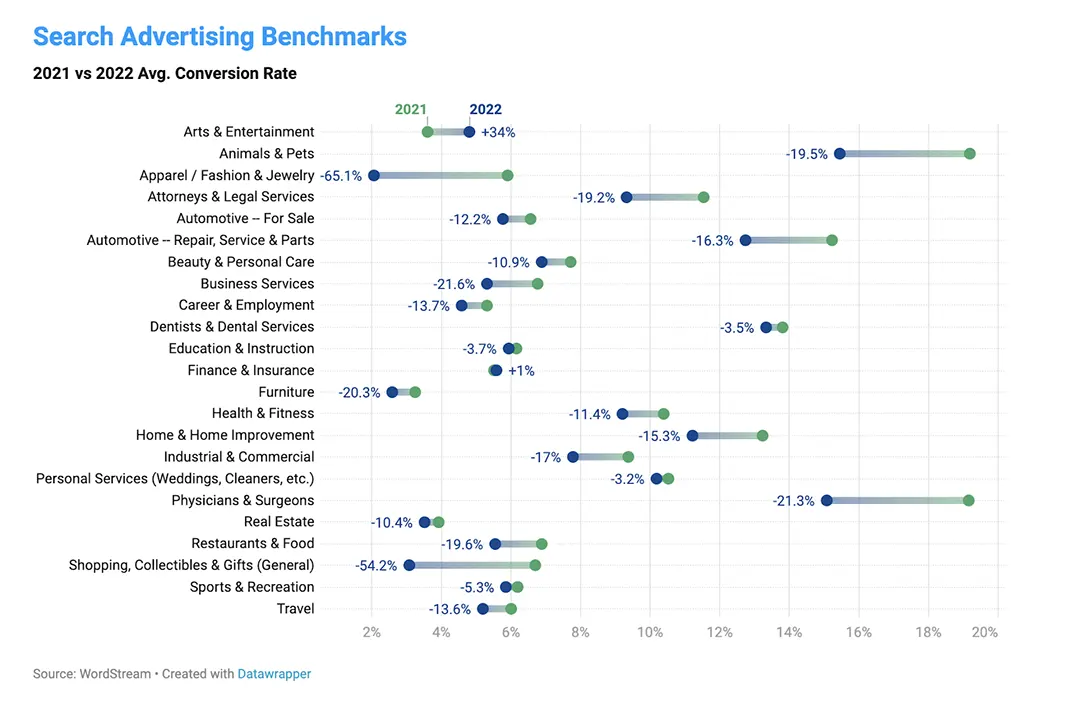 You've Got This, Now Get To It!
Even the most experienced digital marketers could do with auditing their Google Ads accounts from time to time. Think of it as PPC Spring cleaning. Those who invest the time to go through this somewhat lengthy process know the rewards of increased performance are worth the effort.
Of course, if you think you or your business could use a little help with an audit – sometimes it's just nice to have a fresh set of eyes perform a review — Ellison Ellery is here to help. Our expert digital marketers will be in touch to get started with your complimentary Google Ads Audit.