Emails are still incredibly important and can be drastically improved. Let us show you how to completely revamp your email journeys so your university can improve its enrollment yield and enroll more students.
We will also provide recommendations on the type of emails you should be sending, and how often, along with examples of what other universities are sending out to inspire you.
Let's start by overcoming the fear that emails are dead. ☠️
Emails are still an excellent investment. Most universities do not put enough time, resources, and investment into making great communications, so often, their emails are lackluster with lackluster ROI results. To create fantastic enrollment journeys, make sure you are also sending text messages to your prospective students.
Read more about the importance of text messages to your enrollment strategy.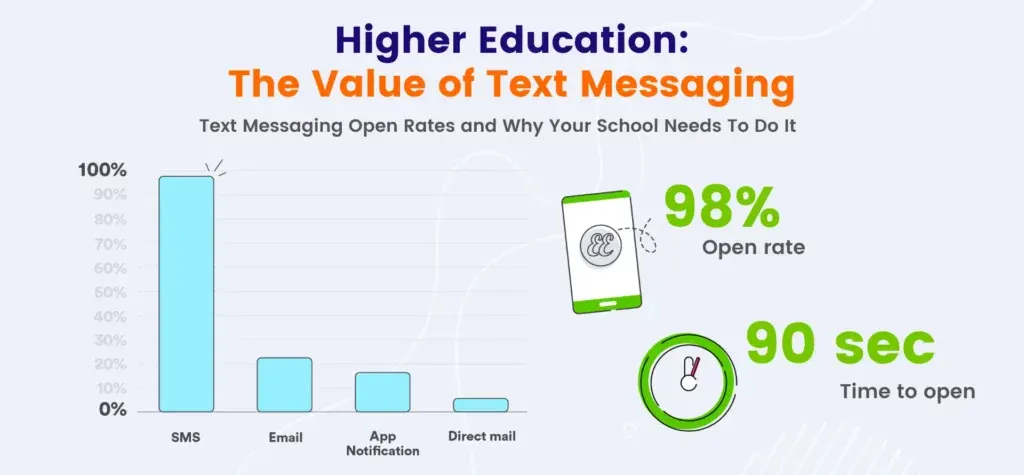 Email Journeys Are Hard, and Most Universities Are Struggling with Creating Good Ones
What sparked me to write this blog post? I was on the phone with a university the other day that was complaining about their email journeys. He was asking me questions about what emails they should be sending. He also said his graduate department wants to send the same email to all of their inquiries, no matter their program of interest. Does this sound familiar?
While this blog post focuses on what specific emails your team should write, along with tons of examples below from other universities, you'll also need to make sure your team understands deliverability, how to write subject lines that get opened, and so much more. If your emails are skipping someone's inbox and going to promotions, then your emails are not being seen. If your subject lines are boring, then the likelihood your email is read is very low. Be sure to read this related blog post on how to improve your email open rates.
Biggest Mistakes Universities Make
One of the biggest mistakes we see universities make is sending prospective students all the same emails. While the school is trying to streamline its own process, the prospective student is the one that is missing out.
The goal of email journeys should be to help prospective students pick your program.
If the emails are not clearly conveying why your program is special and share other student experiences (for social proof), then your university is missing out on a strong enrollment opportunity.
If departments truly understand the missions of these email journeys, I think they would look at them more critically.
I have shopped over 1,000 university degree programs and observed that most of the email communications are boring and primarily focused on encouraging the student to enroll now without many reasons why the student should enroll at your university.
What's often missing? Universities haven't done enough to share why someone should pick their specific program over their other choices. Below we provide more specifics, along with examples from other universities.
What Should Your Emails Communicate?
Clearly communicate your school's value and what makes your school unique.

What makes your university unique? When is the last time your university has gone through a value proposition discussion? If it's been a while, now is the time to set this up! (By the way, we can help facilitate this discussion with your team).
Document everything that makes your university unique.
Send out surveys to students and alumni to ask them in their own words what they found to be unique about your university.

Share more programmatic content.

What makes your program unique?

How does your program prepare students for their future career?
Share information about your teaching methods and program modality.
What type of group work does your program offer, and how is this a benefit to your students?
What about your faculty is unique, and how can this help your students?
Share more about how you will teach your students.
What else can be unique about your program that should be featured?
Do you have guest speakers?
What is the ROI of this career path and for your program? (if they differ)

If you do not have this type of information, how can you work with your team to start tracking it?

Can you send out alumni surveys?
Have you been keeping up with your alumni after graduation to better understand how your degree helped them achieve their goals?
Do you ask employers their thoughts about hiring your graduates?
What type of networking opportunities will there be, and how can these opportunities be helpful to their career outcomes?
Share more video content

Student stories
Cool events happening around campus
Networking opportunities
Meet your college professors
Snippets from lectures
Make Your CRM Do More
There is so much turnover in Admissions that you want your CRM to take a bigger role in engaging your prospective students. Create your email journeys and then set them on a sequence to be sent out automatically based on the times you specify. If someone opts out, then the sequence will automatically stop.
Create sequences based on every phase of your enrollment process. If you have a long acceptance process, keep emailing your prospective student's stories to keep them engaged in the process. You never know if this student has applied to multiple schools. You want to keep nurturing these prospects all the way through add/drop and beyond.
Don't stop sending emails once your enrollment advisor speaks to a prospective student. You will want your university to continue developing a relationship with prospective students no matter who their Admisssions advisor is.
Contact us to receive a free, no-obligation CRM audit of your automation and sequences.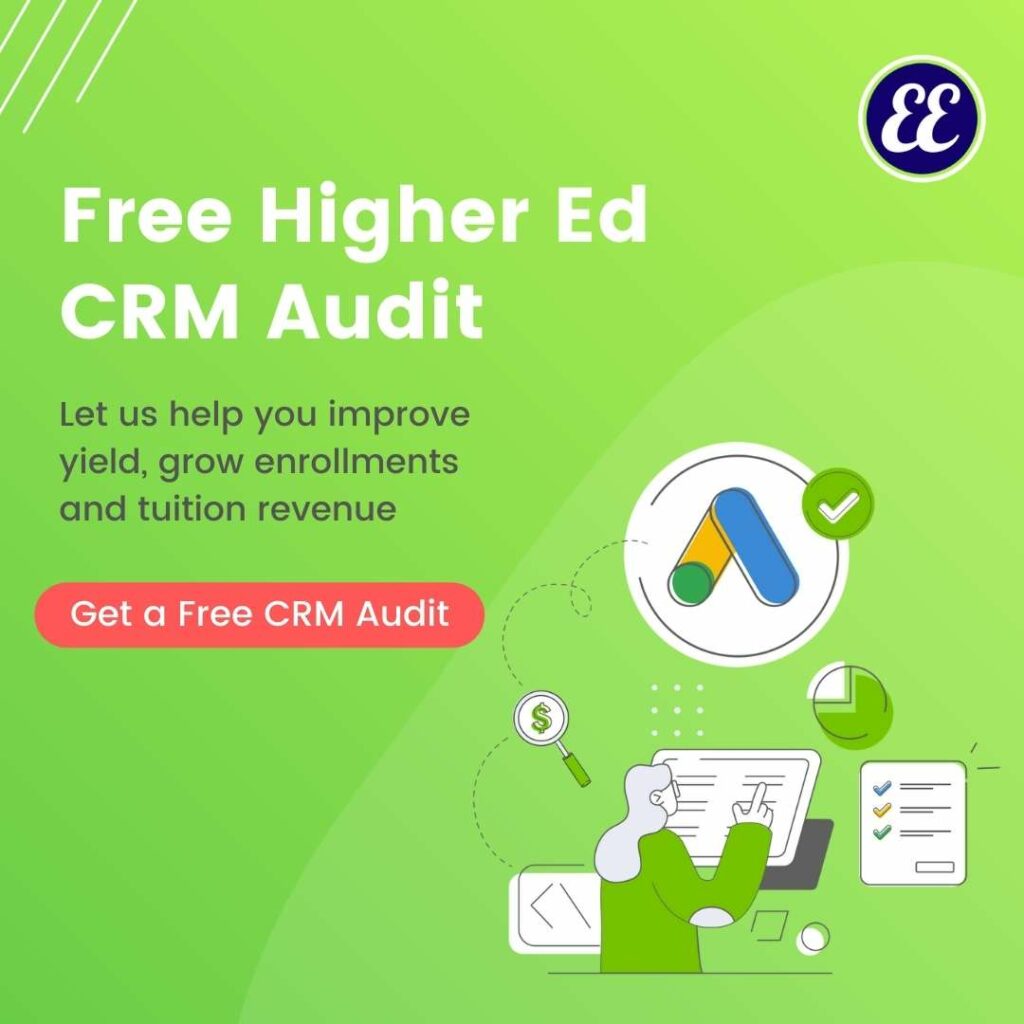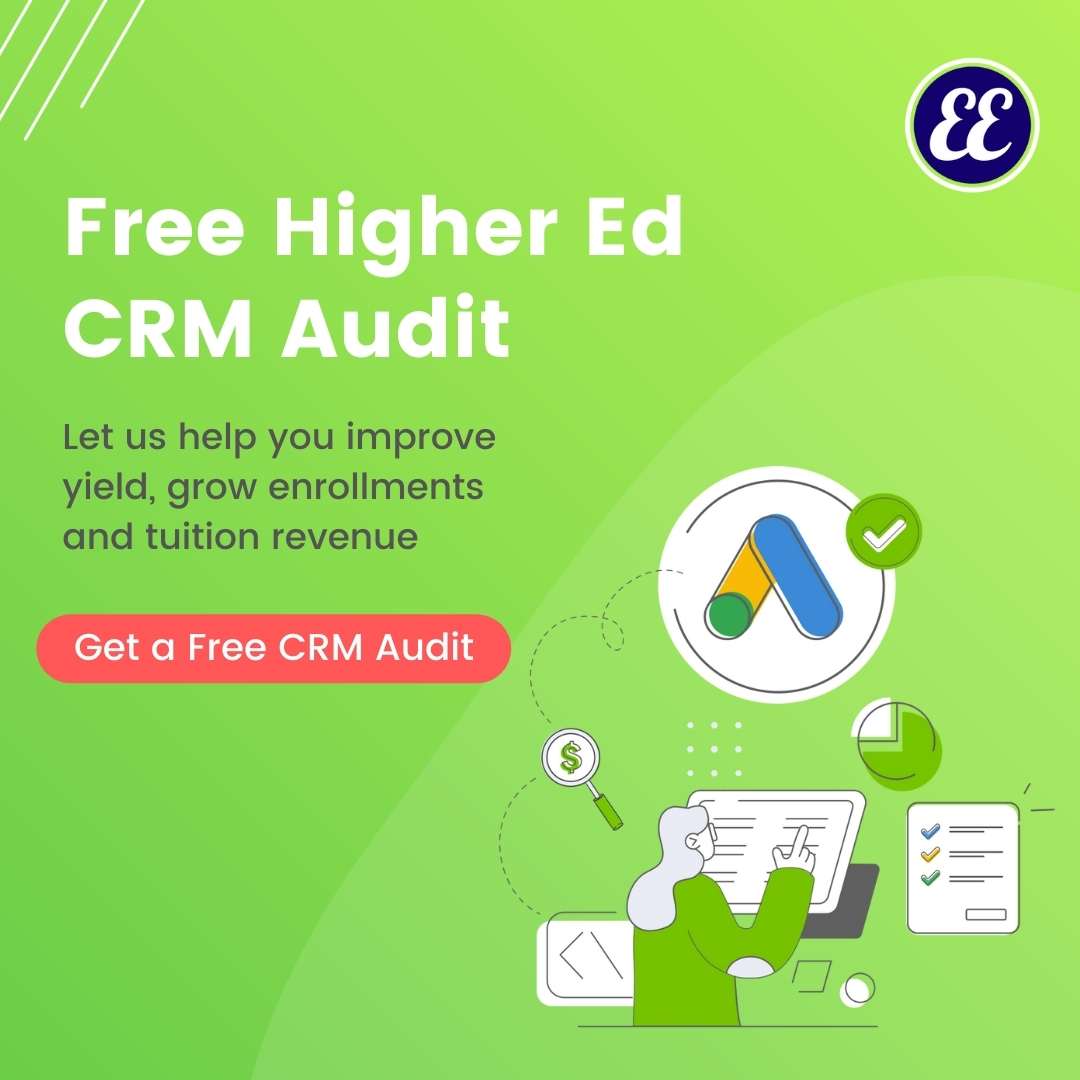 Graduate Students Need Your Emails
If you're promoting your graduate programs, then emails are a must! These are career-orientated professionals that understand the importance of looking over their emails. Most universities and colleges want to grow their graduate programs. Creating great emails is a must!
Put yourself in your prospective student's shoes. 👠👞It's almost impossible to decide between MBA programs at different universities. How can a student decide? If your email clearly communicates why a student should enroll in your program, then you've done some of the work for your prospective students.
If your university is more transparent about what the student will learn while in the program, what type of outcomes they may expect, and none of your competitors are doing this, then you have given your university a strong competitive advantage.
Traditional Students Need Your Emails for Different Reasons
If you're marketing your programs to traditional college students, there is a bigger chance the student's parent is reading your emails. However, parents can be a force to be reckoned with!
Parents often will help their teen pick between the colleges. According to College Bound, students are applying to 10 colleges simultaneously. However, this student can only attend one of those colleges. That means 9 of them will not enroll this student and receive their tuition revenue.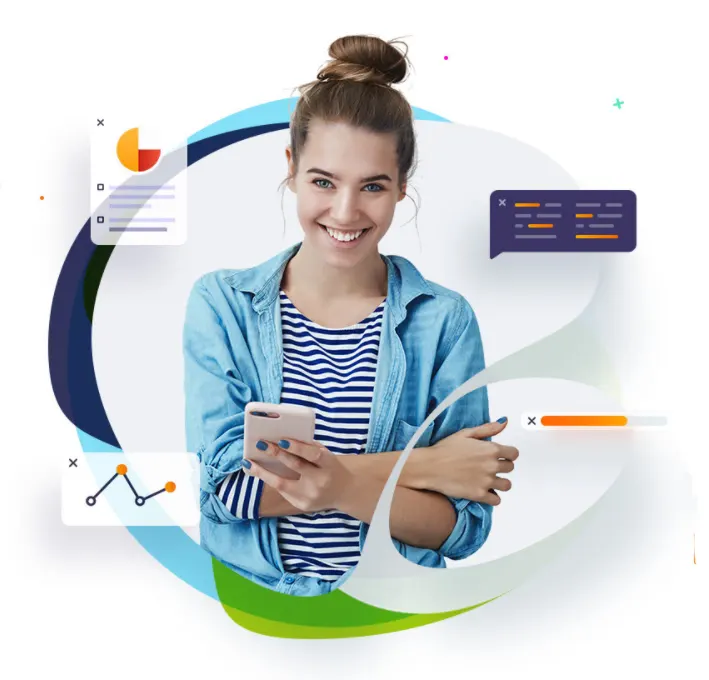 If you are providing a great enrollment experience and it lines up with their expectations, your college may be the one the student chooses above all others!
This can drastically increase your yield, and tuition revenue and ensure a stable enrollment cycle for your institution.
More parents are looking to understand the ROI of their investment. While students may be more interested in the experience of attending your university. Don't think traditional college students are not also thinking about the ROI. As college debt has become more of a societal talking point, more and more students are looking at the ROI of your college.
Do your best to segment your lists into parents, transitional and graduate students. This will help you send different communications to different personas.
Personalized Communications Outperform Generic Emails
Here are some statistics that demonstrate the effectiveness of personalized email communications:
Personalized email subject lines are 26% more likely to be opened than non-personalized ones. (Campaign Monitor)
Emails with personalized greetings have an open rate of 29.3%, compared to 24.8% for those without. (Campaign Monitor)
Personalized email messages improve click-through rates by an average of 14% and conversions by 10%. (Aberdeen Group)
Personalized calls to action (CTAs) have a 202% higher conversion rate than basic CTAs. (HubSpot)
80% of customers are more likely to do business with a company if it offers personalized experiences. (Epsilon)
These statistics show that personalization in email communications can significantly impact the performance of email campaigns by increasing open rates, click-through rates, conversions, and customer loyalty.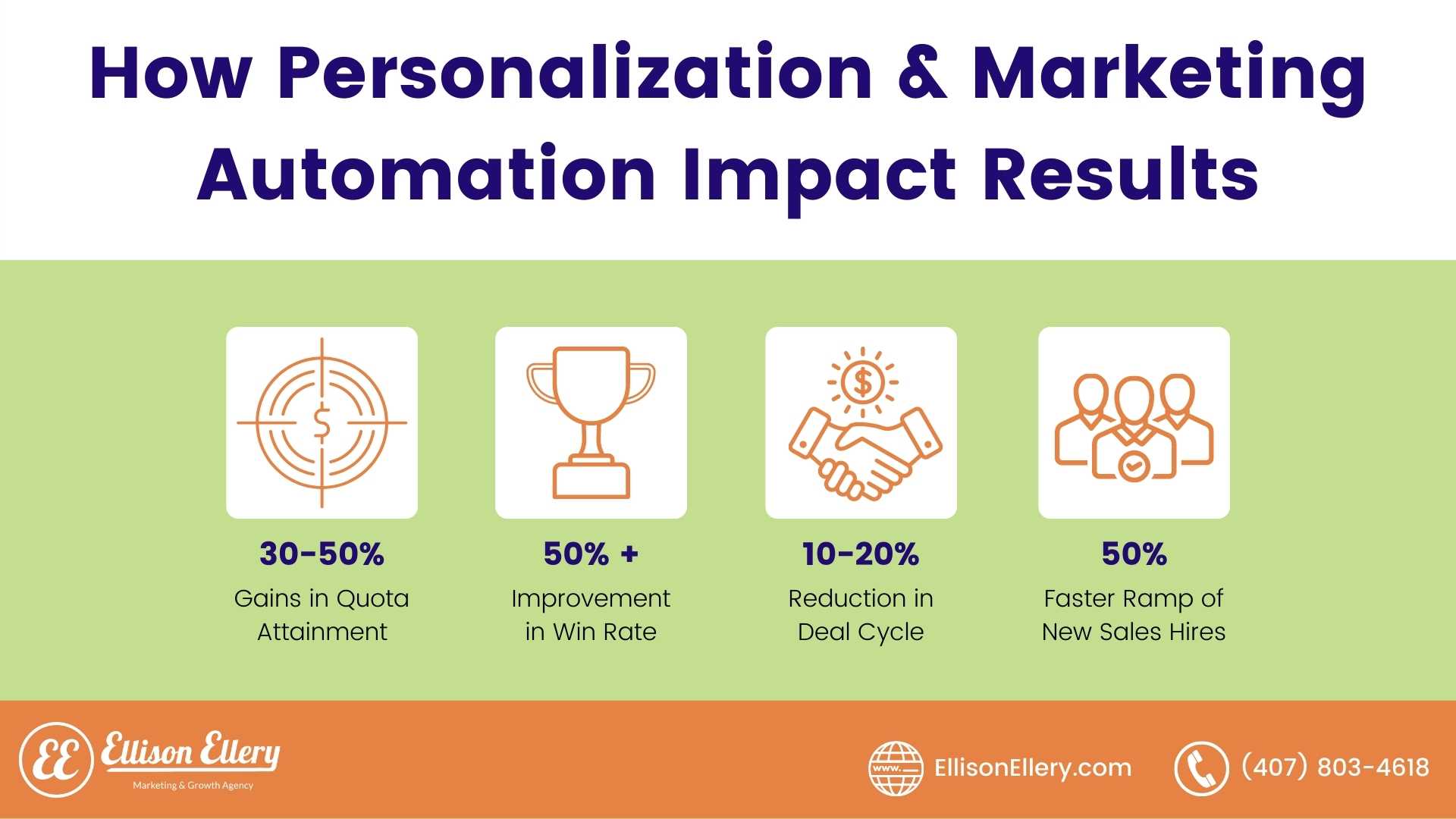 Email Journeys Need to Last Longer Than 30 Days
According to Gartner and StickBrands, only 3-5% of prospective students are ready to enroll. Most universities' marketing and enrollment processes are built around enrolling inquiries as quickly as possible. And, if the prospective student isn't ready to enroll NOW, then they are generally get put into a not interested bucket in your CRM, and all nurturing ends. The relationship ends. These prospective students will probably go to another school when he or she is ready.
Often those inquiries outside the 30 days will receive a random email from your marketing team. Think of those who said, "Our enrollment pipeline is drying up; send some emails now!!" It's the spray-and-pray approach, and it never works well.
A robust inquiry nurturing strategy can help cultivate relationships, builds value for your university, and move your prospective student's down the enrollment pipeline.
Strong email journeys keep potential students engaged and informed about the university's programs, events, and admissions process.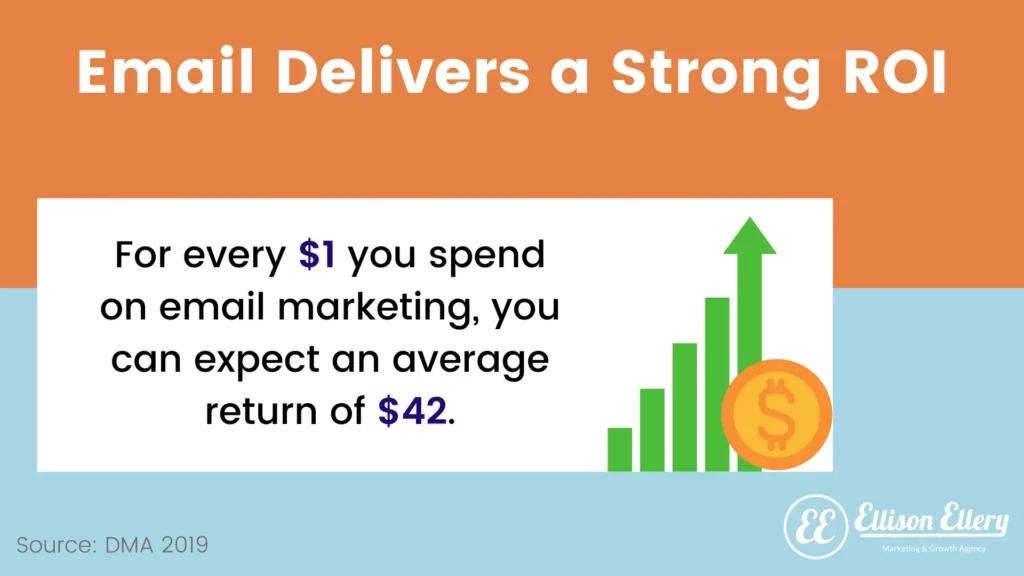 If you have nothing set up now, then 5-8 email journeys (by program) is a good starting point, but it's important for marketers to continually test and optimize their email journeys based on their specific goals and audience behavior. This can quickly balloon if you have 30 programs, so keep this in mind. However, if you get internal pushback on the amount of programmatic emails, then send this blog!
Make Your Emails Visually Appealing
Not all emails are created equal. To stand out from the competition, universities need to craft emails that are not only visually appealing but also provide valuable information to prospective students.
As universities strive to attract the best and brightest students to their campuses, email has become an essential tool for communicating with prospective students. However, with so many universities vying for attention, it can be challenging to create emails that stand out from the crowd.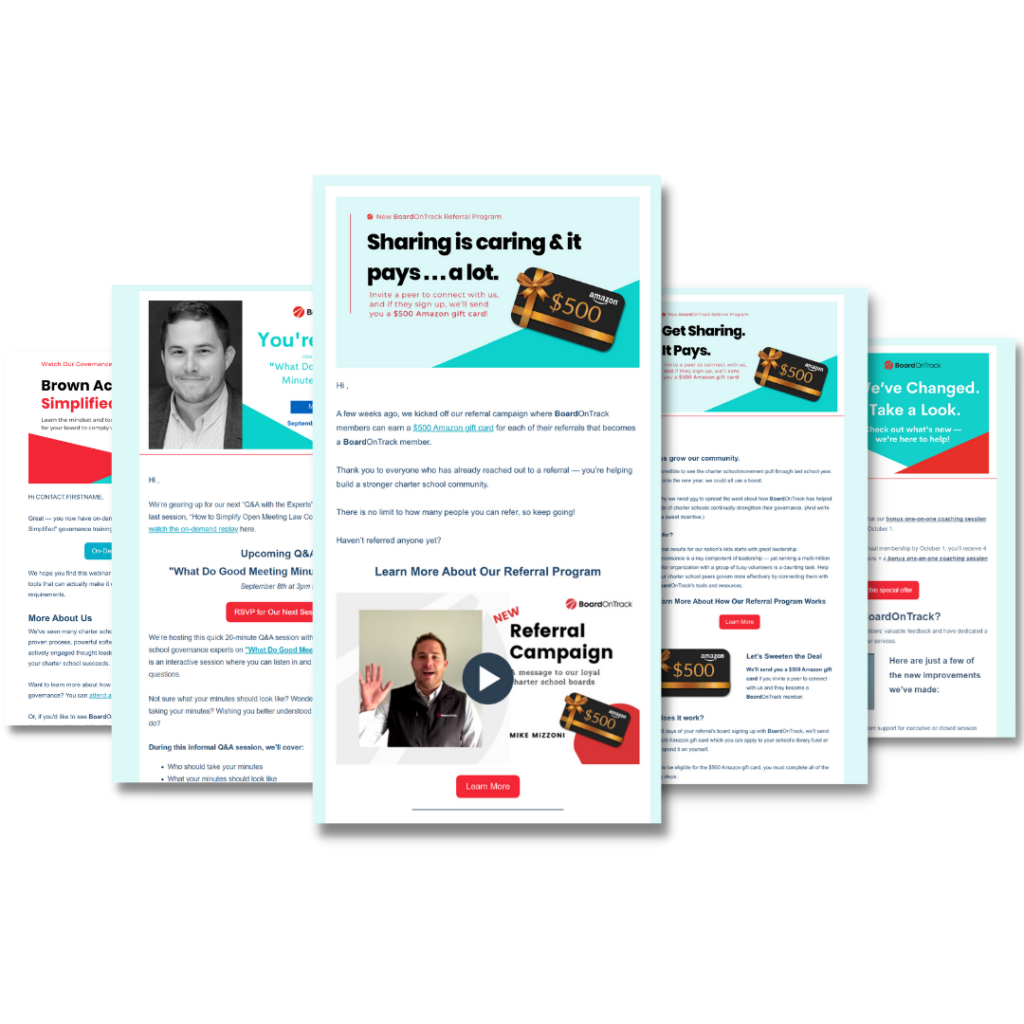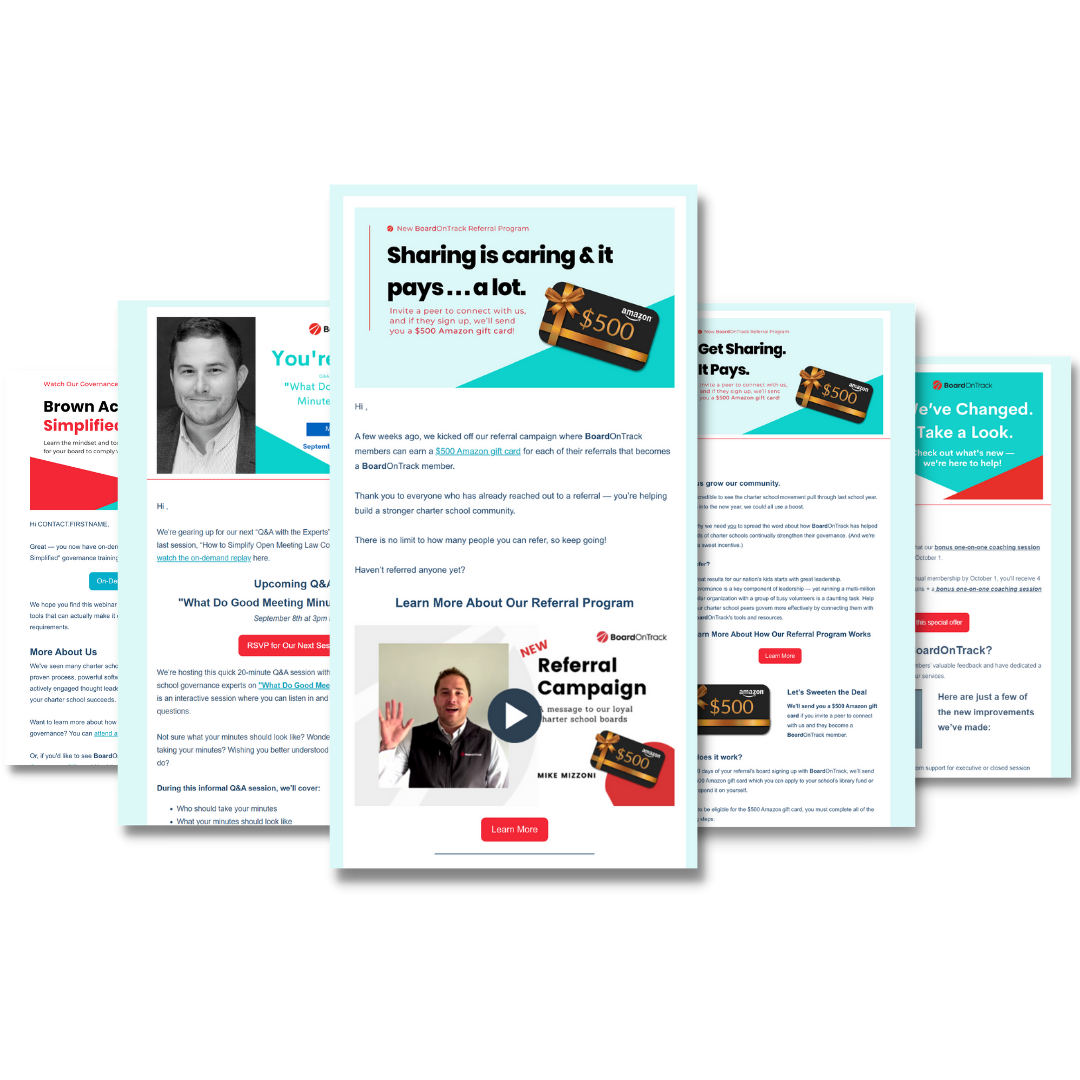 Why Are Email Journeys Expensive?
While everyone understands the importance of emails, often no one wants to pay for programmatic email journeys. Why are programmatic email journeys expenses? Because it takes time to learn what makes your university special. Most universities can not easily say what their unique selling proposition is, what makes their program special, and why someone should enroll.
It also takes time to audit what assets you already have and which ones can be repurposed for your email journeys.
It takes time to figure out what you are already sending out and devise a new strategy.
Plus, you will want these emails to be coded or designed to work with your CRM, whether you have Salesforce, Slate, HubSpot, or another CRM.
Studies show that for every $1 you spend on your email strategy, you will receive $42 in ROI. If your school spends $10,000 -20,000 on new email journeys, then figure out how much more revenue your institution can make if you grow your yield by 10-15%. And these emails can last for several enrollment cycles. Start writing that RFP now! Need help writing your next RFP, we've got you covered.
Think of the opportunity cost of not investing in better email journeys and missing out on tuition revenue opportunities, lower-than-expected yield, and a dwindling enrollment cohort. Yikes! 😳

Suggested Email Journeys
Not sure how many emails to send or when, we have created this amazing communication cadence guide, which provides you with everything you'll need. Be sure to download this separately. It's free and an incredibly valuable resource.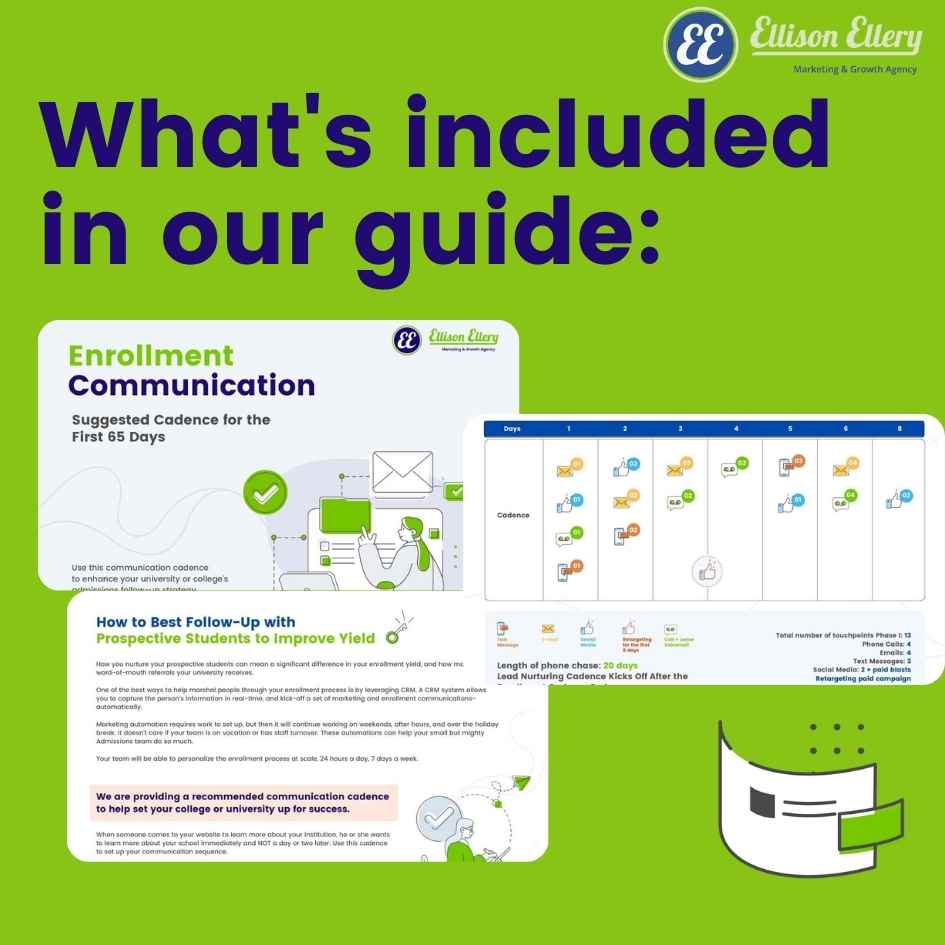 1. Start With Your Welcome Email
A welcome email is the first email a prospective student receives after they have expressed interest in a university (filled out a form). This email is crucial because it sets the tone for the rest of the communication between the university and the student. A welcome email should be warm, engaging, and provides an overview of what the student can expect from the university.
In a welcome email, the university should introduce itself and provide information about the academic program he or she has shown interest in, campus life, and student support services.
Your emails should also provide a call-to-action (CTA) that encourages the student attend an open house (virtual or in-person), to watch some student testimonials (ideally video), and to be engaging. You want the student to want to open your next email, so don't bore them.
Other CTAs may include scheduling a campus visit, or considering filling out an application. It is not ideal to encourage students to fill out an application before they get to know your school. However, some prospective students may already be familiar with your school, so you can have a link to your application on every email, as long as it's not the dominant CTA on every email.
Don't make the mistake of using this email as a transactional email.
This auto email will generally be the most open email your university sends. Don't squander this opportunity with a transactional communication that says, "We received your info, and someone will contact you shortly".
When someone requests information from your university, have an automated email campaign that provides them with what they expect within the first 5 minutes or less of when they inquired.
Also, test your systems regularly. After you filled out a form on your website or landing pages, did you receive an email within 5 minutes? Test all of your forms, often.
It is never acceptable to not send an email after an inquiry requesting more information from your school.
Here are some first email examples: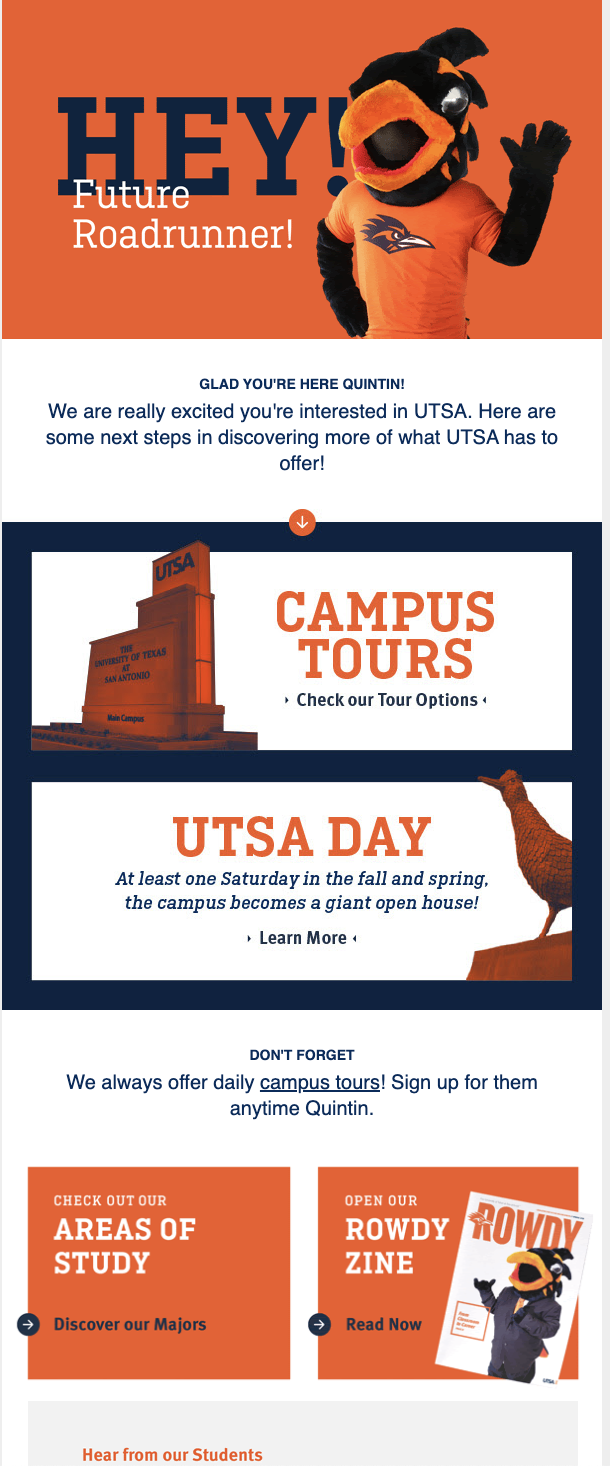 2. Email #2 (Programmatic Focus)
After a prospective student has received a welcome email, it's important for the university to continue developing a relationship with them. A follow-up email should be sent the next day (regardless if it's the weekend. If you have a CRM, you can set this up as a sequence to send 24 hours later)
The next email should focus on the student's programmatic interest. Do you have a programmatic brochure? If so, your call to action can be to look over your programmatic brochure. Check out this blog post about the importance of digital programmatic brochures along with examples. (We also won awards for the brochures we created for WCU and their new email journeys)
The goal of this email is to impress your prospective student. This email hooks the student emotionally. You want the student to picture themselves attending your university, sitting in the classroom (physically or virtually). The next email will focus on speaking to the student rationally.
If you do not have a brochure, then this is where you can write up:
What makes your program unique
Link to a video about your program
Student testimonials (ideally video)
Links to faculty videos that are truly engaging (nothing boring)
Clip of a truly unique lecture
Photos of students engaged in group work or some sort of competition
Unique labs, or classrooms that will leave students impressed
Links to their course information (with detailed course descriptions)
When universities create program-specific content, they can showcase their expertise in a specific field. This can help students identify with the university and feel connected to the program they are interested in.
You may find you have a lot of content you can share! If this is the case, don't stop with just one email. One email highlighting your program should be your minimum.
For example, a student interested in studying music would be more likely to feel a connection to a university that provides program-specific content about their music department, including information about faculty, performance opportunities, and special events.
See this example: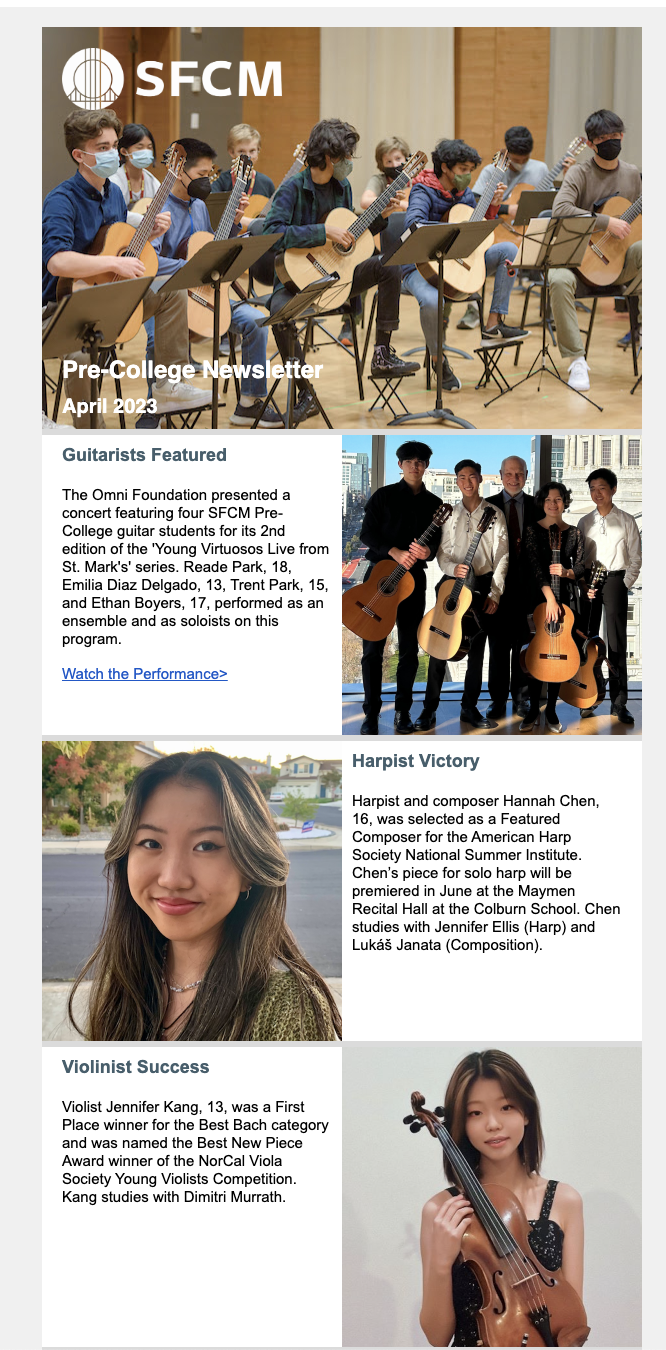 If your university offers a specialized program in sustainable agriculture, be sure to create program-specific content that showcases their innovative approach to farming and the unique experiential learning opportunities available to students.
3. Email #3: Programmatic Focused with ROI Messaging
This email should be sent about 2 days later.
For this programmatic email, you'll want to focus on the ROI of your program or how your program better prepares them for their future career.
For this third email, you will want to focus on why your program will better prepare your prospective student for his or her future career. While the email above focused on impressing the student and connecting with the student's emotions, this email speaks to the student rationally.
If you frame this email correctly, a student will walk away thinking it would be absolutely crazy if I picked another school. This one is the right one for me.
However, this email still needs to be visually appealing. You don't want a student to get overwhelmed and skip over this email. Then the message is lost forever in their inbox. This email needs to be engaging so it is more likely to be read!
If you have any of this information, you may want to share it:
Student video testimonials about the value of the program
Hiring company testimonials about the quality of your grads working at their company
Highlights of alumni working at prestigious companies
Interesting group work or capstone projects that help set students up for their new career
Pitch competitions or other competitions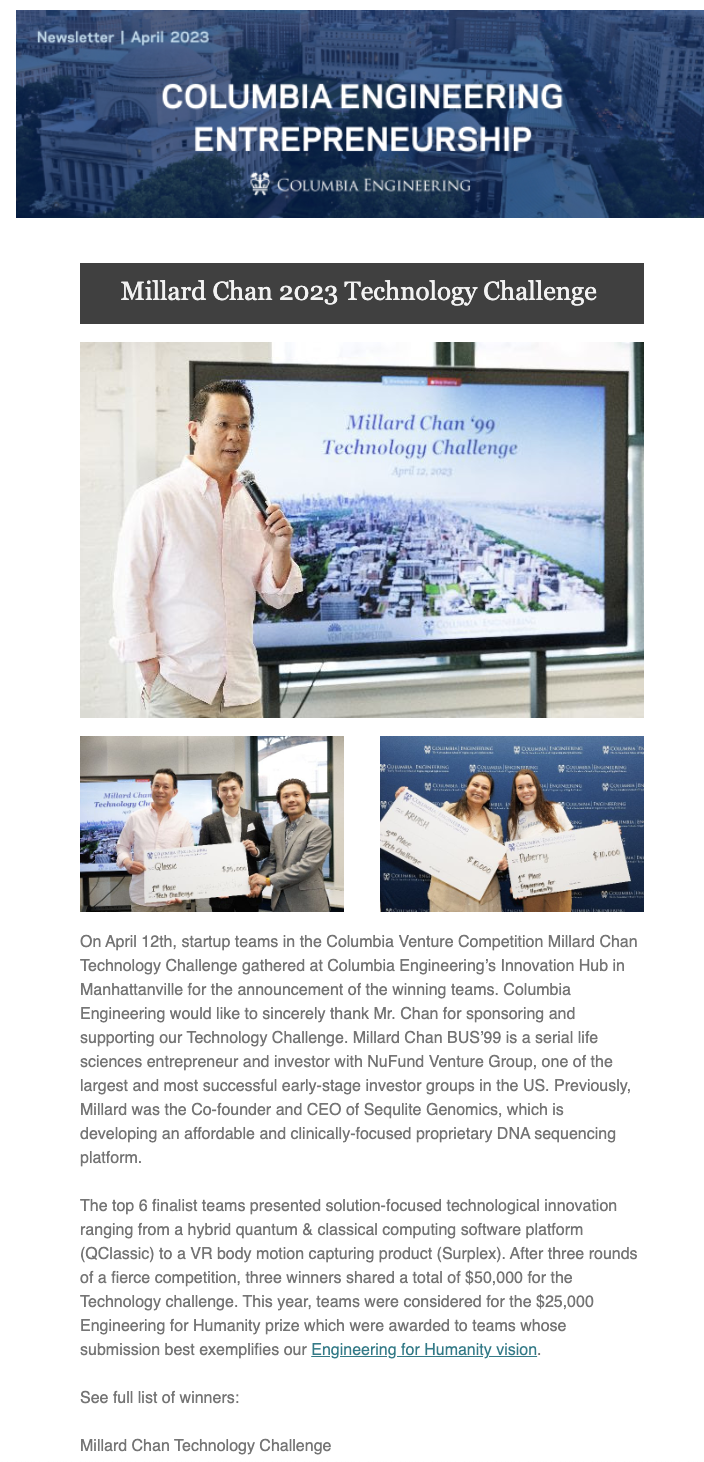 Your ROI story can be told in several different ways.
It can be told simply by sharing how well you prepare a student to pass their state licensing exams and the type of companies your alumni work for after graduation.
If you don't have access to this information, then you can also start sending out your alumni surveys to ask them:
How much they made before attending the program
How much they made while attending the program
How much they make now
You can also ask them what company they work for and how your program prepared them for the job
You may get some unfavorable feedback, but that's a good thing! You want feedback so you know what can be improved upon.
For example, the University of Southern California sends a follow-up email to prospective students that provides more details about their academic programs and student life. The email also includes links to virtual tours and a personalized message from the student's assigned admissions counselor.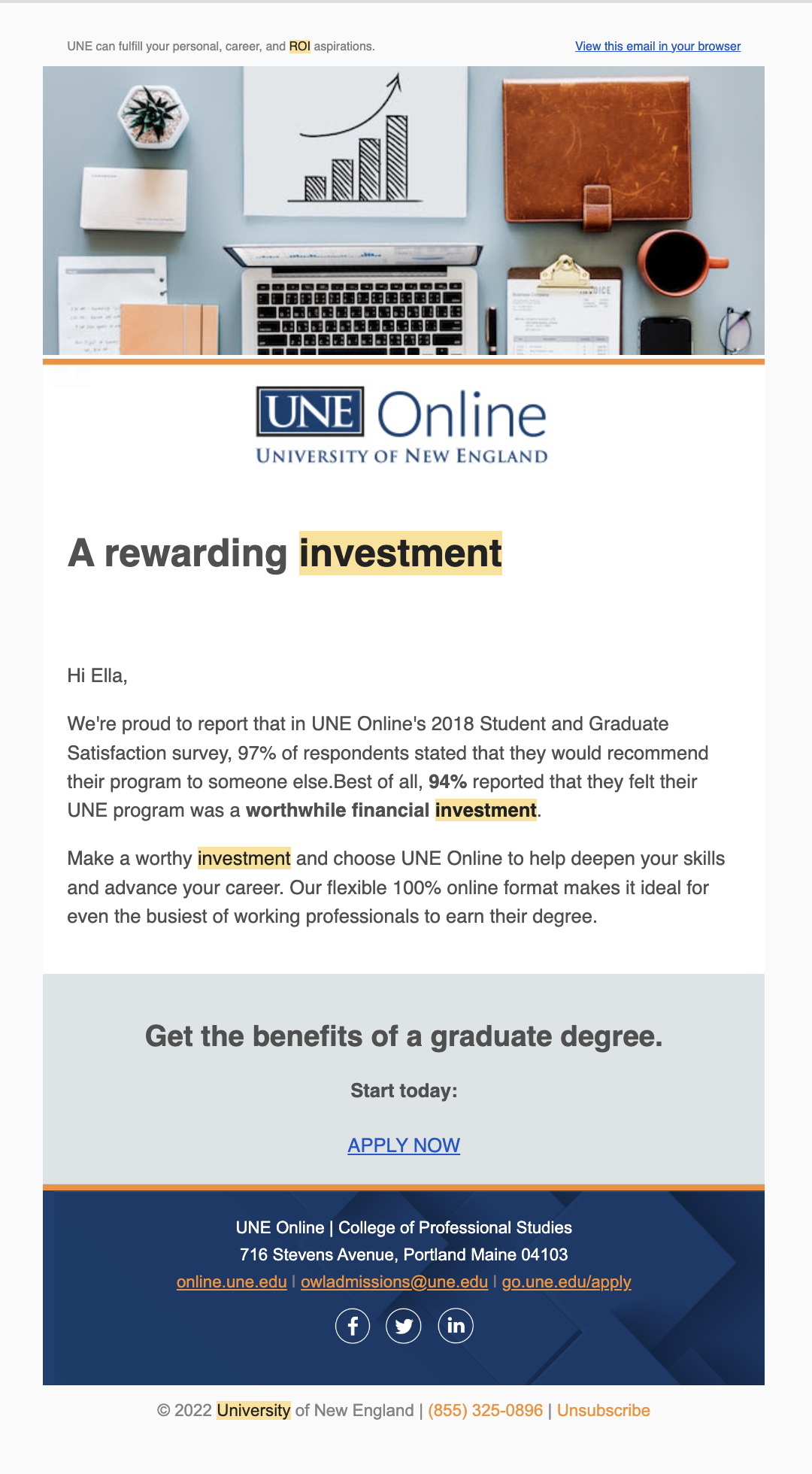 4. Email #4: Programmatic Focused Resources and Deeper Engagement
In your next email, you'll want to share more resources with prospective students, which may include:
Information about internships, co-op programs, or other experiential learning opportunities
Videos about experiential learning
Videos about internships
Possible job openings at the campus for reduced tuition
Day in the life of a graphic designer, RN, or rad tech
Here's an example of a program-specific email from the University of Waterloo's engineering program. While this is a great start, we think this email can be better by applying our recommendations to it. 👇 <<include links to the specific pages you want them to visit next>>
Dear [Name],
Thank you for your interest in the University of Waterloo's engineering program! Our program is one of the most respected and innovative in Canada, and we are proud to offer a world-class education to our students.
Our engineering program focuses on hands-on, experiential learning that prepares our graduates for successful careers in a variety of industries. Our faculty members are experts in their fields, and they work closely with our students to ensure that they are equipped with the skills and knowledge they need to make a real impact in their chosen fields.
We invite you to explore our website to learn more about our program and the exciting opportunities that await you at the University of Waterloo. We also encourage you to attend one of our upcoming events, such as a campus tour or information session, to see our program in action and meet our faculty and students.
Thank you for considering the University of Waterloo, and we look forward to hearing from you soon!
Sincerely,
[Engineering program team]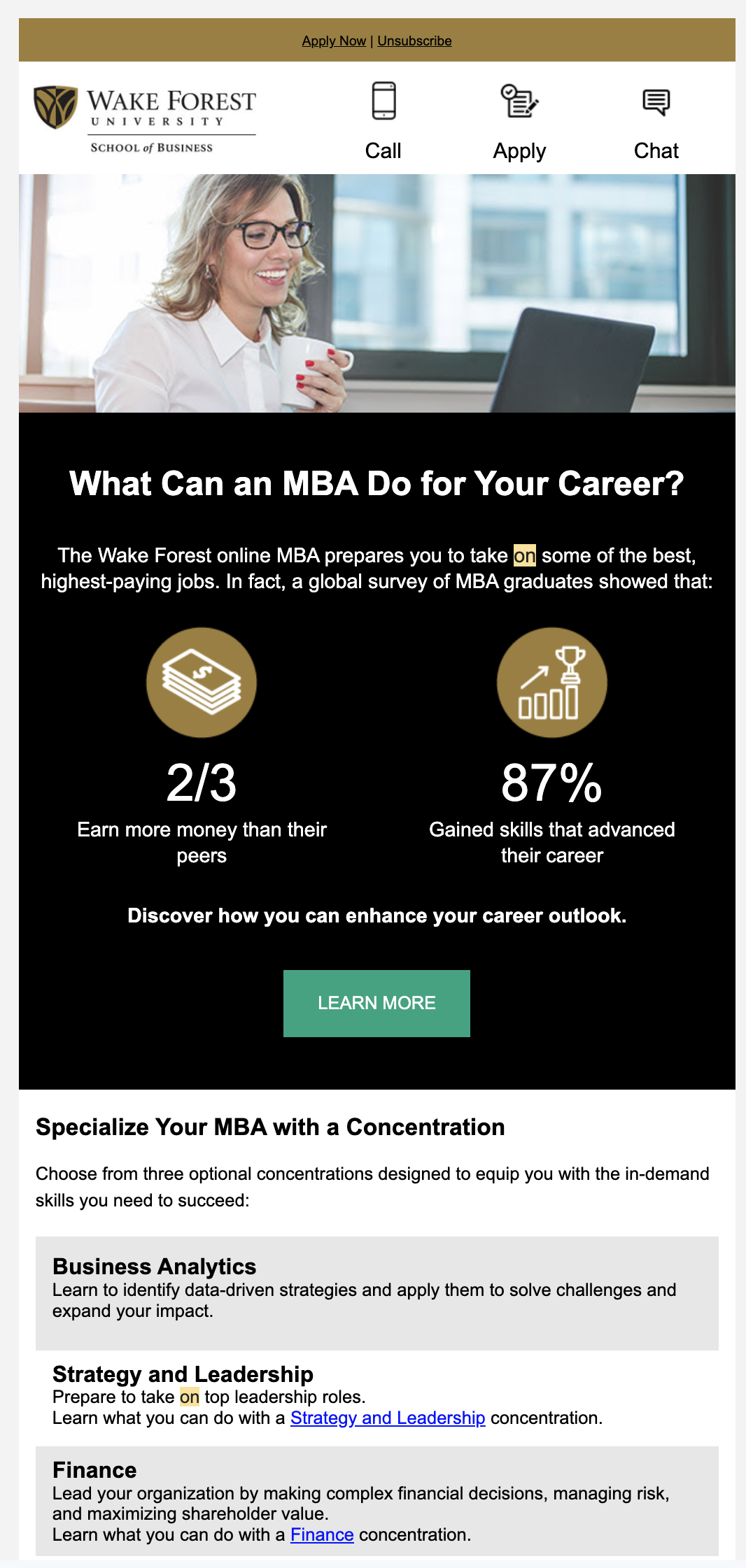 5. Application Deadline Reminder Email
The timing of this email will vary depending on where someone is in their enrollment cycle. Someone may receive this email the next day after email #3 or maybe a few days later. You will want to create a set of application reminder emails as part of your email sequence. See some examples below. We have included several examples from other universities.
As the application deadline approaches, it's important for universities to send a reminder email to prospective students. This email should be sent a few weeks before the deadline and should include a clear CTA that encourages the student to complete their application.
It's important to flag specific issues that may come up, such as how it may take several weeks to get your transcripts from another university, so it's better to get those send six weeks before your application date, as an example.
In an application deadline reminder email, the university should emphasize the benefits of attending their institution and provide a sense of urgency to encourage the student to take action.
Video suggestion: We also suggest including a video from a student communicating how they were leery about enrolling and how attending your university has been the best decision because of…
Imagine how powerful this type of video can be, especially if it's seeded within a communication with a strong CTA.
If you do not have this type of content, it's time to create a list of your needed video topics and start working to get them done. How can you recreate something like this for your university? We've created this video and free guide to help your university's video strategy.

Here are some video examples from other universities:
Or this one https://youtu.be/vYbWlidXBZw
(Bonus these videos you create can be repurposed and used in your YouTube ads). 🎥
This email communication can also include a link to additional resources to help answer any questions or concerns that the student may have about the application process. Filling out an application can be confusing, especially the FAFSA. Does your university have extra video resources, if so, link in your emails. Don't expect your prospective students will search throughout your website to find these resources.
For example, the University of North Carolina at Chapel Hill sends an application deadline reminder email to prospective students that emphasizes the benefits of attending their institution and provides a link to a virtual information session where a student can learn more about the application process.
6. Scholarship and Financial Aid Email
One of the biggest concerns for many prospective students and their families is the cost of attending college. While this is one of the biggest concerns, you want to make sure the student has developed a relationship with your university and is interested in the program you have to offer before digging into scholarships and financial aid.
Let's relate this to dating. If you have just met someone and you start discussing finances too early without deciding you even like this person, then the conversation seems out of place. First, you need to establish if you like each other, then you can start talking about the logistics of what it means to move to the next level.
This email can be sent 7-days after the first email is sent. But make sure you've sent some programmatic emails first!
Universities should send scholarship and financial aid emails to provide information on available resources and alleviate financial concerns that the student may have.
In a scholarship and financial aid email, the university should provide information on available scholarships, grants, and loans. They should also provide resources for filling out the Free Application for Federal Student Aid (FAFSA) and offer guidance on the financial aid process. Be sure to include your FAFSA number.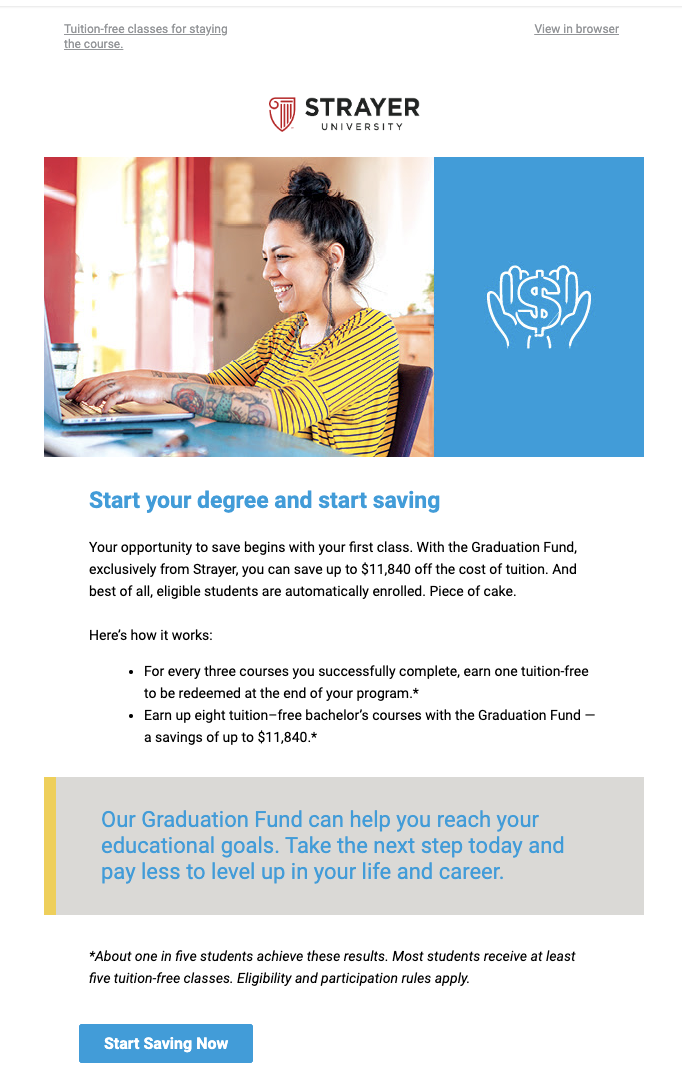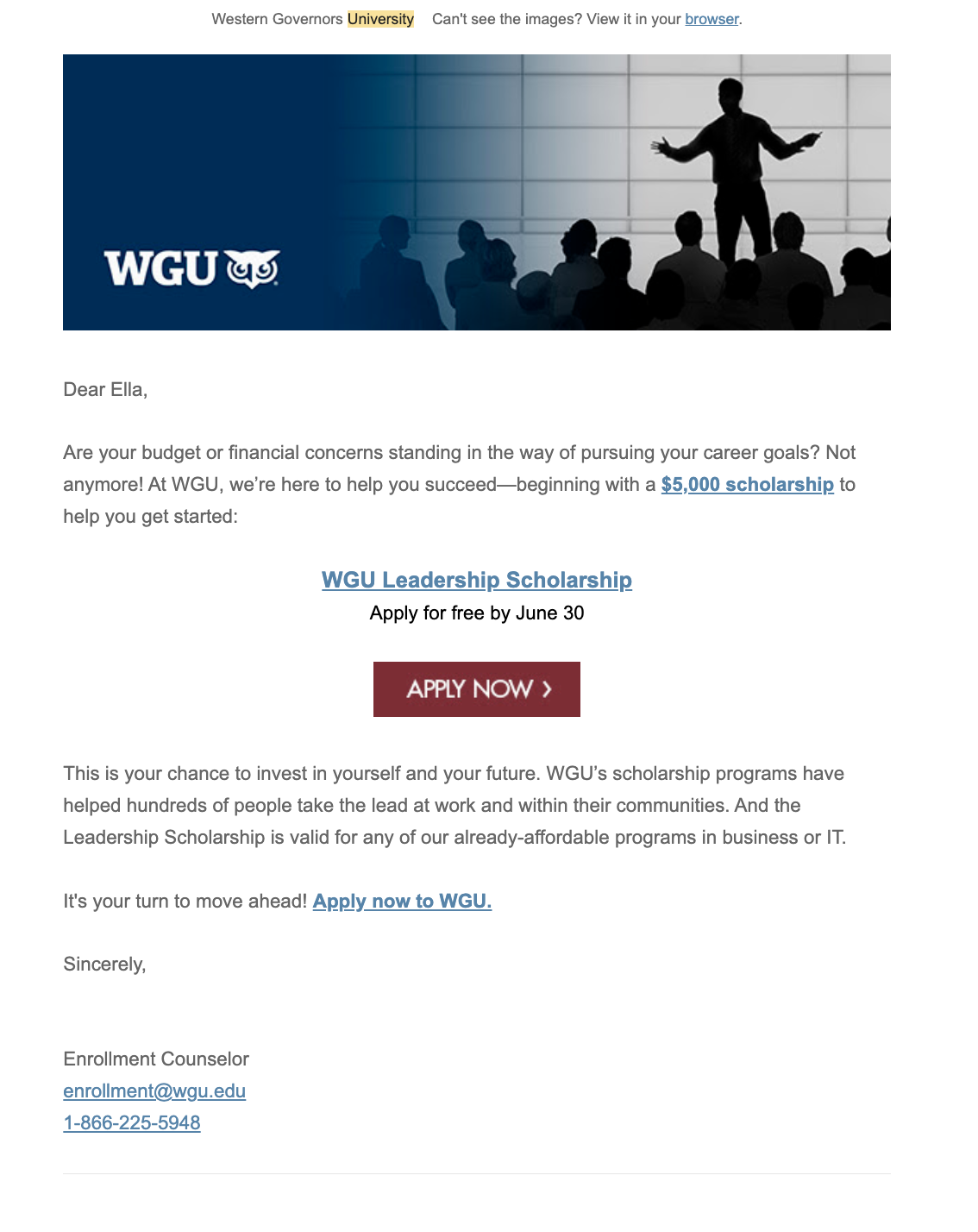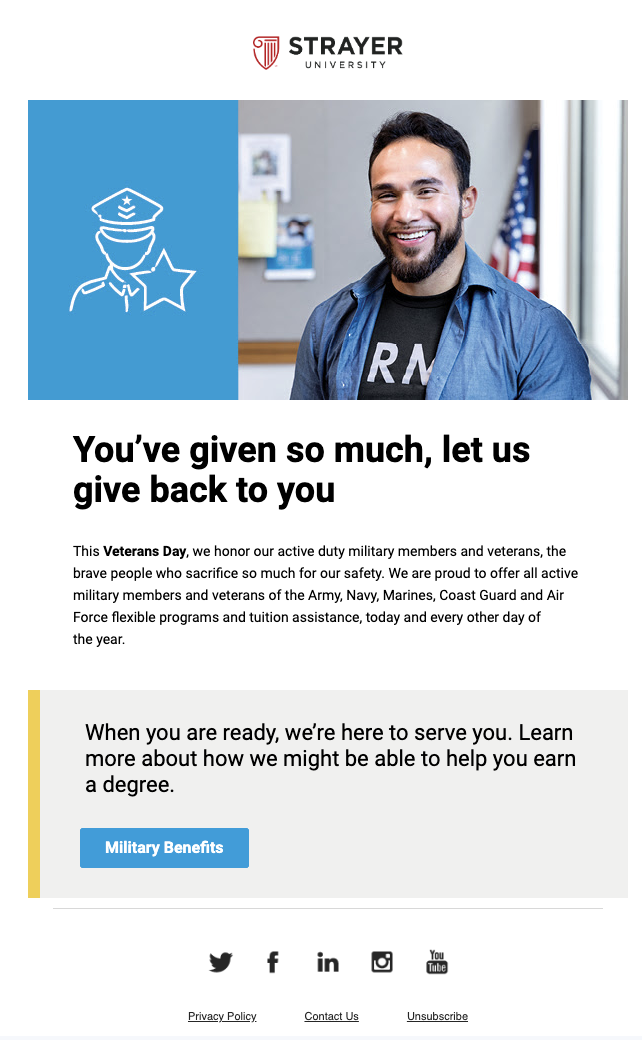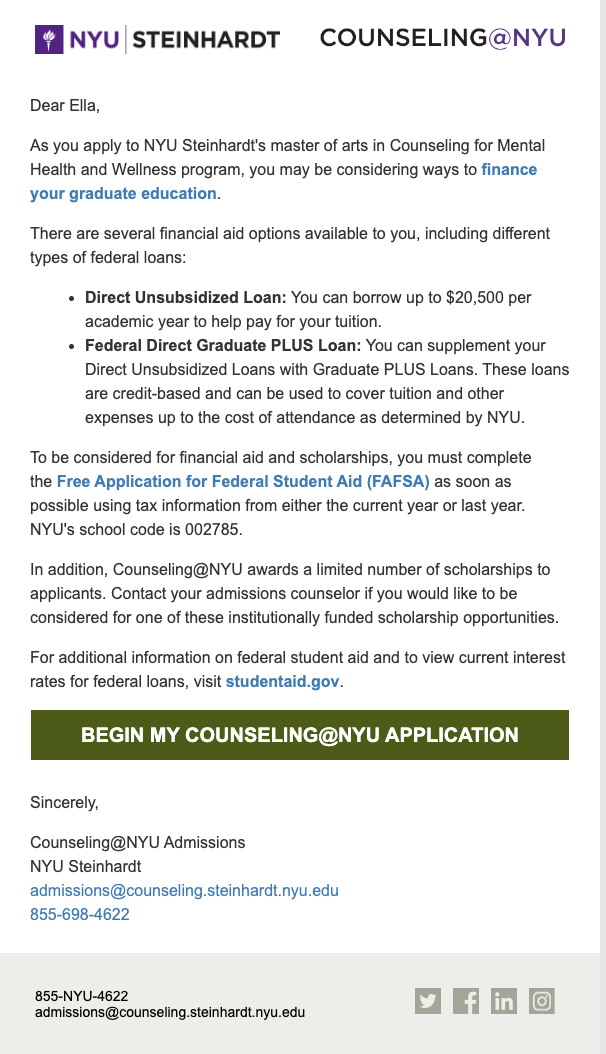 7. About the University
It's finally time to communicate about your amazing university. This is an email where you can discuss what makes your university so special. This is where you can feature your creative assets and messaging from your established branding campaign.
Most universities spend much time on their branding campaigns, so you should have some amazing assets already created.
This is also where you should also audit your social media channels to see if there are videos and graphics that you can be repurposed for these university-branded emails. You may find that you can create several emails from the content you find on your social media channels.
These emails will be scattered throughout your email journey.
Branded university emails can include information such as
A brief introduction to the university and its values
Links to important resources such as the university's website, social media pages, and student portal
Contact information for the admissions office and other important departments
Upcoming events, such as campus tours, open houses, or information sessions
Here's an example of an email from the University of Michigan:
Dear [Name],
We are thrilled to welcome you to the University of Michigan community! As one of the top public universities in the country, we are committed to providing our students with an exceptional educational experience that will prepare them for success in their chosen fields.
We understand that choosing a university can be a daunting process, which is why we are here to help you every step of the way. Our admissions team is dedicated to making your application process as smooth as possible, and we are always available to answer any questions you may have.
We invite you to explore our website, follow us on social media, and attend one of our upcoming events to learn more about our programs and what makes the University of Michigan a great place to study.
Thank you for considering the University of Michigan, and we look forward to hearing from you soon!
Sincerely,
[Admissions team]
<<Be sure to include links to your social accounts, ways to sign up for your information sessions, additional resources, a university-branded video, and more>>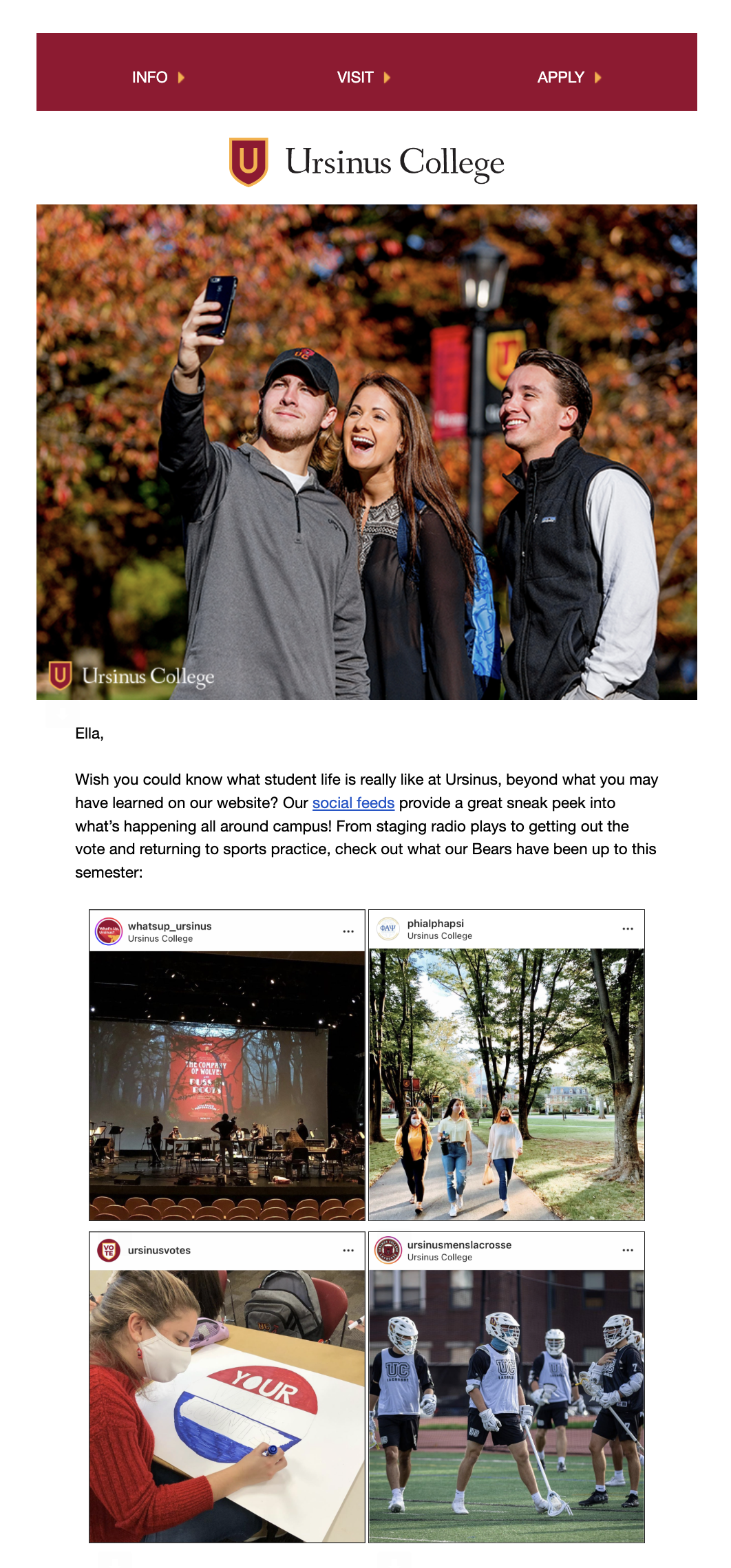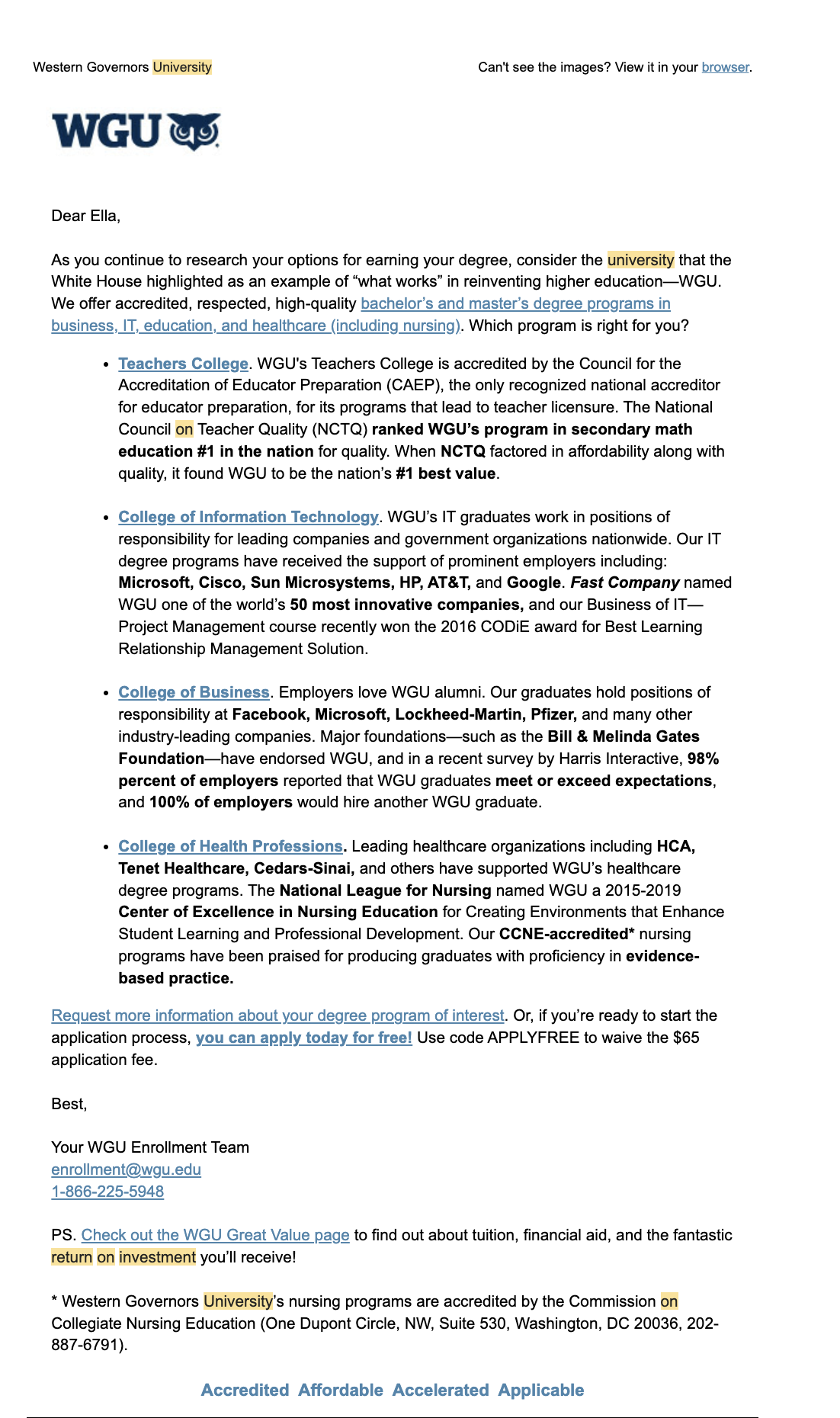 8. How Should a Student Best Evaluate Different Degree Programs?
Write out an email that helps a student decide whether they should enroll in your program or another university's program. Yes, your program may not be right for all students, so it's good to help prospective students develop their decision criteria.
If you get the wrong students applying to your program, then your enrollment yield goes down, and/or your retention rates dip too. Your university can spend a lot of resources evaluating applications, so it's better to get fewer applicants but to get better applicants so you experience less attrition.
This email should focus on providing your prospective students with suggested evaluation criteria. It's our job to help students navigate this tough decision!
In this communication, also include how your degree meets these criteria. The content can be very robust, so you will probably want to drive this person to an article on your website to address all of this.
Here is a great example of what to strive for.
The first step for universities is to recognize that choosing the right degree program is a critical decision that requires careful consideration.
It's not just about picking a program that sounds interesting; it's about finding a program that matches your career aspirations, personal interests, and academic abilities.
By helping students understand this, universities can encourage students to take a more thoughtful and proactive approach to choosing their degree program.
Let's say you are promoting your engineering program.
Choosing the right degree program can be daunting for many students, especially in highly specialized fields like engineering. With so many universities and programs to choose from, it can be overwhelming to decide which program is the right fit.
However, with the right tools and guidance, this process can be made much easier, and your university will be rewarded with a higher yield because your team did the hard work!
Here is a chance for your university to capture videos of alumni and current students to share how they decided which concentration and/or program was right for them. It can be helpful for students to listen to other students and their decision criteria.
Your email/ website article should include:
Understand Your Career Goals
Types of Engineering Programs
Accreditation
Salary ranges by different engineering tracks (insert different careers here)
Program Curriculum
Faculty Expertise
Program Reputation
Availability of Internships and Co-ops
Location and Campus Culture
Admissions Requirements
Financing Your Engineering Degree
Other Considerations
Universities can encourage students to take advantage of the resources available to them outside of the university. This includes online forums, professional organizations, and industry publications.
By encouraging students to explore these resources, universities can help them better understand the engineering field and the various career paths available to them. Be sure to provide links and suggested resources to make it easier for your prospective students.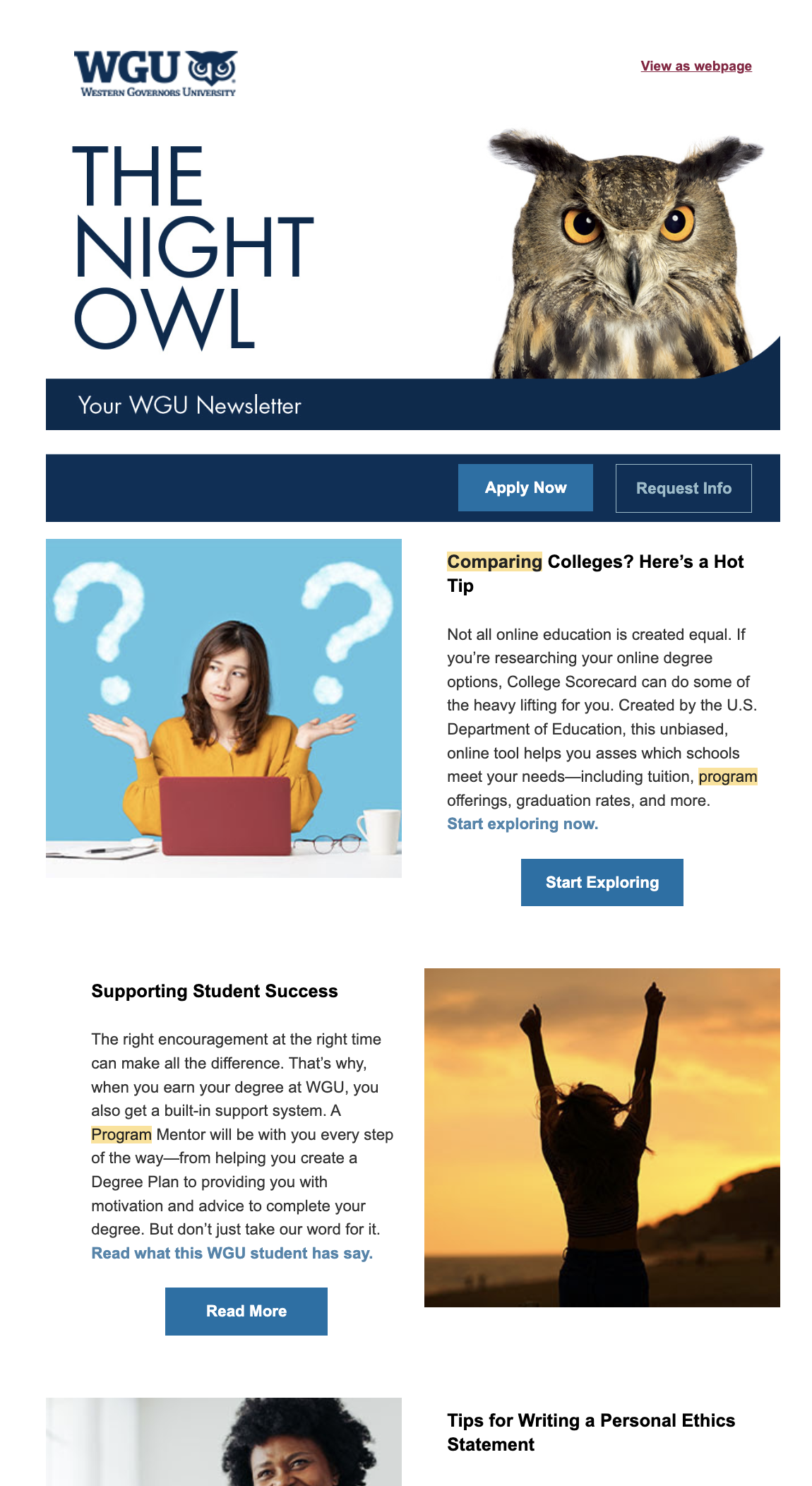 9. Programmatic Content: Day in the Life
Program-specific content helps students visualize their future. By providing detailed information about a program, universities can help students see what their future could look like if they choose to pursue a particular academic path.
For example, a university that offers a program in graphic design could create program-specific content that showcases the work of alumni who have gone on to successful careers in the field. This information can help students envision their own future as graphic designers or engineers and motivate them to pursue the program.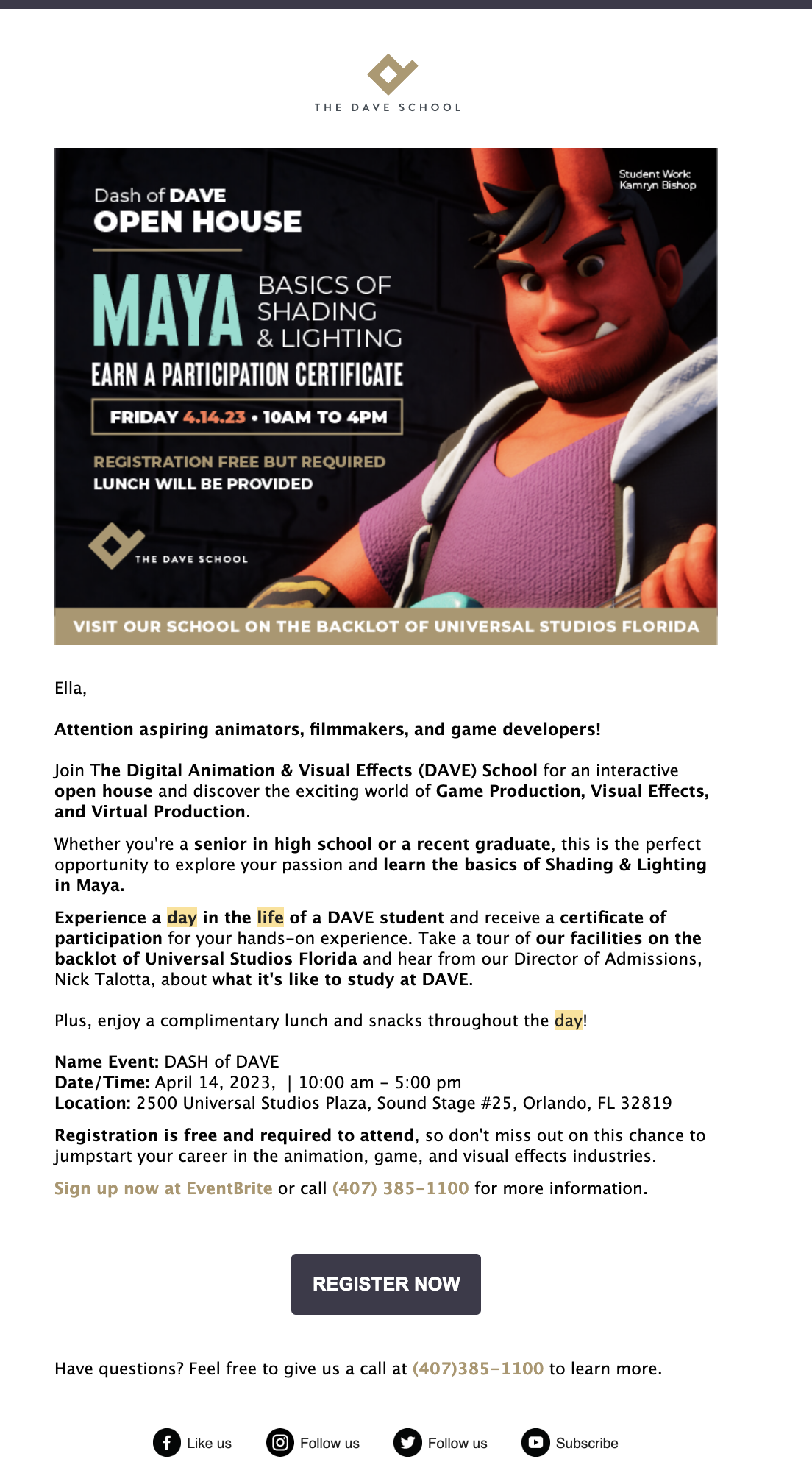 10. Accepted Student Email
After a student has been accepted into a university, it's important to send an accepted student email to congratulate them and provide more information on what they can expect as a student at the university.
Be sure this is a great email! This is an email your prospective students will cherish and may share with their family and friends. How can you make your emails a more memorable experience? These are all touchpoints that matter!! How can you memorize this for your incoming students?
Can this email include a personalized video from the Dean or from a faculty member? How else can you make this memorable?
Check out what this university did to commemorate acceptance day. It was done in a very visual way. Remember, now we are all content creators in our worlds. Students are looking to take creative photos to share on social media.
Knowing this is where society is, how can your university be more visually appealing? These incoming students will be your best promotional billboards sharing your university on their social platforms for all to see.
Acceptance Day Photos from Westminster College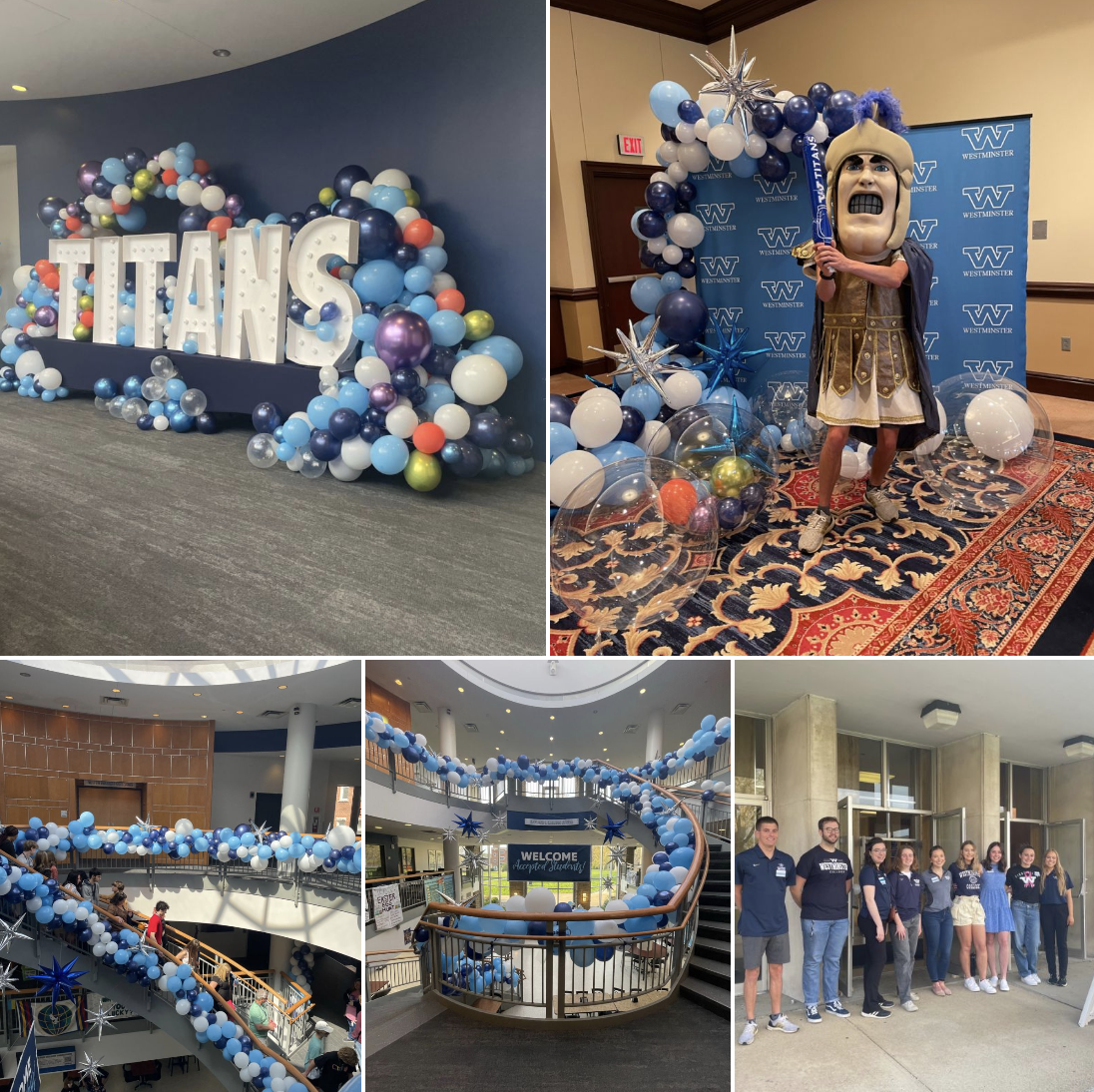 Other Emails Your University Can Send
Don't limit yourself to just the emails featured above. There are so many more emails you can send. Below we provide several examples from other universities to help inspire your next email journey re-write.
Guest Speaker (invite your prospective students to listen to a notable and engaging guest speaker. This helps you position yourself as thought leaders.
Mini-lecture from a professor of the program your prospective student would be interested in. Be sure it's engaging!
Highlighting specific alumni.
Highlighting a pitch competition.
Sharing fun photos and videos from your program taken by students and faculty with descriptions of what is happening in the videos.
Programmatic content expanded articles

Let's take Entrepreneurship as an example; here are some possible articles your team can write and then feature in your emails. These can also be done as videos.

Why should businesses hire entrepreneurship degree grads?
All businesses need the entrepreneurial spirit (and explain why).
Top 8 entrepreneurial skills for business owners and aspiring business owners
Should you get a Master's degree in Entrepreneurship in your state?
This article features your start-up community in your state.
Should I earn an MBA or entrepreneurship degree?
Why earn an entrepreneurship degree from your university?
We've curated various video examples to inspire faculty and staff to create user-generated content for your college or university. This content can be used in your social media and also through your email journeys! Check out these universities absolutely killing it on TikTok, and share this post with others for inspiration as you all brainstorm ideas for your email journey.
Summarizing the Value of Email Journeys
Well, that was a long post, and you should pat yourself on the back for reading it all! It shows how much you truly care about your university and how much you want to improve your enrollment experience with better email journeys.
A quick summary, while general content about a university is important, program-specific content is essential for helping students make informed decisions about their academic pursuits.
By creating program-specific content, universities can help students better understand what they can expect from a particular program, identify with the institution, stand out from the crowd, attract the right students, and visualize their future.
Ultimately, the extra effort put into creating program-specific content is worth it for both universities and prospective students alike. Remember for every $1 you spend in email marketing, you can get $42 back in tuition growth. It would be crazy to continue pushing this off.
How Can Ellison Ellery Help Your College Drastically Improve its Email Journeys?
A strong lead nurturing strategy helps cultivate relationships, builds value for your product or service, and moves people down the sales pipeline. Learn more about Ellison Ellery's email marketing services and reach out to schedule a discovery call.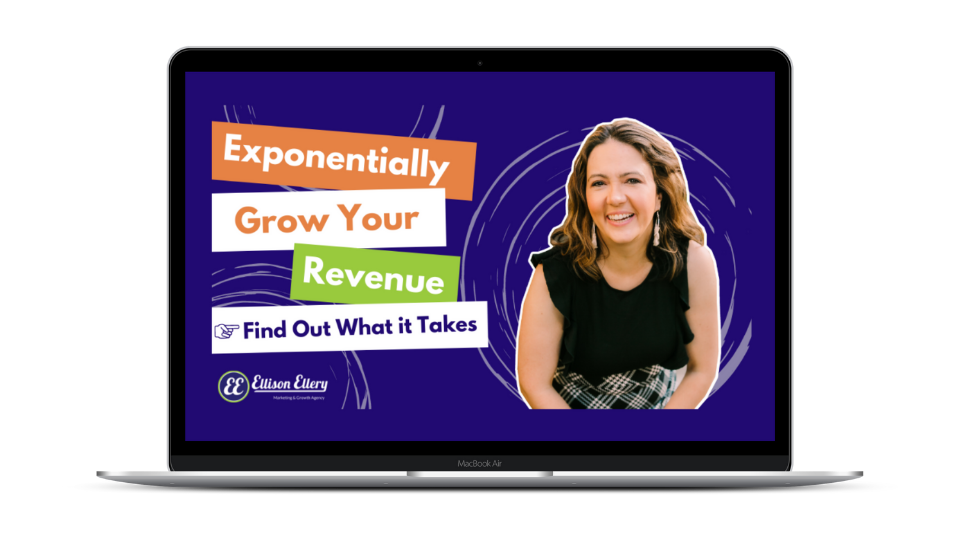 It's time to take a load off of your admissions team's backs and generate deeper connections with more qualified prospective students. Only 3-5% of buyers are ready to enroll now. This means your university needs to pivot its strategy to keep prospective students engaged until they are ready to buy.
Take advantage of CRM nurturing automation to help you meaningfully connect with your prospective students — work smarter, not harder, and outperform your competitors.
Connecting your prospects with the information they need creates a win-win scenario, and it all starts with great email journeys.
Next, you'll need to create focus on:
Email Campaign Management
Email Automation
Email Design and Coding
Email List Management
Email Marketing Strategy and Consulting
Email Marketing Analytics and Reporting
Additional Email Examples: