It Is Time to Reimagine Your Enrollment Process with these Tips
In the "State of the Connected Customer 2018," Salesforce reported that 80% of customers say the experience a company provides is as important as its products and services. It also found that 67% of customers are willing to pay more for a great experience.
Over the holiday break, I started listening to the audiobook, Who Gets in and Why by Jeffrey Selingo. The book addresses the selective admissions process and the emotional toll it takes on students and parents. The book discusses how 90% of students enroll in non-selective schools.
Elite colleges are seeing record applicants apply for their program, while many non-elite colleges are seeing drops in applicants, enrollments, and tuition revenue. Almost 95% of those who applied to Harvard were rejected. Where did these students go after they were rejected?
Many non-elite colleges need to improve how their school communicates its education and institutional value. Of course, most of the 90% of non-selective schools can provide a unique educational experience, and students would benefit from attending. We need to do a paradigm shift, and an excellent place to start is your college's enrollment process.
In this article, I provide suggestions on how to differentiate your institution throughout the enrollment process, so your college can break through the clutter, improve yield, and drive more tuition revenue.
According to Jeffrey Selingo, the College Board grossed 1 billion in 2017 from selling the names and addresses collected from a nationwide pool of SAT, AP, PSAT/NMSQT, and PSAT 10 test-takers.
Imagine how many mail pieces these prospective students are receiving?
In the book, Jeffrey Selingo mentioned he interviewed hundreds of incoming college students and parents, and a resounding amount of those who he surveyed said the mailers were not looked at, and most if not all ended up in the recycling bin.
How Can Your College Break Through the Clutter and Tell Its Unique Story?
How to Grow College Enrollments
Quick intermissions to let you know our blog is loaded with articles on how to grow college enrollments:

How are your efforts contributing to your

school's growth?
Schedule a brief discovery call to receive a complimentary consultation for your school.
This article covers:
Change our perspective about enrollment management.
Why does your college enrollment strategy need to be redesigned?
The importance of having a great website experience.
Tips to enhance your enrollment strategy.
Tips to improve your enrollment experience.
Lead nurturing through email, text, and calls.
Get Enrollment Conversion Tips from a 20-Year Higher Ed Enrollment Expert
We Need to Change Our Perspective About Enrollment Management 
In this article, I discuss different ways your college can change its enrollment management process. By changing your enrollment experience, you are NOT becoming predatory; you are better serving your students. Let me explain.
Cognitive bias is alive and well in Higher Ed. Throughout my 20-year career, I've spoken with hundreds of colleges and have heard their concerns about turning into a predatory sales organization if they tweak their enrollment process. Let's unpack this sentiment.
Your college will NOT become a sales organization; think of these recommended changes as a move towards servant leadership. Prospective students come to your website to learn more about your college and determine if your college is the right fit for them.
Our goal is to make it easier for them to figure out these answers, simplify their process, and remove possible friction points. In this article, I will break down what some of these friction points are and how to overcome them.
Friction is any variable, website experience, or human interaction that is slowing down (or entirely halting) the progression of your enrollment process. Some friction points are subtle and hard to spot, while others are a huge hindrance.
Growing Enrollments Can Be Akin to Filling A Leaky Bucket

If your college has too many friction points in its enrollment process, then prospective students will just leave. We call this process a leaky enrollment bucket. The best way to describe this analogy is to think of prospective students as the water going into the budget, while other applicants are falling out of your bucket (ghosting you) before starting the program. At times, students are dropping out almost as quickly as new prospective students are coming in.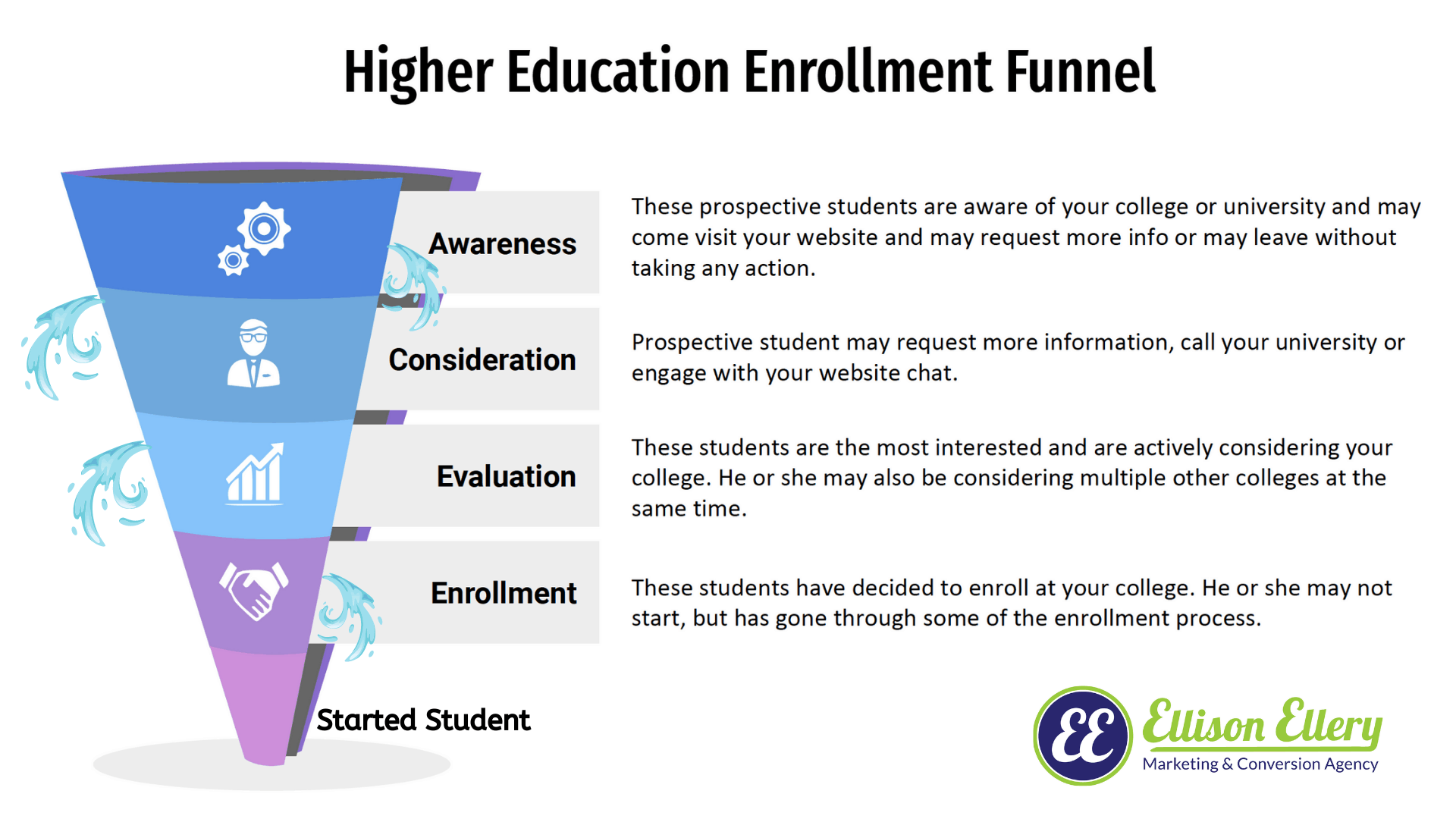 This hurts a college's overall yield and makes the enrollment cycle unpredictable.
How to Get More of Your Prospective Students to Persist?
You may have hundreds of people apply, but a large percentage of those people do not persist. Colleges must work extra hard to improve their enrollment experience since many of the students who do not persist can be first-generation college students and minorities. One thing to remember is a student's ability to overcome the application process is not a predictor if he or she will become a future graduate.  
Graduation Rates by Ethnicity and Race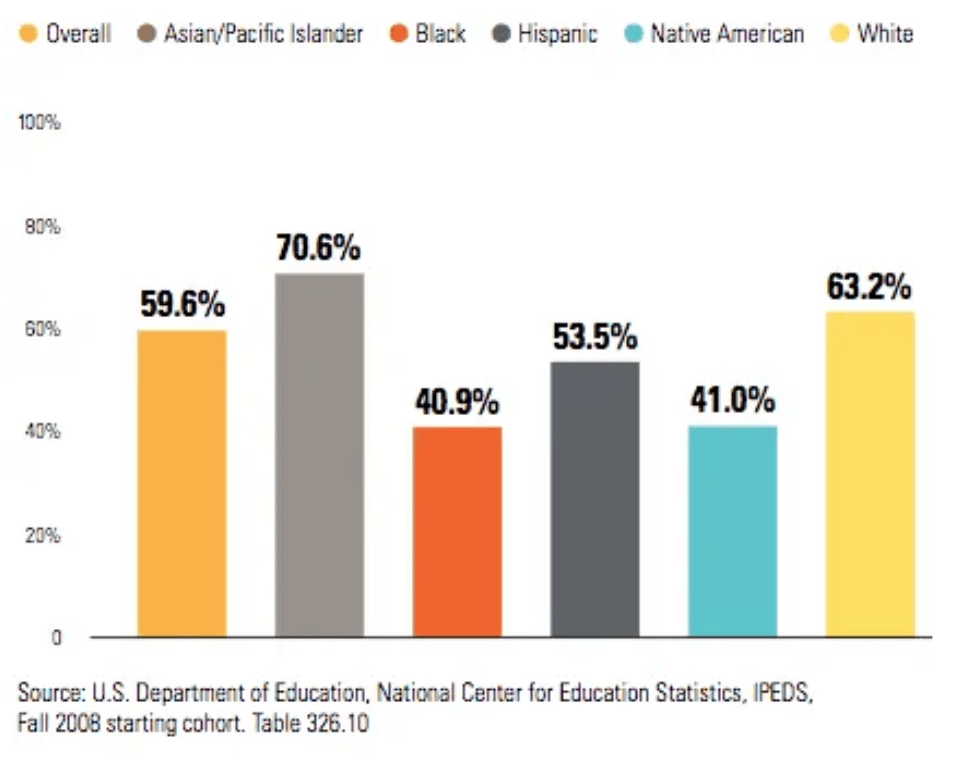 There is also a wide variation among people in different ethnic and racial backgrounds. The chart below shows six-year grad rates in different categories. Asians have the highest grad rates, while black students have the lowest. We can do better for underserved students.
Imagine the impact your college can have on society if we could get more underserved students and communities to graduate from college! But, first, we need to get them through the enrollment process. Read my personal enrollment story as a first-generation American and first-generation college student. 
I am here to champion for the students who may drop out of the process!
My goal is to help more colleges improve their enrollment process, which can help change the ratio.
You can also apply the leaky bucket analogy to how your website gets thousands of visitors, but only a percentage of those visitors apply. Check out these 12 things you can do to convert more website visitors into inquiries for your college. Once you collect the person's info, then apply the learns from this article.
Your College May Have Too Many Unintentional
Enrollment Hurdles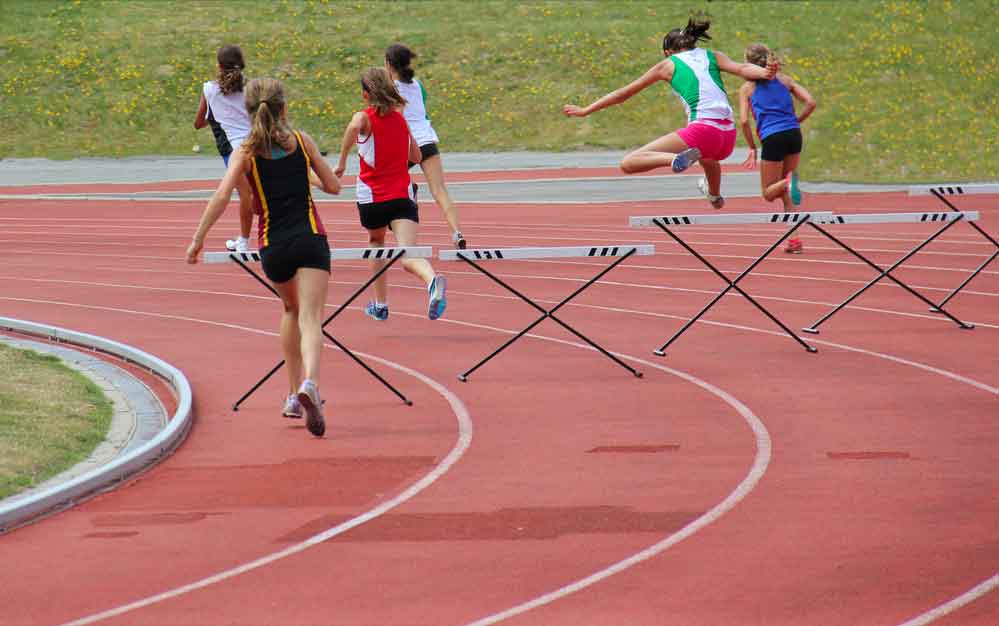 At times, colleges can put up unintentional hurdles for prospective students. Spanning my 20-year career, I've heard many schools think that if a student will overcome these hurdles, then he or she will be a more motivated student and will be more likely to persist and graduate. While at the surface this hypothesis makes sense, after all these years I can say I find this hypothesis flawed and not supported by actual data.
Prospective students are coming to college to learn these traits. Colleges shouldn't expect students to have many of the skillsets before enrolling. This is especially true for those college students who may not have the family support at home or the ability to lean on parents who have already navigated the college enrollment experience.
We are underserving those already underserved. And if we continue putting up these unintentional enrollment hurdles, we will only help to deepen further the gap between marginalized students and more wealthy students.
Your Website Experience Can Be a Hurdle
This is the first hurdle that a student needs to overcome. "I came to your website to learn more about your college and found it hard to figure out if this college is for me."
Think of this step as dating using a dating app. If someone sees your online dating profile, is your description and photos done well. Are you putting your best foot forward? If not, it's time for a profile re-do.
Make It Easy for Prospective Students to Find these Type of Answers
Prospective students are coming to your website to get answers to these types of questions and more.
Can your college clearly articulate why I would want to enroll at your school? (No need to make a direct comparison with other colleges, but you should be able to communicate what makes your college special?)
What outcomes should I expect from your college?

How is your college communicating its value?
Will you help make my decision easier for me? Including:

Can I afford your college?
What support will I receive?
Are you providing any social proof on your website and within your communication strategy?
Do you offer career services and in what capacity?
Will this degree help me in my career pursuits?
What type of campus environment will I experience?
How will you help me with my enrollment experience?
Articulating Value: Enrollment Strategy
Your college needs to create materials that clearly articulate why someone would want to enroll at your institution. This may take some research if you do not have these pieces already created. And, once you have these materials create, they will need to be weaved throughout your enrollment process and shared through multiple channels including text, email, possibly phone, and mail. There are even more innovative ways to engage with prospects outside of these channels, but that's for a future article. Right now, we need to get your enrollment communication strategy foundation created first and then we can layer on additional channels.
Back to the dating analogy, if you cannot clearly tell people why they would want to date you, you need to sit down with your team and go through an exercise to come up with this type of messaging.
To help get you started, check out these examples of other colleges doing an excellent job of articulating their value and why someone would want to enroll at their college.
WGU
Check out how WGU differentiates itself and how the school helps prospective students see its value.  I've included a number of screenshots taken from WGU's homepage. They provide social proof from survey data, recognizable person testimonials (Bill Gates), testimonials from a student (also Country music singer/songwriter Angie Keilhauer), and 3rd-party validation. There was even more social proof on their website. Great job WGU!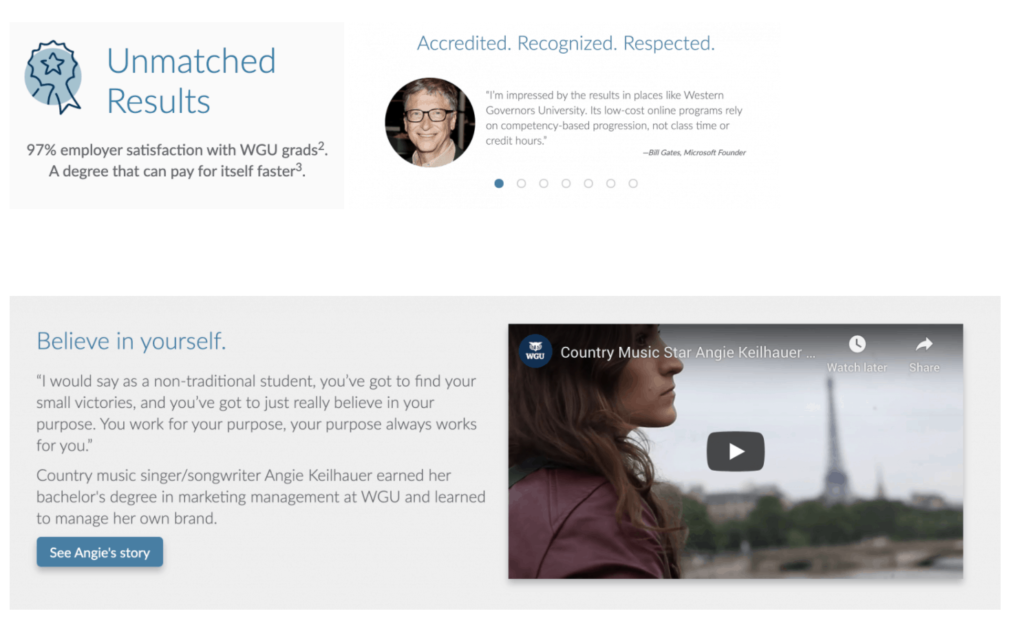 Grove City College
Check out how Grove City College presents their Why Should Someone Attend their School. It would be fantastic if Grove City College could weave these messages throughout their enrollment process, including text and email. I am unsure if Grove City College uses this information in a communication sequence during the enrollment process.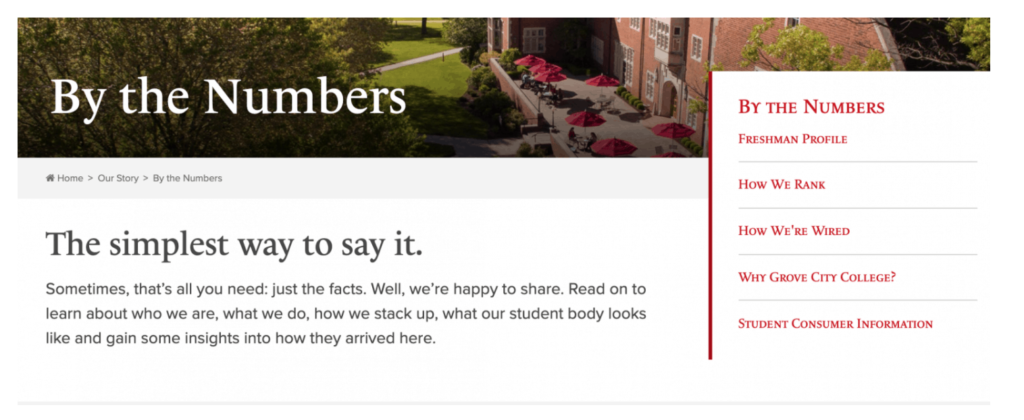 Jack Welch Management Institute
Here is how Jack Welch Management Institute positions itself and clearly articulates what makes them unique by the numbers, accreditation, and 3rd-party validation, and a testimonial. Plus, it lists out the JWMI difference. They have made it much easier for prospective students to research if JWMI is for them.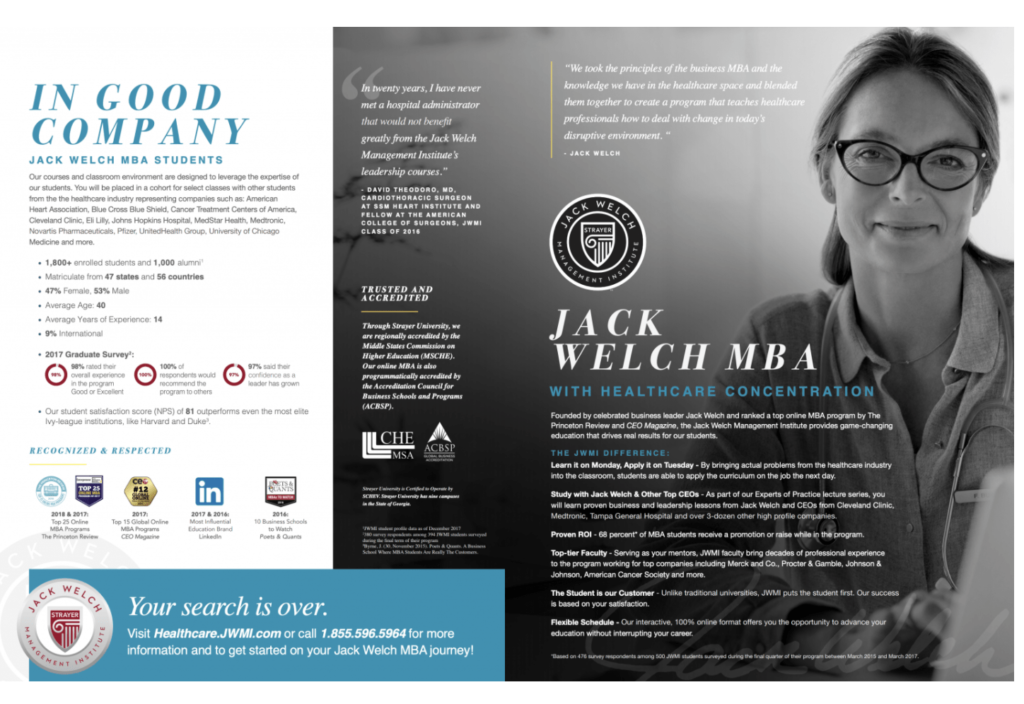 How are your efforts contributing to your

school's growth?
Schedule a brief discovery call to receive a complimentary consultation for your school.
Your College Needs a Way to Build a Relationship with Prospective Students Who Are Early in their Decision Process
Start by Adding a Request for More Information Form on Your Website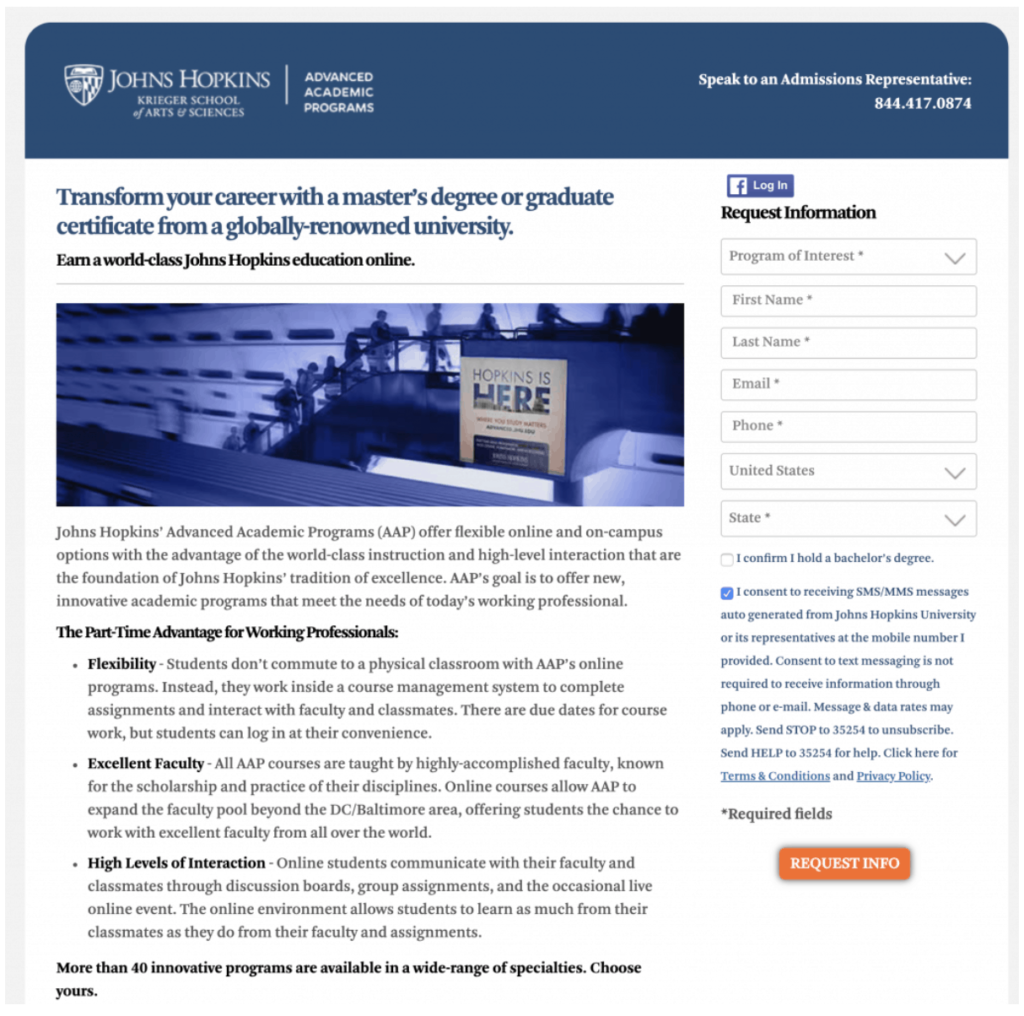 If your college ONLY has an Apply Now form, then that's a big hurdle that needs to change ASAP. Students will generally only Apply when they have decided your college is right for them. Or, if a student has no other way of contacting you, they will fill out your application with no real intention of coming to your college. They are still tire kickers but can't figure out how to engage with you without filling out your application.
For those who have not decided that your school is where they want to enroll yet, we need to start developing that relationship and communicating your value.
And, we're back at the dating analogy. Think of this step as a way for prospective suitors to contact you. Are you making it hard for them to connect with you? You haven't gotten these suitors to fall in love with you yet, so don't make it hard for them to learn about you. Right now, they are NOT emotionally invested in you, so it's really easy for them to walk away. Or, in this case, leave your website without engaging with your college.
For your request for more information forms, please make your form is short with minimal fields. You DO NOT need to know someone's birthday when they are just requesting information about your school. Many CRMs offer forms; you may want to consider designing your own form where you can easily create different versions to test the form conversion rate and continue improving on this rate. Your team will need to put on its Optimization Hats on and always test against a benchmark. With the right combination, you can increase your form completion rate by 50, 60, or even 80%.
If you need help with this, please contact us. We can help you with every aspect of your enrollment process. 
Remember to advocate within your team to ask for the very minimum amount fields on your request for info form. Ultimately, you just need to know their name, email, phone, and program of interest.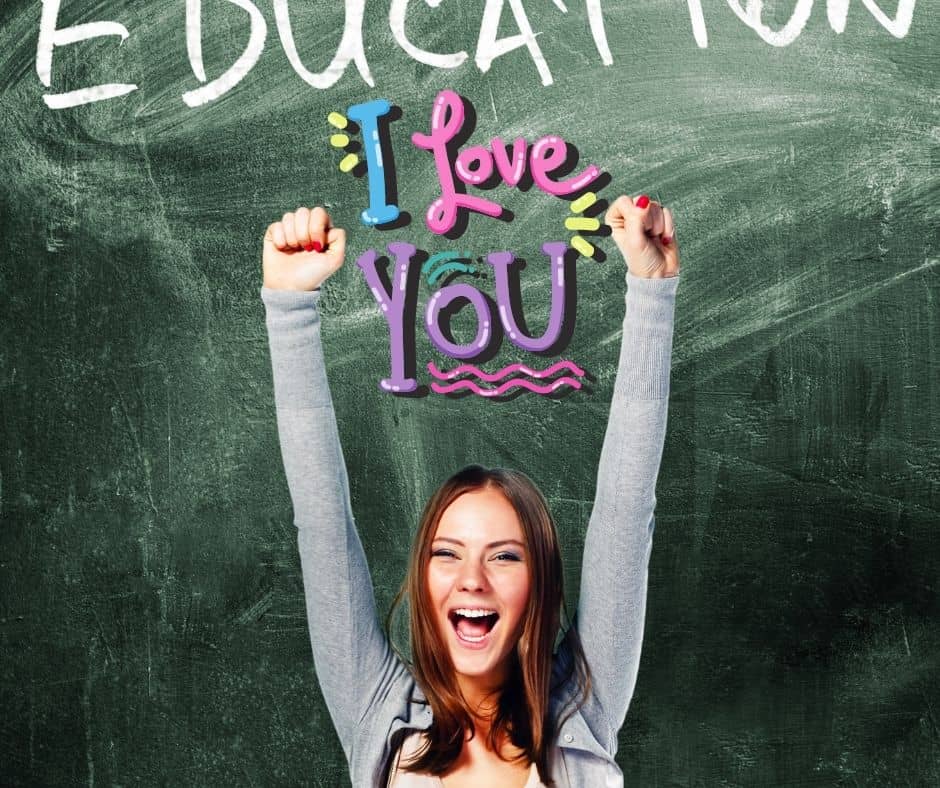 A certain percentage of students will always enroll at your college, which is why you want to leave your Apply Now process visible. These students may have had a parent or sibling attend your college or have researched on his or her own and are ready to enroll. However, a more significant percentage of students need to better understand your institution's value before applying, make it easier for people to learn more about your college.
Once you have captured the person's information, your college or university can tell its story and build value by using a communication sequence.
Your college or university is probably already doing this with public relations and social media. It is time to integrate your value-building messages and share them with prospective students using email, text, and phone calls during the enrollment process.
Create an Enrollment Communication Strategy

Think of this as the breadcrumbs Hansel left in the woods from the story Hansel and Gretel. I am proposing your college create digital breadcrumbs that help tell your college's story, which you will sprinkle through your enrollment journey to help prospective students find their way back to you. Your digital breadcrumbs will also help build value for your institution and differentiate your college from others. You must spread out these communications over time and across multiple channels such as text message, email, phone, and messenger.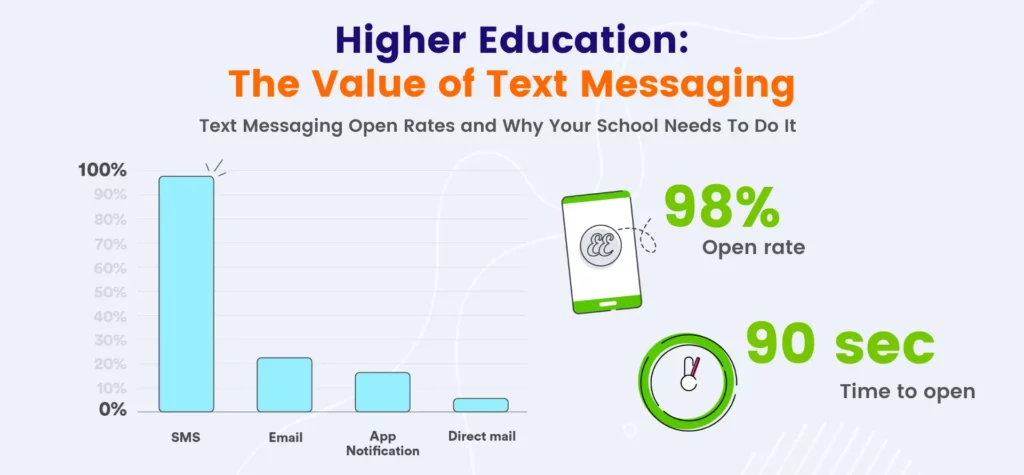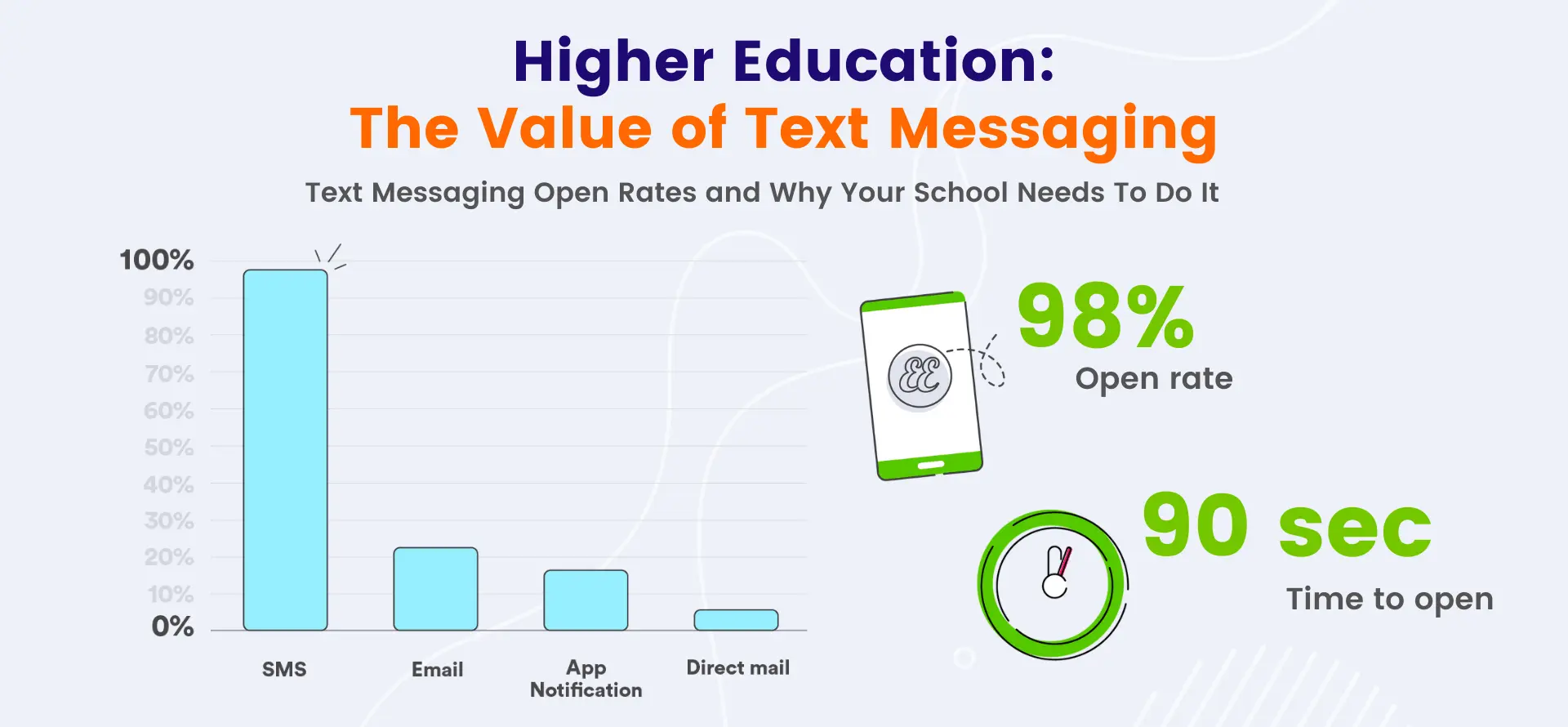 You are not pressuring these students to enroll; on the contrary, you help educate them about your institution and build value for all the hard work your team has done to make it a great institution.
Your college is unique; your staff, professors, and students are special, but how is this being communicated strategically to prospective students?
In-Person Tours 
I've seen so many colleges lean heavily on in-person tours. If you are having students wait until the next available tour date can contribute to your leaky bucket from website visitors to applicants. In other words, prospective students may be leaving your website without engaging with your college because your tour dates are too far out and/or your college hasn't done enough to further draw them into your enrollment process.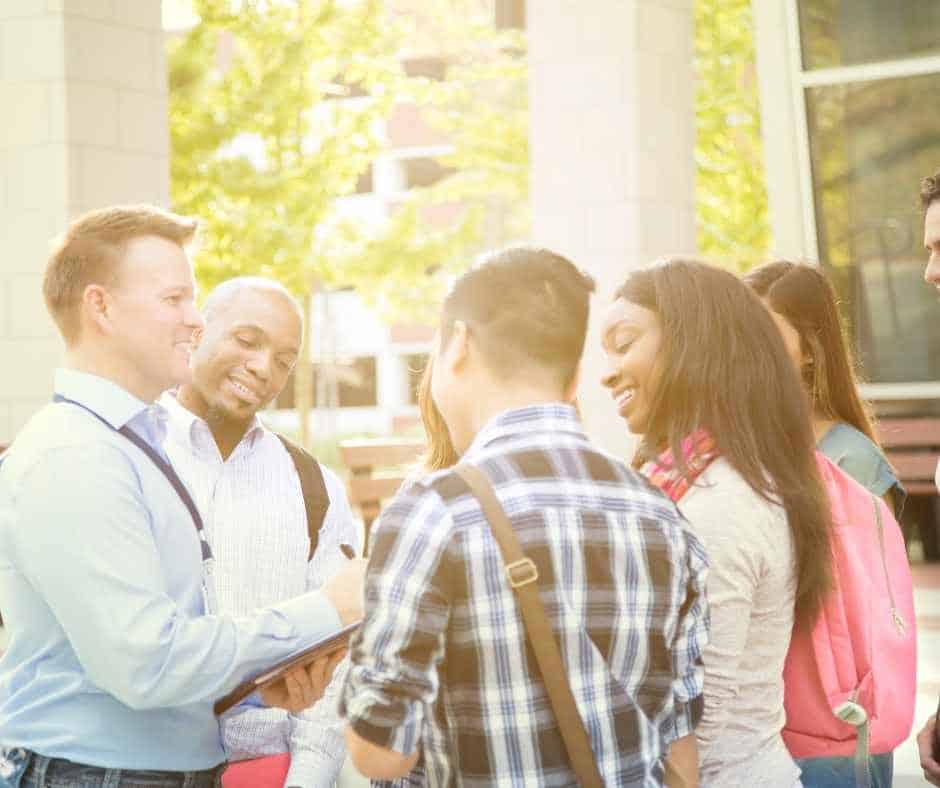 You may not have built enough value for your intuition to inspire students to want to come in for a tour. Imagine you called an Insurance Agent or Financial Advisor, and before this person builds any rapport with you, or before you understand how they operate, their cost structure, these Professionals say, "just come in for a meeting, and all of your questions will be answered." And then the agent hangs up the phone.
Would you go to the appointment? Are you energized to want to learn more, or would you feel a bit discouraged?
I am sure some people would come in for the appointment because this Professional came highly recommended. However, we will not know how many would pass on this opportunity. That's the risk of not getting people to enter your enrollment funnel. You will never know how many people chose to just leave your website without engaging. Maybe it's as high as 50% of people just left before you were able to share what makes your college special.
We also have no idea how many of your website visitors choose not to continue the enrollment process with your institution because they need to come in for a tour too early in your relationship or because your school couldn't clearly articulate what made it spectacular.
Now, back to your college tour. Think about how many prospective students might be disenfranchised by forcing them to come in for a tour before you've done enough value building for your institution. These prospective students need to quickly understand if your college is for them before committing to a tour. Don't push people away because of your built-in hurdles.
Also, the majority of college tours happen in April, long after the early admittance process has already happened. That means these students have already decided on your college when they take the tour, so your enrollment process needs to focus on getting more students through the enrollment funnel without a tour, and then in April these students can come visit your campus and solidify their decision.
If you would like to read about how other colleges are handling tours during Covid, check out this article by Inside Higher Ed, The Return of the Campus Tour. 


How are your efforts contributing to your

school's growth?
Schedule a brief discovery call to receive a complimentary consultation for your school.
What Can We Do Instead?
How Do You Pull these Prospective Students into the Enrollment Process?
One of the best ways to help marshal people through your enrollment process is with a higher education CRM. A CRM system allows you to capture the person's information in real-time and kick-off a set of marketing and enrollment automation.
This marketing automation takes some work to set up, but then it will continue working on weekends, after hours, and over the holiday break. These automations can help your small, but mighty Admissions team do so, so much. Your team will be able to personalize the enrollment process at scale, 24 hours a day, 7 days a week.
When someone comes to your website to learn more about your institution, he or she wants to learn more about your school immediately and NOT a day or two later.
This is important and worth auditing your current process. Prospective students now expect immediacy. If your enrollment process can't provide this, let's chat. 
Is your school able to communicate with prospective students immediately?
Do you have your enrollment journey mapped out?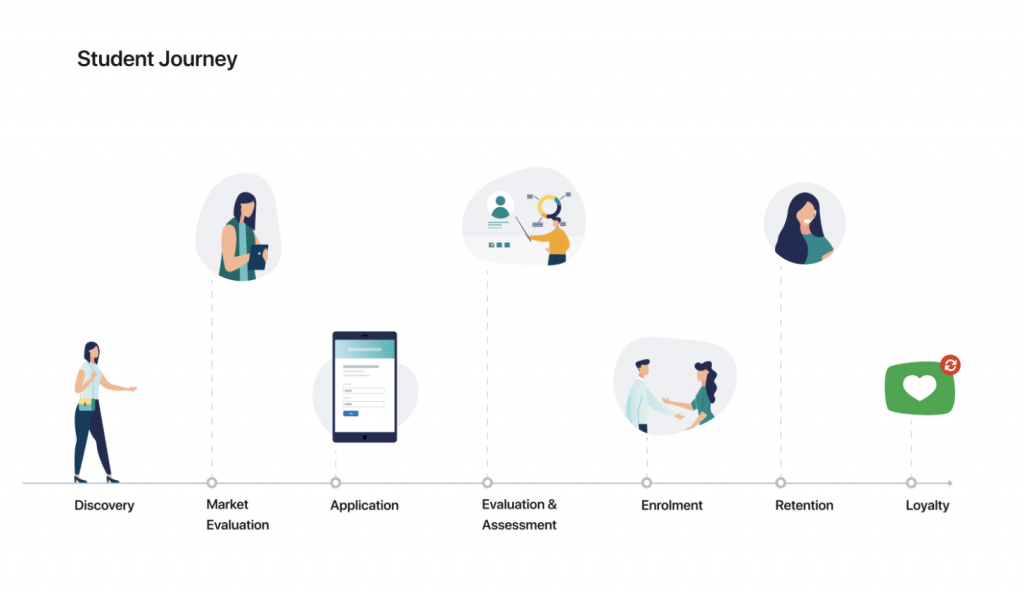 You can put a prospective student on a communication track with a combination of text messages, emails, phone calls, and messenger communications. 
You can, and should, personalize these communications and ensure that no inquiry falls through the cracks.
Your CRM can help you track what channels inquiries came from, so you can double down on what is working and eliminate those channels that are not working.
A CRM doesn't need to be expensive to work! However, even the most expensive CRM will not provide you with enough value if you do not layer in the right strategy and automations on top of it.
When looking for a system, it's important to make sure it will integrate with your student information systems (SIS) as a first step. It's also important to make sure you find a solution that allows you to send 2-way text messages, auto-dialing (if possible), send out videos via email and text, and as an added bonus, no-ring voicemails.
According to the book, Who Gets in and Why, 9 out of 10 colleges buy contact lists of high school sophomores at up to $.45 a contact. If your college buys prospective student lists, it is imperative your college set up a lead nurturing strategy to stay in contact with these young prospective students and continue to build value for your college or university over time. 
If you set up your CRM correctly, you can ensure no inquiries fall through the cracks and that people are progressing through the funnel at a reasonable rate.
Inquiries Fall Through the Cracks 
Throughout my Higher Ed career, I have done hundreds of secret shops, and I have personally applied to many colleges. Time and time again, my request for information would go unanswered, or I would receive a single email acknowledging my information was received. At times, I would receive a mailer a few weeks later.
As far as the school knew, I was a prospective student interested in attending their college. Imagine how someone on the other end of this type of communication feels. This is why some schools with poorer outcomes and higher tuition can enroll more students than your institution. These other schools might have offered a better and more engaging enrollment experience.
Let's remove the hurdles wherever we can. We owe it to these students. We need to better empathize with our prospective students and ask ourselves, are we doing enough to show them that we care? What else can we do to help him or her through the enrollment process?
How to Improve Your Enrollment Experience?
If you want tips on how to turn more website visitors into inquiries, be sure to check out this article about improving your college website conversion rate. These tips will help you get more visitors into your enrollment funnel. You must capture their information, so you can then communicate with him or her and build value for your institution. As mentioned before, if the person leaves without engaging with your institution, then the relationship may have ended before it began.
Create a Lead Nurturing Email and Text Message Sequence
Lead nurturing is the process of developing relationships with prospective students at every stage of their decision process. The focus should be on understanding your prospective student's needs and putting him or her on a communication track that will help answer their questions about your college and build value for your institution.
You can put people on different tracks. You can put prospective nursing students on a different track than business students or undecided students.
Imagine you sent communications that said it's ok to be undecided. That's what college is for! We are here to help you figure out what is important to you, what you excel at, and to help you find your place in this world. And, then you provide support on how you would do this for them.
Your communication sequence should include a mix of text messages, emails, phone calls, and messenger communications. You may be able to eliminate direct mail or only send a unique piece at a certain part of the enrollment cycle. Imagine the savings and benefits to the environment. 
Here Is an Example of an Email Sequence: 
When a new inquiry comes in, send out a fantastic first email the moment their information is submitted.
Then also send out a text message or two within 1-10 minutes of their submission. And hopefully engage in 2-way dialogues with prospective students.
Within 24 hours, follow-up with a phone call.
Then over the course of the next few weeks, you will send a set of communications that tell your college's story, build value for your institution, and help communicate why someone would want to enroll at your institution.
However, it's important to test if text messages or phone calls work better for your type of student. If you find text messages work better, then continue to refine your text message communication strategy; layer videos such as student testimonials, welcome messages from Professors, a day in the life of a student video, polls/surveys, and so much more.
Again, your team will need to put on its Optimization Hat and test different communication tactics to see which ones resonate with your students. Maybe videos resonate more with nursing students, while more engagement opportunities resonate with business students.
What is the right sequence for your text messages?
What information will you convey?
To dig into a specific example mentioned above, what if your college sent a 30-second video by text messages (SMS or MMS) about what makes your college special, or an introduction from a popular Professor covering some exciting material?
Text messages are opened at a 98% text message rate. If you send something engaging and valuable by text message, it's almost a sure thing it will be seen.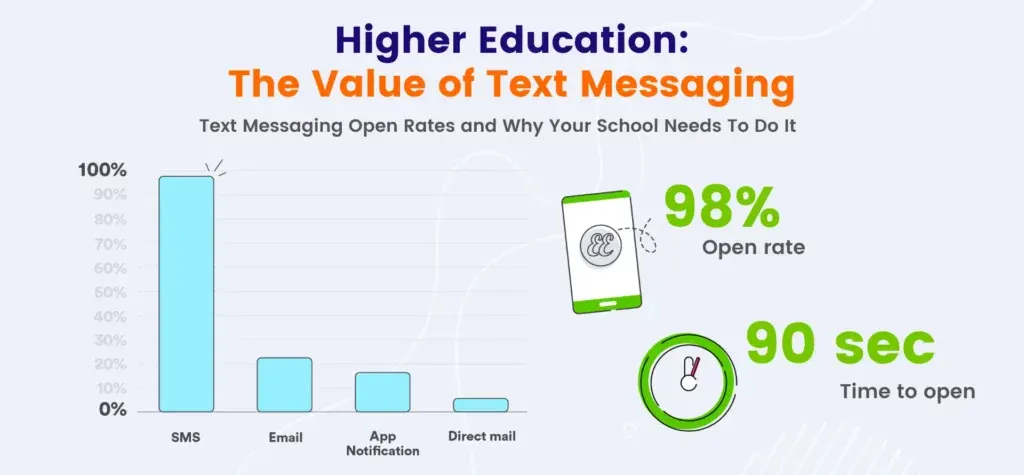 You may think this is too much.
But, let's look at it this way if the prospective student came to your website to learn more about your school, and your communications are focused on helping him or her learn more about your school, and you are adding value with these communications, then it is not too much. Wow, that's a run-on!
If you start sending tons of apply now communications, then it probably is too much.
Send Engaging Communications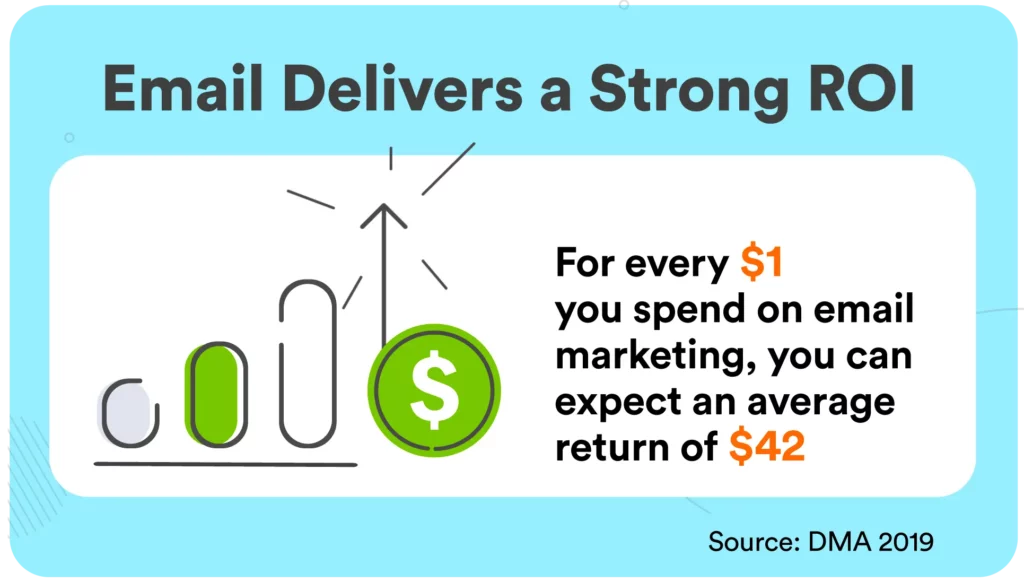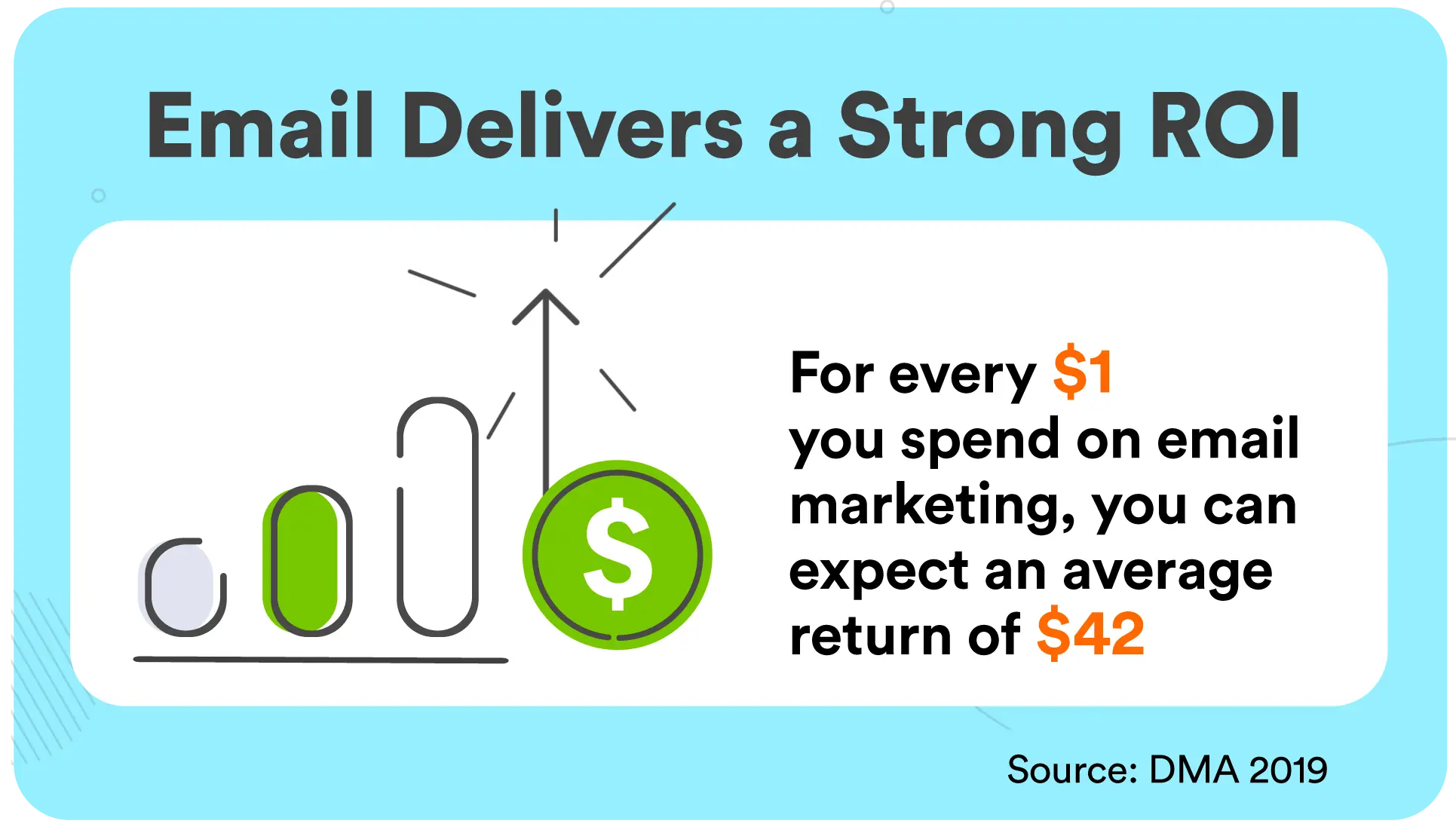 Send your prospective students a few great videos via text message called MMS or a link to a video using SMS.
Or send them a few visuals that can help differentiate your school while building value and being welcoming.
Each touchpoint you create needs to have a purpose. Ask yourself, is this communication adding value?
Here are some example text topics to inspire you:
Communications differentiating my school (what makes your school special?)
Building value, sharing your social proof
Creating an inclusive and welcoming environment
Helping to answer their questions and objections
Video introductions from Financial Aid, Student Support, Orientation, Professors, Admissions Staff, Dean, College President, etc. 
You can also send out text communications to communicate:
Specials or Deals (no application fee between these dates or if you attend a webinar)
Upcoming local events (networking opportunities)
Enrollment deadlines (sparingly)
Financial aid deadlines (sparingly)
Webinars
Brand-building communications
Covid updates
Safety updates
Referral requests
Survey requests
and so much more
If you are using a Higher Education CRM, then that CRM should be able to cue up all of these communications and automatically send them out.
Yes, your staff will be able to focus on other things, while your Marketing Automation does all the hard work!
This way a prospective student never falls through the cracks, and hopefully, never feels like they are just a number. You create a consistent brand experience. Tell your story in a compelling way; in a way, more people see it and impact your enrollment yield.
Avoid Transactional Communications 
Try to avoid transactional communications where you say things like Click Here to Apply; these communications are not adding value to prospective students. The goal is to aim for more informative and brand-building communications. Try not to miss opportunities to reinforce what makes your college spectacular.


Check out this video I created for a fake university called Ellery University. I created this video to be shared via text message through MMS. I created this as an example of what your college can send students to keep them motivated throughout the enrollment process. Sometimes if there are enough hurdles, you can feel despondent and need a bit of encouragement to keep going.
Why not send videos just like this throughout your enrollment process? 
If a prospective student is stuck in a certain part of the enrollment process, let's say financial aid, why not send them encouraging and informative communications on how to overcome this hurdle.
Consider sending a personal video from your Financial Aid officer to your student about how to fill out a certain portion of the FAFSA or what happens next in the financial aid process.
You can send encouraging videos all along the enrollment journey.
If you are using a Higher Education CRM, then that CRM should be able to cue up all of these communications and automatically send them out. Yes, your staff will be able to focus on other things, while your Marketing Automation does all the hard work!
This way, a prospect never falls through the cracks. You create a consistent brand experience. Tell your story in a compelling way; in a way, more people see it and impact your enrollment yield.
The challenging part is developing the strategy, setting up the integrations, and triggers. Once that is done, then the automation can take over like a well-oiled machine.
If you would like to set up a brainstorming session, please schedule some time on my calendar. Schedule a 30-minute discovery call.
The Time is Now. It's Time to Right the Ship.
Types of Consulting Engagements
High-level strategy consulting where your team implements the recommendations
A hybrid mix of strategy and some implementation, including automation triggers
We help to create your entire enrollment strategy, write and design emails, set up automation, etc.
Now is the time to reimagine your enrollment process, improve your yield, drive more tuition revenue, and most importantly, make it easier for incoming students to select your college. Students want to pick a college to attend; help make this process easier for them. Then continue supporting them throughout their college experience.


How are your efforts contributing to your

school's growth?
Schedule a brief discovery call to receive a complimentary consultation for your school.
Learn More About Us