Here it is! My top prediction for higher education in 2022: microcredentials.
You may be surprised, but you shouldn't be. Over the last few years, the popularity of non-degree coursework has skyrocketed—think CNA (Certified Nursing Assistant) programs or project management certifications. Two out of five working Americans now hold at least one non-degree, post-secondary credential.
There's a gap between the skills workers possess and what employers want. Major players like Google, IBM, and Microsoft are stepping in to help reskill and upskill American workers, but the microcredentials market is far from saturated.

As the de facto educational powerhouses of our society, it's up to colleges and universities to lead the microcredentialing charge. In this article, I'll answer common questions about microcredentials, touch on their benefits and downsides, and explain how your university can get started with non-degree programs.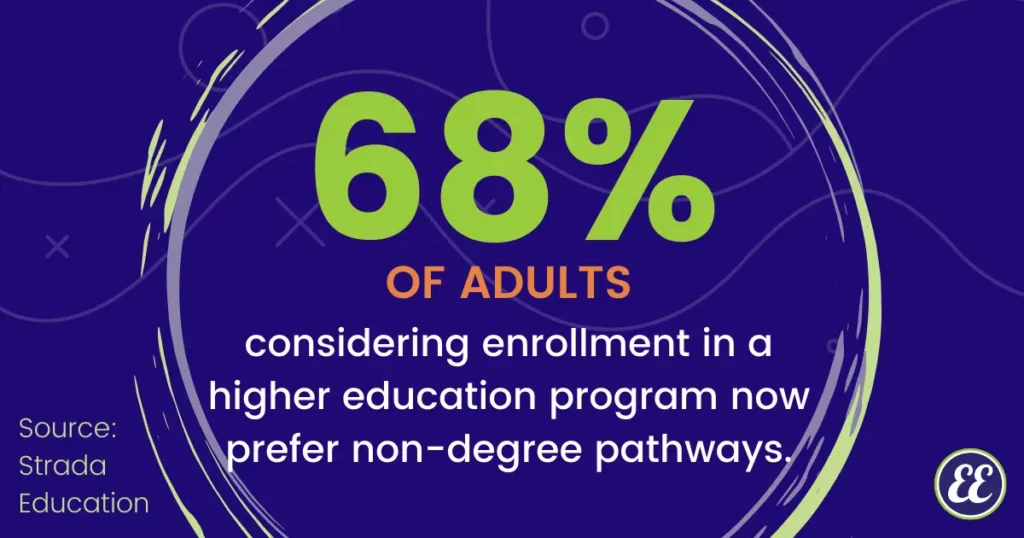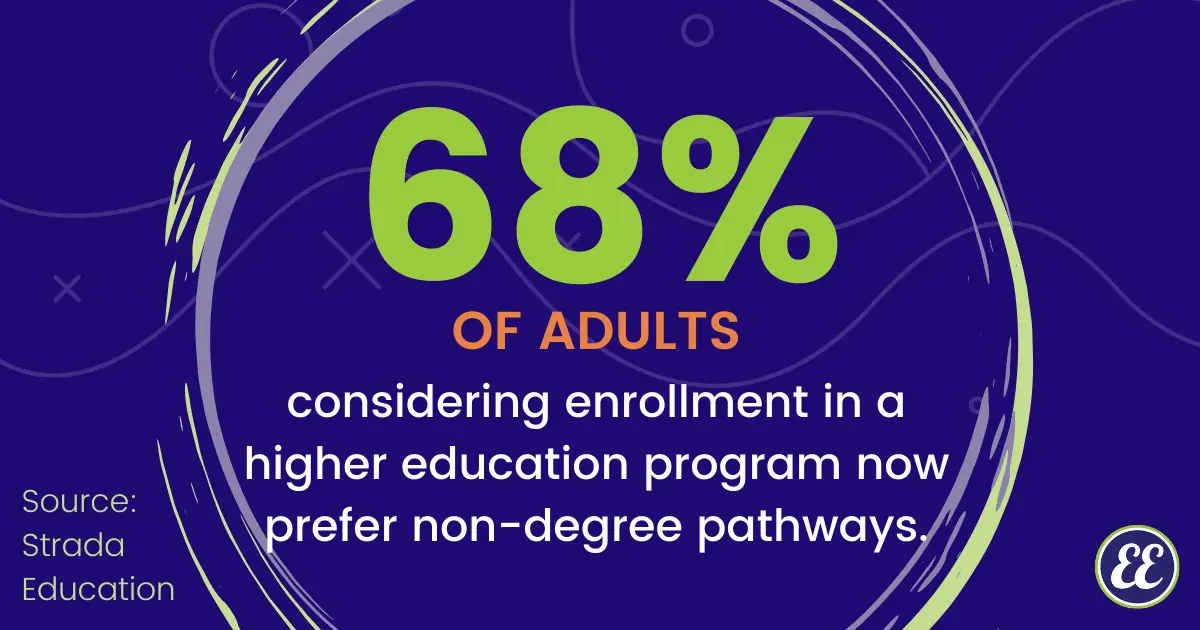 What are microcredentials?
Microcredentials are non-degree certifications that describe proficiency, knowledge, or experience in a specific subject area. They can be awarded by public or private institutions, cover a wide range of topics, and be either hard-won or easy to acquire.
The latest data shows that 68% of adults considering enrollment in a higher education program now prefer non-degree pathways. While non-degree credentials aren't yet competitive with a bachelor's in terms of earning potential, they yield similar job satisfaction and they're much less expensive. They're also becoming more and more common.
By some measurements, the pandemic forced businesses to squeeze an entire decade of technological adaptation into the span of ten months. Work from home is only a piece of the puzzle—many companies also invested in new software, advanced technology, and automation.
The result? A totally new corporate landscape. Employees needed to be upskilled and managers had to find scalable, cost-effective, individualized ways to train them. In short, the pandemic created the perfect storm for microcredentials!
You may think microcredentials are just a flash in the pan, but consider this data:
From 2013 to 2019, the number of Americans who consider a college degree to be "very important" dropped from 70% to 51%
In 2019, the American Community Colleges Association reported that community colleges issued a total of 852,504 associate degrees and 579,822 certificates
Microcredentials are gaining traction across a broad spectrum of industries, with healthcare leading the charge (72% of applicants with non-degree credentials were rated as attractive candidates)
Employers' opinions of microcredentials earned online is also on the rise, from just 40% acceptance in 2013 to 70% in 2021.
As digital microlearning expands, more employers perceive candidates with non-degree credentials as attractive—and more organizations are looking into how they can leverage thought leadership, brand authority, and existing infrastructure to monetize their expertise.
Newsletter Sign up!
Get our best content on digital marketing in your inbox 2 times a month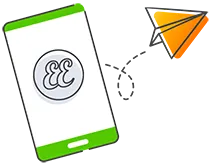 How microcredentials help to upskill and reskill workers
The market for badges and certifications is booming: even tech giants like IBM and Google are offering asynchronous coursework in the form of MOOCs (massive open online courses) on platforms like Coursera and Udemy.
The costs of these programs are astonishingly low—some charge only to administer the final exam—and students believe the courses offer something extremely valuable, something they think traditional degree paths might not give them: work readiness.
Today's students are no longer confident that a bachelor's degree is the best path to a steady job. They've heard the siren song of Bill Gates, Steve Jobs, Elon Musk, and other billionaire tech gurus who have seen plenty of success without college degrees.
Those figures may constitute a successful minority, but tech companies are trendsetters. Their decisions make waves. Microsoft alone is investing big money into upskilling and reskilling 25 million workers worldwide.
The goal of this initiative is to:
(1) Use data to identify in-demand jobs and the skills needed to fill them
(2) Help people develop those skills through free content and learning paths
(3) Offer certifications and job-seeking tools help upskilled workers find new jobs
Despite a record number of students attending post-secondary institutions, it's estimated that 6 million skilled jobs could go unfilled by 2030 due to a lack of qualified talent.
The workers of tomorrow need credentials to qualify for job openings, but the future may mean showcasing those credentials through a certificate instead of a bachelor's.
Why should colleges and universities focus on microcredentials?
Students want high-paying jobs. American workers want to be upskilled. Neither of those things are new—what's changed is how opportunity is perceived.

Microcredentials are being used not just as a degree replacement, but as a way to augment and supplement previously existing degrees and skill sets. A bachelor's or master's degree is a huge investment, both in time and money, but a microcredential can yield career opportunities more quickly and at a lower net cost.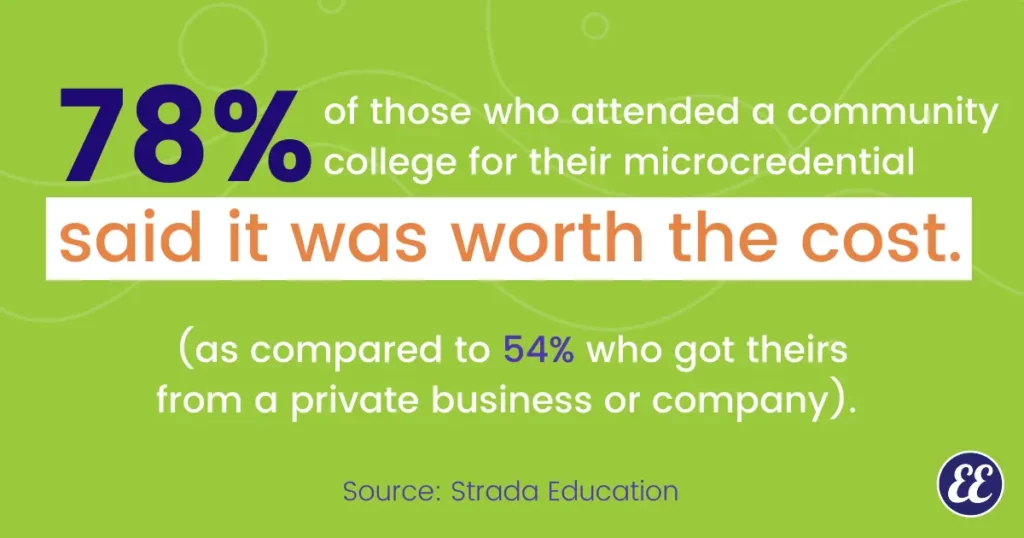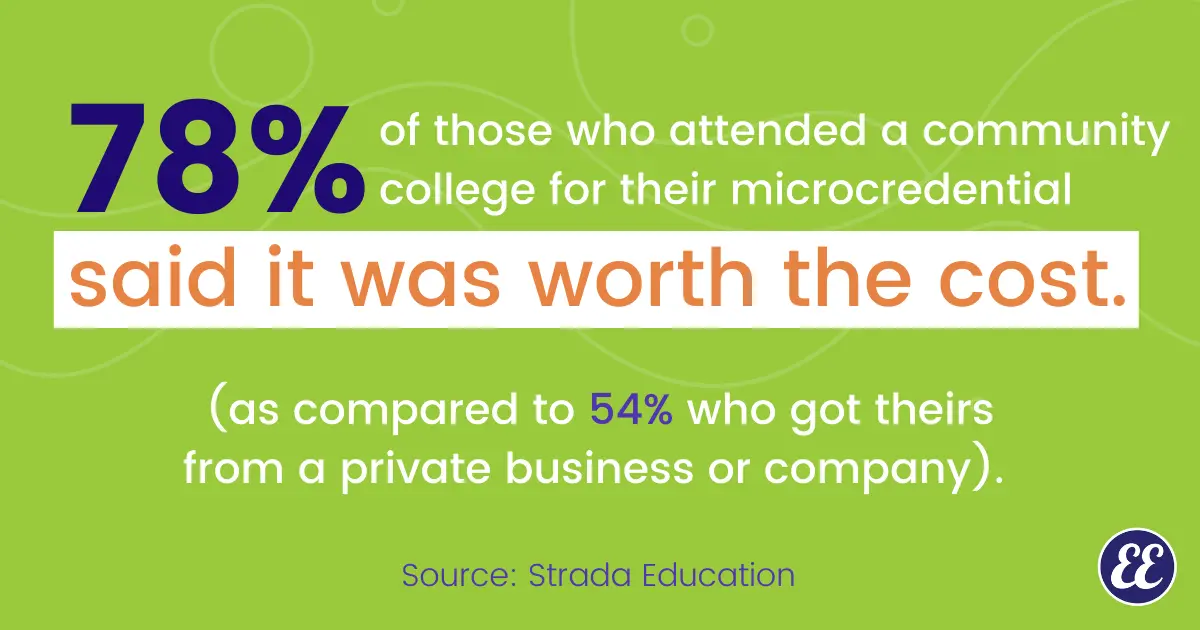 Still, microcredentials are nothing new. Community colleges and vocational schools, as well as a few choice universities, have been offering them for a long time. (Shoutout to Yale, which offered the first certificate program over 200 years ago!)
In fact, non-degree credentials issued by community colleges have consistently been rated as the best for quality and value. 78% of those who attended a community college for their microcredential said it was worth the cost (as compared to 54% who got theirs from a private business or company).

New trends are emerging. Just take a look at these statistics:

Applications for certificate programs have doubled since 2019
Vocational programs have seen more than a 50% increase in applications
Nearly half of degree-holders have also completed non-degree programs

The British Columbia Institute of Technology is a prime example of just how popular microcredentials have become. They recently piloted a non-degree program intended to provide students with an "à la carte education" and a "custom set of skills."
They originally anticipated enrollment of about 150 students to start, but they quickly ended up with five times that number. Even higher education institutions at the forefront of experimentation and adaptation have fallen well behind the pace of student demand for non-degree pathways.
Here are some quick stats on microcredentials:
The median income for those who completed a certificate program lasting at least one year was $58,000 (almost double the national average)
The labor market outcomes of microcredentials are similar to those of a two-year degree, but job satisfaction is higher
Half of workers with microcredentials report it as their highest level of education
When you spend a lot of time in the sphere of higher education, it's easy to forget a simple truth: at the end of the day, your school is selling a product just like everyone else.
With the public perception of advanced degrees flagging, companies like Google breaking into higher ed, and the reshuffling of priorities surrounding the pandemic and the Great Resignation, now is the time to demonstrate your value. Microcredentialing programs are a great way to show students that you're putting their needs first.
Microcredentials have the power to open up higher education
It's well-known that colleges and universities are privileged institutions. While recent years have seen a lot of progress on the diversity front, microcredentials are on track to accelerate access to education for historically underserved populations.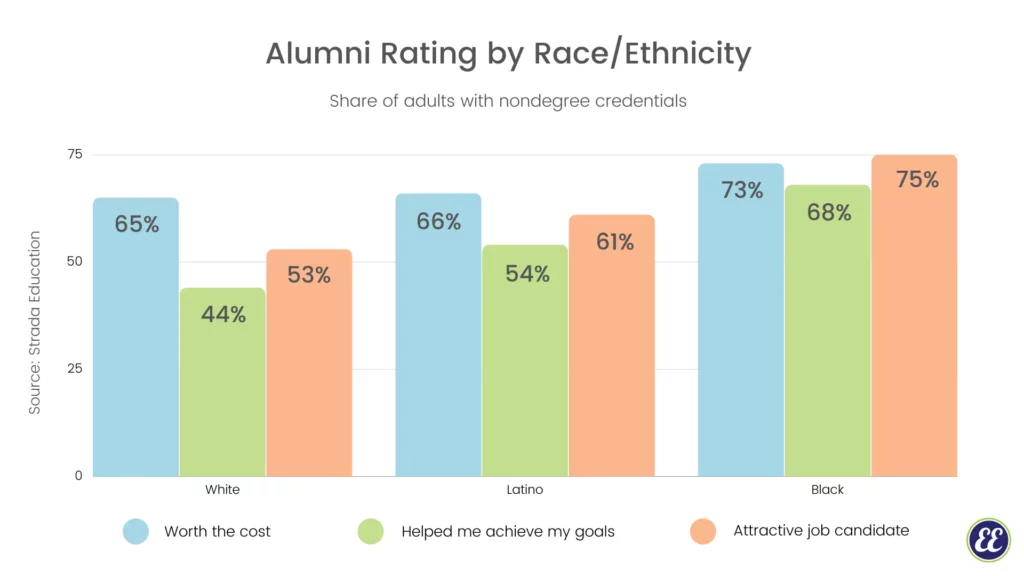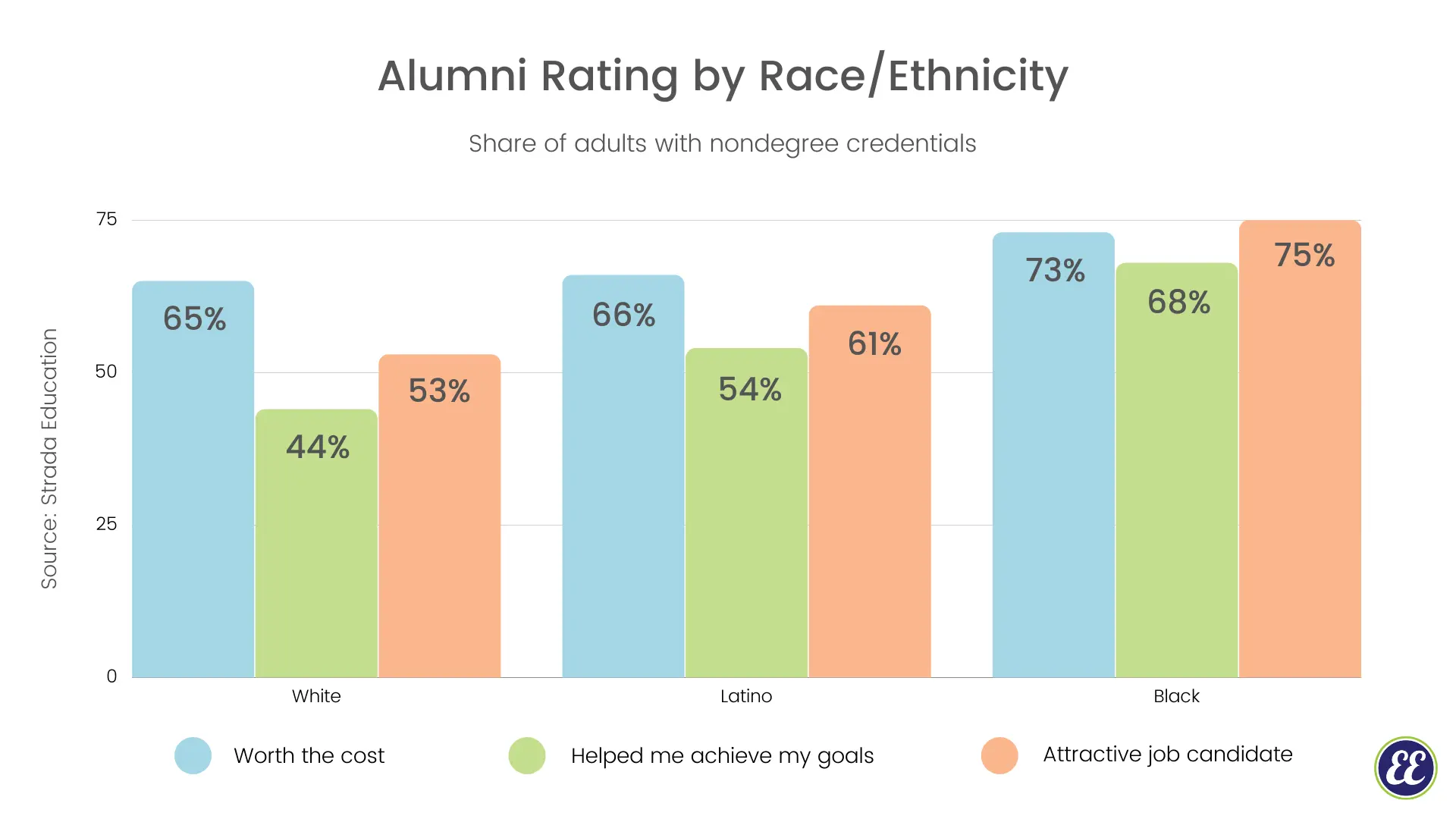 Among Black Americans with a non-degree credential:

71% said it helped them achieve their career goals
75% were rated as attractive job candidates
73% said it was worth the cost
Latinos also positively rated the value of microcredentials, whereas white Americans (who are also significantly more likely to obtain a four-year degree or higher) rated the value of microcredentials lowest—44% said a microcredential helped them achieve their goals, 53% were rated as attractive candidates, and 65% felt it was worth the cost.
It's also worth noting that men rated the value of non-degree credentials slightly higher than women. When it comes to microcredentials, the gender gap is alive and well: women are concentrated in low-wage sectors such as cosmetology, education, and healthcare, while men tend toward middle-income trade jobs like construction and transportation.
How your college or university can implement microcredentials
The first step is to identify what gaps your organization can fill. It's important to connect your course content directly to job outcomes—what good is a project management certification that doesn't prepare you to sit for the national exam? You want to focus on providing programming options that correspond to actionable outcomes.
Indeed.com, an employment site for individual job seekers and companies alike, put together a list of the most in-demand certifications right now based on data collected from millions of job postings.
So what are the top 10 certifications according to a major jobs marketplace?
Project management certifications
Business analyst certifications
Supply chain certifications
Marketing certifications
Skills trade certifications
Human resources certifications
Sales certifications
Accounting certifications
Computer network certifications
Healthcare certifications
Newsletter Sign up!
Get our best content on digital marketing in your inbox 2 times a month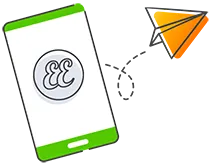 It's likely that your college or university is already set up to provide microcredentials in at least one of these categories. Whether your organization offers a nursing degree, has a business school, or teaches communications, you're prepared to start building a certification program today.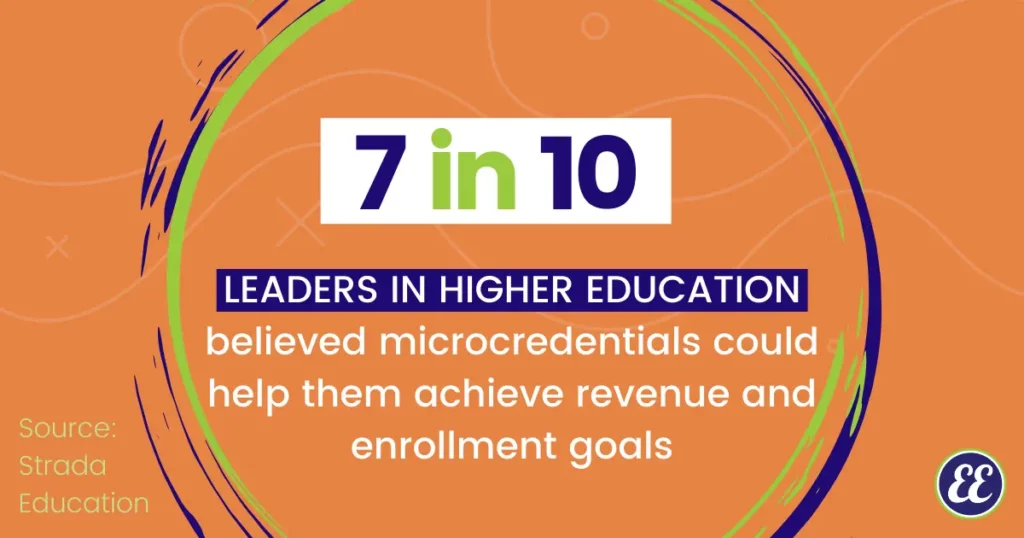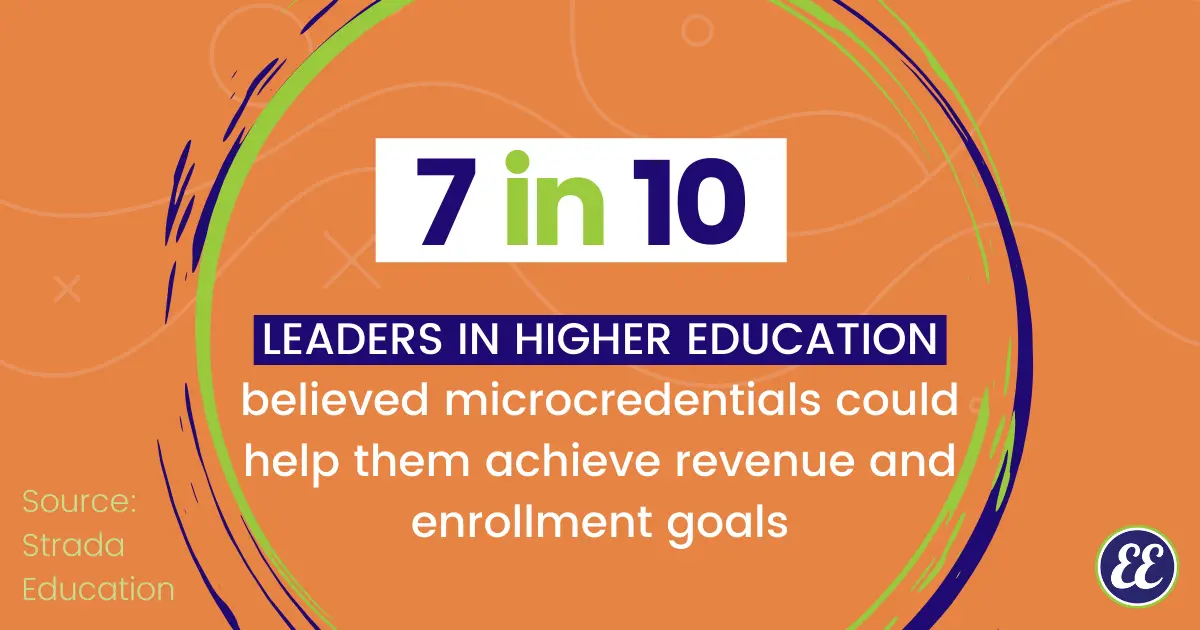 Instead of thinking about higher education purely in terms of advanced degrees, it's time to offer students the opportunity to earn specific certifications that will enable them to get jobs in their desired fields quicker and more cheaply.
But microcredentials aren't only good for students. A recent survey found that 7 in 10 leaders in higher education believed microcredentials could help them achieve revenue and enrollment goals. Everybody wins!
(It's also worth looking into how you can use non-degree offerings to incentivize additional coursework. As part of a certificate package, Duke University offered enrollees 10% off tuition if they chose to pursue a degree afterward!)
Leverage your school's community connections to improve reach
As you consider offering microcredentials at your college or university, another important inroad to consider is what community partnerships are available to you.
IUPUI is a great example. It's a one-of-a-kind partnership between two Big Ten universities, Indiana University and Purdue University, intended to bring the residents of Indiana more upskilling opportunities.
They worked in conjunction with Next Level Jobs, a local jobs training resource, to expand access and opportunity across the state.
The certifications added to the Next Level Jobs initiative include medical coding, multi-device development, and applied information science. Indiana University and Purdue provided the instructional chops to get the programs off the ground, then Next Level Jobs spread the word and made those programs more accessible to everyday folks.
What community partnerships does your school already have? Who can you team up with to do better? Answering these questions will help you start your microcredentialing journey on the right foot.
Who in higher education is already offering microcredentials?
Of course, no great initiative starts from scratch. Here are some other higher education institutions which have begun to offer extensive online microcredentialing programs:
MIT (listed on Udemy and Coursera)
Bisk (via their website)
edX (via their website)
Get Smarter (via their website)
You can also take a look at these certificate programs:
Texas A&M University (Fundraising Leadership)
University of Maryland at College Park (Data Science and Business Analytics)
Saint Louis University (Medical Cannabis Science and Therapeutic Management)
Across the country, leaders in higher education are recognizing the power of microcredentialing programs—both as a way to invest in creating better student outcomes and as a tool to drive enrollment.
As you can see, there's immense institutional opportunity surrounding microcredentials… but what are the downsides?
What are the downsides of microcredentials?
I don't want to present microcredentialing as a silver bullet that will solve all your school's operational woes. There are downsides, the most significant of which are that the pricing for microcredentials programs can vary widely and they drive less revenue per capita than a traditional advanced degree.
Because coursework for non-degree credentials can last anywhere from a few weeks to a couple of years, different programs have wildly different costs. That has to be factored into your marketing—if your cost per acquisition for a student is too high, you could actually lose money on a cheap microcredentialing program unless you adjust your tactics.
Quicker graduation also means that enrollment may not be once a year (or even twice a year). You'll have to be prepared to deal with a more rapid student life cycle, plus the opportunities and challenges it presents—you'll get more inquiries, which means more exposure and potentially more enrollments, but you absolutely need a streamlined system to understand where each of your new students is in their journey.
That means more than just quality courses. You need strong communication.
In short, you need to know:
Pricing models for your microcredential offerings
How much a nonstandard course offering will actually cost you
What you'll do to make sure your new students have everything they need
Most colleges and universities aren't nimble, but shorter course offerings require you to be fast on your feet. You have to be able to handle student journeys that last a few weeks or months instead of four or more years.
When is the last time your university updated its student personas, created student journey maps, or did student qualitative research?
Start adapting today, drive revenue and enrollment tomorrow
Dealing with change as an individual is challenging enough, but trying to align an entire college or university with the rapid pace of change in today's economy? That can seem downright impossible.
Luckily, you already have the tools you need to start building certificate programs.
Educators? Check. Students? You've got those. Curriculums, software, infrastructure? I'm laying them up so you can knock them down. All you have to do is prepare your students to thrive in a world that's constantly evolving—how hard can that be?
(And P.S.—if you need help, I have over two decades of experience with marketing in higher education. You can reach out to me any time for advice.)