Our Focus is on Driving Your College More Enrollments
We are Ed Tech Experts 
We believe in data, data unification, and automation to grow enrollments. We stay on top of trends, so you don't have to.  Lean on our 20-years of Higher Ed experience to improve your process, strategy, and execution. 
We Help to Solve Business Problems 
Let us help your team leverage technology to transform your enrollment process and marketing strategies. You will be able to improve your demand-generation efforts, nurture promising inquiries allowing you to better connect with prospective students and enroll more students. 
What business problem do you need to solve? Schedule a Consultation and we will talk through your needs and come up with a solution together. You may not need a new piece of technology, you may need to tweak your process or better utilize your current technologies. 
Data Unification
We will help you unify your applications and 3rd-party services, so you can get to your insights quickly and you can rely on their accuracy. 
Have the right strategy is just as important as having the right technology.
This is what makes our agency unique and able to meet you where you are at now. We have the perfect combination of data-centric focus with a deep, deep understanding of students and what motives them to act. Let us help you activate more prospective students and help them move along the enrollment funnel.  We also evaluate 3rd-party tools and services on your behalf. 
Want To Boost Your Sales?
We help to identify friction points in your marketing and sales process to create better experiences for prospective buyers. And we delight them, turning them into brand evangelists.
Types of Technologies We Can Help Your College With: 
Admissions Enablement Tools 
Social Media Comment Guards 
User-studies (with video)
and, so much more.
If you're interested in marketing automation,  enrollment automation, or a CRM selection please let us help.  We not only help you select the right technology for your needs today and in years to come; and we also help you set the technology up correctly, including the communication strategy and your lead nurturing efforts. 
Most CRM's and technology apps fail because of poor implementation and a lack of business process and change management. We will help you through all of this. Our goal is to ensure your technology dollars are put to good use and you have a plan for how this new technology will help you drive additional revenue. 
The Power of Automation: 
Automation replacing time-wasting tasks for Reps allowing them more time to have meaningful conversations with prospects. Plus, automation ensures that each candidate gets the same treatment and experience from your college, creating a great brand experience. Inquiries will no longer be lost or forgotten about.
Only 38% of admissions directors surveyed "met their enrollment goals by the traditional May 1 end of the admission period, and less than half did so by June 1."*
Your Admissions and Marketing Teams Can Automate:
Prospective Student Appointment Follow-ups
Missed appointments to get a prospect to reschedule a new time/date
Inquiry management
Setting parameters for Lead Prioritization
Duplicate rule processing
Phone follow-ups to eliminate the phone chase
Reporting / Admission Analytics
Communication and behavior tracking
Task Management
Assign inquiries/leads based on program, campus location, Rep, or other criteria
Easily change inquiry assignments if someone is on vacation or out of office
Your Reps are Wasting 41% of their Time on Tasks You Can Automate
Research shows that knowledge workers spend a good chunk of their time (41 percent, to be exact) on discretionary activities that offer little in the way of personal satisfaction and could easily be delegated.
Find out how we can help you Leverage Technolgy to free up your team to have more meaningful conversations with prospective students. With marketing automation, it won't matter what day or time the inquiry is created; Friday night, no problem. Your marketing automation kicks in and starts your communication sequence to get the prospective student ready to speak with someone on Monday morning.
Use automation to get leads more enrollment ready when they do speak with a Rep. Set prospects up on a lead nurturing cadence to build value for all that your college or university offers.
Use Marketing Automation to Create Personalized Enrollment Experiences
Watch this 90-Second Video to Find Out About the Power Of Lead Nurturing & Automation
The Next Biggest Trend:
Conversational Marketing Using ChatBots
A Higher Ed Chatbot, also known as a messenger bot is a bit of software we install on your website and/or social media accounts, utilizing artificial intelligence (AI) to speak with your prospective students. We completely customize these bots for you. When a prospective student asks a question from your bot, we help to formulate an answer in an individual manner helping to engage your prospects 24 hours a day, 7 days a week!
88% of online adults are a member of at least one of Facebook's four main platforms: Facebook, Facebook Messenger, Instagram, or WhatsApp.
"Messaging is one of the few things that people do more than social networking." — Mark Zuckerberg, Facebook Founder
Chatbots Help Prospective Students Get to Information So Much Faster!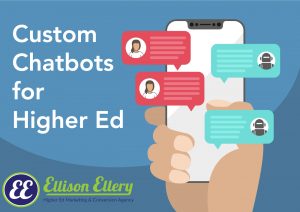 A prospective student can visit your chatbot, ask about your tuition and the chatbot we create for you can actively engage this prospective student in conversation and then direct him or her to the best page on your website.
This can happen over and over again for hundreds of different types of questions, 24 hours a day, 7 days a week! We know students can keep crazy hours, with your new Bots, it won't matter what hours they keep. Your bot will be ready to answer their questions and engage him or her into the enrollment process. 
Schedule a Consultation to discuss how to best leverage technology to grow enrollments!
We Remove Enrollment Hurdles 
We owe it to these students. We need to better empathize with our prospective students and ask ourselves, are we doing enough to show them that we care?
What else can we do to help him or her through the enrollment process?
If you are unsure of what enrollment hurdles your college is unintentionally putting up in front of prospective students then we encourage you to look into our Student Journey Mapping and Higher Ed Secret Shopping.  These are some of the very best ways for your college to figure out its enrollment hurdles and friction points. Once you know what your challenges are, then we can recommend the best set of technologies to address these issues and improve your enrollment experience. 
Schedule a consultation and we will discuss how to best leverage technology to grow enrollments, improve yield, and increase revenue. 
How to Improve Your Enrollment Experience?
We have shopped over 200 colleges and universities, and over 400 programs,  countless primary and secondary schools, and other businesses. We understand Higher Ed, #EdTech, and your prospective students like no other agency.