Leverage Your Faculty Through Leadership
As a starting point, identify which faculty members would be interested in participating, and group them into a content creator's group.
About the faculty member (getting to know a faculty member's accomplishments, personal journey, etc.)
Faculty commentary on an industry event or timely commentary on a news event
Highlighting faculty members and their contributions (humanizing the faculty)
Have faculty suggest topics
Create a video introducing each of your courses and what students will take away from the course, especially if it is a course students find interesting (course promo)
Ask your students to co-host a video with a faculty member
Feature Degree Related Content
New accolades for the program or faculty member
An interesting snippet of a lecture
'Day in the life'
Promote a certificate
Program scholarships
Post about immersive field trips, pitch competitions, job fairs, etc.
Show the evolution of student projects from beginning to end (including their pitch or presentation). This would be a time-lapse video of some sort ( feature when your students stand on stage for a pitch presentation). The more visual you can make these accomplishments, the better.
Featuring interns in their 'day in the life'

Featuring interns' experiences, including what they learned/ took away from

Sharing programmatic blog content
Feature Career-Related Content
For most students, earning a degree is a means to an end. School is the bridge to becoming a nurse, or data scientist, or project manager. Be sure to feature content focusing on the end career in your short-form content. See these examples for inspiration.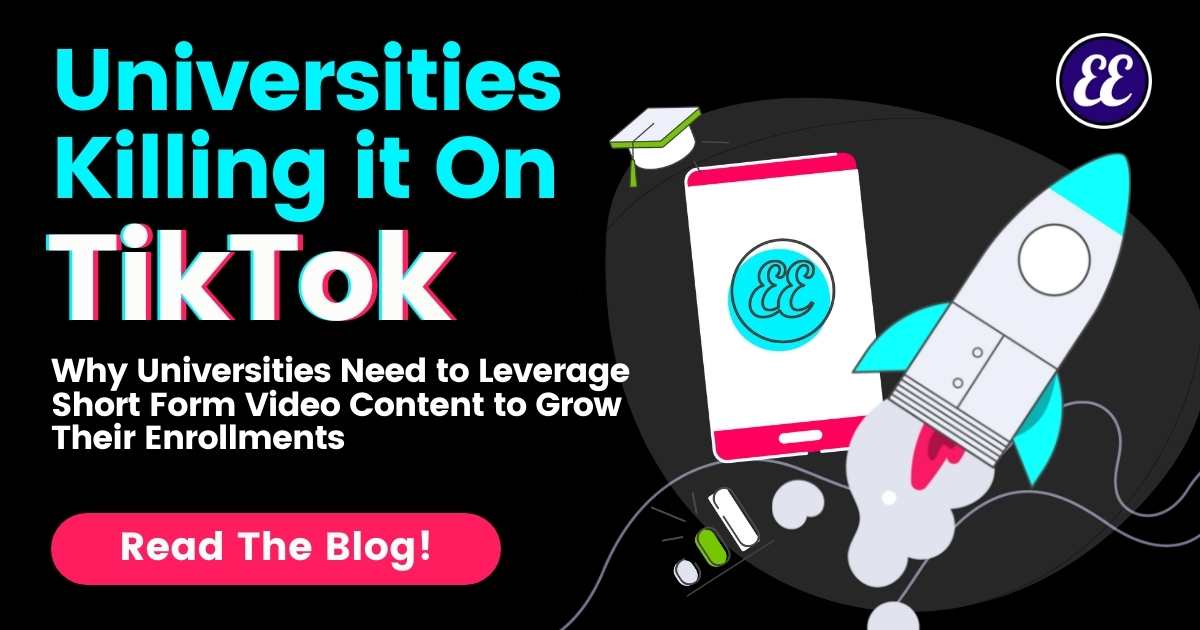 Conclusion: Universities Killing it on TikTok – You Can Be Next!
There's no shortage of venues where you can promote your school, but every marketing ecosystem has its own rules of engagement. You must do the hard work of identifying who your audience is, where they spend their time, and how best to connect with them.
What we've shown here is a collection of tactics, but implementing tactics without a broader strategy is a recipe for failure.
Need help creating a marketing strategy that works for your school? Reach out to our team at Ellison Ellery Consulting, a Higher Ed marketing agency, to learn about our Marketing services—we're always happy to help!