As with any business, it's imperative for colleges and universities to keep a finger on the pulse of what competitors 🎓 are doing… and more and more universities are using tuition discounts to lure in students. In this tuition trends article, we'll break down how these universities are leveraging discounts, scholarships, and grants to drive new enrollments. 
It's important to understand the economic and market pressures driving the tuition discounting trend. If your school isn't running analysis on different pricing strategies then you may be missing out on enrollments now and well into the future. 
Let's dive into how colleges and universities are promoting enrollment despite inflated tuition costs, how they're positioning their financial aid options in the market, and what your college or university can do to keep pace in a rapidly changing environment. (And don't forget to sign up to our newsletter for instant access to the latest higher ed marketing trends!) 
Check our Higher Ed Enrollment Management and Marketing Services!
The Conflicting Forces Behind College Tuition
To understand the current trends surrounding college tuition, we have to delve into how affordability has changed over the last several decades. The cost of tuition is up, but so is the cost of operating a university. The total number of degrees conferred by accredited institutions is trending up year-over-year, but the number of students who pay full price for a degree is down. 
Colleges and universities have to find a way to make sense of these contradictory facts—tuition affordability and job outcomes are of prime concern to students, but delivering a quality education is pricey, and the institution behind the degree must generate revenue.
College has gotten (much) more expensive
Since 2002, the average cost of tuition at private schools has increased by 144%. Out-of-state tuition bills are up 171% on average and in-state tuition has surged by a shocking 211%. 
The price tag of a college education has vastly outpaced wage growth for families and graduates. Yet even as tuition costs swell, the perceived value of a college degree is going down—from 2013 to 2019, the number of Americans who believe a college degree is "very important" dropped from 70% to 51%. More and more students are opting to enroll in non-degree programs, angling to enter the workforce more quickly and cut down on debt.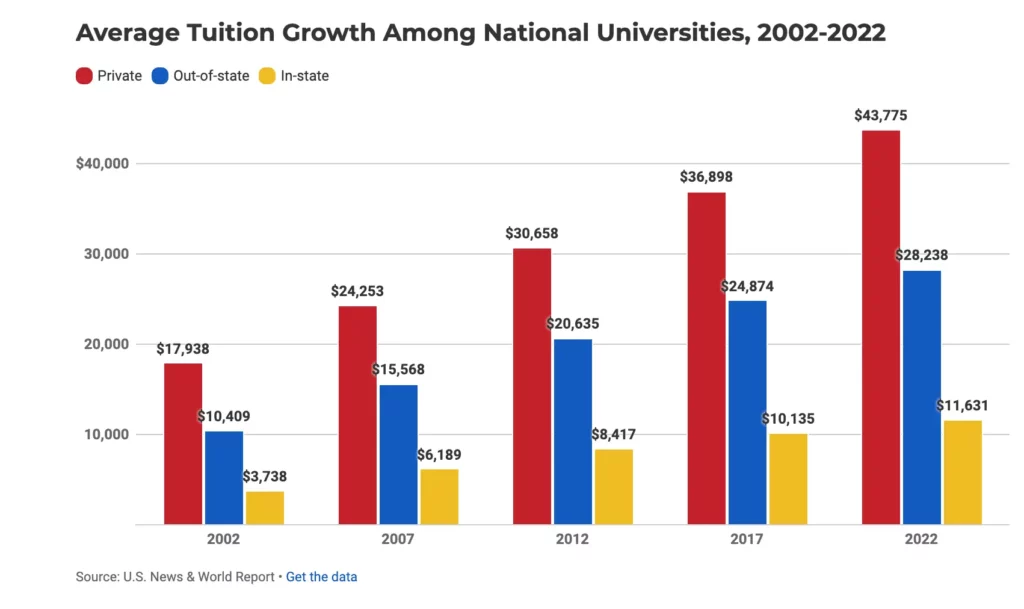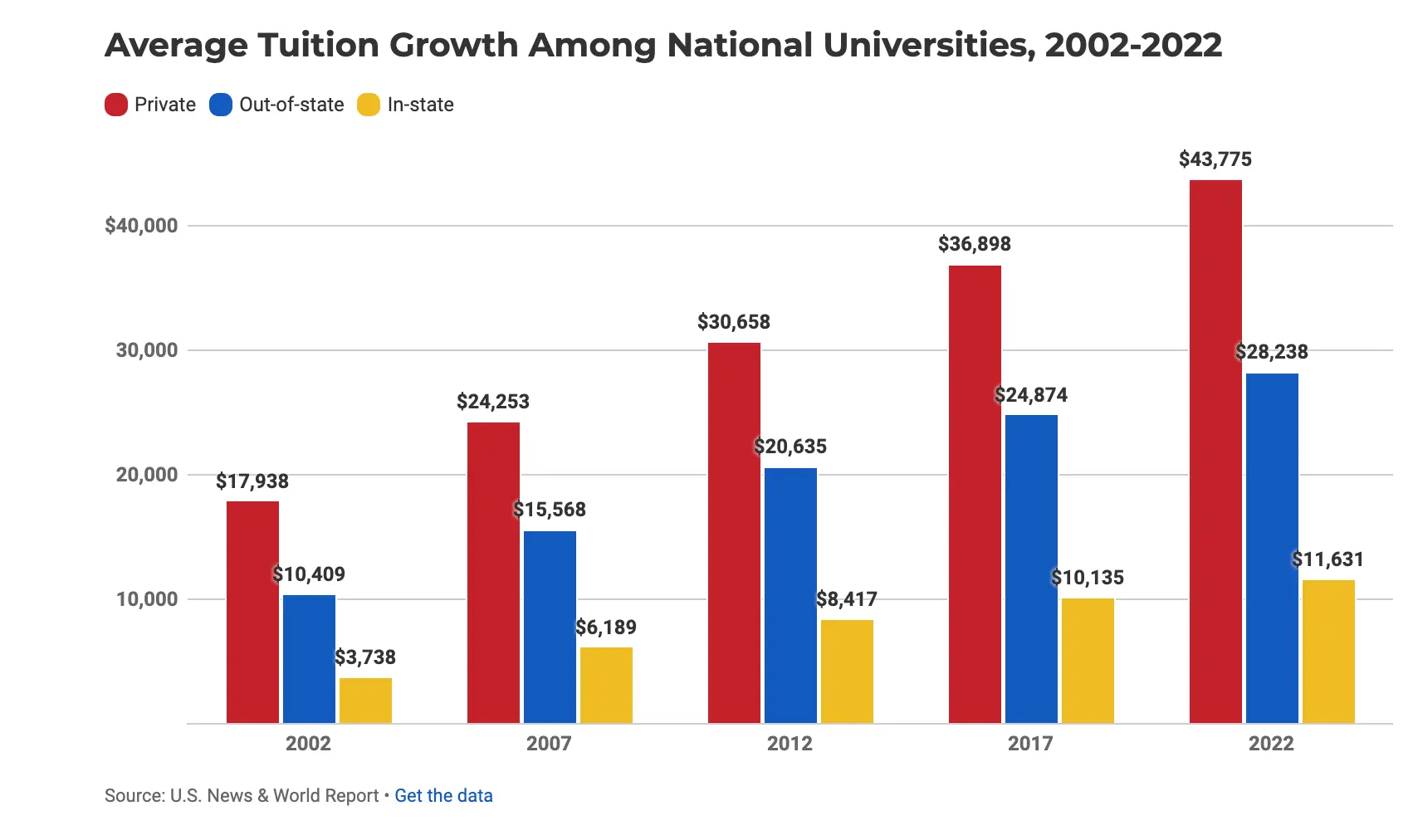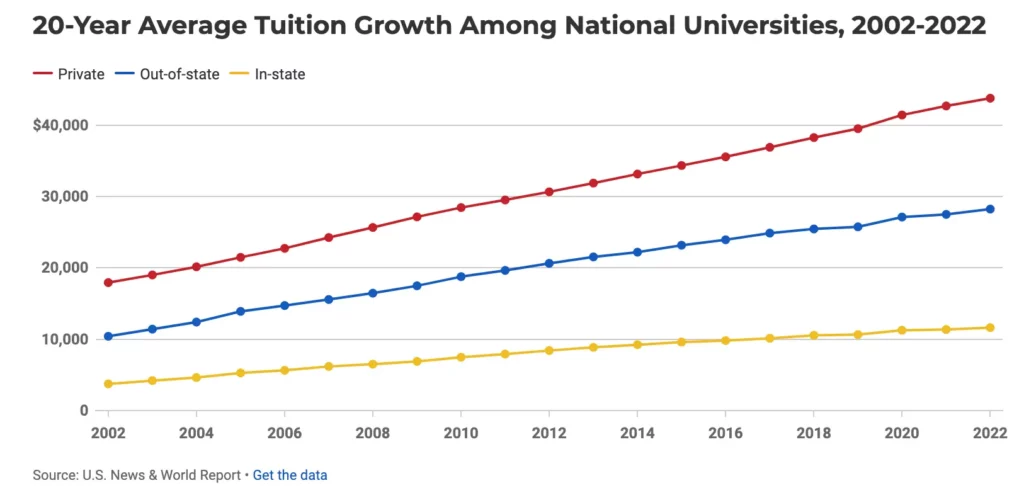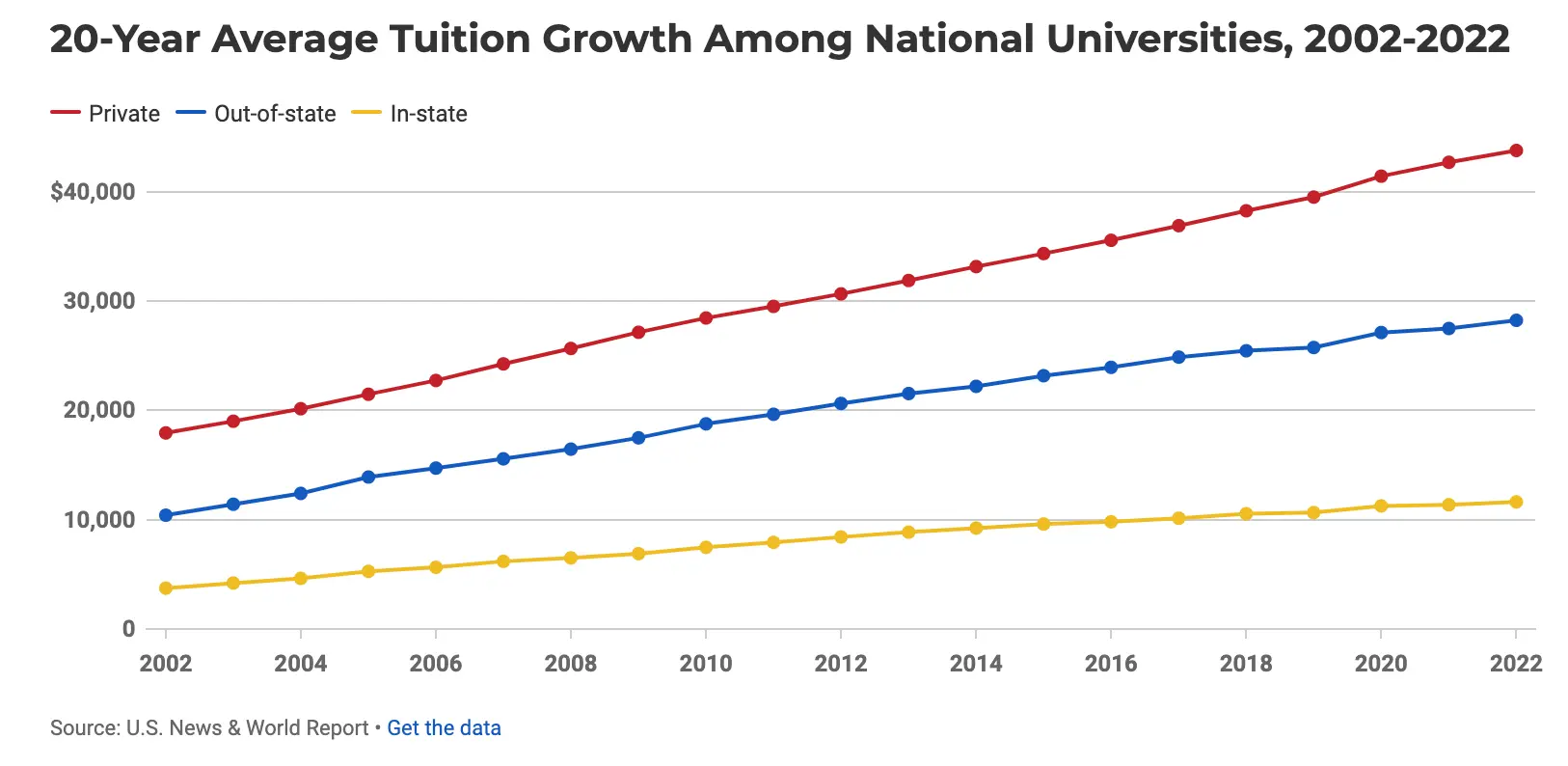 Charts taken from US News article 20 Years of Tuition Growth at National Universities written by By Briana Boyington, Emma Kerr, and Sarah Wood.
To combat the effects of rising prices, most universities have turned to tuition discounts. This may seem like a good idea in the short-term, but what are the long-term effects on revenue and profitability? 
In other words, are you patching your tire when you really need to fix your engine? 
Colleges and universities must brace for new realities
More than two dozen colleges and universities have closed since the pandemic began. In this excerpt taken from Inside Higher Ed, Emma Whitford discusses how rising costs are pushing tuition discount rates into unprecedented territory: 
The COVID-19 pandemic exacerbated already-existing trends, pushing the average tuition discount rate for first-time undergraduates to 53.9 percent this year. Expect discounting to keep climbing even after the pandemic subsides.
This is a complex issue. On one hand, groundbreaking tuition discounts means significantly less revenue. On the other hand, research shows that higher scholarships awards increase the likelihood of enrollment.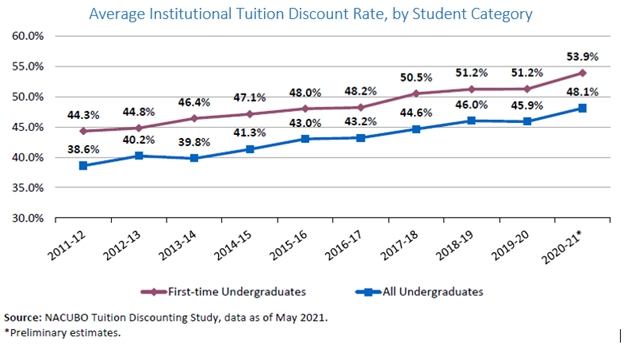 Some universities have been proactive about promoting offers including scholarships, free courses, and fixed tuition rates on social media. Others have crafted entire advertising campaigns around steep discounts.
It's strange to think that the accessibility of higher education, rather than its quality, is now a major driving force behind enrollment, but students' priorities have shifted. Tomorrow's students are wary about protecting their financial futures. They're treating their education as an investment, not as a lifeline, and colleges must take notice of the change in the wind if they hope to recruit successfully.
Check out these additional Higher Ed articles and resources: 
Want to differentiate your college? Think Service. This is an article you'll want to socialize with your leadership team.
How Do Tuition Trends Affect Revenue?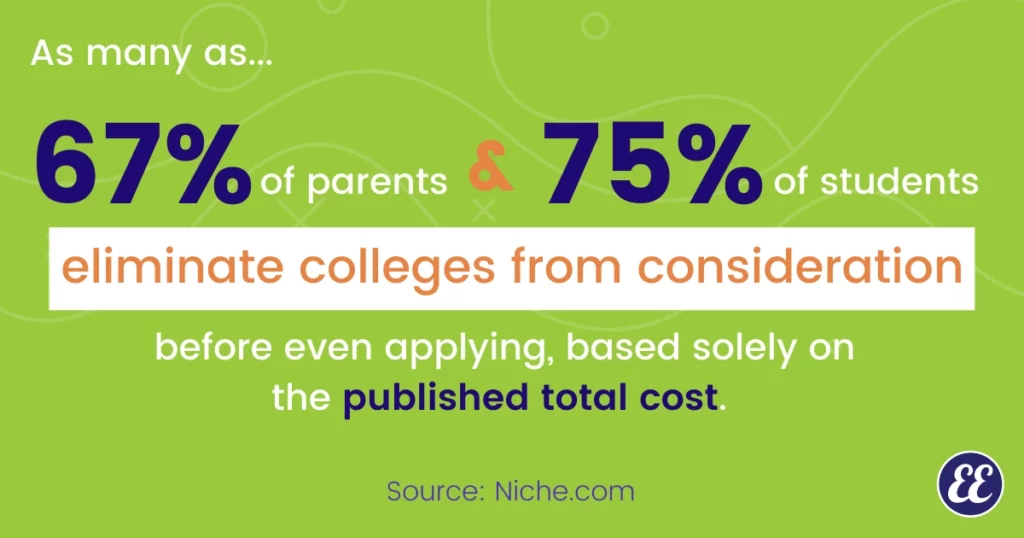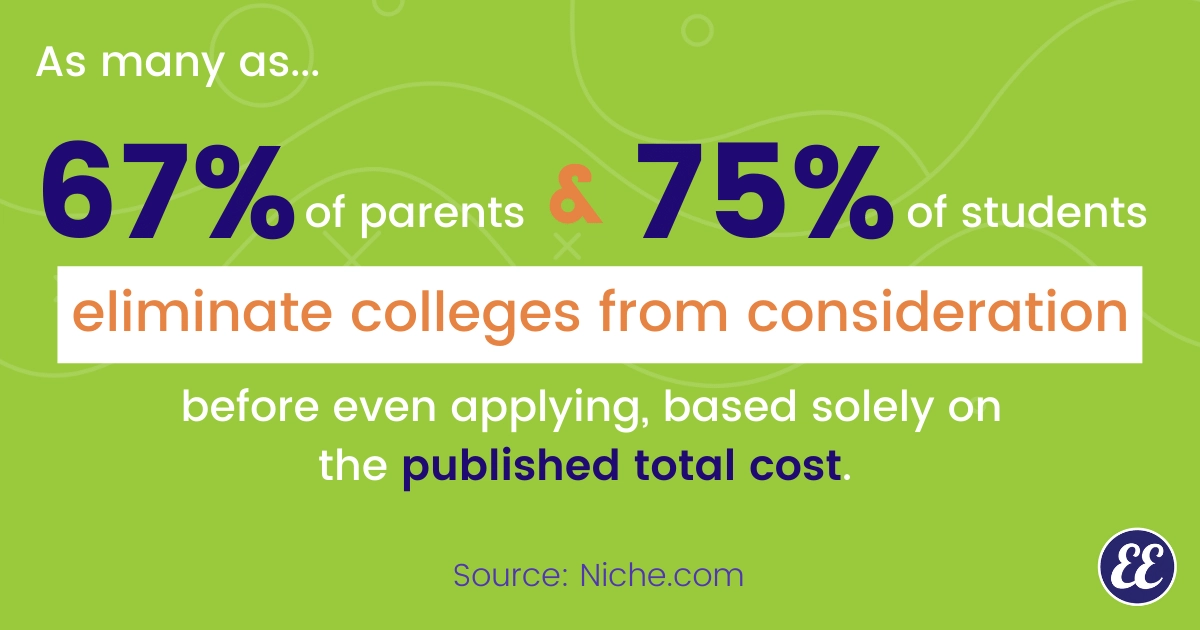 Up to 67% of parents and 75% of students are eliminating colleges from consideration before even applying, based solely on the published total cost.
There is a disparity between the cost of tuition and families' budgets for education, and as students and their families constrain themselves to options which fall below a certain "sticker price," some institutions will end up pricing themselves out of consideration as tuition rises. 
Colleges and universities need to adapt if they want to avoid steep enrollment falloff. It's crucial that students are offered sufficient aid to complete their degree, but how do you reduce tuition expenses while also safeguarding your bottom line?
Potential solutions include: 
Merit-based aid
Tuition discounts
Tuition freezes
One-time grants
Additional Higher Ed Resources and Articles
Which options you choose to deploy is perhaps less important is how you package and promote your offers. Perception is everything, and if your school is seen as being more expensive, or as providing fewer options for financial aid, you may find yourself on fewer students' shortlists.
In other words, you're going to have to roll up your sleeves and sell some lemonade—if you leverage substantial discount opportunities to drive inquiries and enrollment, you can make up for potential lost revenue and even boost your school's bottom line, but you have to consistently demonstrate value to prospective students. 
Need inspiration? Here's what some universities are trying in 2022.
How Colleges Are Making Tuition More Affordable in 2022
1) Initiatives to reduce or eliminate student debt
Pros
Extremely beneficial for students
Helps recruit quality students
Simple & straightforward to market
Cons
Very expensive
Logistically difficult
Complicated for your bottom line
Ohio State University is taking one of the boldest approaches to managing tuition affordability in 2022 with a program that extends far beyond scholarships. Ohio State University President Kristina M. Johnson plans on unveiling a pilot program, marketed as The Scarlet & Gray Advantage, to ensure all students graduate debt-free.
Nearly half of Ohio State University students take out loans averaging more than $27,000, which means scaling an effort of this size will require raising nearly a billion dollars—not to mention arranging thousands of jobs for students. If it's successful, the program could rewrite students' expectations about what colleges and universities should offer.
Here are a few extra details about what make this program so unique:
The program will NOT be linked to the income of participants
The program covers books, daily expenses, and travel in addition to tuition costs
The pilot program is moving fast, and is set to aid 125 students by this fall
There's no timeline yet for when the program might be implemented on a wider scale, but the pilot will allow Ohio State to identify unexpected consequences and opportunities for improvement before heavy fundraising begins.
A debt-free guarantee would almost certainly drive immense demand for enrollment at Ohio State, positioning it as a leader among American universities now and into the future. That's a tough thing to put a price on, but it has clear advantages—enrollment selectivity, state and federal funding, and more frequent donations among them. 
Not every university can offer a package as robust as Ohio State's Scarlet & Gray Advantage, but every school has something that sets it apart. Consider your college or university's unique advantages and how you can deploy them to fundraise for new initiatives while also demonstrating value to your prospective students.
2) Affiliate programs with degree incentives
Pros
Can be implemented cheaply
Improves student outcomes
Reduces enrollment melt 
Cons
Requires a specific student pathway
Lower revenue per student
More complicated to market
Since many students choose to fulfill gen ed requirements at local community colleges before pursuing a bachelor's degree, some four-year universities are facilitating enrollment by providing free general education courses through affiliate programs. Bridging this gap between affordable education and brand name recognition helps students and universities both get what they want. 
Strayer University's affiliate program, hosted through the online learning platform Sophia, is a prime example. It provides students with 10 online general education courses for free, enabling students to save on their degree while starting their education off with a low course load and a flexible schedule. 
Your college can leverage online tools like Sophia by implementing more generous transfer policies and creating partnerships with reputable platforms, which will open up opportunities for students to transfer to your university to complete their degree. 
Of course, Strayer's Sophia program also plugs students into the enrollment process—why start your degree over somewhere else when you already have guaranteed credits at Strayer?—which has the dual benefits of enrolling qualified students while also reducing melt. 
Strayer University had this to say about the Sophia program:
"We work hard to offer a variety of ways to save—so you can help control costs and make the most of your savings. For example, you can access no-cost gen ed courses through our affiliate, Sophia, then stack your savings with the Strayer Graduation Fund. We're here to help you understand what you may be able to save on your degree." Read more about it from Strayer. 
For every three classes Strayer's students successfully complete, they can earn one class tuition free, redeemable at the end of the program. Eligible students are automatically enrolled, further promoting retention as well as positive student outcomes. 
Savings through the Sophia program can total:
Bachelor's: Save up to 25%
Master's: Save up to 25% on select degrees
MBA: Save up to 20%
Digital Entrepreneurship MBA: Save up to 25%
*Associate & certificate programs are not eligible for Sophia.
You can also learn more about Sophia to see if it makes sense for your university to promote cheaper, more accessible, and lower-cost gen ed courses for your students.
But Strayer isn't the only university taking advantage of this strategy. Western Governors University offers something similar with WGU Academy.  At WGU Academy, students pay a monthly subscription fee and are able to take as many courses as they can handle in the month for a single flat fee.
WGU Academy the courses are totally self-paced and regular financial aid is not available.  Courses completed at WGU Academy can be easily transferred to WGU online.
3) Fixed tuition prices
Pros
Offers students solid overall savings
Reduces need for discounts
Makes revenue more predictable
Cons
Cost adds up over time
Less useful to low-income students
In response to the pandemic, many schools "froze"  their tuition in response to student outcry about paying full tuition for a partial experience, and some colleges and universities have chosen to leverage fixed tuition as a recruitment tool going forward. 
Although fixed tuition isn't a new concept (Perdue has been doing it for the last 10 years), more schools are beginning to weaponize it in order to allay student fears about rising tuition costs. 
Fixed tuition rates are especially useful for offsetting student costs without immediately hurting your bottom line. By promising not to raise tuition instead of resorting to heavy-handed discounts, your school can position itself as being against skyrocketing tuition (or in other words, on the side of your students). 
While scholarships, grants, and discounts are all wonderful for students, they are often seen as the baseline, and the baseline is no longer enough. 
Here are some quick examples of schools that recently followed this tuition trend:
Brookdale Community College in Lincroft, N.J., plans to keep its tuition flat this fall. Its board opted to freeze tuition in recognition of the financial turmoil wrought by the pandemic.
The University of Maine system Board of Trustees approved a budget that holds in-state tuition flat across the seven-institution system. 
Purdue University also plans to continue its streak of tuition freezes. Tuition at the public Indiana university will remain frozen at $9,992 for in-state undergraduates through fiscal year 2023.
The Idaho State Board of Education approved a tuition freeze for in-state undergraduates at all four-year colleges in the state through the 2021-22 academic year.
 The Kentucky Community and Technical College System Board of Regents, which oversees 16 institutions, also voted to hold tuition steady for the upcoming academic year.
A tuition freeze could do more than boost enrollments for your college or university—it could refresh your brand and promote the perception that you hear your students' concerns about tuition affordability. 
And even if your school isn't freezing tuition, don't be afraid to simply promote a lower price point than your competitors (as WGU has done). 
4) Income-based "promise" programs
Pros
Supports low-income students
Can be operated at a low cost
Reinvests in the community
Cons
Limited student access
Less impactful for revenue
Cost increases with tuition
In 2022, more big name schools are rolling out new income-based scholarships and programs.
This fall, the Arizona Board of Regents is deploying a new guaranteed scholarship program for low-income students aimed at increasing the enrollment of high school graduates. Qualifying students receive aid equal to up to the full cost of in-state tuition and fees, after counting other financial aid, for up to eight semesters. 
Schools participating in this program include:
Arizona State University
Northern Arizona University
University of Arizona
These scholarship programs, called promise programs, are becoming increasingly more popular among four-year universities. They increase the accessibility of education by empowering low-income students to pursue advanced degrees while also reinvesting in the community. 
An added benefit of promise programs is that they can be operated as "last dollar" scholarships, meaning they cover the remainder of tuition after need-based aid has already been applied, which reduces the overall cost. 
Promise programs are also immensely popular. In a society where gaps—in achievement, in opportunity, and in wealth—are under increased scrutiny, it's important that leaders in higher education do everything possible to promote access and dispel the image of colleges and universities as bastions for the privileged.
Which Tuition Trend Is Right For You?
Every college or university has something unique to offer, but sometimes relentless daily involvement can cause organizations to become myopic—from up close, it's hard to see the value you bring and how to capitalize on it. You may not know what you don't know. 
That's where Ellison Ellery can come in to help. Creating strategies, building content, and building brand awareness has been our specialty for over 20 years! 
Find out how we can help you highlight the value of your college or university's educational experience, drive higher enrollment numbers, and generate more revenue.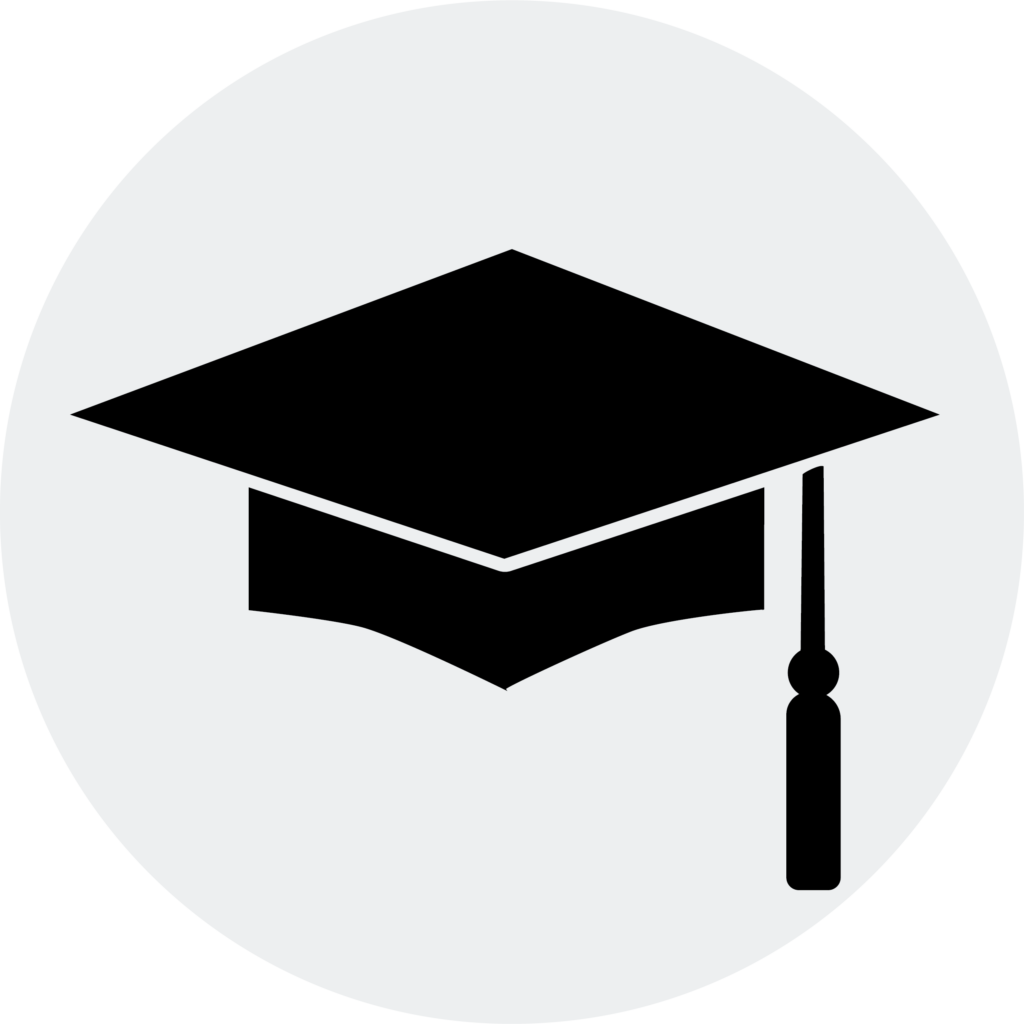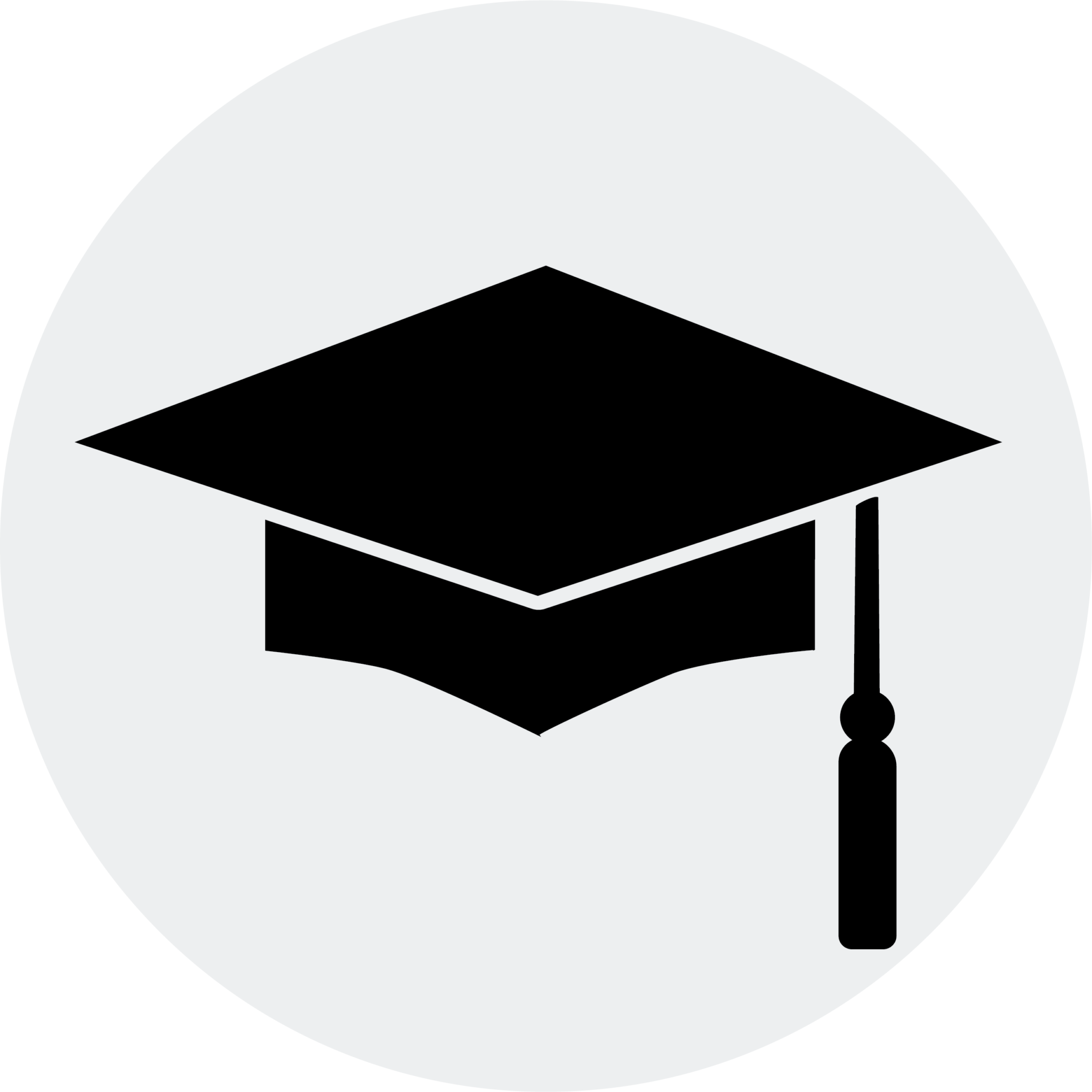 Modernize

your enrollment process.
Schedule a free, no strings attached 30-minute consultation to find out how we can optimize your college's enrollment journey and drive more qualified prospective students into your enrollment funnel.