Your business needs to double down on B2B SEO. Here's why.
Gone are the days of searching through library books or calling a friend to help answer a question. Why go through all that trouble when the power of Google is at your fingertips?
68% of online experiences begin with a search engine, and more than half of all website traffic comes from organic searches. This is especially true for the B2B industry, considering the extensive research effort buyers go through before making a purchasing decision.
That's where Search Engine Optimization (B2B SEO) comes into play. It's the practice of increasing the quality (and quantity) of traffic to your website through organic search engine results.
Is your CEO allocating money to SEO? If not, these statistics may be convincing:
Getting to page one of the search results is vital.
75% of users don't even click past the first page!
The first three organic search results get 60% of all traffic from a web search.
Leads coming from a search have a 14.6% close rate, compared to just 1.7% from channels like print or direct mail advertising.
Did you know that 80% of the sales cycle will happen in digital or remote settings by 2025?
This means that today's buyers are ready to purchase by the time they schedule a demo with you. Now it's your job to get more people in the awareness stage to want to learn about your product or service. As a result, your website needs to carry the burden of selling more than ever before.
People may be coming to your website and then deciding that what you have isn't interesting enough to them, so they end up leaving. This can be happening for several reasons. Either your message isn't clear enough, your site takes too long to load, your website isn't attractive, or you have poor usability.
Marketers can no longer focus on just one tactic anymore and expect results.
Driving more traffic doesn't mean you're driving more leads and revenue.
Conversion rate optimization (CRO) is the process of getting more of your visitors to convert into MQLs, SQLs, or leads. But just because your traffic increases doesn't mean the right people are finding your site and will convert into buyers.
Each business calls a qualified inquiry something different, but in the end, it's all about driving new (and ideal) visitors to your website and moving them down the sales funnel. SEO helps with qualifying leads in numerous ways, making it ideal to implement sooner rather than later.
In short, strong SEO is when someone can find you in Google – and it pays off.
Keep in mind: a healthy B2B SEO strategy isn't a short-term tactic that generates quick wins.
It's a long-term initiative, taking months to see results. That's why it's essential to get started as soon as possible, with a team of experts on your side who understand your business and audience.
---
Three main benefits of B2B SEO
You build authority and trust.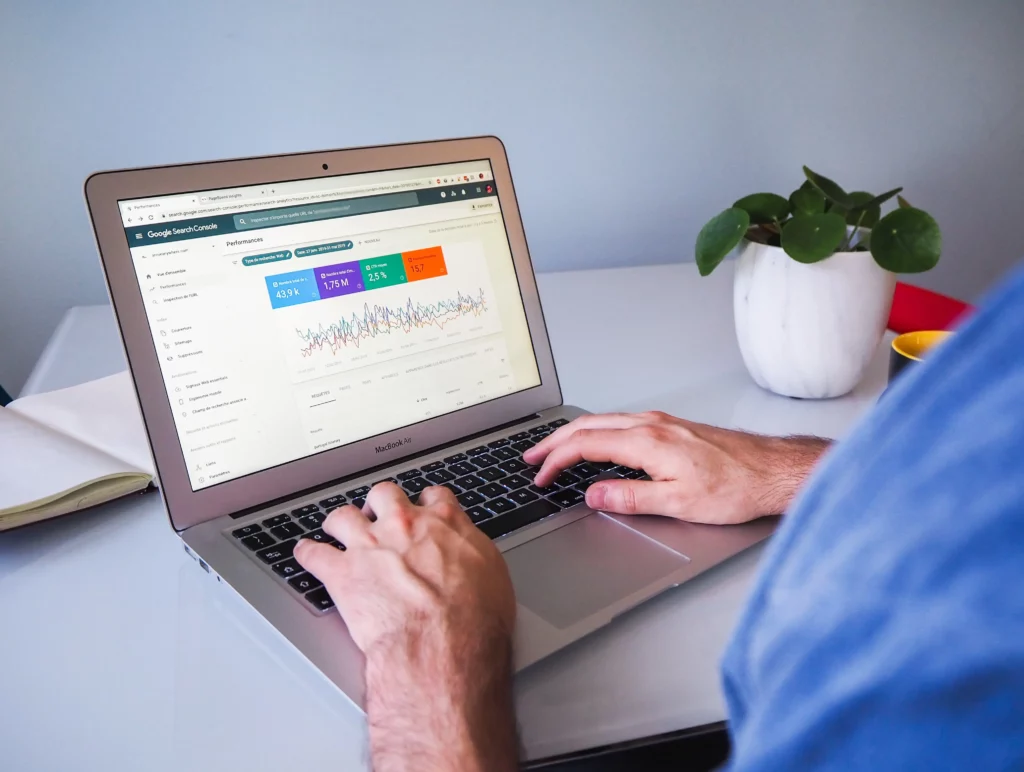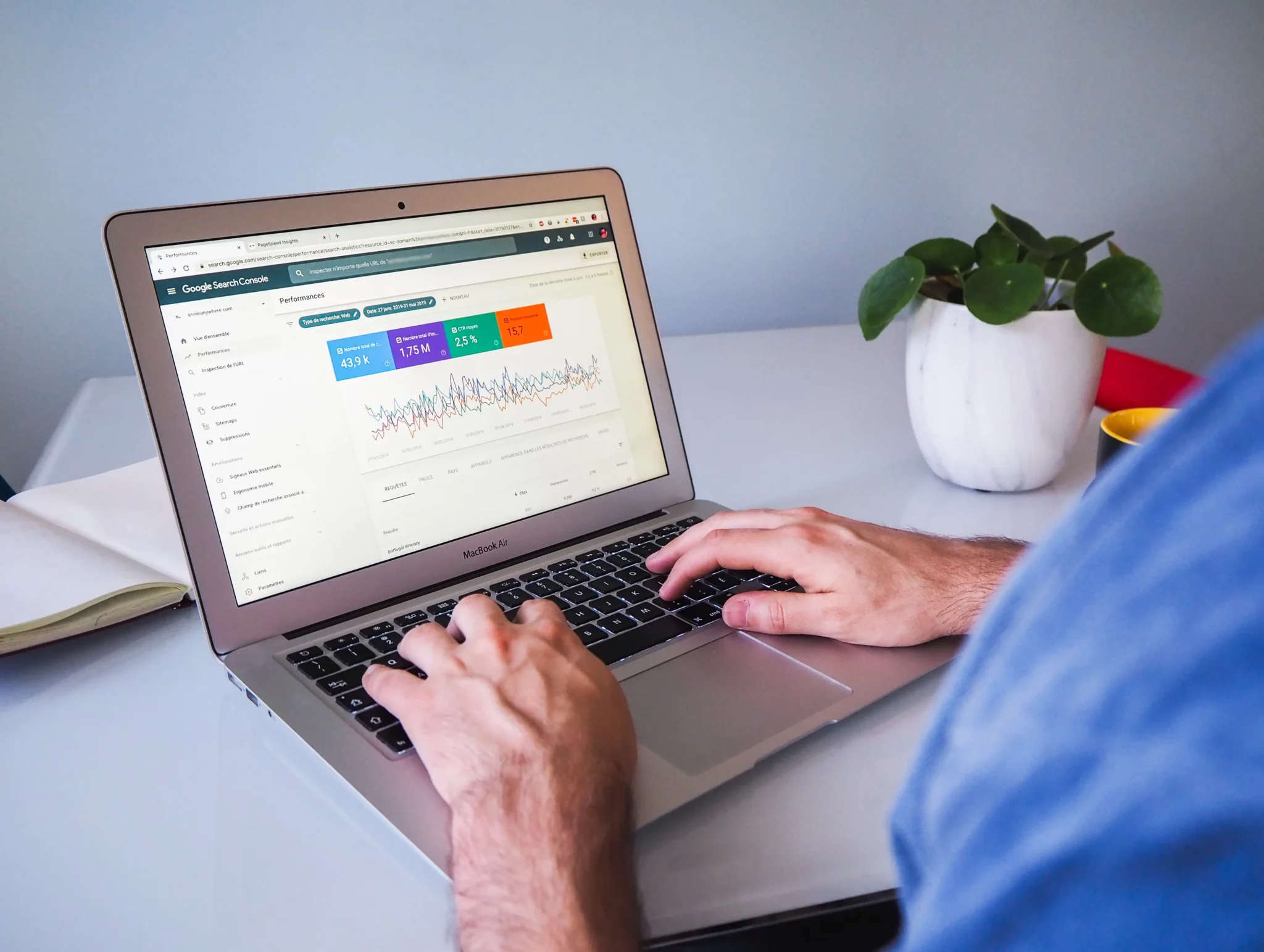 When SEO is on point, it means more traffic to your website, increasing opportunities to convert prospects into customers. But even before buyers take the plunge and put their faith in your product or service, they need to have confidence in your brand. Relevancy and authority are intertwined with SEO, as search engines are becoming increasingly more important to buyers.
Optimizing your blog posts and web content with specific keywords and relevant links tells the search engine algorithms to bump up your web page, ultimately increasing your brand's authority. If you're not showing up, you won't exist for your ideal customers.
You'll stand out above your competitors and reach your ideal buyers first when your business can genuinely showcase its expertise to the search engine world.
It's more cost-effective than paid advertising alone.
Much like a snowball effect, your site becomes more prominent and optimized over time once you really start focusing on your SEO strategy. This makes it more likely to rank higher in search results and turn more site readers into customers.
It's not meant to replace paid advertising, but instead be an added strategy to ensure your business brings in the right prospects and takes them down the sales funnel.
Here's why B2B SEO is more cost-effective than paid advertising alone:
Long-term gain. While SEO can require a significant upfront investment, once rankings are earned, it can bring long-term traffic equity. Much like the concept of compound interest, it eventually makes your business money while you sleep.
Better conversion rates. Traffic from SEO also offers better conversion rates than other channels. Although paid search can produce results quickly, it lacks authenticity.
ROI from organic trust-building. When implementing a paid search strategy, strongly consider SEO as a happy compliment to offer your buyers a more robust trust-building avenue.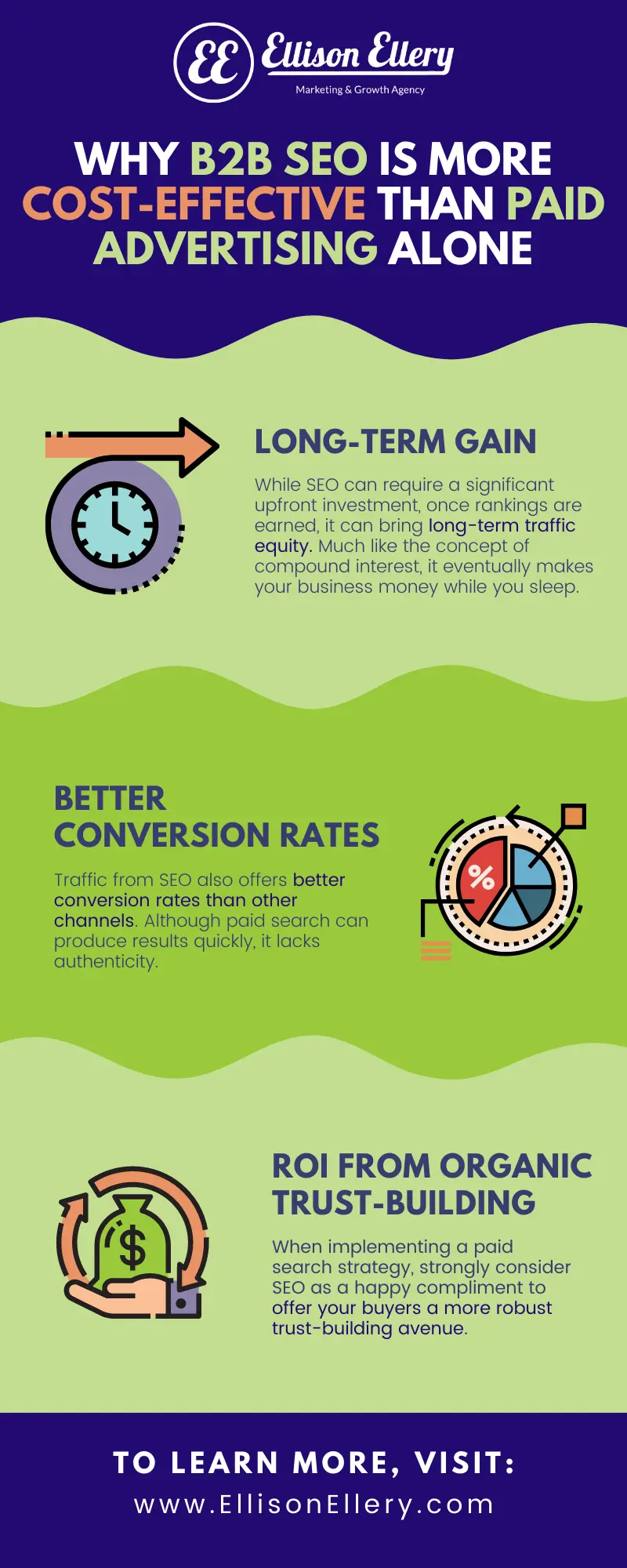 Trust from the search engines leads to trust from your customers – and SEO is the way to get there.
Valuable market research.
What better way to understand your buyers than to understand what they're searching for in the first place?
SEO research forces your business to deep dive into your buyer's intentions, interests, and questions. Once you know what pain points your customer is solving for, it becomes easier to build content catered to their desires, helping you demonstrate more authority and trust.
This type of research helps your business build better relationships and be more relatable. Your buyers feel heard and are directed to you rather than a competitor. When you're able to produce content around your audience's needs, it delivers empathy and understanding.
So, you've convinced your CEO to allocate budget to SEO, you have your marketing team on board, and you're ready to get started. Now what?
---
Start with understanding your buyers and their pain points.
The buyer's journey can be a long one for the B2B industry.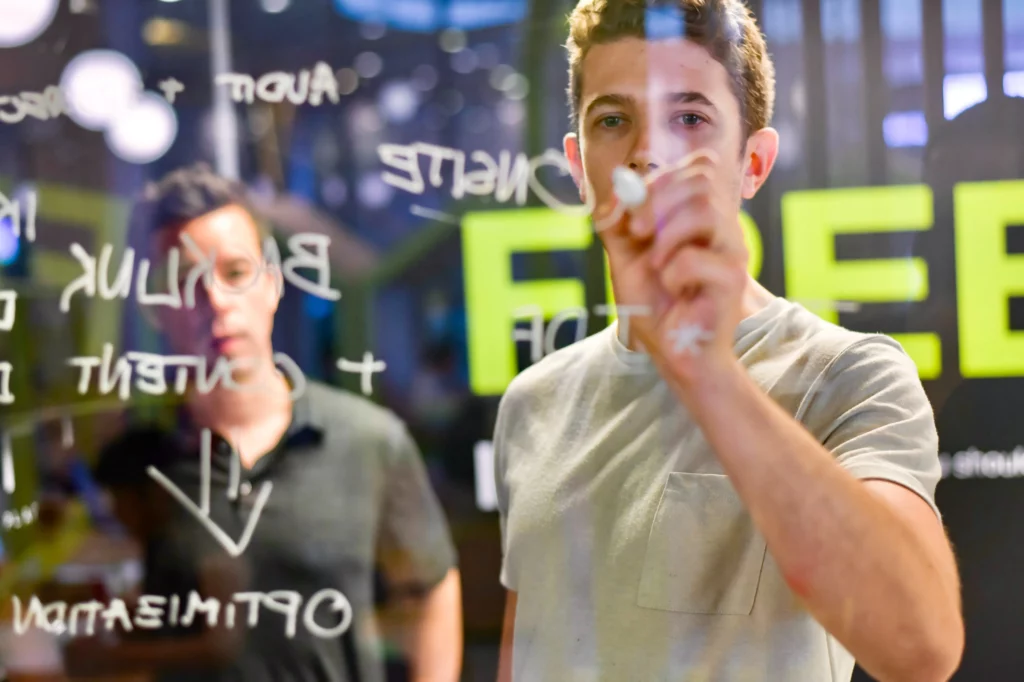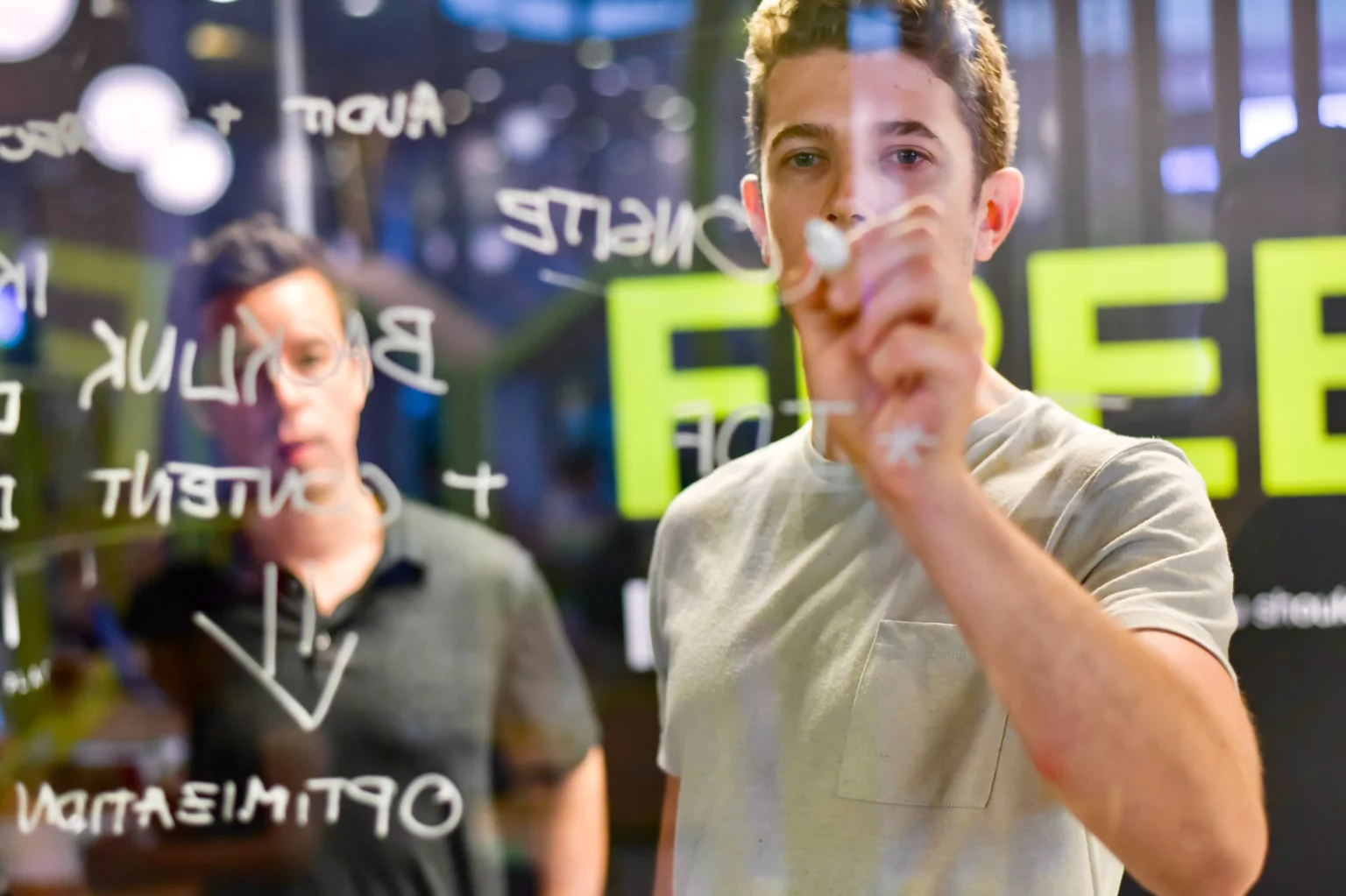 Most B2B purchases involve multiple people in the evaluation process. Each person may be looking for something specific to their role, needs, and desires. Do you know who your ideal buyer is? If not, it's time to start researching and create a customer avatar so your content team can understand who they're speaking to.
With a longer buying process than B2C purchases, B2B marketers need to create content for all stages of the buyer's journey – and for the different decision-makers involved.
Target the right people at the right time.
Let's take a closer look at each stage of the buyer's journey so your business can create content that supports the sales teams while they engage with prospects:
Awareness. Does the general public know that your service or product exists? Get your name out there!
Interest. Now that someone is aware of who you are, what content will keep them interested in learning more? In this stage, it's important to understand the different interests of each person involved. A CEO will have different goals than a CTO.
Instigation. Engage each buyer in a relatable way. What will resonate with them the most? Humorous emails? Emotional success stories? Cater your campaigns to the buyer's needs and interests to leave an emotional impact.
Consideration. Your buyer is interested in your product or service, and they're ready to put you on their shortlist. What differentiates you from competitors, and why should they continue considering your brand?
Purchase. Great! Your team landed the sale. Now it's all about making the customer happy – but how are you going to keep them happy?
Satisfaction. Your customers and clients are delighted. Now it's time to turn them into advocates with case studies and industry influencer opportunities.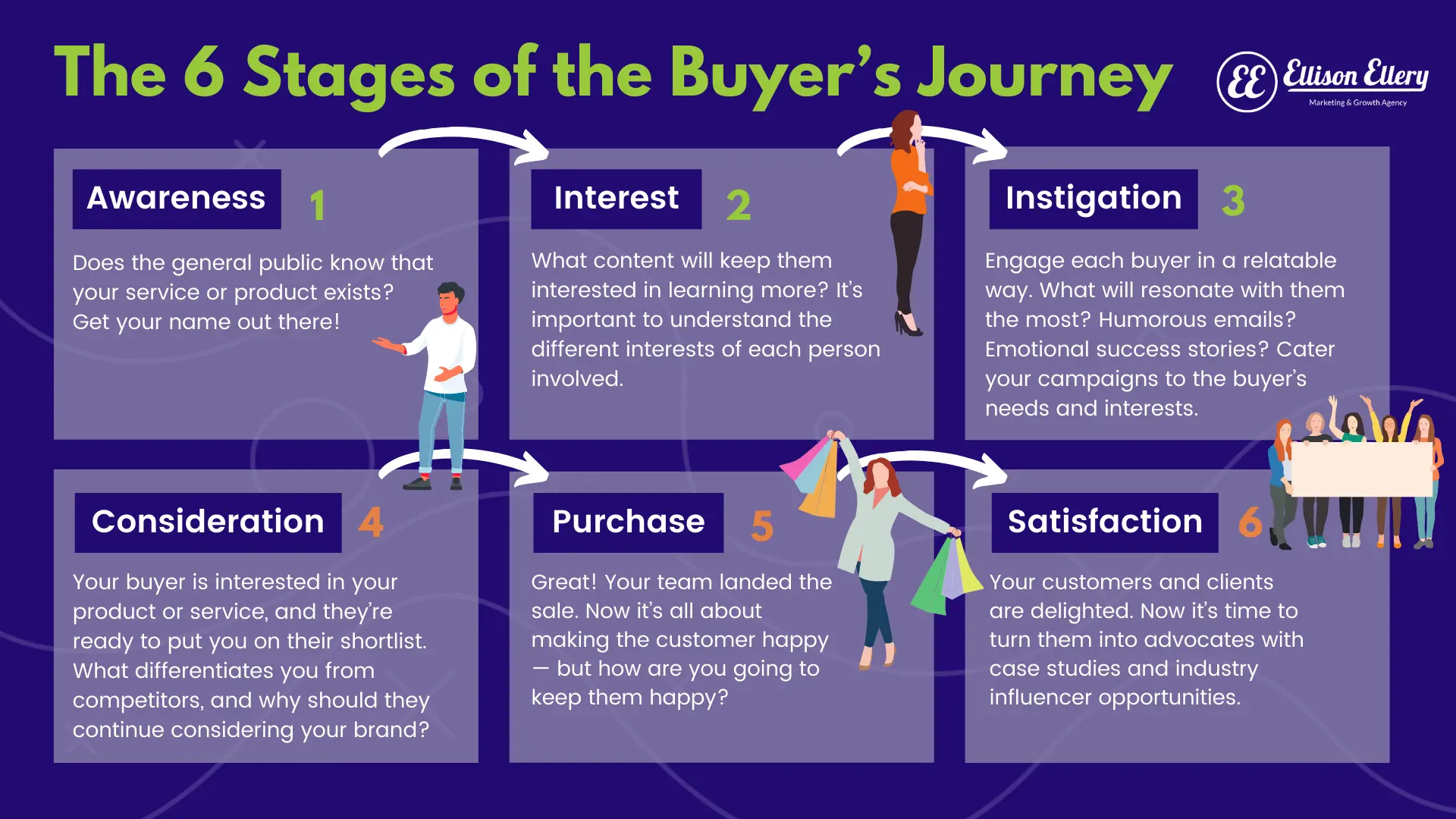 Know your competitors.
Part of understanding your buyer is knowing where else they might be looking to get the product or service they need. Will they be searching a well-known competitor first? Creating and sharing comparison content with prospects can help sway their mind in the right direction.
Whether it's a landing page, one-pager, or social media content, focusing on the benefits and key differentiators of your product or service in comparison to your competitors will help your buyers understand why you should be their top choice. When it comes to SEO, ask yourself "what would our ideal buyer be googling right now if they wanted to compare us with XYZ brands?"
When talking about competitors, make sure your content isn't coming across as overly aggressive and is 100% factual. You want to show off your brand and values while avoiding turning off your future buyers! Learn more about creating an effective comparison SEO strategy from Semrush, and how to craft a competitive comparison landing page from Crayon.
Focus on the semantics.
Understanding semantic search will help you understand what your buyers are really looking for. What people type into a Google search nowadays is much more conversational than it's ever been before. More recently, search engines (primarily Google) have evolved to understand both the intent and context – or semantics – behind every user search.
This creates an obvious need to analyze and understand search intent before creating content. For example, let's say someone searched "the ring of all rings." Instead of bringing up different types of rings one can buy for their wedding day or special occasion, Google knows the user is referring to Lord Of The Rings, despite not including any book titles in the search.
Thus, the first page of search results is packed with information on the different rings within this specific story – all because it assumes the intent and context of the search was related to Lord Of The Rings.
It all comes down to proactively adhering to your buyer's conversational tone. Try focusing on semantic search and answer questions appropriately. There's a lot of friction in the buyer's journey, and the easier you make it for someone to decide that your product or service is right for them, then it's all the more likely you'll land the sale.
Understand the different types of SEO.
On-page vs. off-page B2B SEO
Much like real life, there are many rewards and payoffs you can earn and achieve through actions you're in control of and others that are dependent on other people (or, in this case, other businesses).
Put simply, on-page SEO is the practice of optimizing your own company's website. You're in the driver's seat when it comes to researching and implementing keywords, title tags, site accessibility, and other SEO tactics that support how you rank.
On the other hand, off-page SEO is when you earn a higher ranking in search from other websites linking back to your website. This may be out of your control, but the more you share quality content and demonstrate your business as a leader in the industry, the more likely others will want to reference your company in their blog posts, research articles, and other digital content for the world to see.
The most important aspect of off-page SEO: link building
Link building will be your most significant contributor to off-page SEO. To build long-term organic search success, you need to show your target audience your brand is authentic, relevant, and has quality information to offer. When other businesses believe this to be true and link back to your pages, it creates a ripple effect of increased traffic and search results.
Other sites linking to your pages tell Google your brand is worthy of citation, earning your website higher rankings in search results. Acquiring hyperlinks from other websites to your own that you don't need to ask for is reaching the Mt. Everest peak of SEO.
So how do you climb the treacherous mountain of link building? Here are a few suggestions on how to get there:
Submit guest blog posts to sites that are in your industry. Your audience is most likely visiting the site anyway; why not make yourself known? Keep in mind, your goal is to not only get a higher search ranking, but it's also to provide your audience with quality content. Google will notice if it's low quality and filled with over-optimized anchor text, just for the sake of posting.
Social media marketing. Reviews, mentions, and getting your brand name out there for influencers in your industry will help demonstrate your knowledge and authority. The power of social media is not something to underestimate!
Email outreach. Personalization has a habit of paying off eventually. Reach out to journalists, bloggers, and influencers directly with an attractive email and ask them to link to your pages. Remember to tell them why they should listen to your brand and how your content can enhance what they already have. Make sure there's something in it for them!
Create share-worthy content. Did your business recently finish a research study or launch a new product or service that could change people's lives for the better? Get the word out there! If you're not generating excitement around your own brand with quality content, how can you expect others to do the same for you?
Both on-page and off-page optimization help determine the success of your SEO campaign. If you've accomplished one but not the other, you may not rank for the type of searches you'd hope for, or you may not rank as high in search.
Technical SEO
This aspect of SEO is another cornerstone to any successful strategy and compliments on-page and off-page SEO. If you haven't already guessed by its name, it's more technical than the other two elements and involves a behind-the-scenes look at how search engines crawl and index your pages.
Google aims to provide people with the best possible search results. This not only includes sites that have relevant information, but ones that are accessible, load quickly, and ultimately offer a good user experience. A successful technical SEO strategy involves the management of crawling, indexing, site structure, and even coding. Essentially, it's anything surrounding how your website is structured and architected that relates to the user experience.
One great way to start with technical SEO is to conduct an audit. This is where leveraging a third party like an agency will come in handy. An in-depth look at the HTML tags, content quality, mobile-friendly aspects, accessibility, and more will help provide a clear roadmap for next steps and end goals.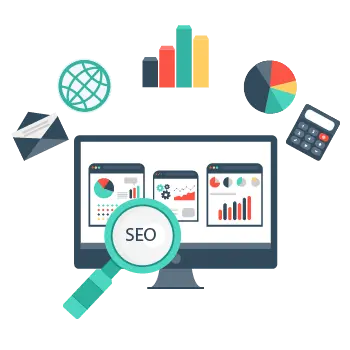 How are your

SEO

efforts contributing to your company's growth?
Want to assess the state of your SEO but not sure where to start? Ellison Ellery specializes in SEO audits and SEO solutions to help companies start attracting more organic traffic and landing more sales. If you've been putting off taking a look at your B2B SEO strategy — we're here to help.
---
How to implement the basics of B2B SEO
Establish the best structure for your B2B SEO content
According to HubSpot, 43% of people skim blog posts instead of reading the entire content. Keeping a consistent structure and including topics that flow together make it easier for readers to stay engaged and learn from your content – thus leaning into your brand more and more.
Here are a few suggestions when it comes to formatting SEO content, especially longer-form blog posts, articles, and landing pages:
Be distinct on your headings and subheadings: Use H1 and H2 tags that include your focus keyword + commonly asked questions about the topic
Keep each paragraph to just a few sentences
Bold or italicize important points
Optimize with a call to action
Example: Landing Pages
Where will they go when your buyers click on a link from a Google search or another page?
Landing pages can be designed for specific prospects to take a specific action, depending on where they're at in the sales funnel and how aware they are of your services. The more landing pages your business creates, the more gateways are opened up for incoming traffic.
Home pages are still important, but landing pages are where you can really start initiating a strong relationship. Copyblogger has a great example of a well-optimized landing page, about landing pages! They talked about a hot topic, used professional graphics, and implemented a clean layout for easy reading.
Traffic to a landing page can come from press releases, email marketing, and SEO. According to WishPond, businesses with 10-15 landing pages see 55% more conversions than those with less than 10 pages. If a business has 40+ landing pages, they see 500% more conversions!
Landing pages that are well optimized undoubtedly help generate more leads and sales for B2B companies, and build relationships with prospects on a more personal level.
Keyword Selection
B2B SEO includes researching and adding relevant keywords to one's content with intentionality. When your landing page focuses on solving your buyer's pain point while also incorporating a keyword phrase or two, your on-page optimization will help drive more traffic to your site.
How to Find the Right B2B SEO Keywords
There are several tools you can use to find the right set of keywords. This is where you may want to work with an agency. Finding the right keywords and creating a strategy around how to best rank for those keywords can be a huge lift for your business.
According to Ispionage, companies spend 76% of their budget targeting the wrong keywords. Don't let this be your company!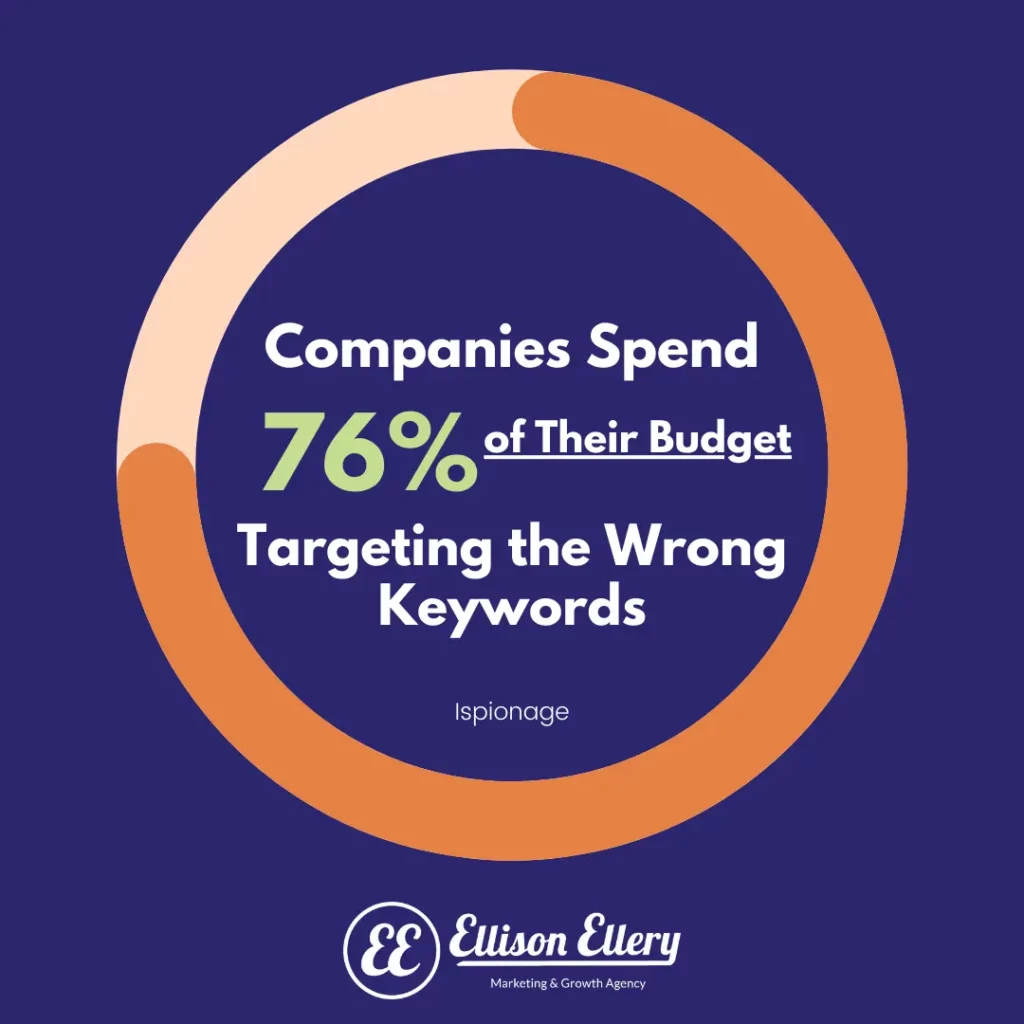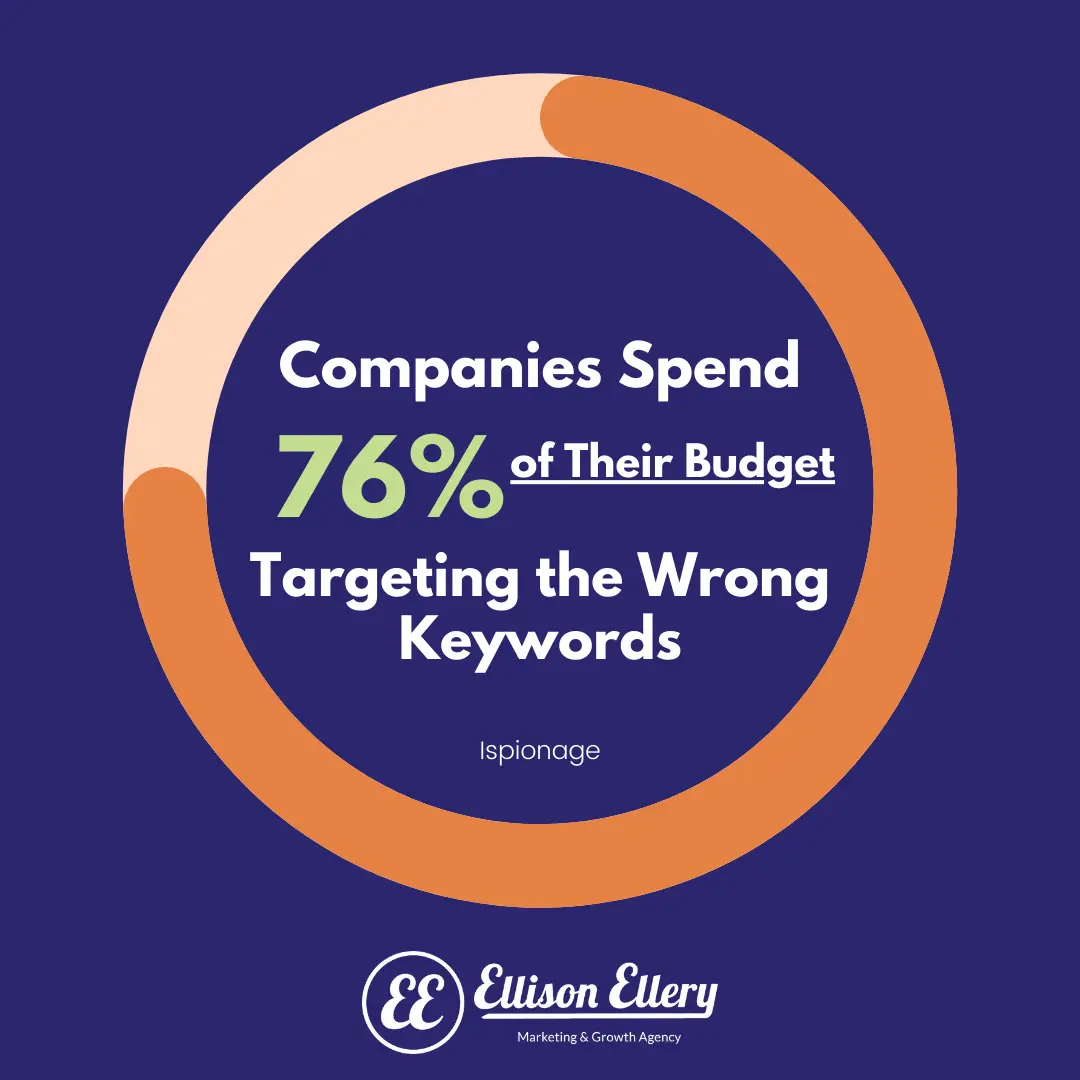 Before jumping into using any keyword research tools, it's best to ask yourself these questions:
What is my buyer's persona? What are they looking for early on in the sales process or information gathering stage?
How does our product or service solve their pain points?
How will we show search engines, especially Google, that our content is best to serve for that targeted keyword phrase?
How much time and budget am I going to dedicate to B2B SEO so I know how competitive of keywords I can go after?
To help get you started, here are our most-loved SEO keyword research tools:
Other aspects of improving blog SEO include submitting site architecture to Google Search Console, improving page speed, and building content clusters for internal linking.
Content Distribution
Once great content is created, it needs to be strategically distributed to get it in front of your ideal buyers. This can be done via owned, earned, or paid distribution channels. The extra advantage of having SEO content on any of these channels is that your target audience is way more likely to find your content than other similar content that may be out there.
Owned channels allow you to control when and how your content is published. Some examples would be your company's website, blog, social media profiles, or email newsletter. With social media playing a huge role in content distribution, this is definitely a key channel your business should prioritize.
Earned channels, or shared channels, are when someone else publishes your content for free. Posting on public forums like Reddit and Quora are great places to plug in your content directly with your target audience, and blogging sites allow your business to share relevant content where people are already looking.
Paid channels may sound daunting, but with SEO, it can pay off big time. Typically working on a cost-per-click (CPC) model, ads and paid content promotion can earn you high-quality leads. This in turn reduces the sales cycle and saves your marketing and sales teams more time when it comes to moving buyers down the sales funnel.
Here are some examples of content that can (and should) be distributed among at least one of the channels listed above:
Case studies/success stories
Webinars
Infographics
Blogs
Videos
eBooks
Thought Leadership
You have a website. You have a product or service that's the best of the best. You have a voice. When it comes to SEO and showcasing your service to the world, you don't just have search engines to lean on – you also have people.
Do you have subject matter experts in your organization? If so, now is the time to encourage them to share or publish your company's search engine optimized content. It should be something your leaders and experts would be proud to share. Tapping into their network could lead to awareness, leads, demos, and sales.
Employee Advocacy
Your employees are your company's biggest asset and a valuable contributor to your B2B marketing success. According to Social Media Today, content shared by employees receives 8x more engagement than content shared by brand channels. Here's how to encourage their involvement when it comes to sharing content and advancing SEO to drive more traffic:
Leverage LinkedIn as a content hub. You're already sharing content on your company page, so why not amplify it with the voice of your own employees? Chances are they're already using LinkedIn for professional connections and growth opportunities. It's an easy location for employees to find and share your well-crafted content, and may also encourage them to suggest new topics!
Drive the right people to the right place. The truth is, not everyone on LinkedIn who should be following your company's page actually is, so tapping into extended networks is a game-changer. Employees sharing content and interacting with your brand on the platform will only help drive the right people to the right place – your page!
Keep it fun (and free!). It doesn't need to cost your company a dime to encourage employees to share SEO content. Even sending a quick email to everyone with a few links they can click on and share directly is a free way to get the word out to their connections.
HOT TIP: You can even semi-automate the process with free advocacy tools that enable you to establish mini-campaigns. With a company (and brand) your employees can be proud of, they're more likely to like, comment, and share – while having fun and taking pride in doing so.
Video SEO
Yes, even your video content needs to be optimized! Video SEO is considered a mature marketing strategy for B2B content marketers. According to WordStream, 59% of senior executives will choose to watch a video over reading text if both are available, and Cisco has predicted videos will account for 82% of all web traffic by 2022.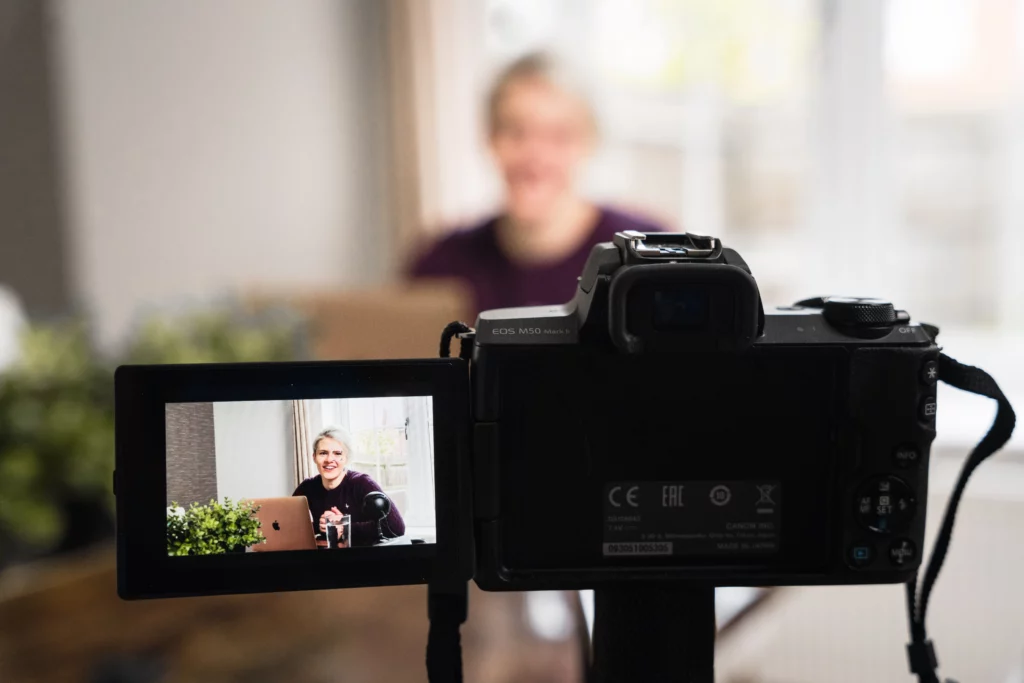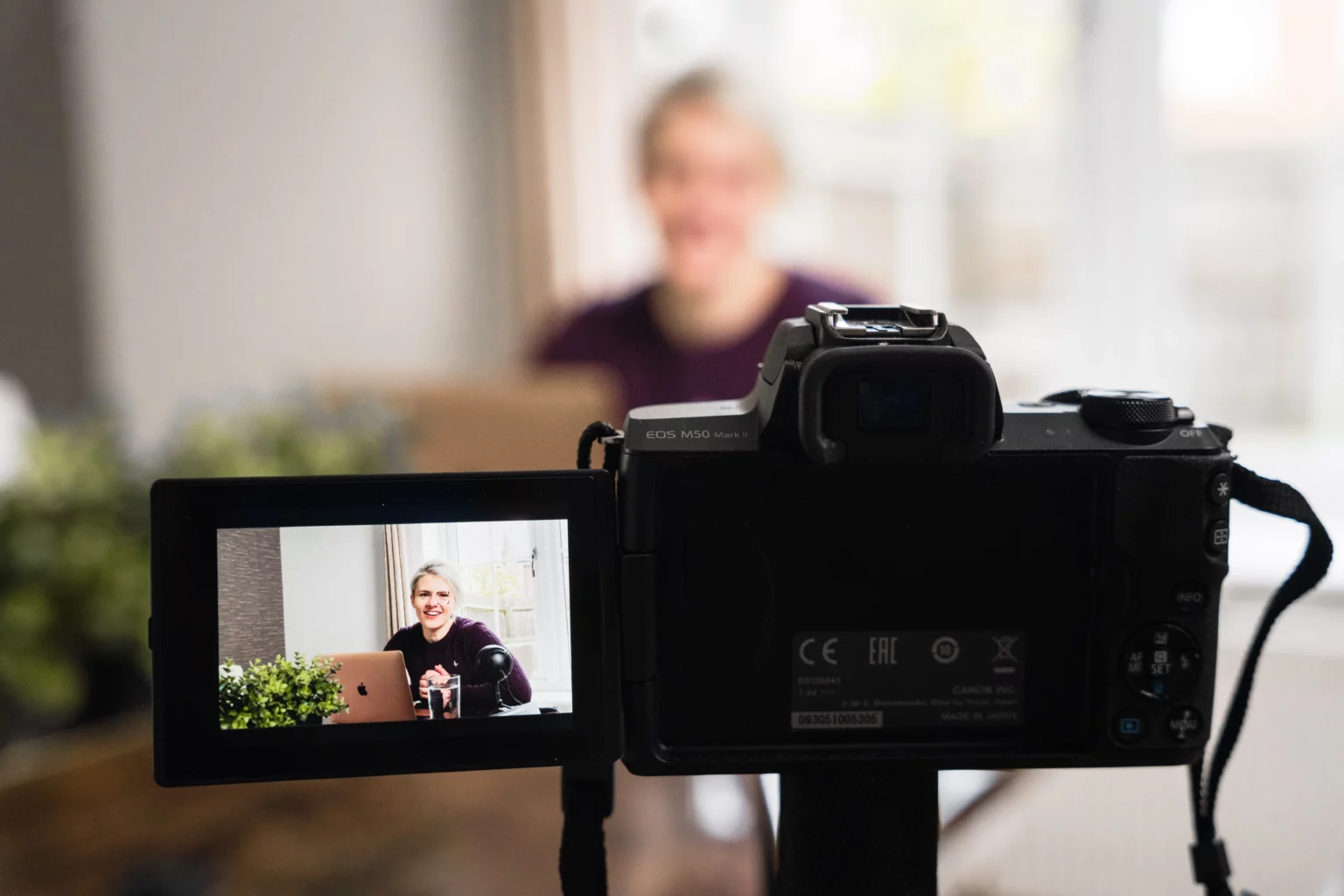 Videos are taking over and boosting ROI. Most marketing and sales professionals have used video marketing in one way or another, and according to LinkedIn research, 73% of B2B marketers say video is positively impacting marketing ROI. It's easy-to-consume content and more engaging for most prospects, making it a necessity for any marketer to include in their SEO roadmap.
YouTube should be your go-to video resource. Did you know driving traffic to your website from YouTube also boosts your Google search ranking? With YouTube being the most popular video site on the web, it's also a premier search engine. When your company ranks higher on YouTube, it brings in more leads and makes that high-energy content production all worth it in the end.
Your video title and description matter. Every word counts when it comes to B2B SEO. Be sure to optimize both the title and description with well-researched keywords and phrases, so that your content is found and viewed. Keeping your video title to 70 characters and your description to at least 200 characters will help the platform understand enough about your content to help you rank in the right places. Don't forget to also leverage tags, thumbnail images, and even optimize file names!
Videos take time, resources, creativity, and planning. With zero optimization strategy, you're letting all that hard work go to waste. Your company has something to say – make sure it's heard (by the right people)!
---
How to measure the impact of B2B SEO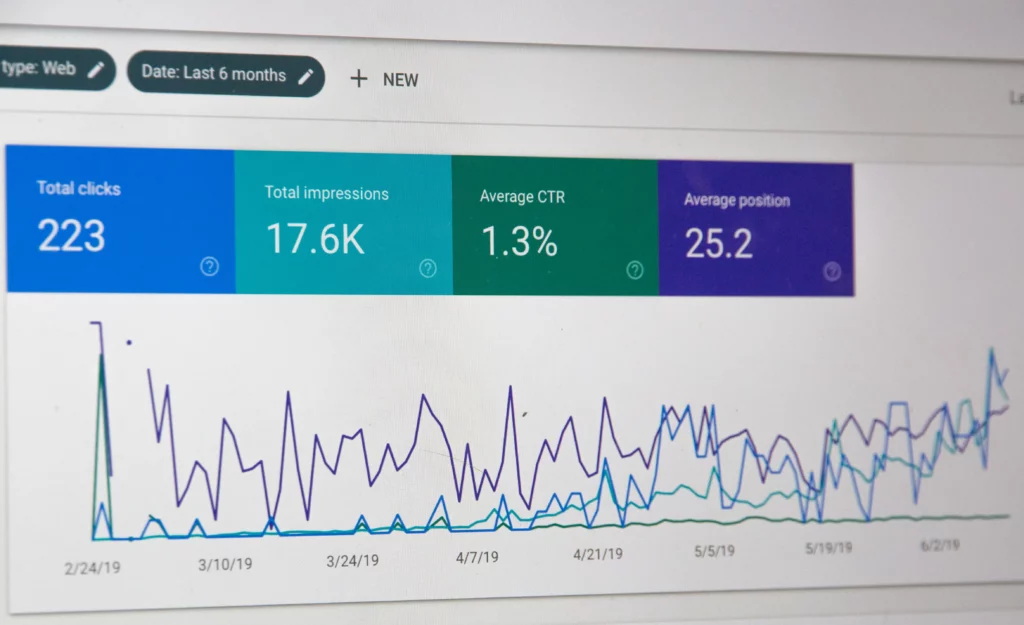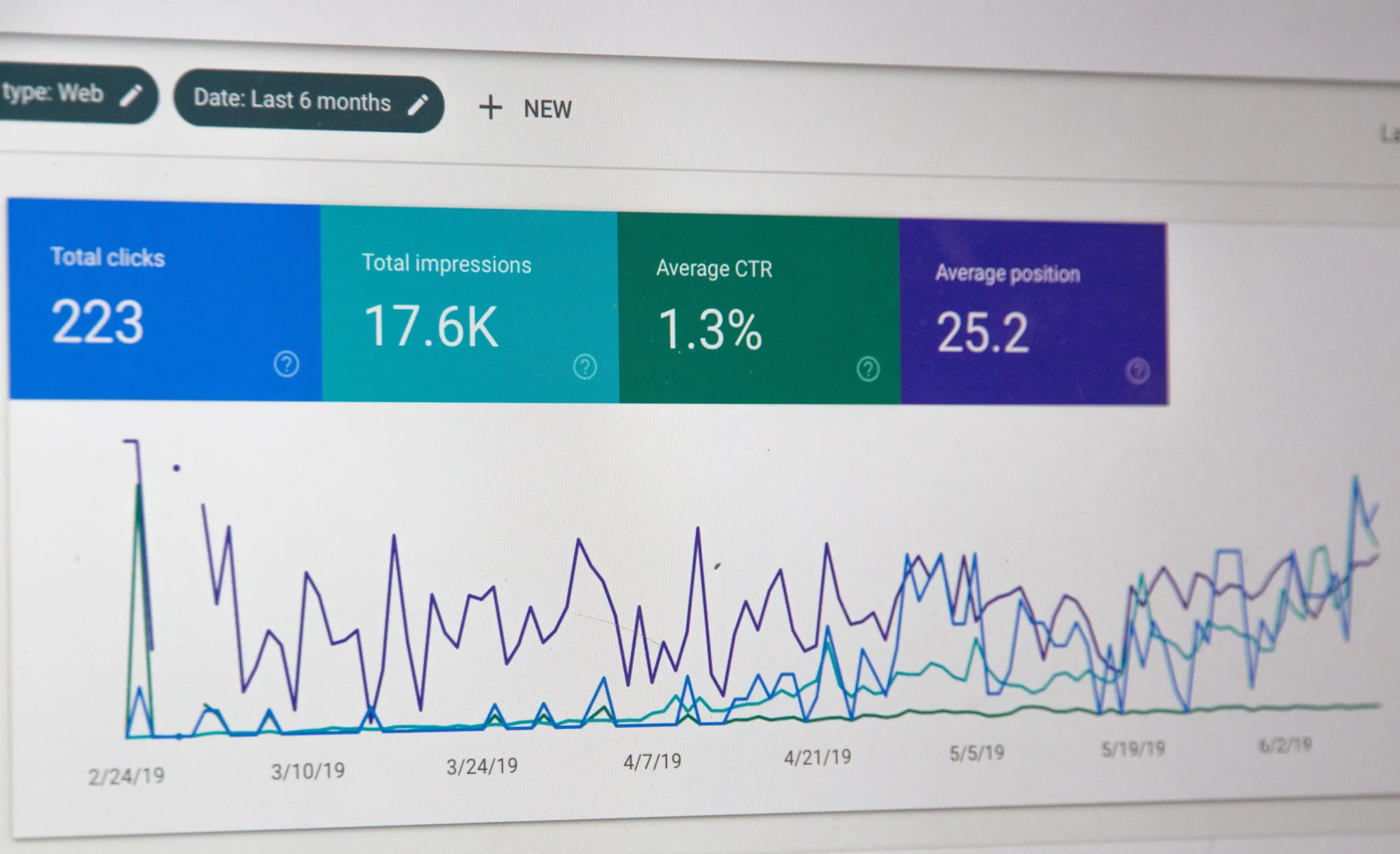 Bringing in specialists to help track metrics can be the difference between owning a site that is building authority and trust versus getting lost in the Google black hole.
Many tools like HubSpot offer reporting capabilities that allow you and other members in your organization to measure and strategize on specific numbers. If you don't track your impact or partner with an agency to do the tracking for you, you may not know where you can improve (even if you are bringing in more sales).
Here are the main metrics your business should be tracking to make sure your SEO strategy is on the right path. Remember, slow and steady wins the marketing race:
Organic traffic
Keyword ranking
Conversion rate
Bounce rate
Page load time
Backlinks
---
Final thoughts
There's a lot to SEO, and strategies may look different depending on the business and industry. Here are a few last tips you can save and reference for when you're feeling the weight of the worldwide web on your shoulders:
Focus on using long-tail keywords
Don't forget to optimize your videos and images for search engines (you have a higher chance for your images to rank than your content early on!)
Review the technical health of your website

It's your best online marketing asset – make sure it's up and running correctly!
Steer clear of any server-side issues, website code that might be causing delays in pages loading, etc.
Almost 95% of the time, some server settings can be changed for website speed improvement! If your website goes from a 1 second load time to a 5 second load time, the probability of someone bouncing goes up by 90%.
Write great pillar content, which can then be used for:

Explaining industry terminology
Ranking for more broad keywords
Landing upper funnel audiences on website pages and driving them to sign up for a newsletter or another call to action
Use this content in your ABM strategy so your salespeople can send relevant information to prospective customers
Market this content with paid media
Remember, not every piece of content you create will need to rank. Some are designed to help more with conversion, and that's equally – if not more – important.
In conclusion: B2B SEO helps your business grow.
For any business, SEO should always have a dedicated seat at the Marketing Roundtable. It's a slow-growth strategy that has a lot of moving parts, but driving more people to your site opens up so many doors for opportunity. Customers make a business go-'round, and SEO will bring in more of your ideal buyers.
We help established businesses develop SEO that drives prospects to the next stage in their buying journey. Our goal is to help you meet yours. With a long-term SEO strategy in place, you'll be able to build more authority with your audience while you sleep — and you'll have more time to focus on what's next for your business.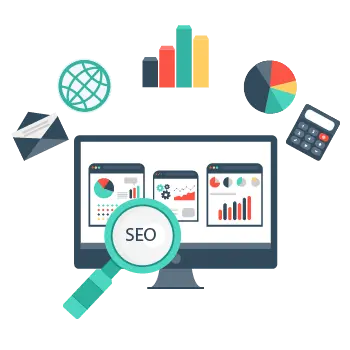 How are your

SEO

efforts contributing to your company's growth?
Want to assess the state of your SEO but not sure where to start? Ellison Ellery specializes in SEO audits and SEO solutions to help companies start attracting more organic traffic and landing more sales. If you've been putting off taking a look at your B2B SEO strategy — we're here to help.